CEOs, turn your LinkedIn profile into a powerful marketing channel
By: Ryan Burgio
June 7, 2023 | Reading Time: 6 mins
In the challenging landscape of B2B business, lead generation and driving new business is more difficult than ever. CEOs are feeling the pressure to do more with less. But, there's a hidden superpower that many CEOs are missing out on—their active presence on LinkedIn. We've been fans of LinkedIn for marketing for a while now. It's time to step up as a CEO and unleash the true potential of LinkedIn as your biggest marketing opportunity.
Your personal profile is a marketing powerhouse
I'm not just saying it. I'm living it. In my role as a managing partner at Stryve,  I'm on the front lines of LinkedIn advocating and marketing for Stryve. My personal LinkedIn profile often outperforms our company's profile in terms of impressions and interaction. It's not just about views and visits; it translates into tangible business outcomes. From leads to inbound requests, the engagement I see from my posts supplements other things we do.
This isn't about being special or having some secret formula. It's simply because people connect better with people. When that person is the CEO, the connection is turbocharged. As a CEO, people want to follow you. That audience can range from other executive leaders, aspiring professionals, your team, or potential partners and prospects.
Whether your content is thought leadership, sharing industry insights, your team's wins, or how you steer the ship of your firm, your personal profile can reinforce aspects of your company's brand.
Embracing your duty of CEO advocacy
An active presence on LinkedIn is not just a part of my role—it's my duty as the CEO of Stryve. It's an integral component of our marketing strategy. As a CEO, you possess a unique perspective that can't be replicated through other marketing channels.
But let's get one thing clear: I'm not always comfortable posting on LinkedIn. Sure, I enjoy the engagement and the conversations, but the act of posting? It's not exactly my idea of a fun time. Yet, every two weeks, without fail, I'm there, sharing updates, insights, and stories. Why? Because it's not about me. It's about Stryve. It's about our team, our clients, our journey. When I make a post, it helps elevates the work of my team: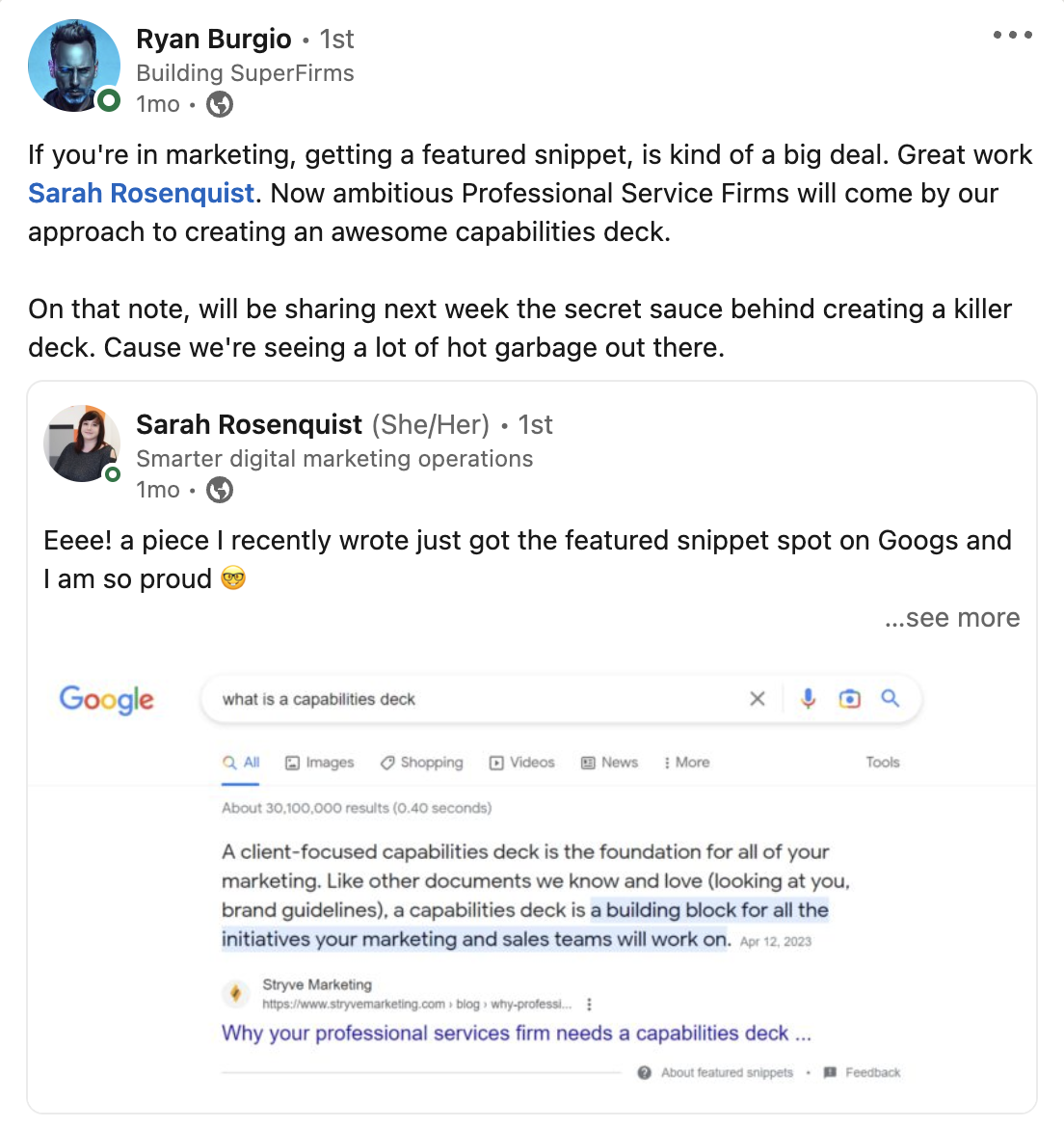 This isn't a solitary endeavour; it's a team effort. Every Monday, my team and I review our content strategy, industry trends, and ways to add value to our audience. Together, we ensure that our messages align with our brand and provide relatable, authentic, and engaging content.
As CEOs, we are not just running our businesses, we are their chief advocates. We are brand ambassadors. It's high time we embrace that role. Let's face it, if you're not talking about your business, who will?
It's time to ditch the excuses because visibility is currency
Why do many CEOs and executives resist the power of LinkedIn? Let's break down the excuses and set the record straight. Time constraints, discomfort with writing, and a preference for staying behind the scenes—they're just excuses. It's time to push past these things.
Don't get me wrong, I understand that as a CEO, you're busy. Meetings, strategy, operations—they all demand your attention. But let's cut to the chase: investing time in sharing your company's story is not optional, it's essential. Think of it this way, you wouldn't neglect a vital investor meeting or a pivotal strategic planning session, would you? This deserves the same level of attention.
Now, let's tackle that 'I'm not a good writer' excuse. You don't need to be Shakespeare to make an impact on LinkedIn. What you need is authenticity, passion, and a genuine desire to connect with your audience. This isn't about writing the perfect post. It's about sparking an interest. If you're not comfortable writing, speak it. Record yourself talking about a topic you're passionate about and have someone on your team transcribe it into a post.
To those CEOs who prefer to stay behind the scenes, I say this: in today's digital landscape, visibility is currency. By stepping into the spotlight and actively sharing your journey, your insights, your wins, and yes, even your challenges, you are humanizing your brand and fostering a level of trust that no marketing campaign can match.
So, no more excuses. It's time to face the facts: as a CEO, your voice carries weight. Your company is waiting. Your audience is waiting. It's time to step up and deliver.
Tips to get started
Now that you're motivated and equipped with insights, let's explore practical tips to kickstart your LinkedIn strategy:
1. Establish an accountability framework
Collaborate with your marketing or content team every couple of weeks to discuss the posts you'd like to share. Brainstorm ideas together and fine-tune them to align with your brand's messaging. The process doesn't need to be overly formalized. Think of it as having check-in points. It's a way to hold yourself accountable for posting. You can work with them to create a series of themes or categories your posts touch on. You have to be accountable for what you say. So, these check-ins can act as sounding boards to ensure your content is appropriate and aligned with company values.
2. Embrace authenticity
Make your company more authentic. The days of stuffy corporate speak are over. People connect with people. Share your thoughts, your insights, and your experiences. Don't try to be overly polished—authenticity is better than perfection. Remember that vulnerability can help build trust and sharing your challenges makes you more relatable.
3. Post from your personal profile
This is key. Your posts need to come from you, not your company profile. Of course, your company page can and should amplify your message, but the primary voice needs to be yours. Posting from your personal profile also ensures that your message reaches the personal network you've nurtured for years.
4. Enlist a writer
So, writing isn't your strong suit. That's okay. There are plenty of approaches you can take to write engaging content. But if it's blocking you from moving forward, share your ideas and thoughts with a professional writer. They can help craft ideas into posts that reflect your voice and style. It's your message, they're just helping you articulate it. And if you don't have the budget for that, ChatGPT makes for a pretty good editor, too.
5. Speak up about what matters
Your audience wants to hear what you truly care about. Share your vision for your company, talk about industry trends that excite you, highlight your company's wins, and don't shy away from discussing the challenges. Passion is infectious and your enthusiasm for your business will resonate with your audience. You can even see what others are not talking about and be a conversation leader.
Some inspiration to get started
Looking for more inspiration? Here are a few B2B CEOs who excel at engaging on LinkedIn:
Nick shares valuable insights on customer success, SaaS, and business growth through his LinkedIn profile. His posts delve into strategies for building long-term customer relationships, optimizing customer experiences, and driving business outcomes

Dev Basu, CEO of Powered By Search
Dev shares expertise and insights on how B2B companies can scale their demand generation efforts. He regularly posts about industry trends, growth strategies, and the latest developments in the world of digital marketing.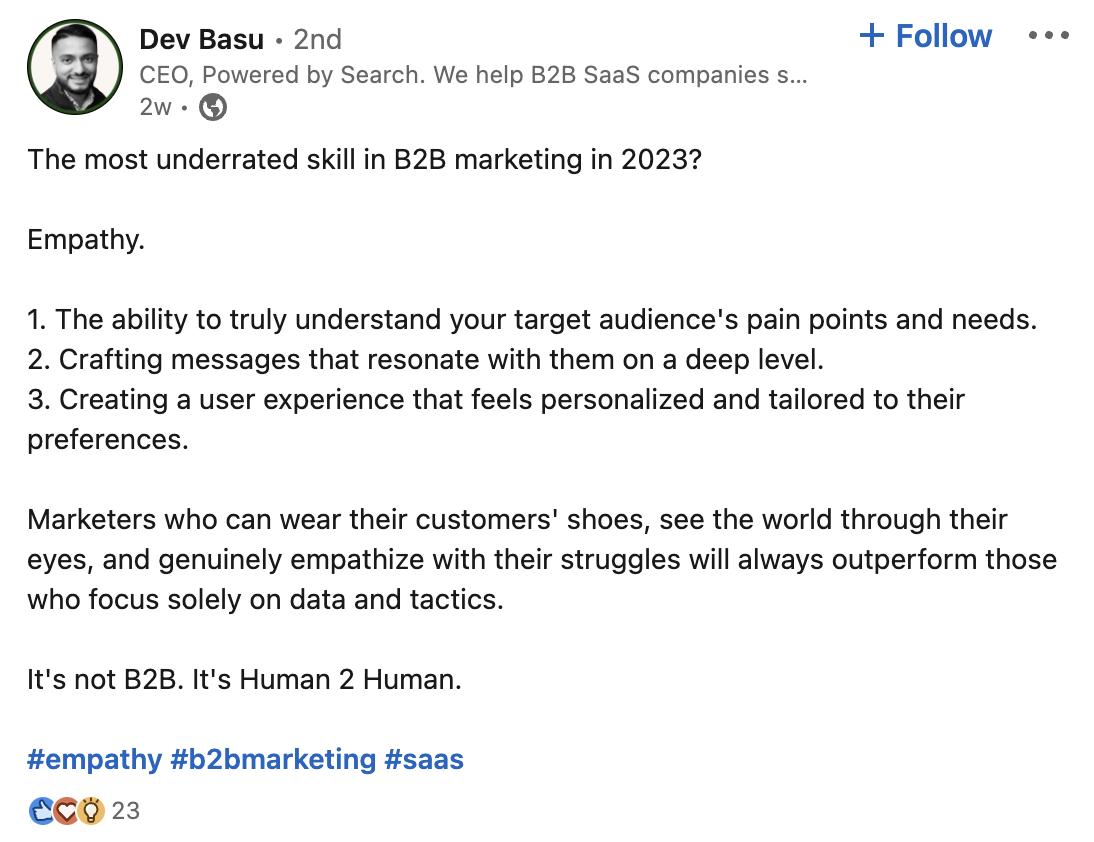 Gavin shares industry knowledge, experiences, and insights that resonate with professionals in the B2B space. His posts are personal and authentic, offering valuable perspectives.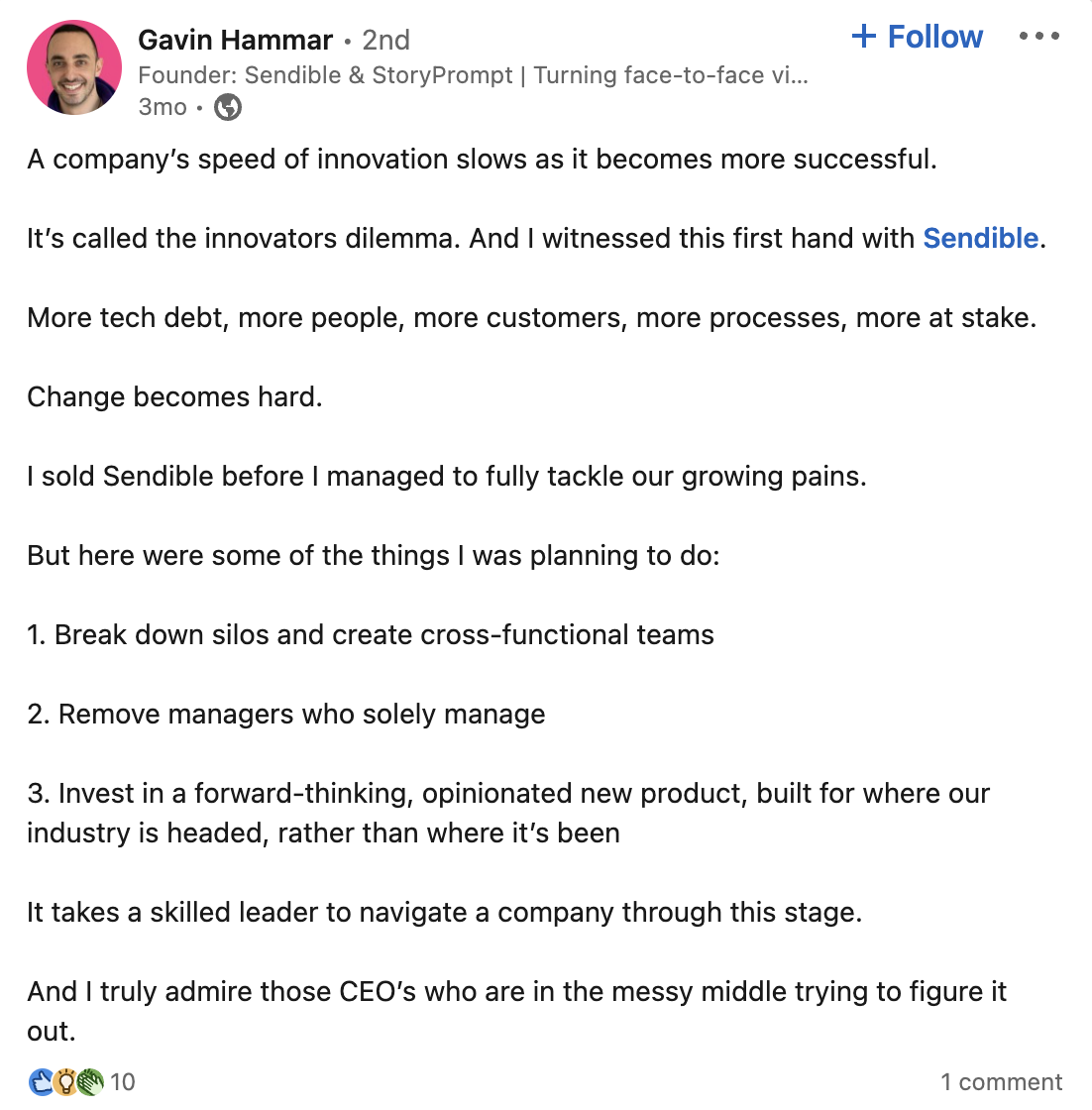 Jennifer excels at illuminating both her company and her experiences as a leader at PagerDuty. She regularly posts, comments on social issues, and shares experiences with employees, creating a strong and relatable presence on LinkedIn.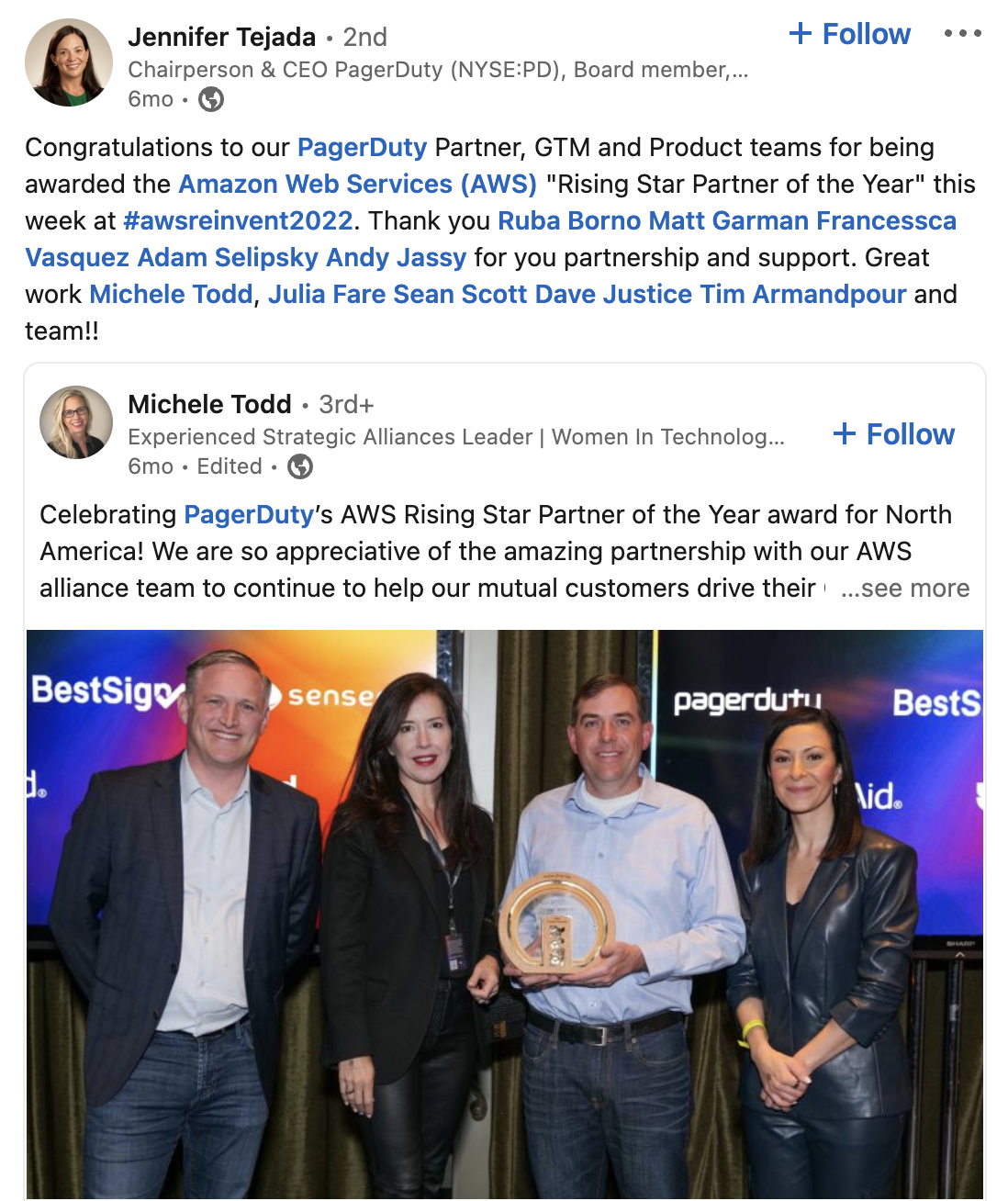 You're ready to rock!
Now that you have the motivation, inspiration, and practical tips, it's time to embark on your LinkedIn strategy. No more excuses! Build up your personal profile, share your authentic story, and do what's right for your company.
As a CEO, your voice carries weight and your company is waiting for your leadership. It's time to make your mark on LinkedIn and unlock the full potential of this powerful platform. So, go ahead, give it a try! It might even inspire your team to follow suit.