How Lattice transformed our agency's performance management
By: Grace Cole
July 19, 2023 | Reading Time: 9 mins
In 2021, we found ourselves in a classic start-up-to-scale-up scenario. We were quickly outgrowing our people management processes and finding we needed more structure. As a professional services firm, our people are our product. Providing feedback, growing and mentoring our teammates, and having clear, tracked career trajectories and goals are very important to us. But we were running into a few challenges that were making these things difficult:
Our generic performance reviews and career conversations didn't feel helpful
We were spending too much time on administrative tasks
It was difficult delivering direct, timely, and actionable feedback to Stryvers
We lacked a system that incorporated and tracked the values and policies essential to our unique culture
Maintaining team connection while working remotely was tricky
It was a tall order to fill, which is why we were excited when we discovered Lattice, a people management platform that makes people operations and culture better. If you share the same struggles, here are a few ways Lattice has helped us thrive and can help you too.
Gave us a better pulse on psychological safety
Psychological safety has always been a critical part of our culture at Stryve. It's our north star. We never incorporate or work with anything or anyone that could compromise it. That's how committed we are to psych safety. So, when we discovered that Lattice had similar values and a platform to track psychological safety more efficiently, it felt like the perfect fit.
With Lattice's engagement surveys, we said goodbye to the disconnected, manually administered Google Forms and Excel sheets we once used. We upgraded to an all-in-one platform that consolidated the results for us through an average agree/disagree score and an overall sentiment score. It also unlocked new insights like filtering the results based on tenure, department, and age to see how these groups changed or impacted the score. It even allows us to benchmark our newest results to previous surveys quickly.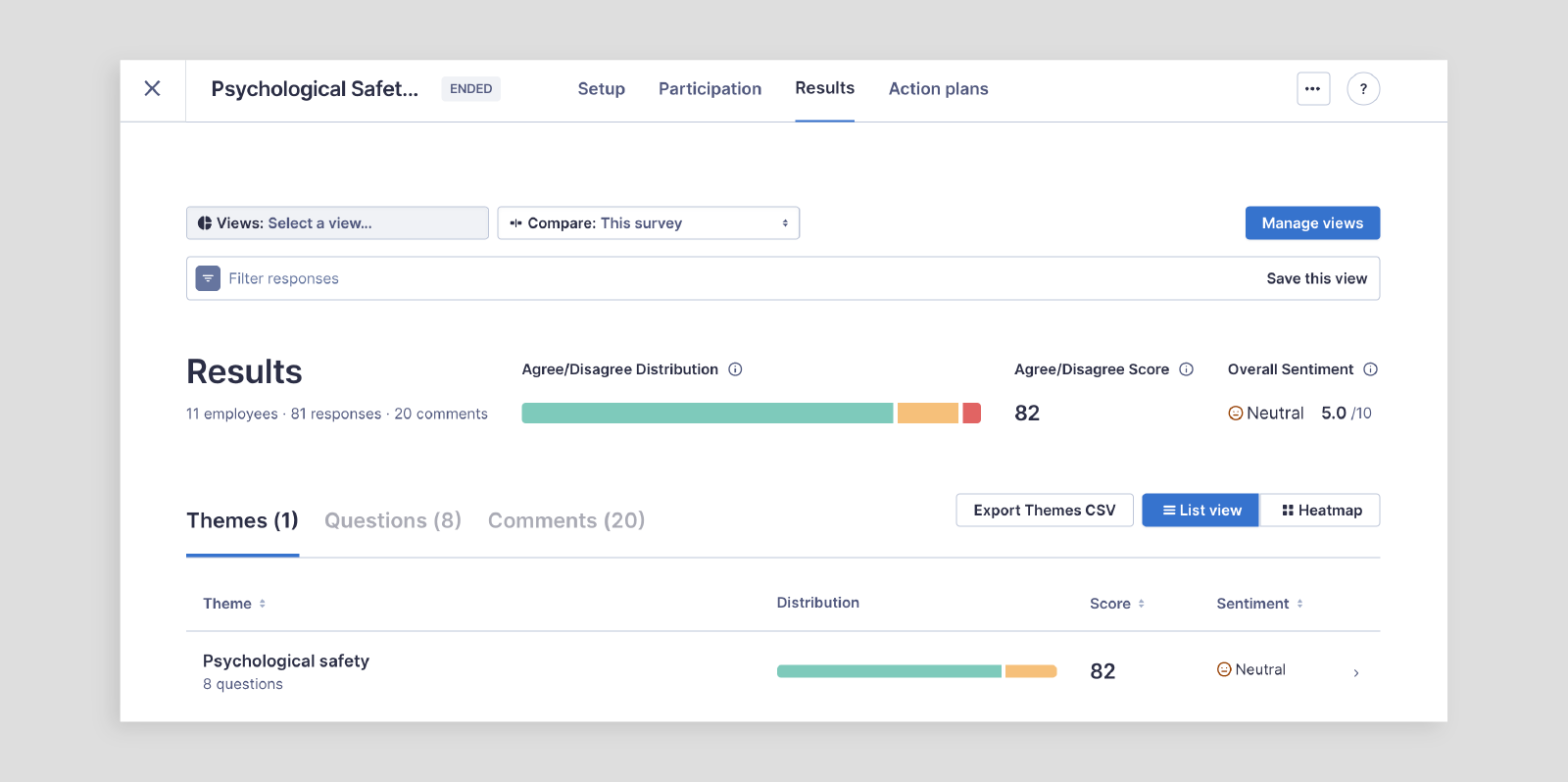 Building more frequent psych safety checkpoints
In addition to our semi-annual psychological safety surveys, we now use Lattice's pulse checks, a short series of quick questions sent monthly to a small sample of our team on various themes like teamwork, culture, and, yes, you guessed it, psychological safety! We use this feature to check in on our lowest and highest prompts like "people on this team do not reject me for being different" or "members on this team can bring up problems and tough issues" to identify long-term trends or recency biases by cross-referencing our most recent results to the data we collect throughout the year, giving us a more accurate outlook on how our culture's doing overall.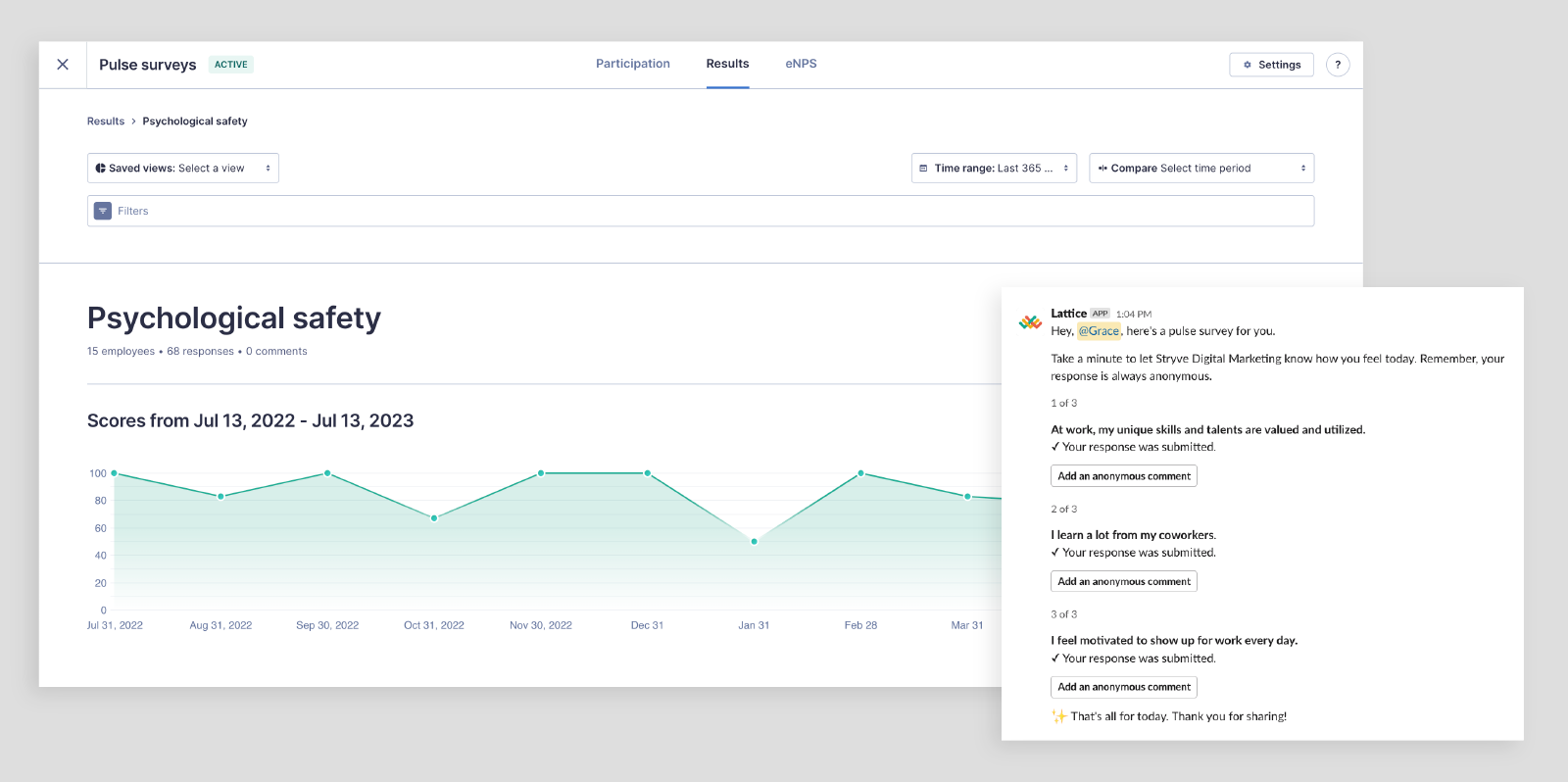 Boosted our team's morale with continuous feedback
Transitioning from an in-person team to a fully remote team and then a hybrid team, caused challenges for our organization. The heavily relied upon in-person interactions that once fostered a sense of connection and kept everyone updated on the business were not possible as we adapted to "the new normal".
With the shift to remote work, creating an environment where team members could feel appreciated and informed became difficult. To address this issue, we tried implementing "shout outs and show 'n tells" during our team-wide Friday meetings so Stryvers could share their achievements or express gratitude for their colleagues. Unfortunately, end-of-the-week fatigue and video call overload often resulted in silence during this part of the agenda, diminishing its impact. So we needed a more effective solution.
Getting feedback at our fingertips regardless of how and where we work
Enter Lattice's feedback tool. This tool empowers employees to seek and provide feedback to one another, fostering open communication and trust. It's tracked to an employee's profile and contributes to their performance review and growth. We've even integrated it with Slack so that for praise and recognition, our team has the option to share shoutouts publically for all to see. Now, contributions don't go unnoticed and there's no more waiting for employees to receive the recognition they deserve.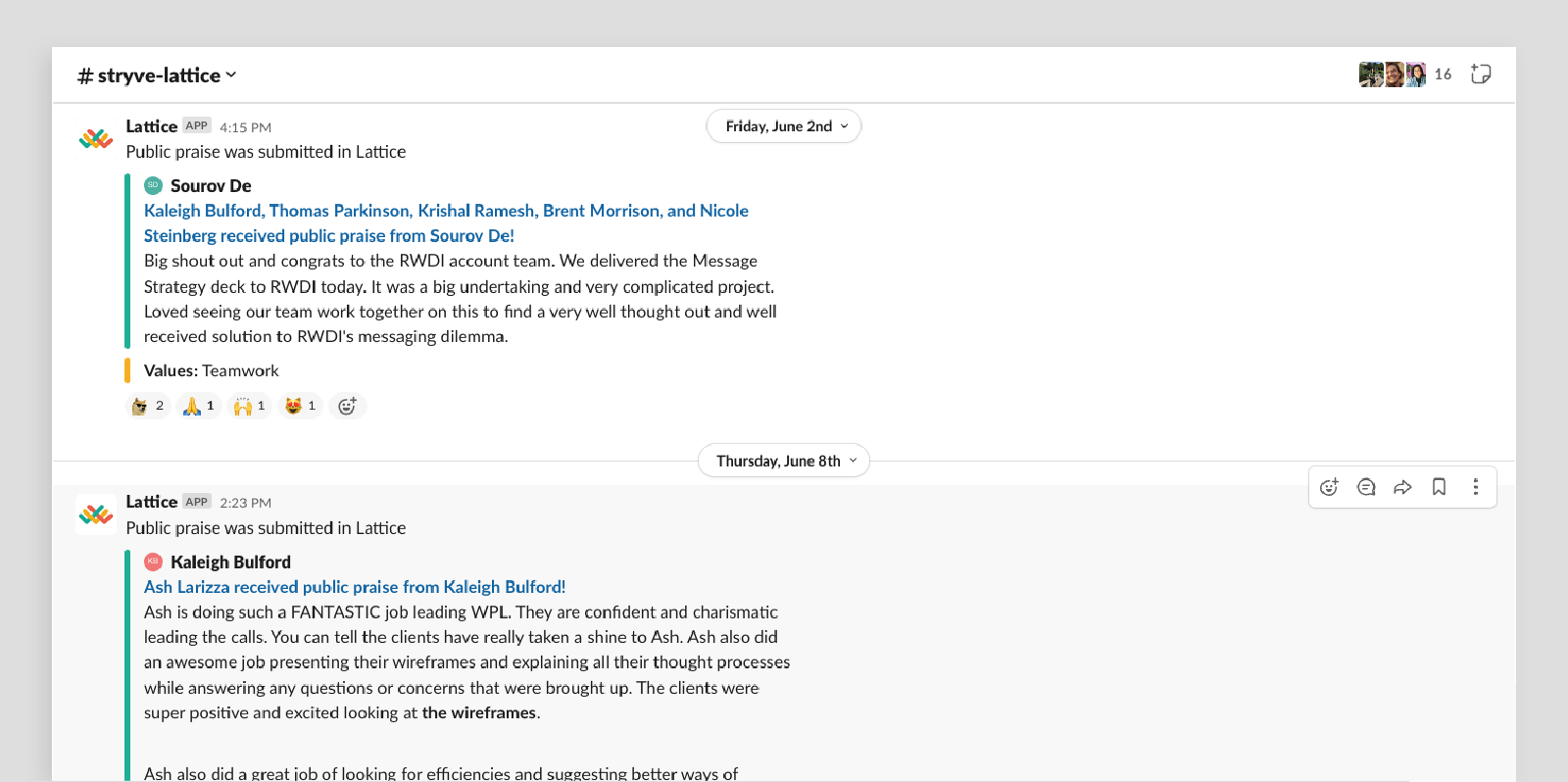 Lattice's Feedback tool also makes constructive feedback easier. Team members can face difficult topics and differences in working styles head-on with private or Manager-only feedback if that's more comfortable, which aligns perfectly with our commitment to psychological safety. By providing an accessible platform for continuous feedback and recognition, we create an environment where team members feel valued, appreciated, and able to grow.
Lattice's Feedback tool allows us to build a culture of recognition where everyone's contributions can be celebrated and documented. It's so important to give each other thanks and by recognizing each others' efforts, we've created more cohesion, gratitude, and motivation in our day-to-day interactions as a team. It's lovely to feel appreciated and know there's a system in place that enables uplifiting behaviour.

– Sara Kohan | Digital Marketer
Reinforced structure and transparency across the organization
Before Lattice, our review process was simple. Every six months, an anonymous '360' survey was sent to the whole team to comment on the employee that was up for review. It asked what they were doing well, what they could improve, and anything else they'd like to share. The results were then consolidated and presented by the Managing Partners, and the employee also reviewed themselves using the same questions.
This approach worked while our team was smaller with a flat hierarchy, but as we added roles and people, it created challenges and sparked the following questions:
Are the Managing Partners the best people to give all employees feedback and direction? Is it the best use of their time?
Should all team members be asked to review an employee if they didn't work with them in the last six months? Is this the best use of everyone's time?
How do we get employees to provide valuable and constructive feedback that sets aside their biases and avoids recency bias?
How do we give clear direction and expectations to employees on their roles and career path?
How do we give clear directions about expectations of roles so our team feels equipped to give reasonable feedback?
Empowering high performance with clear trajectories
The answer to all of these questions was Lattice's grow module. With this feature, we created career tracks for every department, which allowed us to develop individualized performance reviews for each job title and experience level (Learning, Experienced, Expert) at Stryve. With this new approach, employees can see where they are on their track, and a clear path for elevating because each position now has clear expectations and responsibilities broken down into competencies.
"My favourite thing about Lattice is hard to choose. If I had to pick one word, I guess I would pick "context". In order to provide meaningful feedback, praise, evaluation, and goals, there are a lot of things to consider. What's expected of this person's role? How important is this to their growth? What kind of work did they perform on that project? All of this is easily surfaced in a few clicks thanks to how Lattice organizes all this information."

– Sarah Rosenquist | Digital Marketing Director
During a semi-annual career conversation, employees review each of them with their managers and discuss their successes or challenges. When the conversation finishes, the manager sets up appropriate growth areas that can be updated with progress over the next six months giving everyone clear direction and next steps to keep them accountable.
"As someone who recently used Lattice for onboarding, I really love how simple and easy the Grow Module is to use. My position's competencies were clearly explained and organized, allowing me to know exactly what was expected of me. Creating growth areas and goals is simple, and they are easily accessible, which allows me to stay on the right path and continue to grow in my role."

– Bethany Johnston-Baril | Junior Graphic Designer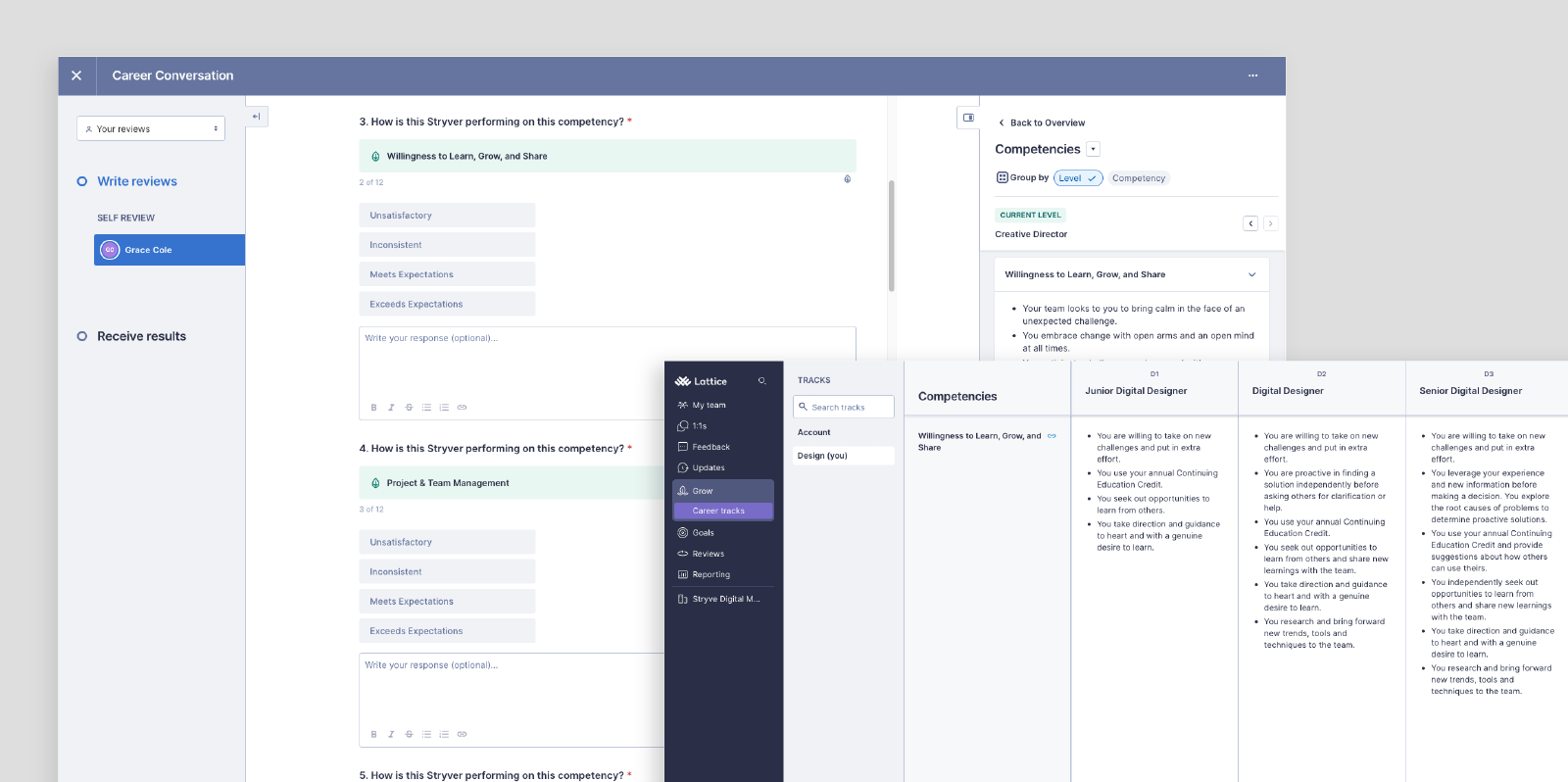 Also, since growth tracks and growth areas are public to everyone in the organization, employees can take charge of their careers and seek out valuable feedback from coworkers for themselves or others. At the same time, the Managing Partners can focus on what they do best in building the business and enable department managers to focus on mentoring their teams and creating a structure where employee development and training responsibilities are evenly distributed in a way that supports our company's mission to elevate everyone we work with.
A place to reflect and improve after every project
Iterating and optimizing is a vital part of our culture and values. That means bravely experimenting, learning from possible mistakes or failures, improving, and doing it again without fear. We aim to be open about what we can change to be better in our approaches and in our working relationships.
Creating opportunities to share accomplishments and improvements at every project end-point
So, in addition to our career conversations, we use Lattice's review module for project post-mortems when we wrap up a project. These reviews consist of a self-review, peer review(s), and project lead review to gather information on the project's successes and challenges. This helps us uncover gaps or flaws in our systems and processes. For example, if we continuously notice that a specific service offering goes over hours, we can dig into the data to find out why. This allows us to make the next projects better. These reviews also act as another method of keeping lines of communication open and gathering valuable, timely, and specific constructive feedback for everyone's performance and growth.
No feeling alone while working from home
Transitioning to being predominately remote when we were so used to seeing each other every day was tough. No more coffee breaks, gathering around our office loungers, or eating lunch side-by-side. As our team grew remotely, another challenge was forging connection, trust, and transparency from a distance. It took more effort to remember to reach out and avoid getting wrapped up in our workflows and worlds, and it was especially tough for newer employees to feel supported or comfortable asking for help.
Making coaching approachable, meaningful and continuous
Lattice's platform gave us multiple ways to ensure Stryvers didn't feel alone, especially with features like 1:1's and updates. 1:1's are exactly what they sound like, one-on-one meetings where Stryvers get the chance to meet with their manager to talk about their performance, goals, and challenges they're facing or connect on an interpersonal level. Their goal is to fill the gap between career conversations, and they take place every two months. These meetings don't require a set agenda and can be individually customized by both the employee and manager, making it feel like an equal interaction. Updates occur more frequently—every two weeks. Every Stryver receives a prompt from Lattice to provide an update to their manager with preset questions such as:
What did you focus on this week?
What's something you're proud of this week?
What are your plans and priorities for next week?
What challenges or roadblocks do you need help with?
Is there anything else on your mind you'd like to share?
How are you feeling this week? (A sentiment score)
Through the combination of 1:1's and updates, we have a systematic process that ensures Stryvers feel supported and seen by giving managers insight into what their direct reports are working on and where they need guidance. It's a platform that enables us to build empathetic leadership in our processes. At the same time, Stryvers can self-reflect on their work and build strong relationships with their managers.

Feeling future-proofed with systems we can grow into
While we're still on the small side as a business and just scratching the surface of what Lattice can offer, transitioning to their platform was one of the smartest moves we've made because it was an investment in our team and allowed us to avoid potential rework in the future by creating systems and processes we can continue to grow into and adapt to our needs.
Lattice is a full-circle product that connects all our people management processes into each other making it easy to get employees on board since they can see the "bigger picture" and how it benefits them and allows them to take ownership of their careers.
"I love how Lattice makes everything more connected. For career conversations, I can quickly access shoutouts, private constructive feedback, post mortems from completed projects, growth tracks and goals, and bi-weekly updates all in one place. It makes remembering everything that happened over the past 6 months so much easier and more efficient."

– Ash Larizza | Digital Marketing Specialist
At the same time, as a business, it's given us the peace of mind of knowing there is a robust, reliable system in the background that improves our efficiency while also fostering a supportive culture of open communication and psychological safety, regardless of whether we're in the office or working remotely.
What's good for your employees is good for your business, and Lattice has proven to be a game-changing investment for our agency, improving the employee experience, making our performance management processes easier, and keeping our culture intact while shifting to remote work.