Fad or future? Meet the virtual influencers taking over social media
By: Yumi Chow
February 1, 2023 | Reading Time: 9 mins
Miquela Sousa aka Lil Miquela is a 19-year-old influencer with over 3 million TikTok followers. She's booked modelling gigs for top brands such as Supreme and Calvin Klein alongside the likes of Bella Hadid. She's even released original music, garnering millions of plays on YouTube.
Oh, and she's not human.
Dubbed a "digital influencer" or "AI influencer", Lil Miquela is a part of the latest online phenomenon.
What are virtual influencers?
Virtual influencers are computer-generated digital characters that look and act just like real influencers would. And just like any other social media influencer they:
Post content on social media platforms.
Build relationships with their followers.
Partner with brands and use their influence to promote products and services in their niche.
Build their personal brand through ventures such as music, fashion, and activism.
They're much like regular influencers you see on social media except for the part where they don't exist.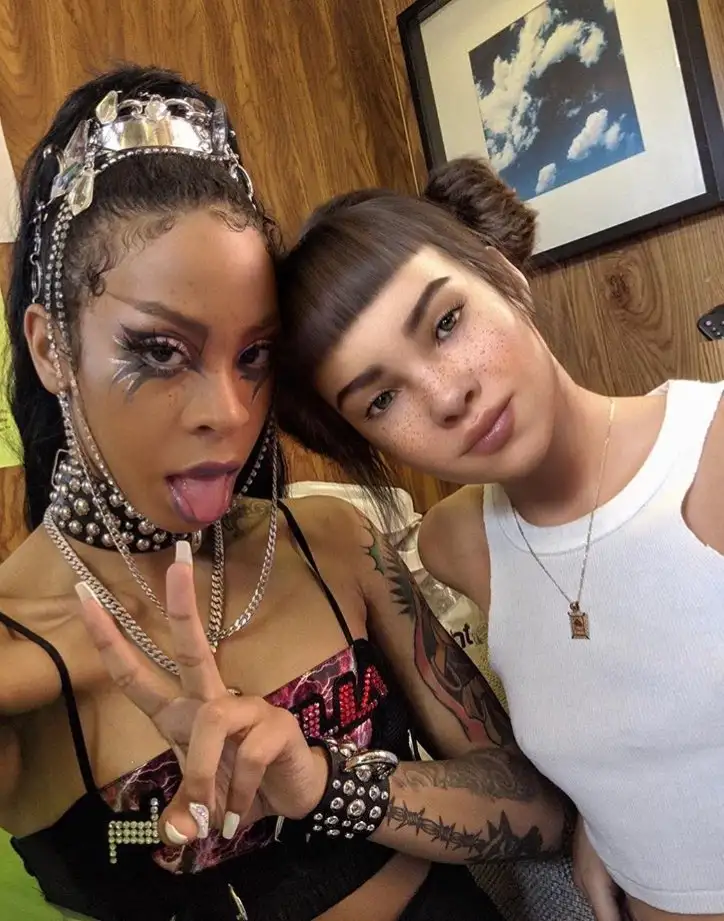 How are virtual influencers made?
Behind each virtual influencer is a company that designs and manages them. It's an intense process that demands time and money and a team with a variety of skill sets.
Determine your target audience
The first step to making an effective virtual influencer is to research your target audience. The goal is to understand the type of content, imagery, and characteristics that will appeal to a specific group. If your virtual influencer doesn't resonate with the target audience, it's not going to be very influential.
Craft a personality and narrative
From there, the company will use its research to synthesize the ideal persona of the virtual influencer. The output of this process informs later decisions.
Design the influencer
After the character is given a personality and a story, their 'physical' traits are fleshed out to resemble an actual person. Everything from their appearance to their voice to their movement is thoughtfully designed and motion capture technology may be used to bring them to life.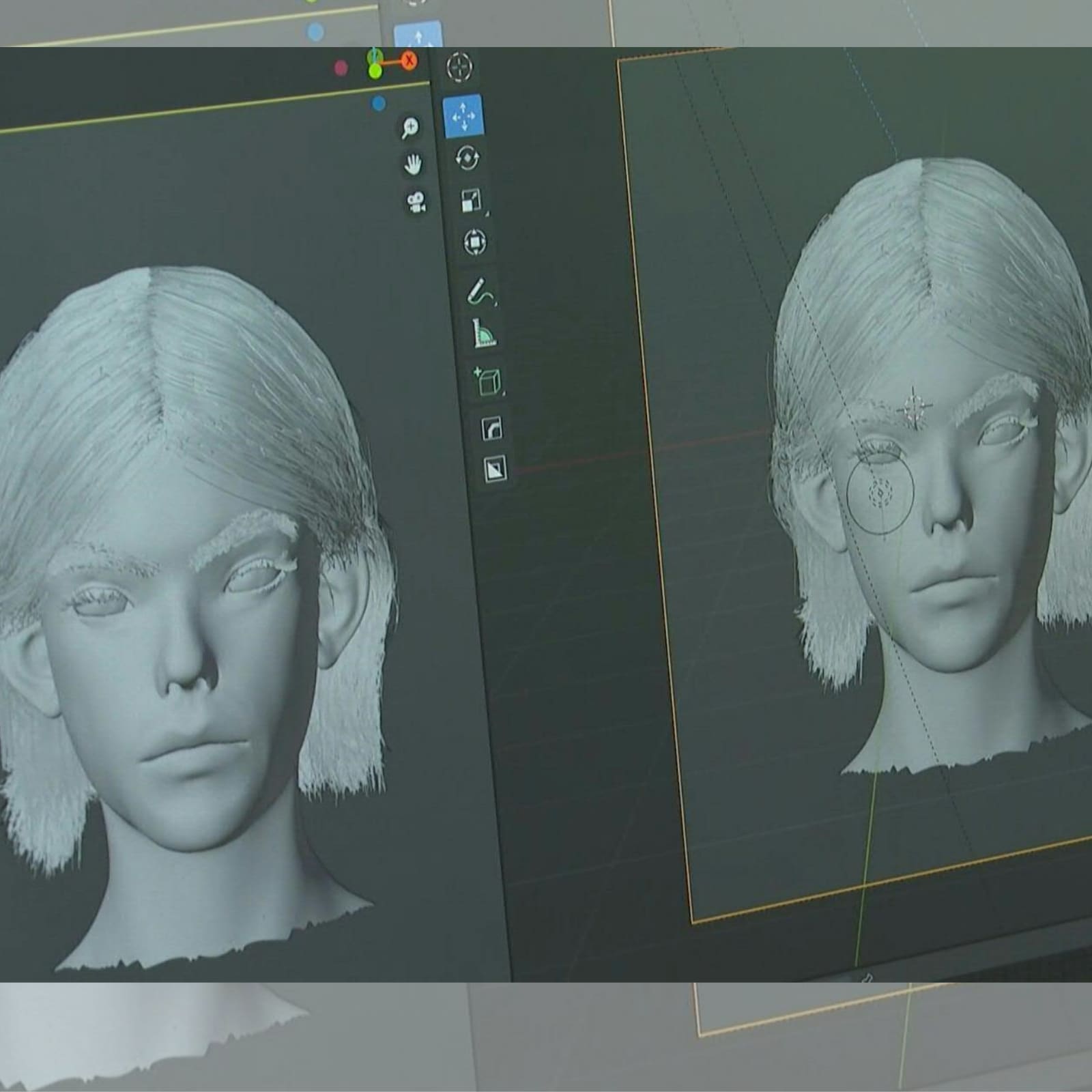 Launch them
After the virtual influencer is created, they are ready to make their debut on social media! In most cases, virtual influencers can't act on their own. Usually, a team behind the scenes creates the content and interacts with followers on their behalf. A notable exception is Serah Reikka, a French virtual influencer who is semi-autonomous. Serah's team relies on artificial intelligence to govern her personality and appearance, although humans still oversee the entire process.
How are virtual influencers perceived by the public?
Virtual influencers may not be real people, but they have real influence. Check the stats:
While we've been witnessing a demand for authenticity online, virtual influencers seem to be bucking the trend. Despite not being real, people don't seem to mind. Their appeal is probably in part due to novelty, but I think it largely speaks to the nature of social media.
Most people will never get to meet their favourite influencers in real life. Yet people still follow them solely based on exposure to their digital content. Human or not, an influencer's success comes down to how they present online — a space where virtual influencers reside.
Move aside Charli D'Amelio, meet the new hottest influencers
As of 2023, there are over 150 active virtual influencers in the world—some of which have amassed millions of followers on social media. Few have gained as much fame and influence as Lil Miquela who was even named one of TIME Magazine's 25 most influential people on the internet in 2018.
Here are a few of the top virtual influencers you should know.
Lu do Magalu
Lu is one of the first virtual influencers in the world. She was created in 2003 to promote Magazine Luiza in Brazil. With 6.2 million followers on Instagram, 2.7 million on YouTube, and over 14 million on Facebook, she boasts a massive social media following, which she uses to advocate for LGBTQ+ rights and environmental justice. In 2022, she graced the cover of Vogue Brazil Magazine.

Rozy Oh
This South Korean virtual influencer made waves across Asia when she first debuted in 2020. Created by Sidus Studio X, Rozy is a forever 22-year-old virtual woman meant to represent "Generation MZ", South Korea's most influential group of trendsetters encompassing both Millennials and Gen Z. The singer, model, DJ, and environmental activist most notably appeared in a commercial for local insurance firm Shinhan Life Insurance in 2021, which has over 9 million views on YouTube.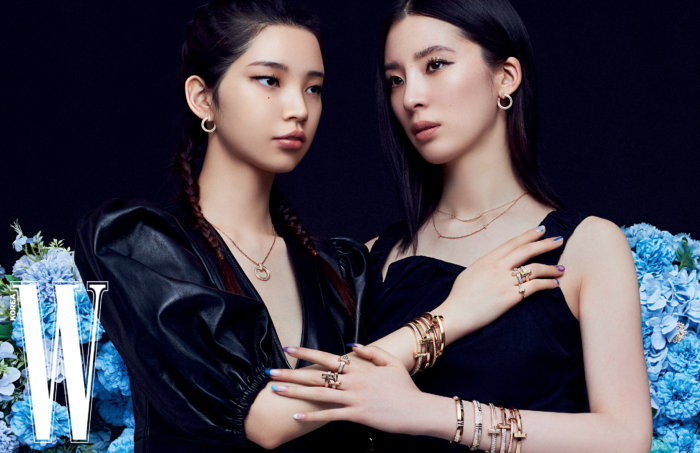 Koffi Gram
Koffi is a fitness model from England created by the world's first all-digital modeling agency, Diigitals  – a company whose portfolio includes brands like Mercedes Benz, Samsung, Louboutin and Asus. Peruse his Insta feed and you'll find many posts of him endorsing products from luxury brands to items aligned with the fitness market like Michelob ULTRA Organic Seltzer (which you can see is tactfully placed on the floor beside him as he's doing crunches).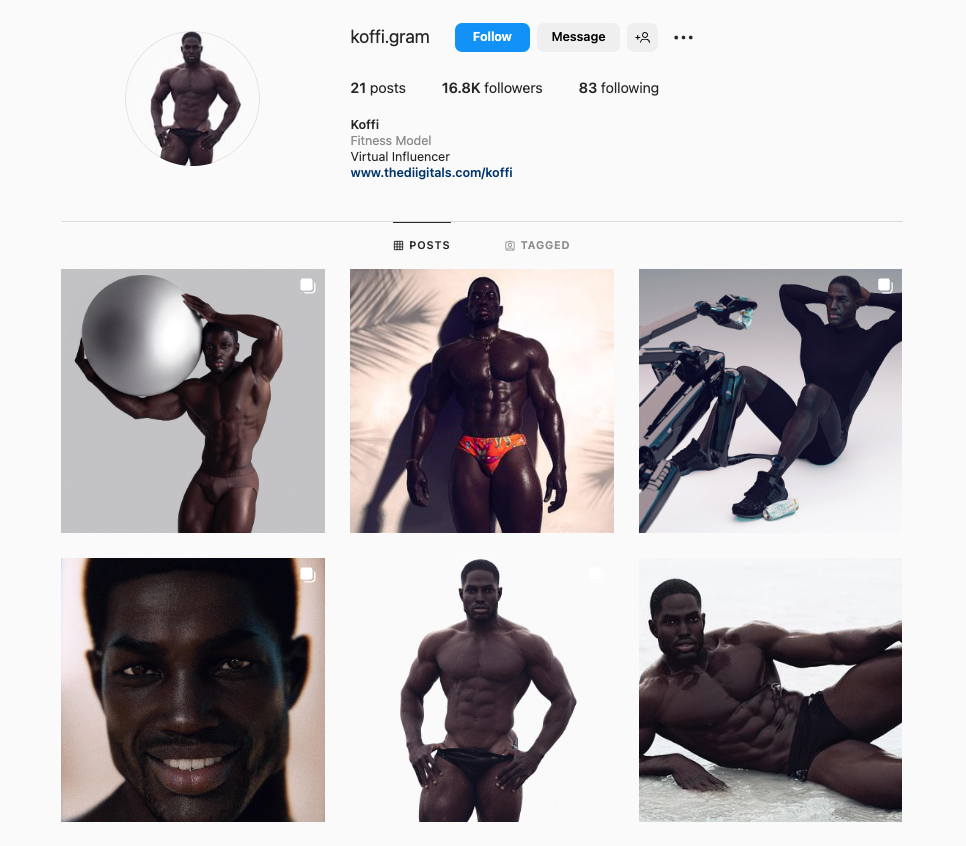 What are the benefits of using virtual influencers?
Whether brands choose to partner with an existing virtual influencer or invest the money to create their own, virtual influencers give them full control.
Increased reach
Virtual influencers can be used to reach younger audiences on the platforms they use most. Since they aren't physical entities, they're not bound to one geographical region at a time nor do they have to deal with the logistics of travel. From music festivals and brand launches to fashion shows, virtual influencers can be in multiple places at once or engage in events more frequently.
Lowered brand risk
Human influencers can sometimes be a wild card. There's a risk because there's always the chance they could be at the center of a scandal. Look at Kanye West, whose antisemitic comments reflected poorly on Adidas. With virtual influencers, brands have full control over the behaviours of their carefully crafted character which can be adjusted to align with brand values.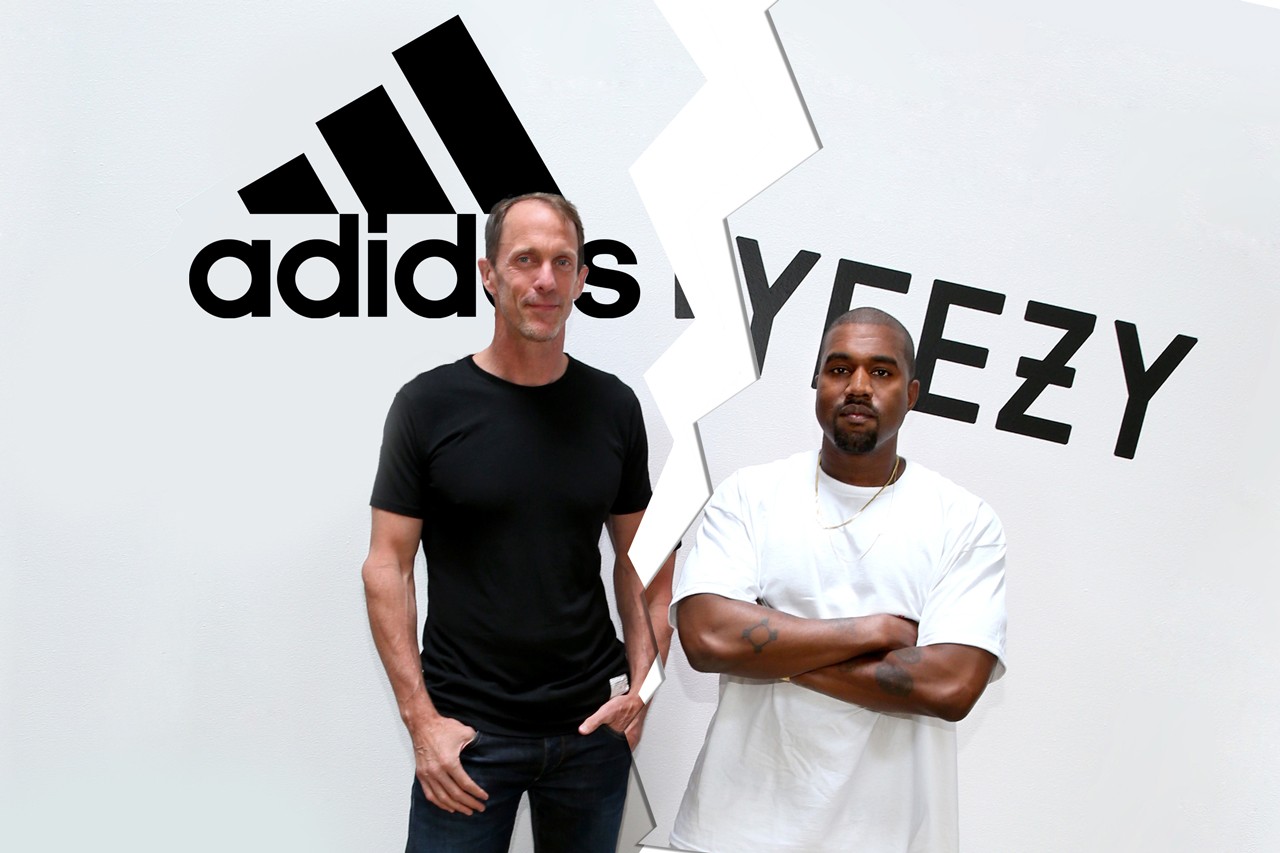 Improved product-market fit
It can be a challenge to find the perfect influencer who completely embodies a brand's values. Brands that use virtual influencers have the luxury of customization. They don't have to look for a perfect fit, they can just create one. For example, it's possible to invent life experiences or change a virtual influencer's age to better appeal to your market.
Minimized costs
If you own a virtual influencer, you don't have to worry about their pay. Instead, after an initial monetary investment to create them, most of the money they make goes directly to your team. You won't be negotiating the influencer's salary or tending to any PR costs for potential controversy either. Last year, Lil Miquela was estimated to have earned over 13 million CAD for Brud, the company that created her.
What are the challenges of using virtual influencers?
There's something Black Mirror-esque about businesses manufacturing their ideal influencer to engage with users. Virtual influencers boast unique challenges and many of them spark ethical debates.
Harmful social impact
Virtual influencers are often designed to adhere to very specific beauty standards. Like the examples we've seen earlier, many are created to look like super-models with picture-perfect lives. This opens the door for criticism as their presence on social media can have a harmful impact on followers' self-esteem, particularly if they're young. There will likely be a push for greater diversity and representation in the future.
Cross-cultural dilemmas
Just as there's a need for representation, there'll also be a growing emphasis on cultural sensitivity. As companies seek to launch racialized virtual influencers in global markets, they'll have to face cross-cultural challenges. For example, marketing teams that pose as a person belonging to a different race, ethnicity, or culture will incite backlash. To avoid sharing tone-deaf content or misappropriating cultural elements for profit, brands will need to recruit representatives from those communities.
Legal implications
Brands have to make sure they're obeying global advertising regulations, which will likely become more defined as virtual influencers become more realistic. For instance, brands may need to be careful about making misleading claims. Virtual influencers are not real people, so their emotions and experiences aren't based on reality. This raises issues if they're promoting products and services that they can't actually use.
Extensive team commitment
Since we're in the early days of brands birthing virtual influencers, it's tough to anticipate how they will age and be perceived over time. Virtual influencers are shiny and new now, but just like regular influencers, they will have to evolve to keep up with social trends. This requires commitment on the part of teams to upgrade appearances, have them keep up with technological advancements, and continually upkeep storylines so they make sense.
Negative audience perception
For a virtual influencer to be effective, consumers have to view their content as authentic—but not too authentic. Studies have shown that virtual influencers that look and act a bit too humanlike tend to be perceived negatively. There is a delicate balance between having a relatable voice and not creeping people out.

Overcoming the uncanny valley
Does this all sound crazy? It's actually not a new concept. Brands have been creating fictional personas for years to market their products and services. Think Mr. Clean, Chef Boyardee, Quaker Oats, Uncle Ben's—the list goes on. The difference here is that advances in technology have made it possible to produce hyper-realistic human characters, which can cause people to experience the uncanny valley phenomenon—the unsettling feeling people get when they encounter something that looks and acts human but isn't.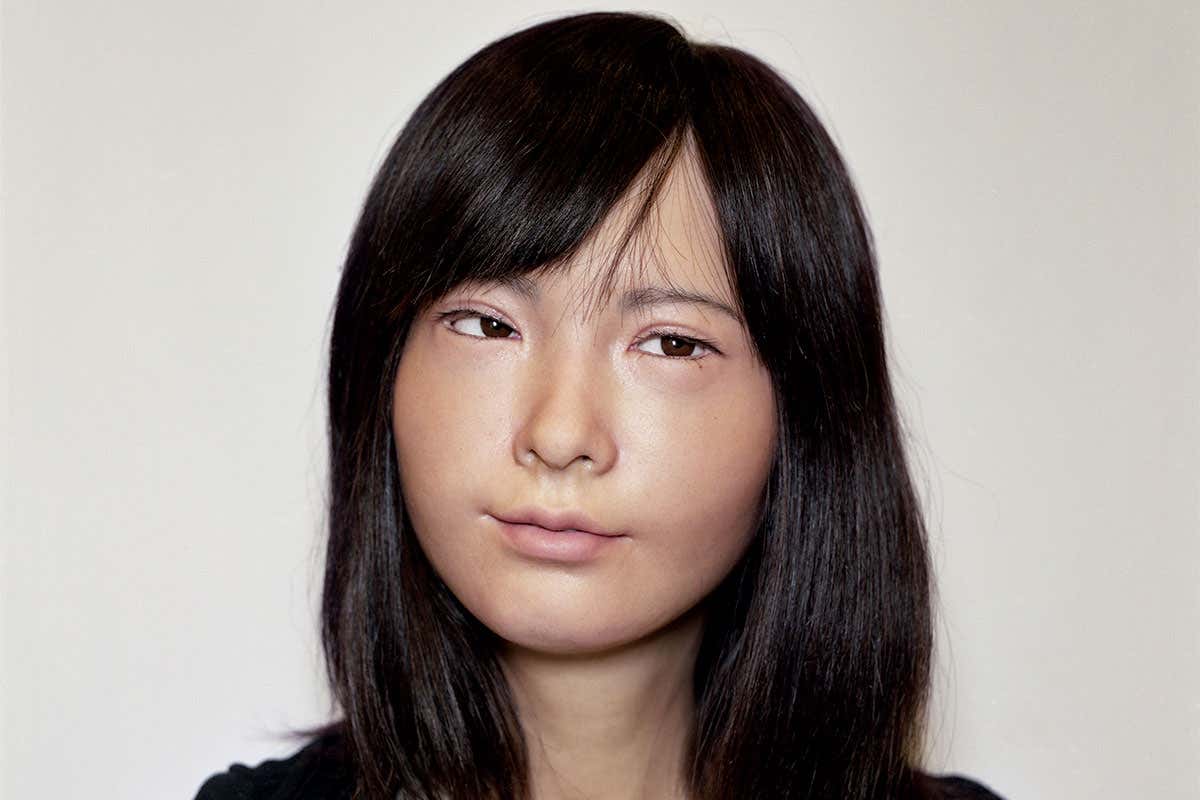 Don't aim to create a human, but a human narrative
Think about the last time you cried while watching a movie. Even though your favourite characters are fictional, they manage to pull you in with a compelling story.
What does this mean? Virtual influencers don't have to be human to work. People buy into narratives. Instead of aiming to produce a human doppelganger, brands that use virtual influencers should work to create an authentic and unique voice that audiences can resonate with. That's something all brands should be doing anyways regardless of whether or not they're using influencers.
The future of virtual influencers
The rise of virtual influencers isn't only limited to consumer brands and entertainment. Here at Stryve, we've been experimenting with emerging artificial intelligence tools, including ChatGPT. We used Synthesia to create Isabella, our very first digital influencer.
Say what you want about virtual influencers, but I think they're here to stay—though they'll likely occupy a different space than their human counterparts. In the near future, virtual influencers may be used in the Metaverse to take brands' digital presence to the next level.
As technology advances, not only will virtual influencers be more common in different industries, but they will also get more sophisticated. Companies are already starting to experiment with using AI to minimize human involvement. Virtual influencers someday may be capable of creating content and interacting with followers on their own, in real-time.
One thing's for sure: marketers will have to be prepared for this new generation of influencers. Are you ready?