A Graphic Designer's take on Midjourney for branding
By: Bethany Johnston-Baril
April 21, 2023 | Reading Time: 6 mins
Stepping into the design world as a junior graphic designer means every day I learn something new. I'm constantly learning things from more experienced designers, like faster shortcuts and tips for saving print files correctly. To return the favour, I keep my eyes out for what's trending in design to share with the team. So, when new tools like Midjourney hit the market – I jump in! To put Midjourney to the test, I ran an experiment to see how it can handle generating designs for a hypothetical brand.
What the heck is Midjourney?
Midjourney is one of many AI tools taking the world by storm. The Midjourney AI bot runs on Discord, an instant messaging social media app. You'll need a Discord account and will have to join the Midjourney Discord to access it. By offering their service through Discord, users can find inspiration in the never-ending community chat rooms filled with designers, artists, and enthusiasts. Once in, you can use the /imagine command to give the AI instructions. It'll use your text commands to visualize your wildest ideas into a beautiful reality.
It doesn't matter how wild your idea may seem! With the right prompt, Midjourney will create something beautiful – even if it's a cute dragon sitting on a flower drinking a cold margarita. Midjourney first provides 4 variations of your prompt, then allows the designer to create new versions related to a specific variation or upscale one variation to receive a larger, more detailed image.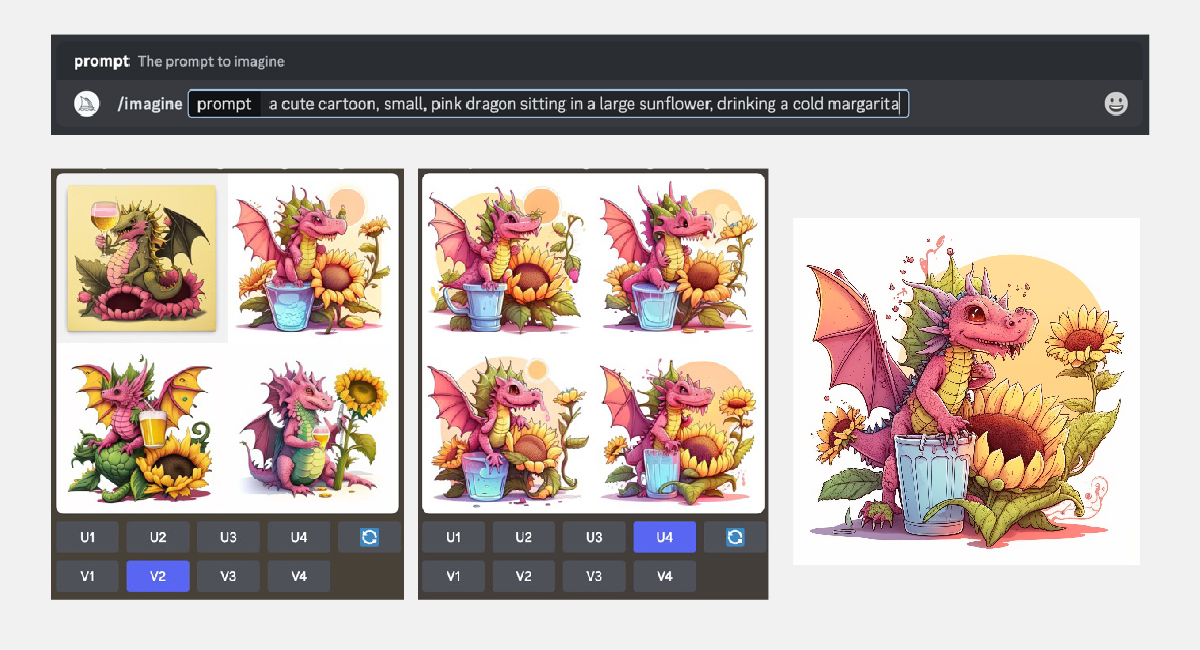 What can Graphic Designers use it for?
Creatives can use Midjourney for a variety of reasons:
To explore new techniques and styles
Collaborate with a community of designers
Learn and grow their skill-sets
Generate ideas and variety quickly
Midjourney eliminates hours of editing and helps designers create art with different emotions, time frames, art mediums, colour palettes, and environments efficiently. This tool can be especially beneficial in the early stages of the design process to compare different design styles, create detailed mood boards and help set the design direction.
Putting Midjourney to the test…
Since we embrace new tech like AI, I wanted to push Midjourney through some common design tasks. Using it, I set out to:
Create a logo icon
Generate some realistic product imagery that can be used in future advertisements
Make realistic mock-ups
Note: because Midjourney is an image generation program, it doesn't do a good job of incorporating text into its generated images. So, designers have to bring their work into other design tools like Photoshop to polish it off. This limitation can make it tricky for certain brands or those wanting to work with typography, wordmarks or logotype.
Step 1: What is the brand and what does it look like?
To start, I needed a brand for my experiment. Since I was focusing on AI-generated brand assets, I asked ChatGPT to chime in with some ideas on what hypothetical business I should use. With the help of ChatGPT, I generated some brand ideas, a name that works for that brand, an icon idea that reflects the chosen name, and finally, a colour palette.
Our made-up brand was Comfort Castle, a home decor business with a luxurious colour palette. Normally when doing a branding project, we dig deeper into facets of a brand like its reason for being. But this was enough for our design experiment.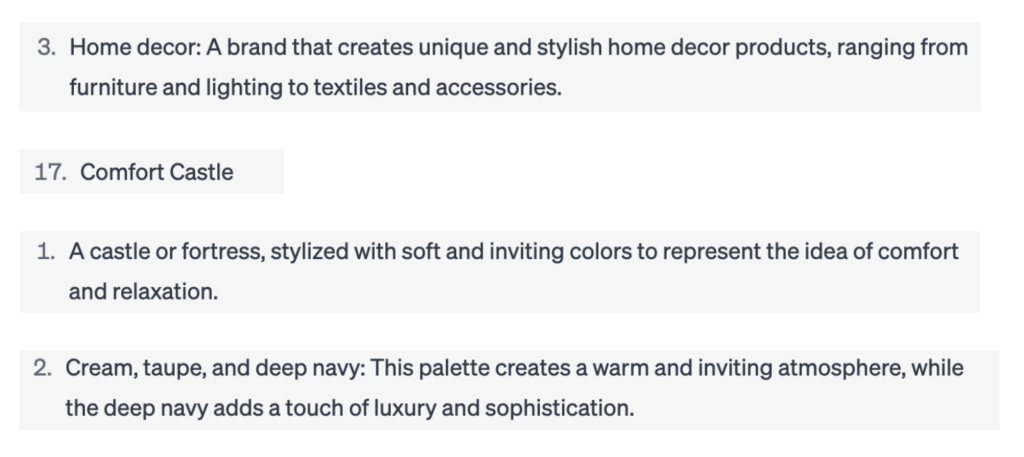 When creating images on Midjourney, it's important to use well-crafted prompts. The bot breaks down these prompts into smaller pieces called "tokens" so it is essential to be as specific as possible with what you want to achieve. Within the prompt structure, designers can use:
Text prompts that are descriptions to generate images
Image prompts that allow images to be uploaded for the bot to reference
Parameters that can be used to change aspect ratios, quality, style and more

Step 2: Generate a logo icon
To generate a logo icon for our brand, I took the name "Comfort Castle" and broke it down into some imagery using specific prompts on Midjourney. I wanted a castle with neutral colours, to feel comfortable, soft edges to feel more welcoming, and an outline to help the logo stand out. Using shape psychology, I doubled down on rounded and curved lines since it creates a more welcoming feeling over the sharp-edged versions it initially gave me.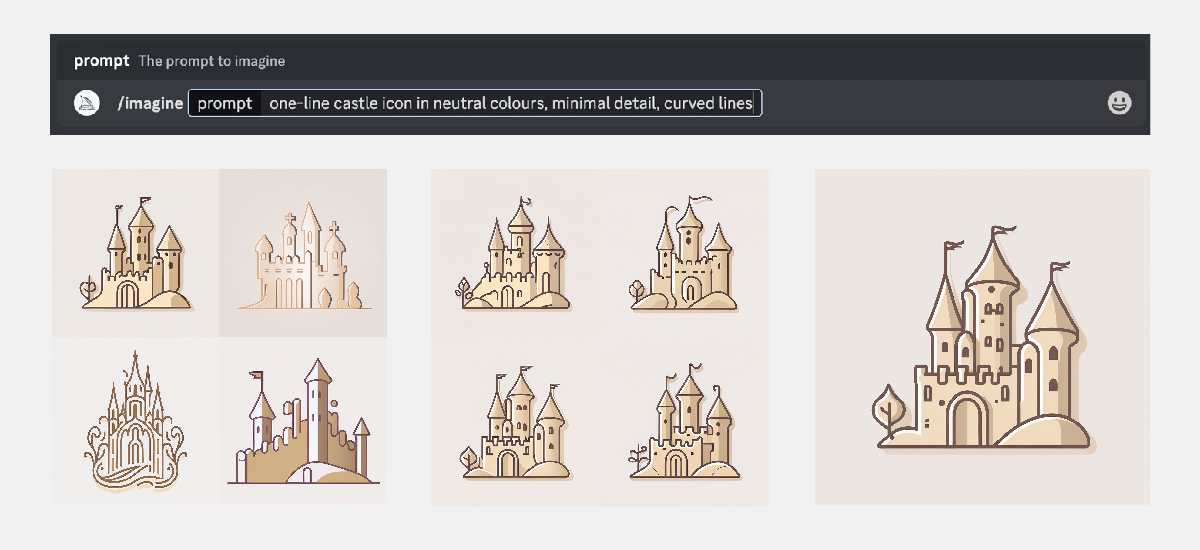 Step 3: Generate beautiful product imagery
To generate imagery, I asked Midjourney to create some rooms that show off the brand's comfortable home decor. For this step, I had to be very specific about the types of furniture and decorations that need to be included! For example, I explicitly stated what items of furniture should be shown, the mood, and the interior design style of each room.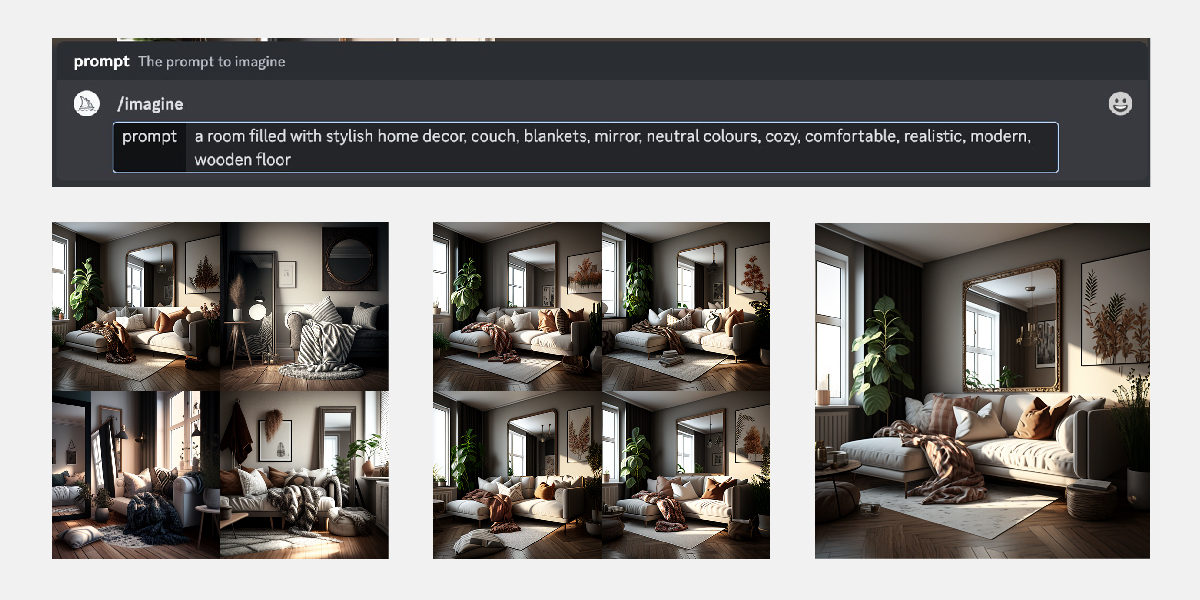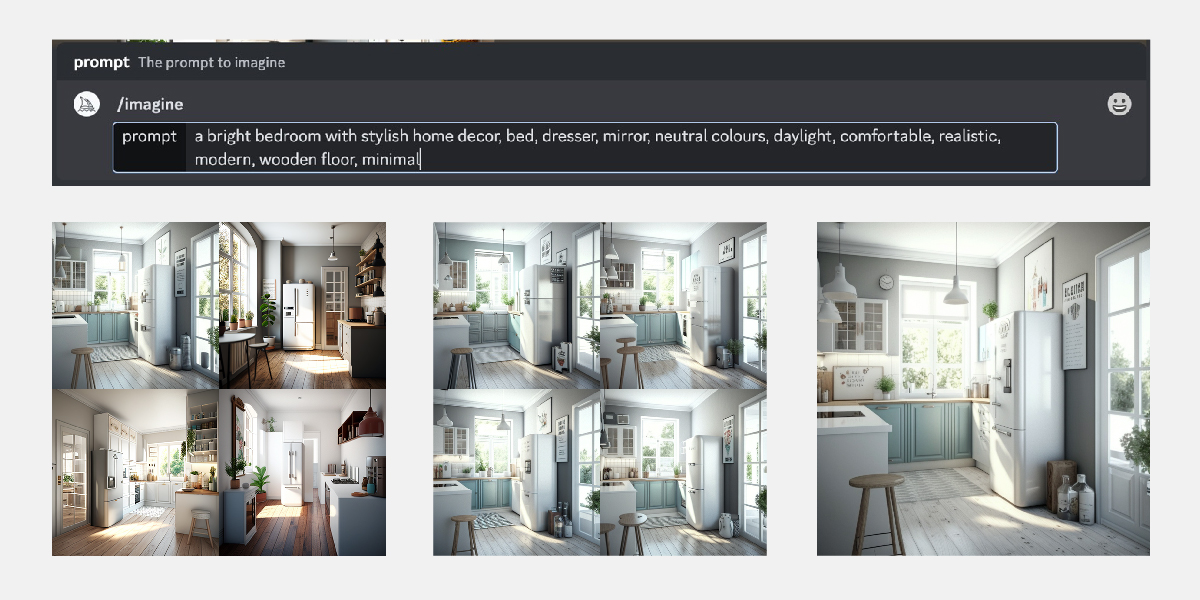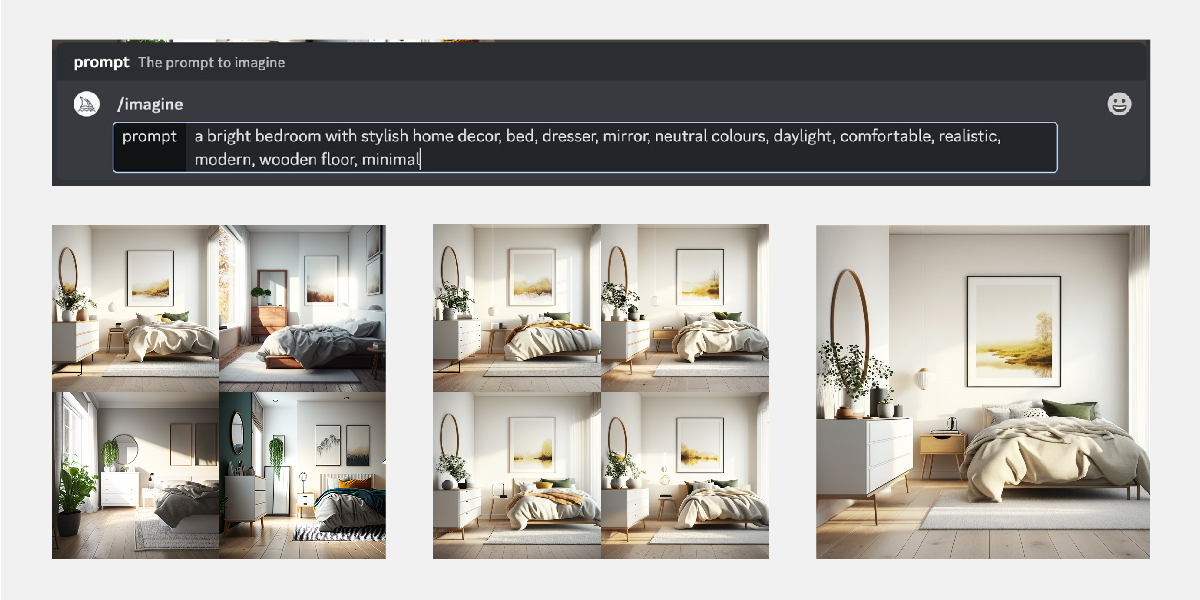 Step 4: Generate tasteful mock-ups
Mock-ups are a great asset in the design process because it allows designers to visualize products before they are finalized and make changes quickly. Midjourney allows designers to create mock-up templates that directly represent the brand and include crucial elements that may not be available in ready-to-use mock-ups found online. While it didn't insert my desired imagery within the mock-up, I was able to generate devices, prints and physical settings for mock-ups that I could then tweak and insert my brand into further.
For this brand, I wanted to generate mock-ups that had a bright aesthetic and that were easy to edit. Important prompts for these images were: mock-up, modern, bright, flat-lay, aerial view and daylight.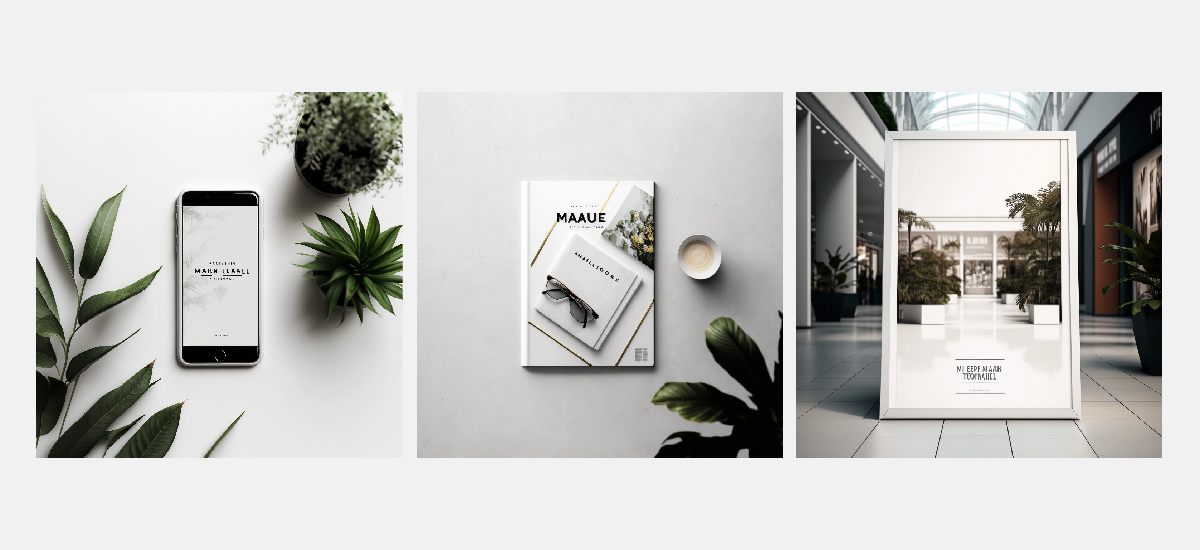 Step 5: Bring Comfort Castle to life with Photoshop
While Midjourney gave me a quick start, I had to take everything it created and personalize it to the brand. By taking the generated mock-up, editing the product imagery onto them and adding text, I came out with a pretty nice-looking brand visual. Considering 90% of these elements were created by AI tools, it looks consistent and realistic. While it may not necessarily hit the 4 keys to great branding, it's functional and useable.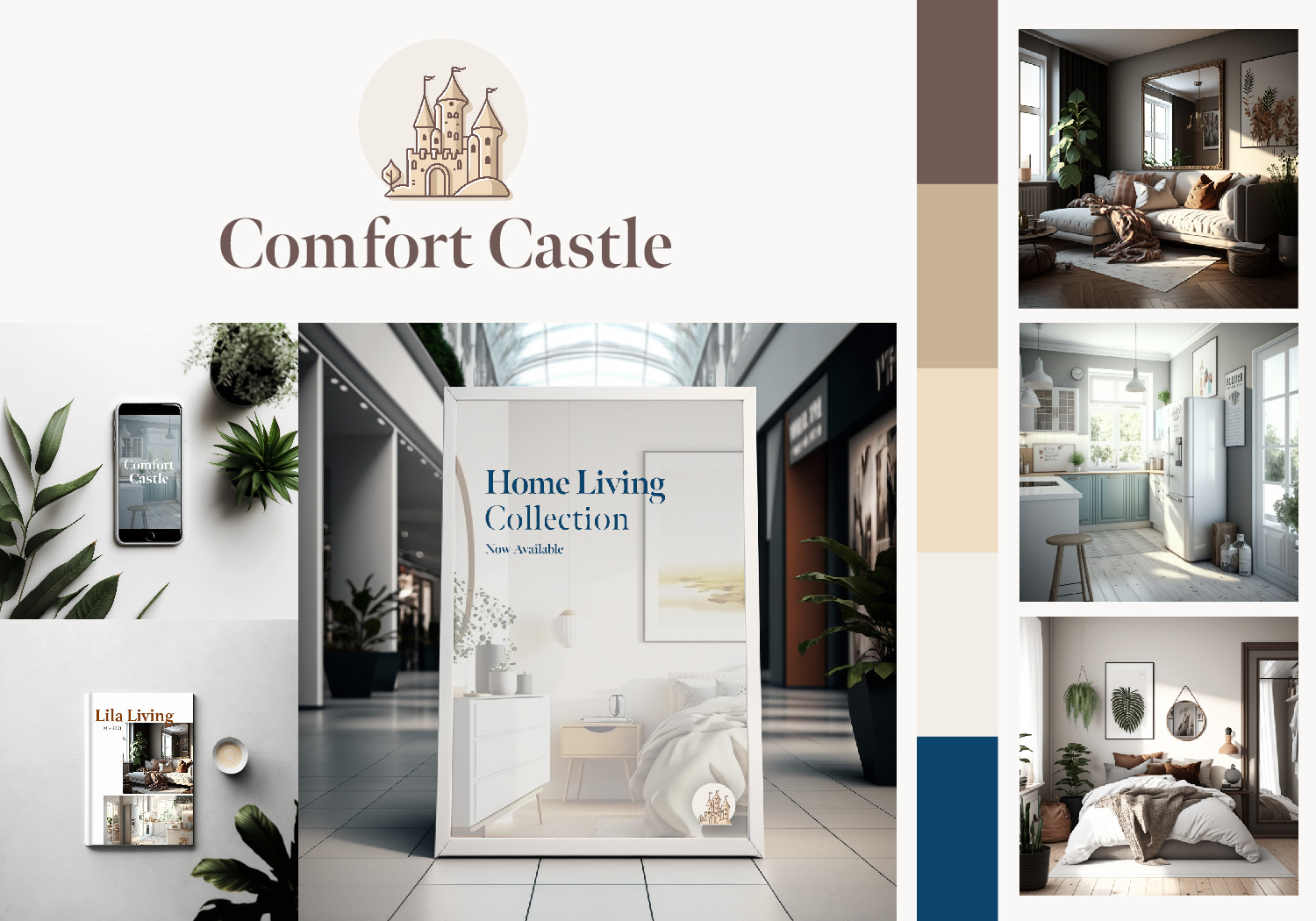 Overall, should Midjourney be in a designer's toolkit?
Artificial intelligence and low-code tech can scale your design expertise. Midjourney is a useful tool during the design process but there's a gap between what it produces and what you envision for your final product. Designers should know that there's still a significant amount of refining needed. For example, I noticed that if the image had more detail, Midjourney had a harder time keeping everything "perfect". Chairs would have an extra leg, or a door would be opening in the wrong direction. Designers need detailed eyes and possess Photoshop skills to fix those mistakes.
While it may not provide perfectly polished pieces ready for market, it provides loads of inspiration by allowing designers to visualize different approaches. With a little bit of help from other design software, Midjourney can aid in creating detailed mood boards that express visual concepts and can help focus your design direction. It also does a great job of creating specific mock-ups that can help designers and clients visualize their brand assets and products. This significantly reduces the time hunting through mock-up sites trying to find the best mock-up.
Ultimately, Midjourney will not replace graphic designers. However, it can empower teams to explore more ideas at an unprecedented rate. So yes, Midjourney should be in a designer's toolkit!