ChatGPT and the AI revolution will change marketing forever
By: Kaleigh Bulford
January 18, 2023 | Reading Time: 13 mins
If you work in digital marketing, you've probably been using artificial intelligence for some time. Maybe through programmatic ad buying, PPC bid optimizations, or AI writing tools. But none of these AI-enabled features are as exciting (or scary) as what we saw ChatGPT was capable of when it burst onto the scene on November 30, 2022, launching its beta to the public for free. AI is not a new concept to the general public. Lensa has been widely covered in the news due to controversy and we've all heard the rumours about Google's AI becoming sentient—but this was different. People immediately started diving in to see what they could do with ChatGPT. And there was a lot.
ChatGPT and the AI revolution
If you've been living under a rock, ChatGPT (Chat Generative Pre-trained Transformer) is the latest Large Language Model to hit the scene. It's been blowing up the internet since its launch, gaining 1 million users in 5 days—faster than Facebook, Twitter, or Netflix. To use it, all you have to do is type in a prompt or question in plain English making it incredibly accessible and easy to use. The most important thing you need to know is that it works by predicting the next most likely word to string together a response and not by consulting some vast database of factoids.
Anyone can sign up for an account and test it out for free (for now).
Our experience with ChatGPT (and other AI tools)
Currently, our team is testing how to integrate ChatGPT into our workflows or, exploring AI tools outside of work. Here are their thoughts on what they've experienced:
Ryan, Managing Partner
"I believe AI will liberate us from boring monotonous work which will help the ambitious among us build and monetize faster. There's so much soul-crushing repetitive work that should be done by AI. It will help companies be more productive, creating a more abundant future. Anyone in any industry will be able to access information to manifest outcomes.
In terms of the agency model, many clients will be limited in their ability to use AI internally due to security issues. I think this will provide a boon to agencies, who can safely use AI to provide dramatically more efficient and effective services to clients. As an agency owner, I'm enthralled by the future it provides.
Should people be worried or excited? If you're ambitious and want to build, you should consider AI to be your most powerful ally. I utilize ChatGPT every single day to help me brainstorm, write copy and solve problems quickly. It has become my most-used tool surpassing all others. But if your skill set can be automated or is reliant on hierarchy, your future is indeed in peril.
People seem to think that AI will replace creatives like writers or designers. This is the wrong angle. I think it will actually make creatives that use tools like MidJourney and Jasper far more valuable.
AI will be an incredibly powerful force in everything we create from design to video to training. I believe that in 5 years, our primary goal as workers will be training AI to complete jobs rather than doing them ourselves.
The only thing I can't see AI doing in my lifetime is managing client expectations, haha!"
Ash, Digital Marketing Specialist
"At this point, something that ChatGPT can't replicate well is the tone or perspective of a societal group. Whether it's trying to appeal to a younger generation (as seen in the TikTok below), or writing from the perspective of someone from a specific culture, it turns out stereotypes exist in AI too.
Is this a downside? Not necessarily. When it comes to marketing and content creation, people want authenticity. Having AI write from the perspective of someone—especially someone from a marginalized group—seems problematic. Especially if what it's spitting out is riddled with prejudiced assumptions. I'm all for automation but creativity and the best content come from sharing human experiences in an open environment where ideas can flourish. That's not something a machine can replicate. At least, not yet.
So far, my favourite use for ChatGPT has been brainstorming. I spent a long time trying to get it to write me a witty out-of-office message for the holidays. After many attempts, I ended up writing my own from scratch because the answers it gave me didn't feel like me. This is something brands can experience if they start writing content with AI. There can be a lack of brand voice making the 3D personality you've been building into something one-dimensional."
Brent, Senior Digital Designer
"I've noticed a lot of negative reactions around the use of AI in design. If an AI tool can whip up a handful of logo concepts in a matter of seconds, what does that mean for the future of designers? Will designers be replaced? Will creativity be automated? No one has a crystal ball but I'm fairly optimistic about the future of design and here's why…
In a world where speed is a top priority, AI can enhance workflows. Think of AI as your creative co-pilot. It can assist with ideas, inspiration, and even making training efficient. Instead of browsing Google or Pinterest for inspiration, giving an AI tool a few specific prompts can be another way to get the creative juices flowing.
What about AI tools that produce artwork effortlessly? Although AI-generated design can get you started, it lacks depth and strategic thinking. Great design still requires empathy and user understanding to apply emotional intelligence to your design solutions.
A great example of how AI can help designers is this image upscaler tool by Zylo. When you scale an image larger than its original size, it becomes pixelated or blurry. This is due to the software guessing which pixels to add to increase the size of your image. AI's trained on big datasets of imagery so it learns the basic properties of your image to fill in the blanks. For example, with a low-resolution photo of a bee, the AI will know what a bee looks like and fill in the details intelligently. You can increase the size while maintaining image quality. It's not perfect but the results speak for themselves.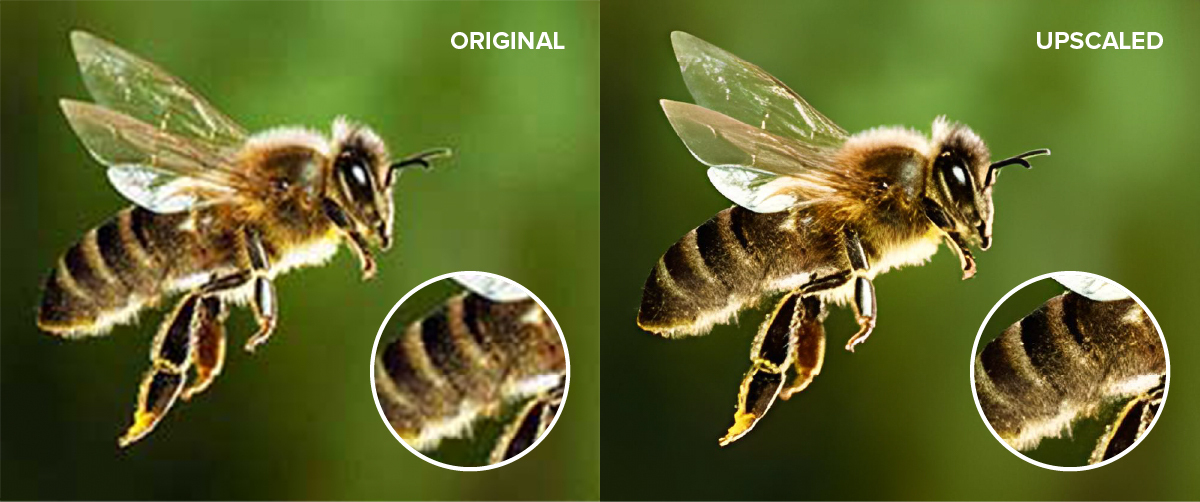 Like with any new technology, there are friction points on the path to adoption. Instead of fearing change, I challenge designers to learn how to take advantage of new advancements. When I started my career, print was the breadwinner. Fast forward two decades, digital has drastically changed the design landscape requiring designers to learn new skill sets for websites, social media, and mobile. AI should be embraced as another tool at our disposal. Just like how a paintbrush doesn't replace a pencil, AI provides another medium for creatives. For creatives who are worried about their future with these new technologies, my advice is to embrace being comfortable with being uncomfortable. Change is uncomfortable, but it's also exciting. Stay curious and never stop learning."
Krishal, Digital Marketing Coordinator
"I recently tried Lensa, an app that creates digitized AI avatars of you in various themes like Super Hero, Anime, Cyborg, and more. All you have to do is upload photos of your face and it generates images for you. I was disappointed when I saw the stark differences between my AI-generated avatars versus my light-skinned friends. Roughly 10 out of 50 images looked like me. In comparison, my lighter-skinned friends had close to 40 images that resembled them. It seemed like the app didn't know what to do with a dark-skinned person.
I plead my case (in pictures, below). Look through them and you'll see the trend is I always get the short end of the stick.
Rockstar: Apparently there are no brown-skinned rockstars for Lensa to reference. My avatar got a coat and a white shirt. My friends got the full rockstar makeover with mullets, guitars, and leather jackets. I want be a rockstar too!

Astronaut: Once again, my friends all got to live their astronaut fantasies. Then you go to mine. Who is that? The images look nothing like me. It's like the robot couldn't fathom a brown person being in a space suit.
At first, I thought I was unlucky. But when I compared my experience with other dark-skinned people, there was a trend. The app gave us fewer usable images compared to our light-skinned friends. It also didn't know what to do with us in the "rockstar", "astronaut", or "superhero" categories.
I hardly see myself represented in media, and it's extremely disappointing to see we're not doing more to ensure that POC get the same experience using AI. My experience with Lensa brings to mind the racial bias in photography technology—cameras were designed to take photos of light-skinned people, making it difficult to get good photos of black or brown people until very recently. Even in the early days of advertising throughout the 1940s and 1950s, calibrating colours in ad photography excluded dark-skinned communities as seen by Kodak's Shirley Card.
So I'm left wondering, what are we doing to stop bias against POC in emerging technologies?"
The Limitations of ChatGPT
ChatGPT is in beta. It's being updated constantly as the general public tests its limits and finds new ways to skirt safeguards. While it is an amazing piece of tech that will change humanity forever, it does have some serious limitations in its current form.
It confidently provides inaccurate data
ChatGPT doesn't really understand what it's talking about. As a large language model, its ability to understand English and what you're asking is exceptional. It feels like you're talking to another human. It answers questions in flawless English and it almost always understands the intent of the question. That said, not all answers are accurate.
In fact, StackOverflow was forced to ban AI-generated answers because so many were incorrect: "ChatGPT simply makes it too easy for users to generate responses and flood the site with answers that seem correct at first glance but are often wrong on close examination."
You can browse thousands of amusingly incorrect outputs on Twitter. My favourite example so far is its spectacularly failed attempt at answering the river crossing riddle asked by an author at Mashable: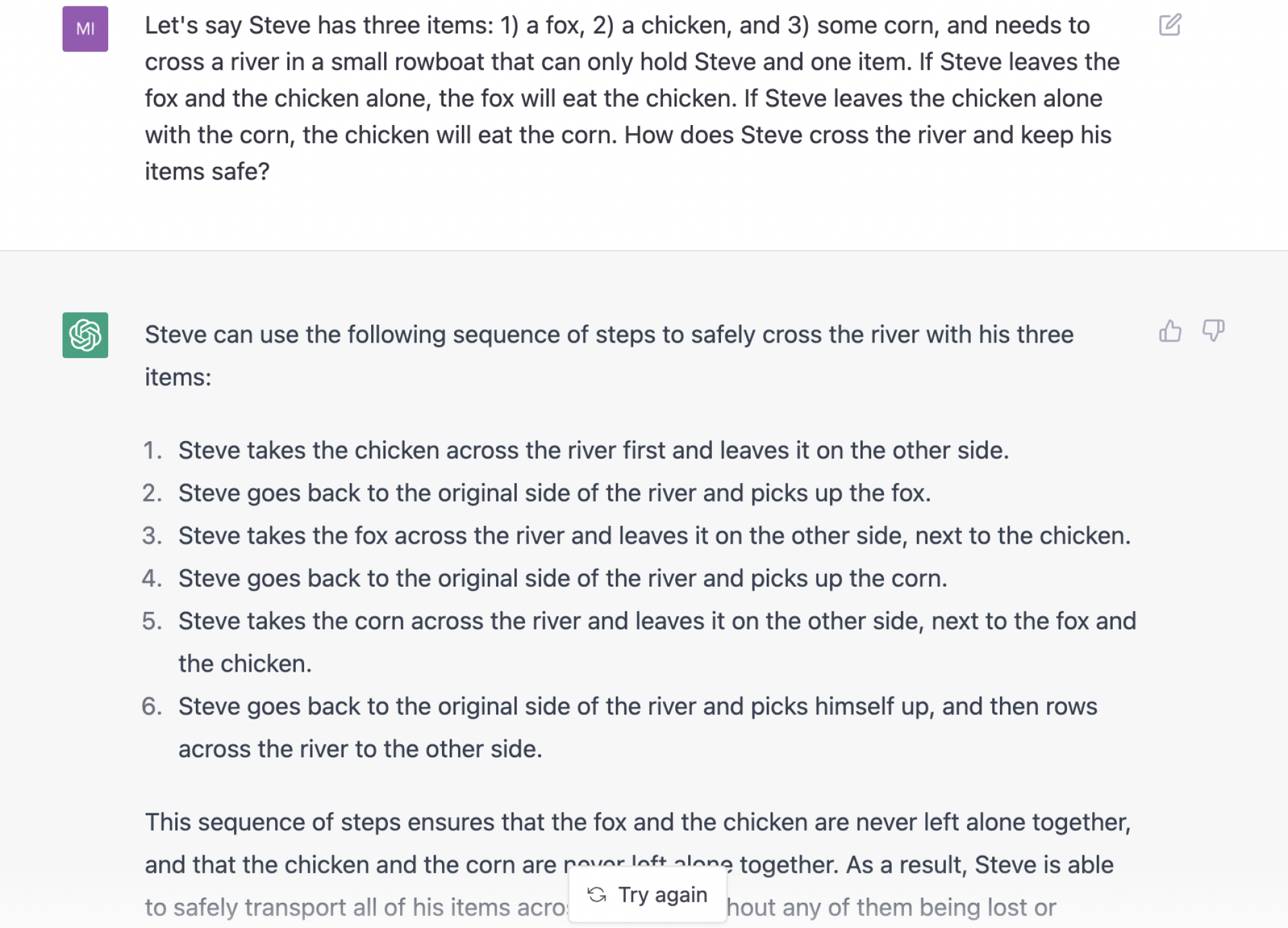 You have to admire the confidence though.
The point is, all information needs to be fact-checked, especially if you aren't knowledgeable about the topic you're exploring.
The information is generalized
After testing ChatGPT with several prompts about topics that I have expertise in, I found the responses to be accurate, but very high-level. Kind of like information from a textbook in a first-year university course. For example, I saw people using ChatGPT to write out sitemaps. The outputs they received were so generic that they wouldn't be useful to anyone but a complete novice. We're talking simple site architecture like 'about, contact, blog' types of sitemaps. While further prompts providing more specific information can get you closer to a less general answer, they still don't replace strategic thinking from a human being.
The data is a black box
One of the biggest limitations is the way it combines and presents data. That's the reason many say that ChatGPT can never replace search engines or websites. Unlike a website, where it's usually clear who the author or source is, it's impossible to know where the data is coming from, making it difficult to ascertain the credibility and accuracy of the information. Interestingly, Google recently added a new E for 'experience' to its EAT algorithm (Expertise, Authoritativeness, and Trustworthiness), doubling down on the importance of the author's credentials.
According to ChatGPT itself, its training data "is sourced from a wide variety of publicly available text, including websites, books, and articles. The data is also sourced from internal sources such as customer interactions". When I asked ChatGPT about the size of its dataset it responded that it "is certainly in the multiple terabytes or even petabytes range".
It creates convincing fake sources and links
Sometimes ChatGPT will output fake links that logically make sense. For example, in the video below (timestamped),  ChatGPT includes URLs to images and backgrounds that do not exist. Users have also found that it will create fake sources that are convincing at a glance but completely imaginary when researched.
Bias is built-in
Bias is a problem that has always plagued AI (and humanity). ChatGPT is no exception. As seen from our team's experience, the outputs can be biased because the datasets are biased. Some examples are quite egregious such as this tweet below:
Yes, ChatGPT is amazing and impressive. No, @OpenAI has not come close to addressing the problem of bias. Filters appear to be bypassed with simple tricks, and superficially masked.

And what is lurking inside is egregious. @Abebab @sama
tw racism, sexism. pic.twitter.com/V4fw1fY9dY

— steven t. piantadosi (@spiantado) December 4, 2022
It has no knowledge of events after 2021
It may surprise you but ChatGPT is not connected to the internet. Its dataset range ends in 2021, meaning it doesn't know about any events or new information from 2022 onwards. Until recently, ChatGPT had no awareness that it didn't know anything after 2021. It confidently answered questions such as who won major sporting events in 2022, going so far as to provide stats and player rosters. While this is a temporary problem, it's important if you work in a field where things change quickly and you need current information. Like digital marketing. 
This probably explains why our attempts to get ChatGPT to write using Gen Z slang all failed.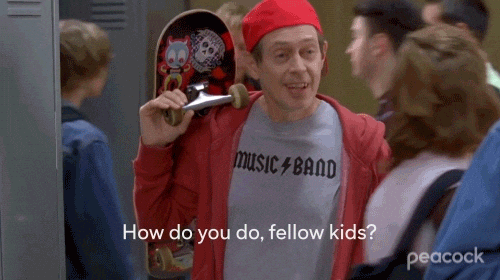 The dark side of AI
With every powerful new technology comes the capacity to use it for evil.
Cybersecurity
ChatGPT's ability to write extremely professional emails with perfect English could be a boon to scammers whose grammar and spelling errors have historically been an obvious red flag. Its ability to debug scripts could also enable shady people to improve their hacking skills and exploit tech vulnerabilities more easily.
Making it easier to create and distribute propaganda
As in the example of StackOverflow above, ChatGPT makes it incredibly easy to generate a lot of content very quickly. This will make it easier and cheaper for bad actors like troll farms to produce and distribute greater volumes of misinformation that sound convincingly human.
Who could get left behind in the AI revolution?
There's no doubt that AI will revolutionize our world and it won't be sunshine and roses for everyone.
Search engines (if they don't evolve)
In an ironic twist of fate, as zero-click searches rise due to featured snippets and other information presented within the search results, ChatGPT enables us to skip searches. In fact, that's the most common way our team is currently using ChatGPT—to search for solutions to problems without all the extra fluff. Looking at you, recipe websites that force you to scroll past a novel describing the author's upbringing before you get to the actual recipe. ChatGPT provides concise answers in a fact-based manner, especially for some of our more technical issues. How do you automate Tempo hour logs in Jira? ChatGPT's ability to cut to the chase and just give you the answer you're looking for can be a huge timesaver.
Furthermore, ChatGPT can do something that Google cannot: provide results that are perfectly aligned with the prompt (or search in Google's case). Google can only provide an answer as specific as the best website provides.
We don't yet know how ChatGPT will be monetized—and we already have been told it will because it's extremely expensive to operate—nor the cost. But unlike Google, it's unlikely to be monetized via advertisements, meaning people won't be incentivized to make content optimized for it, in the same way that content gets over-optimized for search engines.
Creatives, especially freelancers
If you had asked me 2 years ago what profession would be the safest from AI, I would've said artists and designers. Obviously, with DALL-E and Stable Diffusion, two image-generating AIs, we've seen that the general public happily consumes AI-generated art despite some questionable quality in many instances (hands and feet seem particularly difficult for AI to understand). In fact, an AI-generated piece recently won an art contest much to the frustration of the artists.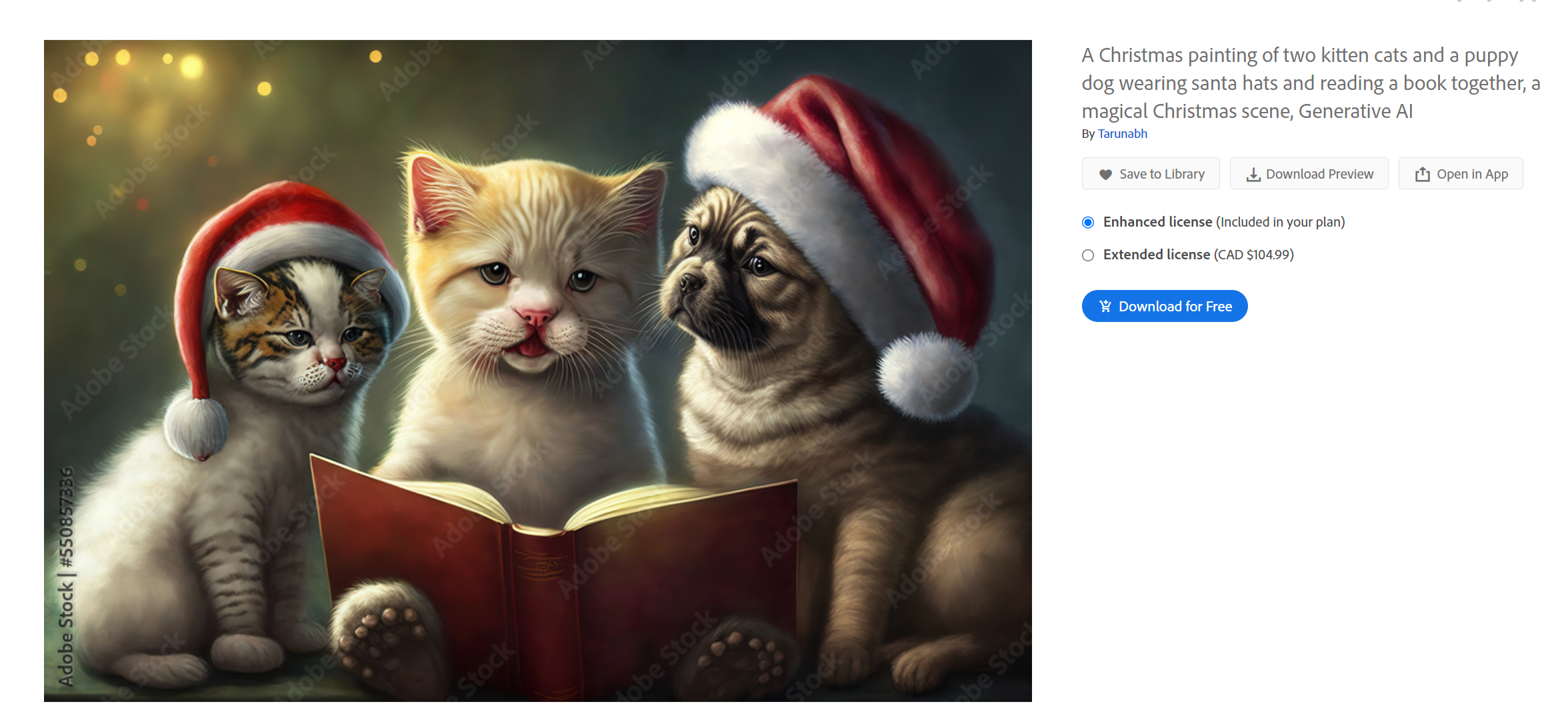 Even worse, the companies and platforms you would most expect to stick up for artists have eagerly embraced AI-generated art. As seen in the screenshot above, Adobe's stock site allows AI-generated art, despite there being a lot of questions about whether AI-generated art can even be copyrighted (the answer currently seems to be no, at least in the United States). Artstation, a platform made for artists to share their portfolios, received tons of backlash when they started removing the anti-AI art that artists began flooding the site with to protest the platform allowing AI art. While Artstation did eventually add tagging functionality to prevent bots from scraping art from their site for AI training (a little late for that…), they decided it would not be opt-in by default for very questionable reasons:
We believe artists should be free to decide how their art is used, and simultaneously we don't want to become a gatekeeper with site terms that stifle AI research and commercialization when it respects artists' choices and copyright law.
I'm worried about artists, designers, and illustrators, who lack the same collective protection as those in bigger industries such as the music industry. This article from The Atlantic sums up my fears well:
"DALL-E 2 might be a wrecking ball aimed at freelance graphic designers, […] because the industry is too small and disorganized to defend itself. The American Bar Association and the healthcare industry are much more effective at setting up barriers to entry. ChatGPT won't be the end of college; it could be the end of the college-essays-for-hire business, though. It won't be the end of The New York Times, but it might be yet another impediment to rebuilding local news. And professions made up of freelancers stringing together piecework may find themselves in serious trouble. A simple rule of thumb: The more precarious the industry, the greater the risk of disruption."

David Karpf, The Atlantic
Maybe it's time to invoke the power of the Mouse.
I'm sure Disney is fine with their beloved children's mascot holding weapons of war (found on FB) pic.twitter.com/mLXc52axvc

— Jared Krichevsky (@Monstermash042) December 11, 2022
ChatGPT won't replace your marketing agency
After spending a long time researching AI for this blog post, I've become less concerned that ChatGPT will replace me or my colleagues any time soon. Instead, I see it as a tool that will enable us to do more.
We see ChatGPT as a way to speed up our workflows and become efficient. We'll be able to do more with less. It will free us up to spend more time on creative, high-value tasks and less on the tedious administrative stuff you don't want to pay an agency to do anyway.
ChatGPT can't replace your marketing agency, your law firm, or any other knowledge worker. To get the best outputs from it you need to be knowledgeable about the subject matter otherwise you won't be able to assess the quality and accuracy of the outputs. If you don't know anything about web development languages, it's going to be hard to code a whole website using ChatGPT. You'll still need a web developer for that.
And if you're looking for cutting-edge, strategic, creative work, then you'll have to work with real humans. ChatGPT (and other AIs) are only able to create derivative work, pulling from their—admittedly vast—dataset of knowledge and creations. But to create that next breakthrough campaign, you know who to call.
Whether you're excited about this new tech or nervous, one thing is for certain. It's going to change everything. And I, for one, welcome our new robot overlords.