Agencies exist for a reason
By: Ryan Burgio
December 14, 2022 | Reading Time: 5 mins
The last few years have brought about unprecedented headcount growth at tech companies. Like all companies, we've felt it at Stryve. During the last few years, it was challenging to hire and retain talent. On top of that, many tech companies balked at hiring agencies, while Venture Capitalists preached headcount growth.
"Scale faster! Bring it internal! More people! More revenue!"
A puzzling strategy
Scaling up through massive headcount growth always puzzled me. My experience was that tight internal teams plus agencies were the most sustainable path to scale. I've worked at agencies my entire working life. Well-seasoned CMOs know that the best path to scale is to hire great people, pay them above rate and augment them with amazing agencies.
Hiring too fast dilutes talent. The need for butts in seats overrides quality. Many people join teams out of sheer demand. Taking on all this headcount has costs–both financial and the added complexities in human capital management.
Agencies exist for a reason. The entire agency model, dating back to the first ad company in 1786, was based on an optimal structure of great brands partnered with external expertise. But over the past few years agency structure has fallen out of fashion. Either gobbled up through acquisition or brushed aside for internal teams. The agency has become passé.
With the looming recession and the pain of layoffs, the trusted agency is about to make a comeback.
The great bloat
Tech companies got bloated. The biggest ones aggressively gobbled up talent by utilizing unsustainable compensation levels. Big Tech has grown substantially, with Meta growing its headcount by 28% and Google by 24%!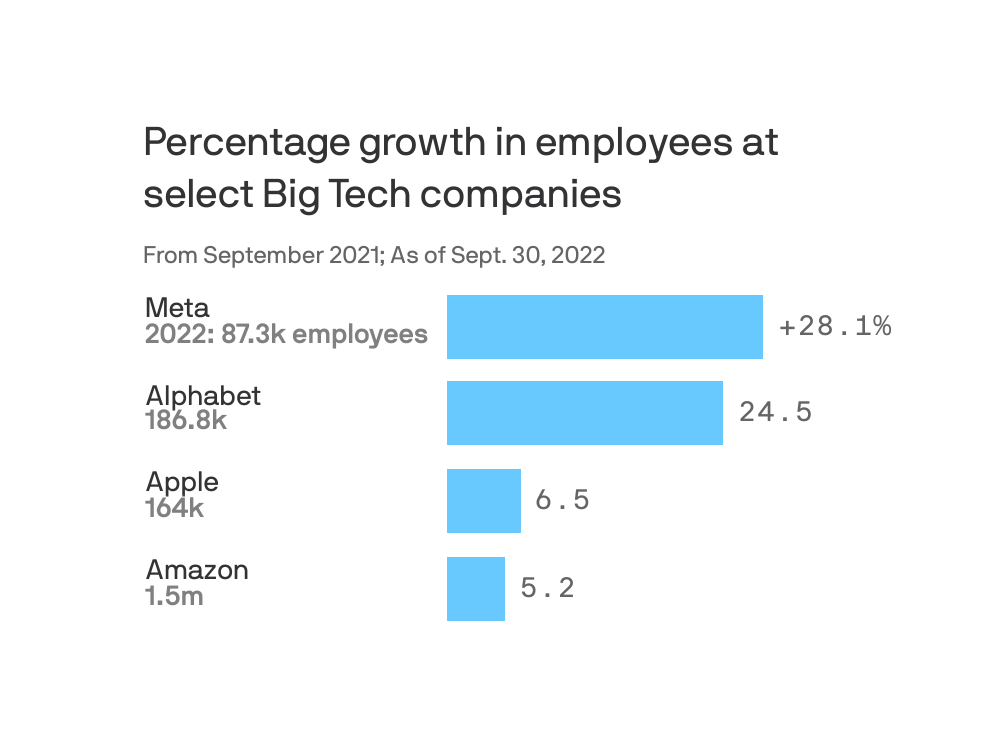 Hot off funding rounds, many felt compelled to expand their headcount. In the quest for relentless growth, Venture Capitalists pushed hiring targets. Leadership followed suit. The war for talent was on!
But was it worth it? In some instances, yes. In others, it was hard to see the impact of headcount on productivity.
Matt Perault, director of UNC's Center on Technology Policy put it best when commenting on Meta's growth: "It's not clear to me that the hiring has resulted in increased impact or innovation at a pace commensurate with the increased costs".
Why so bloated?
Why did this happen? Why did firms grow so much? Well, growth was on the agenda.
To grow, you definitely could use more people. When you hit your growth targets, guess what? You're expected to grow more. The incessant quest for growth could only be fueled by more people and more people fuel the need for growth. Many firms didn't stop to think, "Is this the best way to grow? What happens when things slow down? Is all this extra headcount actually having a positive impact?".
When you put more demands on a firm, they consider that the best way to meet those demands is by hiring more people. It's the path of least resistance. But, in my opinion, this approach is never sustainable.
When the music stops
Q2 2022 was a rough quarter for a lot of companies. It felt like everyone was being assaulted by inflation and a red-hot job market. Business was great for a lot of companies, but keeping talent was tough. It was particularly challenging for companies focused on profitability in an era of hyper-growth tech.
Experience has taught us that on the heels of euphoria comes a crash. While the market for talent isn't crashing, the music has definitely stopped. When the party's over and the lights turn on, you start to realize a lot of hiring was not needed.
Do endless meetings and unimportant initiatives count as valuable work? Companies lost touch with real work. And when the music stopped, boy did headcount seem like a burden. But not just a financial burden, an emotional one, too. Some companies were on layoff sprees just after a big hiring kick.
When talented internal teams meet great agencies, magic happens
This brings us back to my world—the world of an agency. More specifically, a digital marketing agency. I've always been captivated by the creativity, variety and excitement that ad work brings. My first grownup job was a co-op term at Ryan Partnership (yup, that's the actual name), a direct-response agency. Although now defunct, I was enthralled to work on brands like Mattel, Dove, and Heineken. It was a rush.
Which is why agencies are great. They attract creative, motivated, high-energy people seeking variety and constant challenges. Agencies are where the largest companies go to get brilliant new ideas, specialized services and inspiring energy. While in-house teams provide security, consistency and brand focus, the work can't compare to the thrill of winning over a client, or the adrenaline before a creative pitch. I've been doing it for 15 years. It's addicting.
An exceptional internal team matched with the energy of an agency is magic. Fantastic ideas emerge, unburdened by internal processes. And an agency can move faster, providing a significantly quicker way to scale.
Scale smarter this time
"We run the finances of Apple with about half the size of some of the companies I worked for before that were about 1/10th the size of Apple…we believe if we have the right people, we don't need a lot of them." – Luca Maestri, Apple CFO
I've worked with close to 100 businesses over my career. Many are able to scale in different ways. My favourite? When a client has a relatively small, highly paid, well-organized internal team augmented by hyper-talented external partners. Nothing comes close to that level of productivity. A small, driven, talented client-side team is a dream for us. They value their time and constantly want to augment their skill sets without defaulting to headcount growth. They understand the costs of more people. It's better to have a few of the best, working with the best.
Here's the thing. Headcount is a great ego boost. It's great to say you have a team of 500. It's great for your talent to say they manage a team of 50. And yes, you do need to hire to grow. I like how Jason Fried puts it:
"Hire when it hurts: "Don't hire for pleasure; hire to kill pain." Don't hire a lot or hire often. You might not need them. Pass on great people: Even if they're great, don't hire them if you don't need them"
Don't let hiring be your default mode. Hire the best you can, give them the vendor budgets to grow, and always push back on hiring more.
Give your team the budget to work with a great agency, like Stryve. Together, we'll make magic happen.