Looking for a marketing agency to partner with can feel as intimidating as diving back into the dating scene after years of being in a relationship. Browsing endless agencies on Clutch.co is like swiping through Tinder profiles. With so many options, it turns out that "there are plenty of fish in the sea" rings true whether you're dating or looking for a digital marketing agency. It's overwhelming. So, how do you go about finding the right agency partner that's the best fit for your business and marketing goals?
Most people start by asking the obvious questions like:
Do they have experience with the services I'm seeking?
Do they have experience in the channels and/or tools in our tech stack?
Do they have good testimonials and reviews from happy clients?
These questions are a great start but, eventually, you want to move past the small talk, like whether someone likes pineapple on pizza and get to the deeper questions that reveal whether you're truly compatible.
Here are things you should consider when looking for a digital marketing agency to partner with.
Industry fit
Choosing an agency that has mastered a segment as opposed to being a jack of all trades is like choosing what restaurant to take your date to. If your date says they love steak, then you'd probably choose to take them to a top-rated steak house over that "does-it-all" spot that serves steak along with all-day breakfast, sushi, Italian, shawarma, and Indian. Chances are, the steak house is more likely to do a job well done.
Ideally, the marketing agency you want to work with should specialize in the industry or segment you operate in. For example, if you're a professional services firm (includes businesses like consulting, engineering, law, or finance), then that means choosing a partner that's done previous work in the space. Stryve is a digital-first agency that serves the  B2B space. We're also a professional services firm ourselves so we understand the motivations and challenges of other services firms. We bring specialized knowledge to our clients that's been refined for over 15 years. When clients choose to work with us, it's because they feel like we are an industry fit which lets them leverage more from our partnership. Take time to look through an agency's portfolio and if it's not clear on their website, ask them about their specializations.
Ask the following:
Can you tell me about your agency's experience in my sector, industry, or niche?
Do you have extensive knowledge of the B2B/B2C/B2G (whichever is relevant) space?
Can you provide references or case studies of clients in my industry that you've worked with?
Strategic marketing vs. tactical marketing
Knowing what you want is a big part of dating. Everyone has a checklist in their head. Has a job? Check. Good hygiene? Check. Not a serial killer? Check. Knowing what type of marketing you want for your business can help you determine who to work with.
There are two ways to think about your marketing:
1. Tactically
If you're at the point of your business journey where you need to build a website or run ads for lead generation then a tactically-focused marketing agency may be the best fit for you. These agencies specialize in specific activities like running campaigns, creating content, or developing websites.
2. Strategically
On the other hand, strategic marketing is all about building a marketing machine that fosters relationships with and generates leads from your most profitable clients over the long term. When strategic marketing is done right it actively builds a moat around your business and highlights your company's superpowers, which makes your company difficult to compete with. The beauty of strategic marketing is that it asks the deep questions needed to lead you to the best tactics.
You may find that you need help with one type of marketing over the other, or maybe both. At Stryve, we like to take an integrated approach. We work with our clients to establish a marketing strategy first. Then we help them build marketing assets and execute marketing tactics. If you need to lean on us more for one type then that's cool, too.
Ask the following:
Does your agency specialize in specific marketing tactics?
How do you approach developing a strategy for a new client?
Do you offer strategic services, tactical services, or both?
Diversity, equity and inclusion
Dating opens you up to other people's worldviews. An agency partner can do the same. Inviting outside voices breaks through the echo chamber of your internal team and pushes you to challenge your usual ways of thinking or standardized processes.
At Stryve, we like to think of ourselves as your extended team. Our team's diversity is its strength. And when partnering together, it becomes your strength too. Each Stryver has a lived experience that gives them a unique point of view. This helps us ensure that the work we do is inclusive, we're considering everyone's input and taking accessibility into account.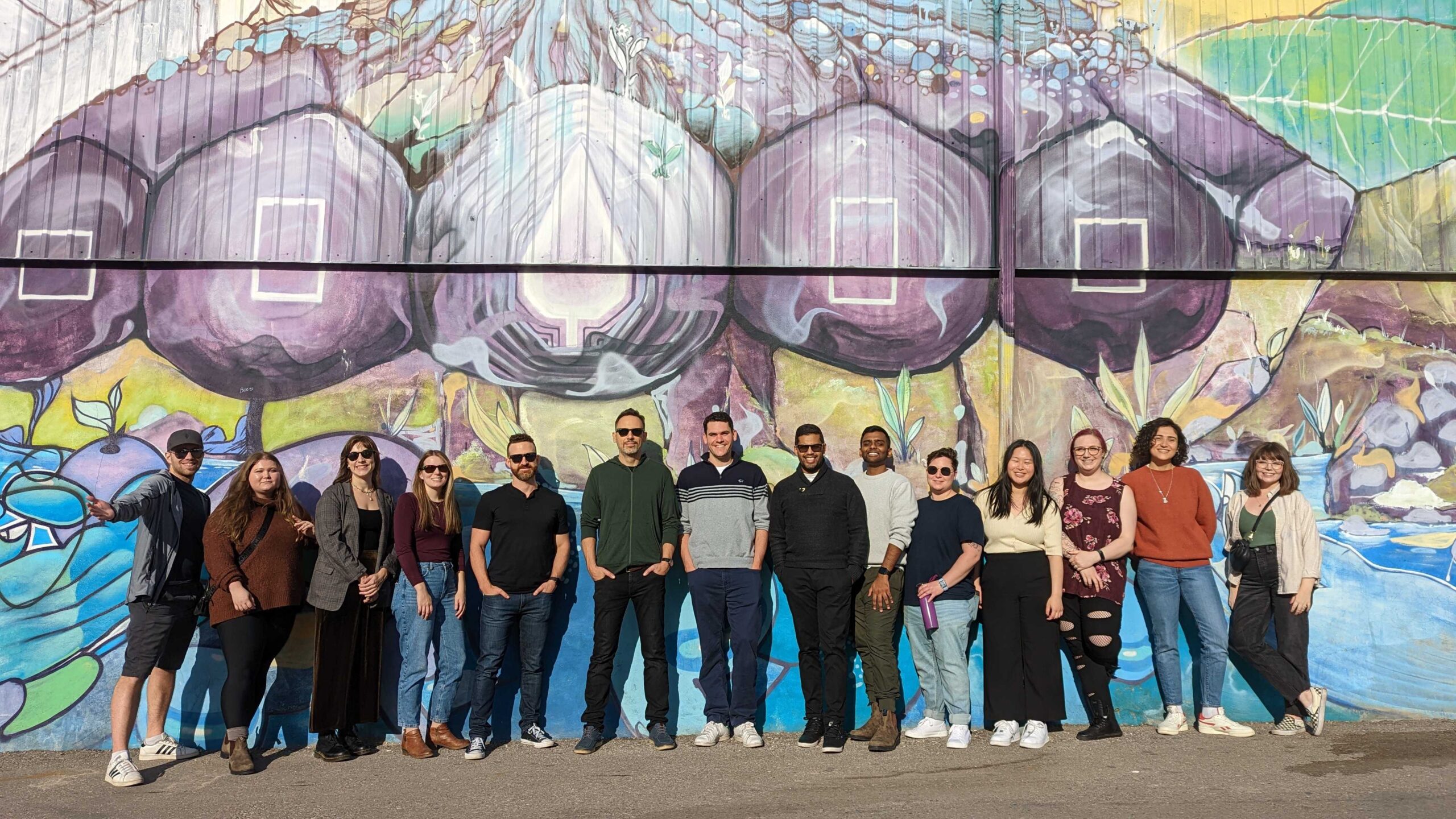 Working with an agency that's committed to DE&I can strengthen your existing DE&I efforts, make your employees feel psychologically safe and help make your marketing inclusive. Studies show companies that are considered "inclusive" are 1.7 times more likely to be innovation leaders in their industry. If diversity, equity and inclusion are important to your business and target market then take the time to ask about it.
Ask the following:
How does your agency approach DE&I in its marketing work?
What are your agency's DE&I policies?
Do you have experience with accessible design?
Agency cash flow
Now, I ain't saying be a gold-digger—but it's pretty safe to say everyone appreciates financial stability in life. When selecting an agency, cash flow is something you should consider especially when vetting smaller or newer agencies. Working with an agency that has a positive cash flow gives you insight into how that business is managed.
When considering new or smaller-sized agencies, you want reassurance that they can manage you as a client. Positive cash flow hints that the agency you partner with won't tank mid-project leaving you out of pocket and with nothing to show for it. Not to mention, when digital agencies have a positive cash flow that usually means they have the funds to invest in developing their teams' skills and can pursue new opportunities. These things allow an agency to stay updated with tech and remain future-oriented. With the right digital marketing partner, your business won't lag during the AI revolution or if (when?) virtual influencers take over social media.
As an agency that's been around for over 15 years, we continually invest in our business by giving every employee a yearly education fund. Our team members have been able to enhance their skills through Masterclasses, BrainStation, Superhi, The Futur, School of Motion, diversity training, and more! Stryve's even been recognized as one of Canada's Top Growing Companies because of our growth mindset and entrepreneurial achievements.
Ask the following:
Can you provide insight into your cash flow?
How do you invest money back into your business and people?
Do you have a dedicated professional overseeing your agency's finances?
Cultural fit
Y'know when you're getting along with someone and the only way to explain how well it's going is by saying that you're "vibing"? In the corporate world, the best synonym for "vibes" is probably cultural fit. When you share similar core values with another firm, then your two teams are likely to mesh well.
Choosing an agency partner is exactly like growing your team. So if you don't feel that you'd hire the agency to work at your company, then you may not want to hire them to work with your company. Culture extends to ways of working and behaviours like decision-making, communication, providing feedback, conflict resolution, celebrating success and more. It's essential to think about because it can set the stage for how the client-agency relationship develops. Will it be difficult to work together? Are you misaligned? Will the vibe feel off?
Curious about Stryve's culture? Don't worry, we have an entire section in our content hub dedicated to the topic and TikTok so you can catch our vibe.
Ask the following:
What's your company culture like?
For your employees, what makes working at your agency different from other agencies?
What's the ideal client cultural fit for your agency?
Project management
Project management and dating may sound like drastically different concepts but there's a lot they have in common. In dating, planning and organization insures that both partners have time for one another as they work towards building a shared future. In project management, planning and organization keep teams accountable and ensures they adhere to timelines.
Modern agencies require both left-brain and right-brain people that can merge processes with creative genius. That's where project management comes in. At Stryve, we're fully committed to agile marketing because we hate wasting time and love moving fast. By borrowing successful ways of working from other industries, we're able to move on ideas, build MVPs and bring deliverables to market quickly. We put this philosophy into practice by using JIRA, our project management tool. With a new JIRA project created for every client, workflow automation, and integrations with Slack, we keep track of all the items we have on the go.
Ask the following:
How does your team stay organized across client projects?
What is your project management philosophy?

How do you balance tailoring services to individual clients while maintaining efficiency?
Certified partnerships
Unless you're too proud to admit it, where we're from (Canada), everyone crosses their fingers hoping they'll date someone whose family owns a cottage. After all, who doesn't want the perks of lounging lakeside in the summers without the headaches that come with cottage maintenance? When the agency you work with is a partner of platforms like Pantheon or Hubspot, that usually means extra perks for you, too.
Being a certified platform partner means an agency is familiar with the technology, has access to special technical support for quick resolution, and may even be able to provide you with preferred rates on those platforms. These partner programs also offer training and development to ensure partners are up to date on product features. So, you can rest easy knowing that when an agency is a certified partner, you'll be taken care of.
Ask the following:
Are you an agency partner with any platforms?
Do we get preferred rates from any of your partnerships?
How do your certified partnerships benefit us?
Transparency and hours tracking
Obviously, nobody wants to be cheated on or lied to when dating. The views alone on this country music playlist called "Cheating hurting songs" tells us that. Transparency is essential whether you're dating or if you're in a contractual relationship with another firm.
When working with an external party, you need honest communication when it comes to progress, timelines, and what asks are within scope. At Stryve, we like to communicate transparently and early so nothing comes as a surprise. Whether we see a trend of overages, find potential blockers, or, notice a dip in KPI performance, that's something we flag with you 🚩. We're also flexible when it comes to your preferred method of communication. Whether it's Slack, Microsoft Teams, Trello, Email, or Jira, we take a technologically-agnostic view toward communication channels.
Transparent hours tracking plays into this.  If agencies don't have the organizational skills or project management tools in place to operate efficiently, it's more likely they'll waste your money. If they aren't tracking hours regularly, it's likely that they'll be sending you invoices for overages. And if they haven't been transparent with you on hours tracking throughout your time working together, then those surprise bills leave a bad taste in your mouth.
Ask the following:
How do you handle communications and updates with your clients?
How do you track project progress?
Can you offer check-ins regarding hours usage?
Team structures
When you're getting to know someone, you may ask questions about how big of a family they want and hope that it lines up with your answer. Family structure talks are akin to team structure talks. The size of the team you'll be working with and the roles of those teammates are important to break down. This is not only something that you may ask an agency but something that the agency may ask you. Agencies can have preferences about the size of teams they work with or the point of contact they'll be engaging with.
At Stryve, we love working with companies that have a marketing manager that is both responsible and accountable for a marketing plan and its budget. When a marketing manager is leading on the client side, that means they are fully focused on marketing efforts and are empowered to make decisions. Whereas, it can be difficult to work with organizations that rely on their founder or CEO to make marketing decisions. Because of their roles, founders and CEOs tend to be pulled in many directions making it challenging to remain focused on marketing week-to-week.
Ask the following:
What point of contact are you looking to work with on our team?
Do you have any concerns about how our team structure is set up for this project?
What sized teams do you have experience working with?
Marketing budgets
Money's always a tricky subject. Like, how do you let someone know that those Beyonce concert tickets are a bit more than you're willing to spend on a date? Who should pay the bill at dinner? If your attitudes about money don't match, things probably won't work out.
When choosing a marketing agency, you probably have a budget in mind. While working with the more affordable options seems great in the short term, it can actually cost your business in the long run. For example, launching a website through the cheapest option may result in buggy coding, a difficult-to-use backend experience, limited site functionality or, you may end up with a site that poorly communicates your offerings. These things make it harder for you to maintain the website over time, use it routinely, or, get the returns you want from the investment. On the flip side, blowing your maximum budget with the most expensive agency doesn't necessarily guarantee results or, a good working relationship. If you just need to get around town, a Honda Civic is probably a better choice than a Ferrari.
We've found that we're the best fit for companies who have set aside around at least a $100K per year budget for their marketing. This budget allows us to become integrated with the client so we can help them set marketing strategies and then take on all the execution. We start with strategy because that can set us up to be more successful with our tactics. People often underestimate the time it takes to come up with well-thought-out branding, content, or marketing messaging because strategy pushes them to think deeply about their business in ways they haven't considered.
While every client and project is different, the process generally starts with us doing discovery, researching your industry, understanding historic/current marketing efforts and uncovering your strengths and weaknesses versus your competitors. Then we establish your value proposition, your 'why', and your differentiation points. After that, we need to go through the creative process on our end and develop two or three creative concepts for a client to consider. Once that's in place, there's a lot of time for back and forth to refine the creative. This process takes months of work and if it's done properly, it will lead to beautiful and breakthrough marketing.
If it's not already clear in their proposal, it's okay to ask agencies questions to understand the cost of working together.
Ask the following:
Can you explain how you've come to form this budget proposal?
Can you explain how your team is allocating time/money to various phases of the project?
Is it possible to work together at another budget point and what would that look like?
It's a two-way street
No one likes carrying the conversation solo on a date and qualifying an agency shouldn't be a one-sided conversation, either. An agency should be just as invested as you are in ensuring that you're a good fit for them. If they don't ask you any questions or seem desperate to add you to their client roster as quickly as possible, that's a red flag. Nobody finds desperation attractive.
We frequently say no to business opportunities that come our way because Stryve is not the right fit for all firms. For instance, if we work with a client at the wrong stage of their company's marketing journey, it will be costly for all of us in terms of wasted time and money and no one will be happy.
Cheers to finding your perfect match
It takes effort to evaluate if you're ready to go steady with a person or an agency—both are commitments that you don't want to regret.
Deciding what type of help you need in order to achieve your marketing objectives is a daunting task. You have the option to build an internal marketing team or hire an external agency. Either option can be costly if it's not well thought out and done at the right time in your business's journey. Like any good business, we want to deliver value for our clients and make them happy.
Hopefully, you're now feeling equipped with the right knowledge to help you choose the right marketing agency for your business. And if you're in the market for a digital marketing agency like Stryve, and we pass your vibe check, consider swiping right on us.