Enable your team to manage up
By: Ash Larizza
November 30, 2022 | Reading Time: 6 mins
Are you creating an environment that allows your talented team members to truly shine? As a team member do you feel comfortable giving feedback, critiques, and sharing new ideas? Does your team make you a better marketer and leader?
As someone who is in the middle of the "corporate ladder", I've been managing up. And now I also need managing up from new team members. Being in this position means I see the value in creating an open environment, where managing up is not only possible but instinctive.
What managing up looks like
Despite how it sounds, our view of managing up is not really about telling middle and entry-level team members to step up to the plate and do work that's way above their responsibilities. It's more about creating a work environment where everyone feels comfortable stepping out of their comfort zone and taking projects to the finish line all while elevating each other along the way. Managing up means being open to blurring the lines between roles to accomplish goals.
For us, "managing up" looks less like a straight line up, and more fluid. Like this: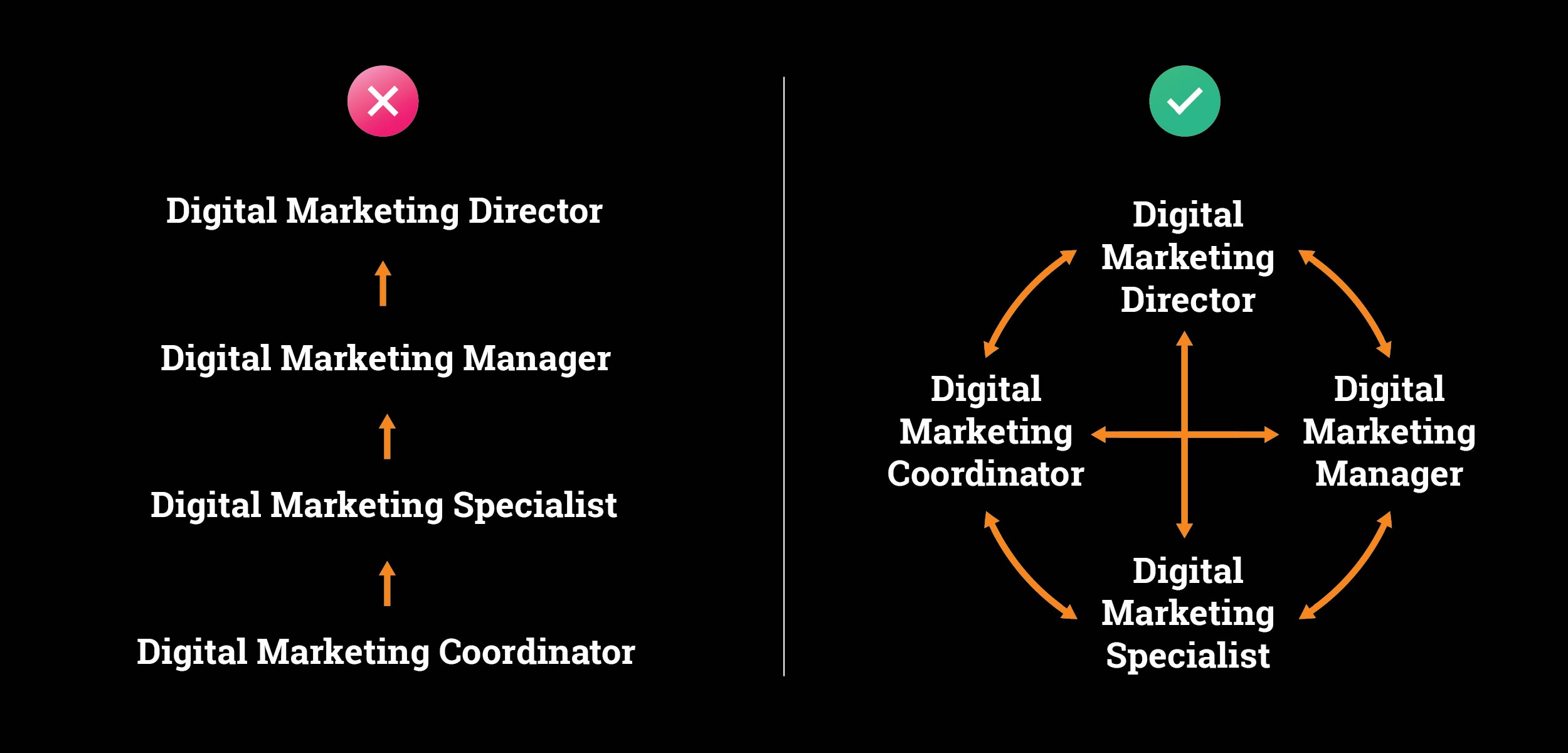 Accomplishing this kind of cross-collaboration doesn't just happen overnight. It takes work, and it involves everyone on your team. Whether you're at the start of your career, a mid-level employee, or a seasoned leader, you play a big part in creating a culture for managing up.
Here are some things everyone can do to create an environment for managing up:
Entry-level
If you're fresh to the workforce, an important part of your role is usually learning and executing tasks. In fact, you may find it difficult to manage up when you don't know what you don't know. But that doesn't mean your role is limited to execution. You're a person with ideas and you were hired because you were seen as someone who could bring value to the team. Here are a couple of things to work on once you've settled in and are ready to elevate in your new role:
Learn to take feedback
When you're new in your role, you're going to get a lot of feedback as you learn how to execute different tactics. This is the perfect time to learn how to take constructive feedback. As you elevate, you'll likely get less feedback on your hard skills and more feedback on soft skills, such as communication, project management, and problem-solving abilities. Learning to take feedback well and act on it early in your career will mould you into a leader who's comfortable with vulnerability–a necessary trait for managing up.
Think critically about everything
Joining a new team can feel like you're tuning in to season 5 of a show you've never watched before. There's a lot to catch up on and without a "previously on…" intro you're missing a lot of context. If you ask me, a lot of season fives aren't very good because the shows have fallen into a comfortable pattern. The same thing can happen at work with processes becoming familiar ways of doing things–the status quo isn't necessarily the best way. You may find yourself wondering why a task is done a certain way. Questions like this can spark conversation and encourage the team to examine opportunities for improvement.
So, ask. If you think there's a better way to do things, offer suggestions. Your fresh set of eyes could actually help bring more efficiency.
Boom! You just managed up.
Mid-level
We middle folk can often feel pulled in many different directions. Execution, project management, strategy, mentorship… and the list goes on. That's the nature of the role and it doesn't stop when it comes to team collaboration and management. I often feel like the safety blanket for both those above and below me and want to lend a hand wherever I can. It's our job to encourage newbies to manage us, while also managing our leaders. Here's how I manage it:
Enable open communication
As both a mentor and mentee, you report to others and have people report to you. When you're training new team members, my suggestion is to over-communicate. Let them know you're available for questions and to provide feedback. Ask how to make their onboarding experience better. Most importantly, ask and listen to how they like to learn and work. Then act on it. Everyone communicates and works differently so it's important to understand and adapt to these differences. After all, work is not like a blanket sweater where one size fits all.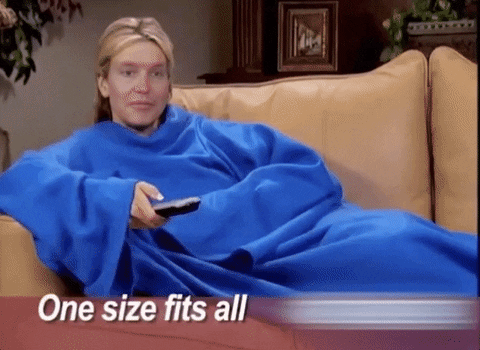 On the flip side, when it comes to communicating with your leaders, let them know what works for you, how you'd like to continue learning, or how you work the most effectively. Be sure to clearly state your personal growth goals and ask for those opportunities. As a mid-level teammate, you have the unique opportunity to model behaviours for both new and senior employees to learn from. If people feel comfortable communicating, then that can make people receptive to managing up.
Give feedback
As you elevate in your career, you may find yourself in more positions where you need to give feedback to others. Giving positive feedback is easy. It's constructive feedback that's the real challenge. Feedback is also not a one size fits all. Ask your team when and how they like to receive feedback. What should they keep doing moving forward? What can they do to step up next time? These questions can bring to light opportunities for managing up.
Senior-level
As a leader, you have a major hand in setting the standard of how your team works together. If you want to enable your team to manage up, you must first create a psychologically safe environment where team members feel good about stepping out of their comfort zone and speaking up without fear of ridicule. While creating a psychologically safe environment is an ongoing mission, there are things you can do to uphold a psychologically safe environment that encourages managing up.
Talk about your mistakes and weaknesses
Being a vulnerable leader is tricky, but it opens up the doors for better collaboration. When a team member sees that you have a good handle on your own limitations, it closes the divide between you. It also shows that there are areas where you need to rely on your team to help you out (a.k.a. an area where they can step up to the plate and manage up). Chances are, if you're honest about your limitations then others will be honest as well which can uncover opportunities for teamwork.
Reinforce managing up behaviour
If you want your team to feel comfortable managing up, then make sure everyone knows that you are open to it and that it's appreciated. For example, give public praise (we like using Lattice to do this) when someone helps make your work better. Expressing gratitude is a simple way of acknowledging someone's contributions while showing your team that managing up is welcome. People may be hesitant to manage up for the fear of overstepping or crossing boundaries with their superiors. Simply reminding your team that managing up is welcome and where you can use help could be the thing that sets everything in motion. The people who excel at managing up will also become great models of behaviour to the team. Hopefully, someday they'll pass these tips along too.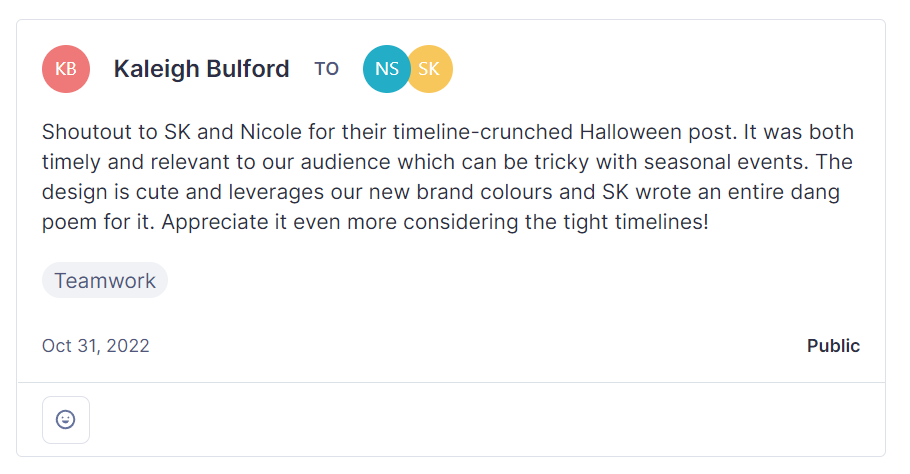 Everyone plays a role in "managing up" so culture can flourish
Admittedly, there's a lot to learn about leading a team of brilliant people while being open to being led. In some cases, people may not be open to the idea of managing up or the environment doesn't allow for it. We encourage everyone to explore this concept–it really works for us. Teams that collaborate well, do great work together.