Write more engaging content with these 5 psychology hacks
By: Rachel Hickey
September 30, 2022 | Reading Time: 6 mins
When I graduated with a degree in psychology, I didn't think it would affect my career in marketing. News flash! Marketing is all about human behaviour.
From the element of surprise to the word "because", there are many simple ways copywriters, marketers, and creators alike can tap into basic psychology hacks to make more engaging content that leads to more clicks, sales, and engagement.
Let's dive into how you can write more engaging content by using these 5 psychology-based hacks.
Save the best for last
In psychology, learning, and memory are greatly impacted by how the information is presented.
Try this exercise:
Read through this list of words once with the intent to memorize as many as you can:

application, assignment, memory, contribution, town, activity, entertainment, gene, outcome, agency.

Now without looking back at the list (cover the list with your hand or scroll down), write down as many as you can from memory. Got it? What do you notice about the words you missed?
In 1966, researchers Glanzer and Cunitz used a similar method to study memory and discovered a pattern–participants can remember words better when they appear at the beginning of a list and at the end of a list.
This phenomenon was dubbed the Primacy and Recency Effect. They proposed that this was because the memories were coming from two different stores–short-term and long-term memory. Your brain is unconsciously deciding which items are most important.
How to use it in copywriting
Take advantage of primacy and recency effects in copywriting by communicating clear value in your introductions, conclusions, and most importantly–the last thing your reader sees–the call-to-action (CTA).
Start and end strong
Your introduction should be attention-grabbing and quickly show what the reader will get out of the post.
Conclude with a numbered or bulleted list recapping what you covered and reinforcing that ultimate benefit. Even if they don't retain the details of the post, they will retain the association of your business with that ultimate benefit.
Save the best for last
End with a strong CTA to motivate your reader to really engage. Because this text is literally designed to prompt an immediate response or sale, it's the most important, and most memorable thing that readers see once they get to the end of your post. Make it count!
Surprise!
Surprise and delight your reader to increase engagement. Research shows that novelties perk up the reward system of our brains–exploring or learning something new may be just as tempting as cash and other prizes in the choices we make!
People love something shiny and new–why?
This concept, the Novelty Effect happens when a novel, external incentive results in a short-term increase in performance, or in this case, engagement. The more dopamine is released into your bloodstream, the stronger neural connections will be formed after reading the content. (ex. starting this blog post with a fun memory test).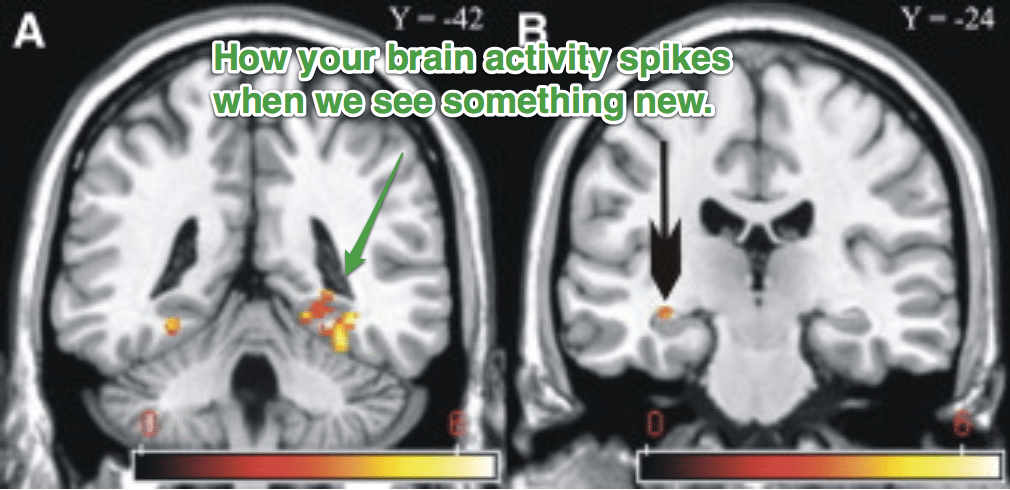 How to use it in copywriting
To use the novelty effect in copywriting, consider that the reader, seeing the content in an unusual format, will be more interested in reading it.
For example, try:
Bullet points
Listicles
Decks
Images/ infographics
Videos
Catchy headlines
To hold your reader's fleeting attention span, don't just think about what you're writing, think about how it's written.
Many of these techniques have become the norm for readers, and rich content is gradually losing its novelty effect. Always writing listicles? Try a Q&A post next time. Keep readers engaged by giving them something new.
Repeat, repeat, repeat
Just because you repeat something often enough doesn't make it more true–or does it?
Often psychological tactics add weight to ideas that we hear repeatedly. This effect, known as the Illusory Truth Effect says that the more often we are exposed to a message, the more important our brain perceives it to be, and the truer it becomes.
Now, while this tactic is often used by liars and in propaganda, your goal as a writer is NOT to brainwash your reader or trick them into believing a false truth, but rather to use this effect to drive home important messages that support your product, service, or brand.
How to use it in copywriting
Repeat the main idea throughout a blog post
You shouldn't repeat the same exact statement over and over. You can consistently convey the same message over and over using different words and phrases.
Make mistakes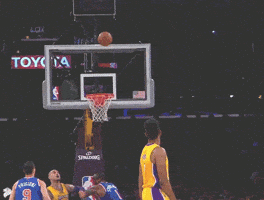 There's something oddly comforting about watching a fail compilation on YouTube, seeing an unflattering photo of a celebrity, or when someone you admire that seemingly "has it all together" shares a low moment.
That's because as humans, we are attracted to what we can identify with/relate to, and we can all identify with mistakes. This is known as the Pratfall Effect which says that competent individuals become more appealing to others after they make a mistake.
Now, just like we shouldn't apply the Illusory truth effect to tell lies, we shouldn't just go around making mistakes–note that this effect only happens when the mistake-maker is perceived as highly competent–that way it's endearing and relatable.
How to use it in copywriting
Use this effect to teach from your mistakes, share what you learned and give readers a chance to connect with you on a deeper level while still holding your reputation high. For example:
"I've been a copywriter for 10 years–here are my 5 biggest mistakes"
Notice how the first half of the title establishes competency and experience, while the second half admits to a personal failure (or Pratfall!). Use this technique to make yourself an approachable expert, and build emotional connections with your audience.
Because why?
A widely known 1978 study illustrates another powerful writing tool–the use of justification. Researchers studied the reactions to people asking to cut a photocopy line in three different ways:
"Excuse me, I have five pages. May I use the Xerox machine?" (60% compliance).
"Excuse me, I have five pages. May I use the Xerox machine, because I'm in a rush?" (94% compliance).
"Excuse me, I have five pages. May I use the Xerox machine, because I have to make copies?" (93% compliance).
Using the word "because" and then giving a reason (no matter how compelling) resulted in significantly more compliance.
How to use it in copywriting
'Because' is a powerful word, and plays on our automatic behaviour as humans. Think about this in your work. Are you writing on autopilot? When demand for content is high and time is low, it's tempting to just throw something on a page and get it out the door.
Before you hit publish on your next blog, ask yourself, because why? Did you just list some facts and information? Or can you build trust with your reader by supporting your claims? Here are some more examples:
Give to XYZ because …
They use XYZ because …
I like XYZ better than ABC because …
If you like ABC, you'll like XYZ because …
You don't want to miss XYZ because …
I need your help with XYZ today because …
Make sure you structure your copy around the reasons why your reader should take action and support your writing with valid reasoning to increase engagement. We're all skeptics when it comes to marketing. Using the word 'because' gives the reader a reason to say yes.
More engaging content starts with these psychology hacks
At the end of the day, writing more engaging content comes down to creating a connection with readers. These psychology hacks are a great way to increase reach and get readers to take action using:
The Primacy and Recency Effect
The Novelty Effect
The Illusory Truth Effect
The Pratfall Effect
Justification
Use these tips to make your copywriting more engaging and create your most influential content yet.