How you can create boatloads of content with little time investment
By: Kyle Weber
September 17, 2020 | Reading Time: 4 mins
"How do I improve SEO?"
"How do I get more traffic to my website?"
"We launched an ad campaign. Why aren't we making money hand over fist?"
The answer is content. In today's competitive landscape where everyone runs ads and has a website, content is what sets you apart. It generates over 3x as many leads as paid search and costs 62% less. Websites with blogs have 434% more search engine listings and 6x more conversions according to GoDaddy.com. Content drives you up the rankings of Google, brings new leads to your website, and converts those leads into customers. The answer is content and you don't have it.
It's because you don't have the time, you don't have the resources, and really, you just don't know where to start. Content seems like a huge undertaking when you consider everything else on your plate—but it isn't. With Stryve's system, you can create a month's worth of content in just a few hours.
The best part? All you need to do is talk.
Content works for our clients
Think of all the websites you visit regularly and think about what they have in common. News publications, media outlets, social platforms — they get millions of users each day because they're always adding new content. Just look at the spike in traffic one of our clients had after publishing just 2 webinars. That's a 30% jump in just 2 months.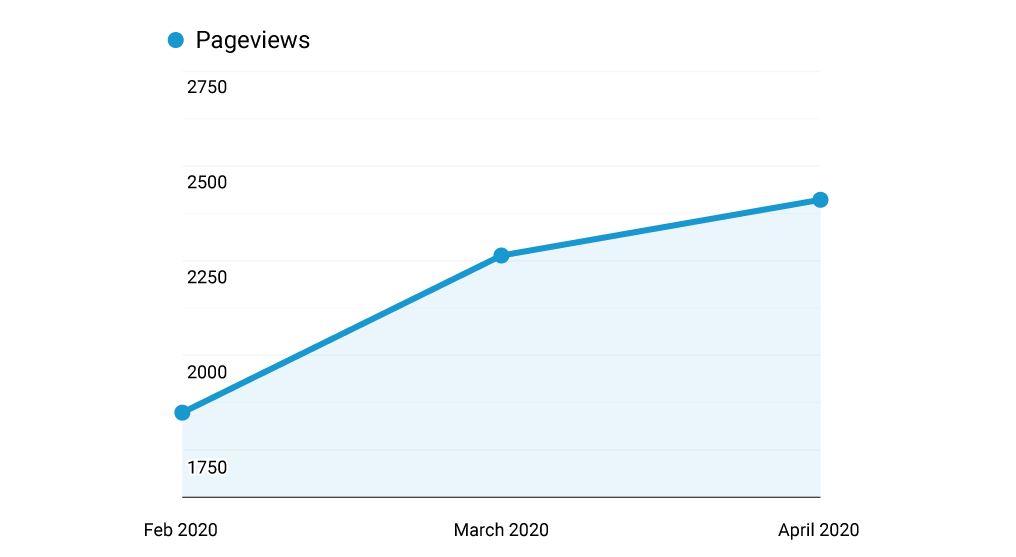 I know what you're thinking — website users don't equal leads and they definitely don't equal conversions. You're right, but consider the fact that 47% of buyers view 3-5 pieces of content before engaging with a sales rep. When you buy a new phone or a new laptop, do you blindly trust the teenager at BestBuy or do you do a little research yourself? Ads are great, but without content to bridge the gap between impression and conversion, closing leads will always be an issue.
In the end, content gives users a reason to revisit your site. It also means more keywords to appeal to searches, more pages to boost SEO, more posts for social media, and more information to warm leads.
Content production without the time investment
I get it, you didn't plan on becoming a part-time media company. You don't have time to blog, let alone build a content team. That's why 62% of businesses outsource their content. It's also why we developed a content production system that prioritizes your time. Now that you're all caught up on the importance of content, let's talk about how we can publish a month's worth of articles and videos without a major time investment.
STEP 1: Sourcing Questions
What do most web searches and purchase decisions have in common? They both start with questions. Should I buy a MacBook Pro? How long do MacBooks last? Are MacBooks really worth the money? These are all questions I found on Quora, being followed by hundreds of users. If you're in the business of selling MacBooks, I've just found you three audience-verified topics in just a few minutes.
Our content production system begins with compiling questions. We'll look into trends, pull from competitors, and discuss customer FAQs. We'll also take a look at Google Analytics to see if user behaviour raises any questions. For example, a high bounce rate on your home page could be indicative of users not understanding your business. If that's the case, we'll create content to better explain what you do.
Your time investment: 30 min to brainstorm and review questions
STEP 2: Conduct an Interview
Once our questions are approved, we'll schedule an interview to record answers. Whether you choose to be on camera or not (we encourage it), the session will be recorded so we can transcribe later. Some clients choose to prepare answers while others don't. The former results in more scripted and detailed answers while the latter is more authentic and conversational. Both are acceptable and successful in their own ways.
Your time investment: 0-30 min to prepare answers plus 1hr to record the session.
STEP 3: Transcribe and Edit
Once we're finished with the Q/A, we'll transcribe the recording into written content. For those opting for video or audio content, we'll cut out the "umms" and edit the footage, adding title cards, music, and cuts between questions. From there, we'll send it back to you for approval.
Your time investment: 30-45 min to review and provide feedback
OUTPUT
In my experience, most clients are able to answer at least 5 questions in an hour-long interview. With this in mind, let's crunch the numbers: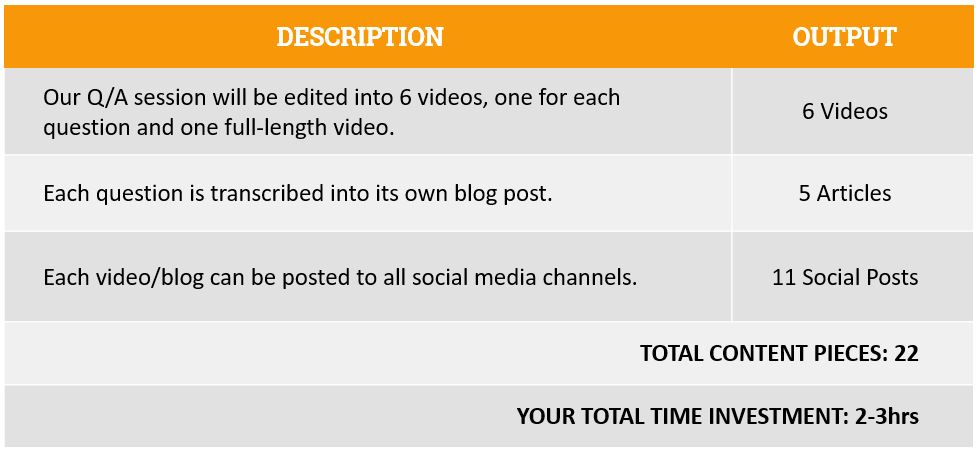 With this example, our content system can produce 6 videos, 5 articles, and 11 social media posts as a result of your 2-3 hour time investment. That means 5 articles to boost SEO, a month of social media posts, and a variety of content types so users can engage in different ways. It also means you can finally take advantage of YouTube, TikTok, and all the other video platforms taking over the digital world.
Start making content today
90% of companies today are currently creating and marketing content. With conversion rates 6x higher than any other marketing tactic, it comes as no surprise. With our content production system, you don't need a team of writers, you don't need fancy equipment, and you don't need to hire or burn the midnight oil. All you need to do is give us a shout and we'll take care of the rest.