How to use Threads for B2B marketing (what's been working so far)
By: Krishal Ramesh
July 27, 2023 | Reading Time: 11 mins
Keeping up with new trends and tools feels like a never-ending marathon for marketers. Just when you've thought you caught up with Gen Z's latest obsession, BeReal, and those dystopian virtual influencers, along comes Meta's new text-based conversation app, Instagram Threads.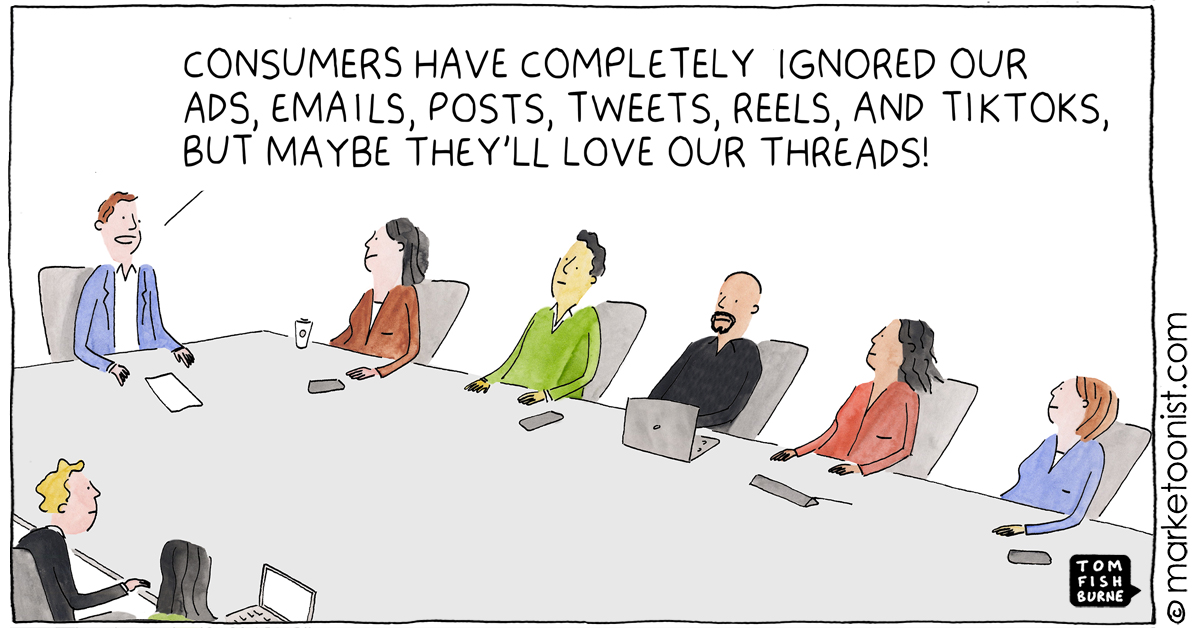 What is "Threads"?
Threads is a new social media platform built by the Instagram team allowing users to share text updates and join public conversations (sounds similar to Twitter—errr, sorry I mean "X"). Since launching on July 5th, Threads has boasted 100 million user sign-ups in less than a week, likely because the app allows users to connect directly from their existing Instagram accounts.
What does this mean for your B2B brand? The idea of introducing a new platform into your social media strategy may feel daunting. With Threads still in its infancy, where do you start? Is it a good platform for B2B?
Let this blog be your compass, guiding you through the unexplored terrain of Threads. We'll discuss how Threads measures up against its competitor, Twitter, offer insights on what to post (and what not to post) and look ahead to what the future holds for Threads.
Key differences between Twitter & Threads for B2B marketing
The similarity of Threads to Twitter has many dubbing the app, "The Twitter Killer", especially as Elon Musk's $44 billion takeover brings surprising changes seemingly every week. With the iconic blue bird logo losing its wings in Twitter's rebrand to X and the fate of "X" feeling questionable —nobody really knows what's in store for X's capabilities and core purpose.
Will Threads become the premier text-based app as X shifts its strategy? Do the Twitter Killer allegations have any truth to them? Let's take a look at how Threads differs from Twitter, and if it can live up to the success marketers have seen on the platform pre-Elon.
Feature and capability differences at a glance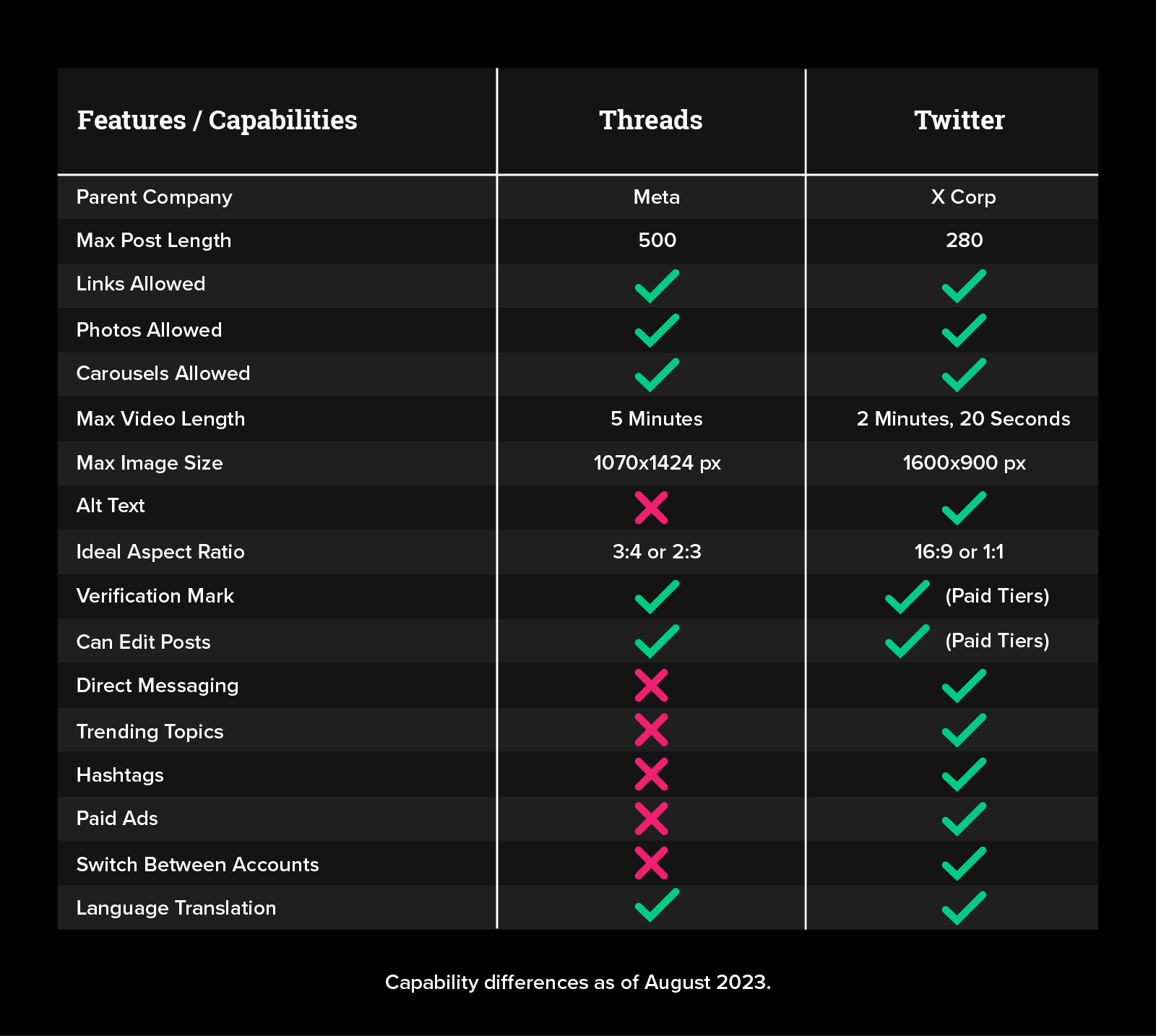 Where Threads falls behind for B2B
You can't turn off seeing posts from people you don't follow
While this may be attributed to the social media platform being in the start-up phase and to ensure no blank feeds, Threads shows you posts from people you don't follow. This may make it more difficult for B2B brands to join industry conversations, or stay in the loop, or even reach their target audience.
The website is view-only
In order to post, repost, like or comment from your Threads account, it can only be done from the mobile app. For social media managers of B2B brands, the lack of a website interface reduces the effectiveness of using the platform, which may provide yet another barrier for businesses aiming to reach their target audience. However, Adam Mosseri, the head of Instagram, posted that the website is in the works.
There is no reporting or analytics
Reporting on social media performance is a basic business need for brands and sadly we're out of luck on Threads. Despite having an integrated analytics hub (Meta's Business Manager), your Threads account performance will not be recorded or reported on. This can make it much more difficult and manual for marketers to track performance, ROI, or even understand what kind of content succeeds on the platform.
You can't search posts
Similarly to their lack of Trending Topics, there is no ability to search posts. For B2B marketers, the ability to search posts gives the opportunity for research. Without the ability to explore relevant content, view industry-specific news, see what users are saying about you or discover relevant creators/competitors then it makes it harder to be effective on social media.
Threads require an Instagram profile
Once you've created your Threads profile via Instagram, you cannot delete it without deleting your Instagram profile as well. This has been a major red flag for users who haven't made a Threads account yet. The head of Instagram, Mosseri, stated that their team is looking into a way to delete your Threads account separately.
Dealing with privacy concerns and reach limitations
There's been an array of privacy concerns flagged by the European Court of Justice which are delaying the launch of the app within the European Union. If you're a business operating in the EU and have a core audience in any EU countries then Threads can't currently cater to you.
Threads' potential to become a key social platform
Although Threads is behind on many features and capabilities that are important to marketers, it's very fresh so there's potential for the platform to meet more user needs. Meta clearly sees the value of a text-based conversation app when they tried to buy Twitter twice. Now that their competitor is vulnerable, Meta may actually be able to put a dent in Twitter's domination of micro-blogging and messaging. Here are some of the advantages that Threads has over the competition:
A much larger user base
Meta's existing platforms (Facebook, Instagram) have about 3 billion and 1.5 billion monthly users respectively. This enormous user base gives Threads a significant advantage for growth via their existing users.
Their launch was a huge success
With Threads gaining 70 million signups on its first day, it has already hit a critical mass when it comes to the number of users. What matters most now is whether users stay active, or if users will create or interact with content that keeps them coming back.
It's easy to onboard
You aren't building a profile fully from scratch. Meta makes the transition to Threads frictionless for its existing users by transferring existing display pictures, bios and even followerships from their Instagram to Threads. With all your friends and followers on Threads through their connected Instagram accounts, your incentive to participate is much higher.
History of maintaining brand safety for advertisers
Meta has shown more interest in maintaining a safe space for advertisers and users than Twitter. It has reduced the number of fake accounts and seems more committed to moderation that keeps out spam and obnoxious behaviour. Perhaps one of the biggest advantages that Threads has over Twitter is that Threads may not be under the thumb of the right-leaning, conspiracy-theory-curious user base or CEO. That being said, Meta has been accused of anti-competitive behaviour and privacy law violations in multiple companies. So for marketers, the choice is between two evils.
Meta can use tried and true strategies from the Facebook and Instagram playbooks
Meta's extensive experience in scaling social media platforms, understanding of user behaviour and ability to adapt to market trends swiftly makes the future of Threads promising. One major strategy used by Instagram is the HOOK model, a framework for building habit-forming products. Although there are ethical implications, it's likely that Threads will follow this model to keep users engaged.
Of course, it's fair to look at everything I've laid out as a solid case for not using Threads just yet. But unlike Twitter, Threads provides a unique opportunity for us to engage with our audience in ways we might not feel comfortable doing on other social media platforms. As a newcomer in the social media landscape, it gives marketers a rare opportunity to help dictate the direction in which the company proceeds. Despite its current limitations, Threads has shown immense potential. While it may not be the "Twitter Killer" just yet or even in the near future, it certainly should be a contender when it comes to your brand's social media marketing toolbox.
The race to gain followers and establish a brand voice on Threads
Now that you know the key differences between Threads and Twitter, you may be asking "How the heck does my B2B brand start posting on Threads?" Given the network's close ties to Instagram, the businesses that are making the most noise on Threads are B2C brands. Many of these accounts already had substantial followings on Insta, which were then transferred over. In this stage of the platform's life cycle, it's all about experimentation with how your brand will express itself and provide value to your audience through this new channel. You have the opportunity to be a first-mover as a brand and start engaging in a space where your competitors may not be as present.
Lessons from Threads: What to do
Many companies are leveraging the platform's algorithm with strategies designed to enhance engagement and increase their visibility to a broader audience — who, ideally, will convert into new followers. A type of post that's proving to be particularly effective is self-referential humour, which often centers around the novelty of Threads and its ongoing rivalry with Twitter. The strategies are reminiscent of how users post on Instagram, combined with the "unfiltered thoughts" of Twitter. Some brands use the platform the same way they've used Twitter, posting the exact same content and analyzing how it performs in comparison.
The way your brand communicates on Threads—the tone, language, and content—plays a significant role in shaping your brand's voice. Whether it's professional, friendly, humorous, or a mix, this voice becomes a brand's identity, making it more relatable and memorable to our intended audiences. Below are some examples of what types of posts are succeeding:
Be playful and positive
With the app in its early days, brands are using this to their advantage in an effort to go viral. This isn't the time to take your brand too seriously, it's all about experimenting and having fun. We love how American Eagle has been using this platform. While they mainly target Gen Z and are not a B2B brand, they've definitely led the charge when it comes to engaging with the Threads community.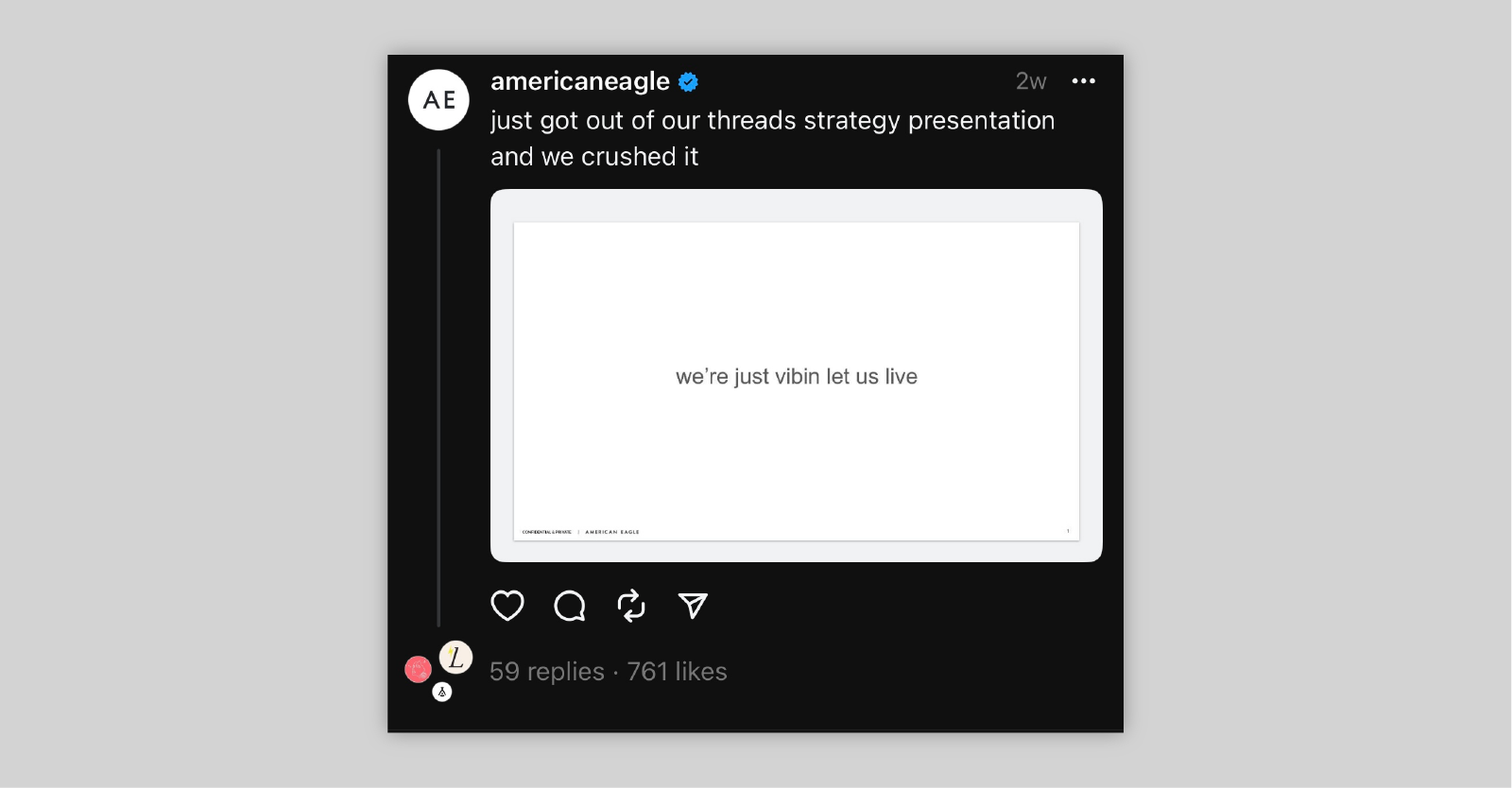 Chain reply threads
Replying to chain posts seems to be a popular way for businesses to create content on Threads, while still promoting their brand. It's very similar to "threads " on Twitter (oh the parallels) or replying to a tweet. Brands have the opportunity to join an already popular thread and hopefully gain some of the engagement that comes with it. In this example, HubSpot describes its brand in a humourous way that many of its product users can relate to (Stryve relates all too well). In the same post, HubSpot replies to users with more humor. This could be a great way to show off your brand's personality without needing much planning or resources.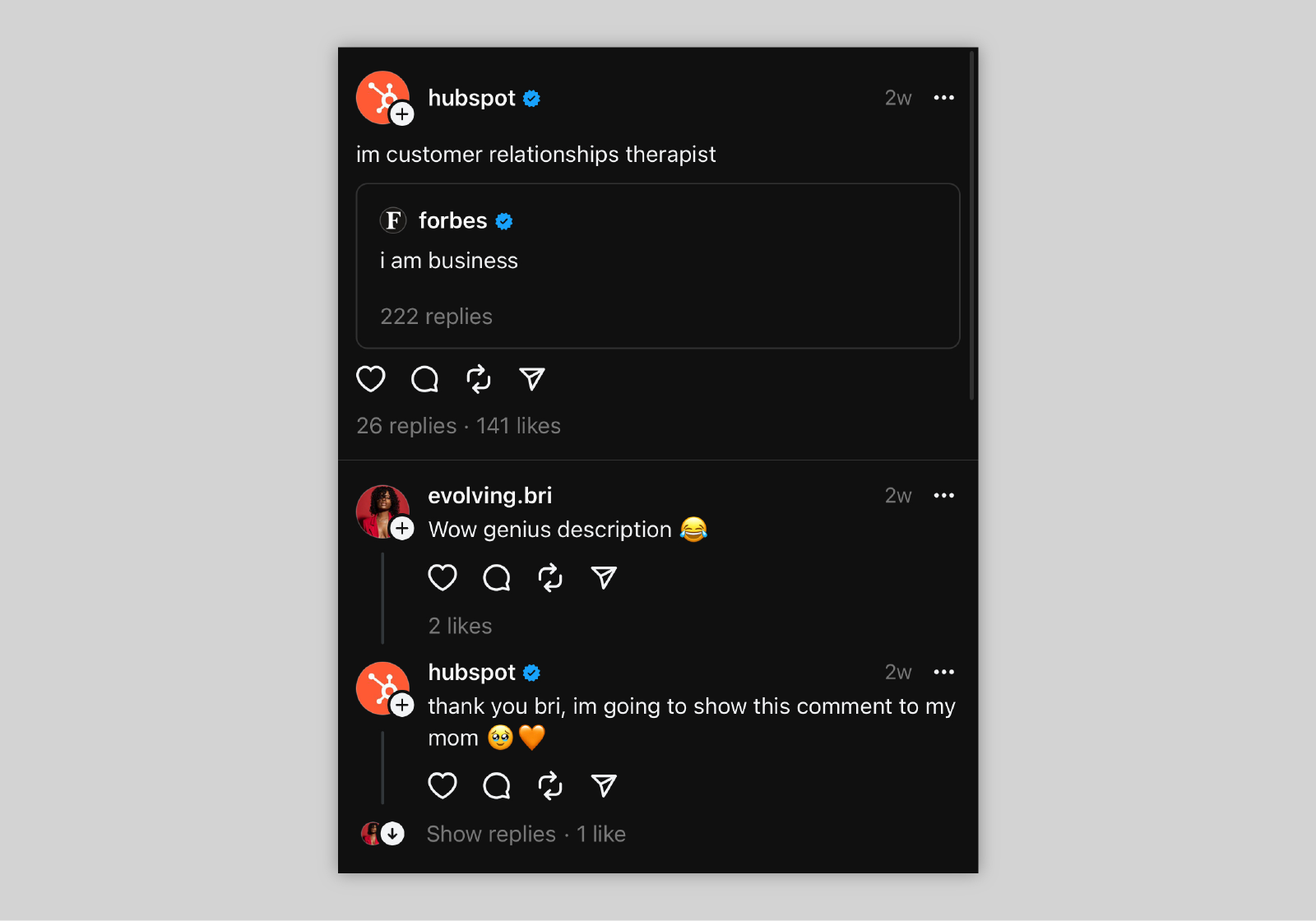 Directly engage with clients or customers for community building
When a brand responds to a user's thread, it not only fosters a direct connection with that individual but also demonstrates to the wider audience that the brand values its followers' input and experiences. One of the greatest benefits of Threads is that it allows your company to have real-time conversations with clients, capitalizing on this can be important, especially if your industry relies on trust.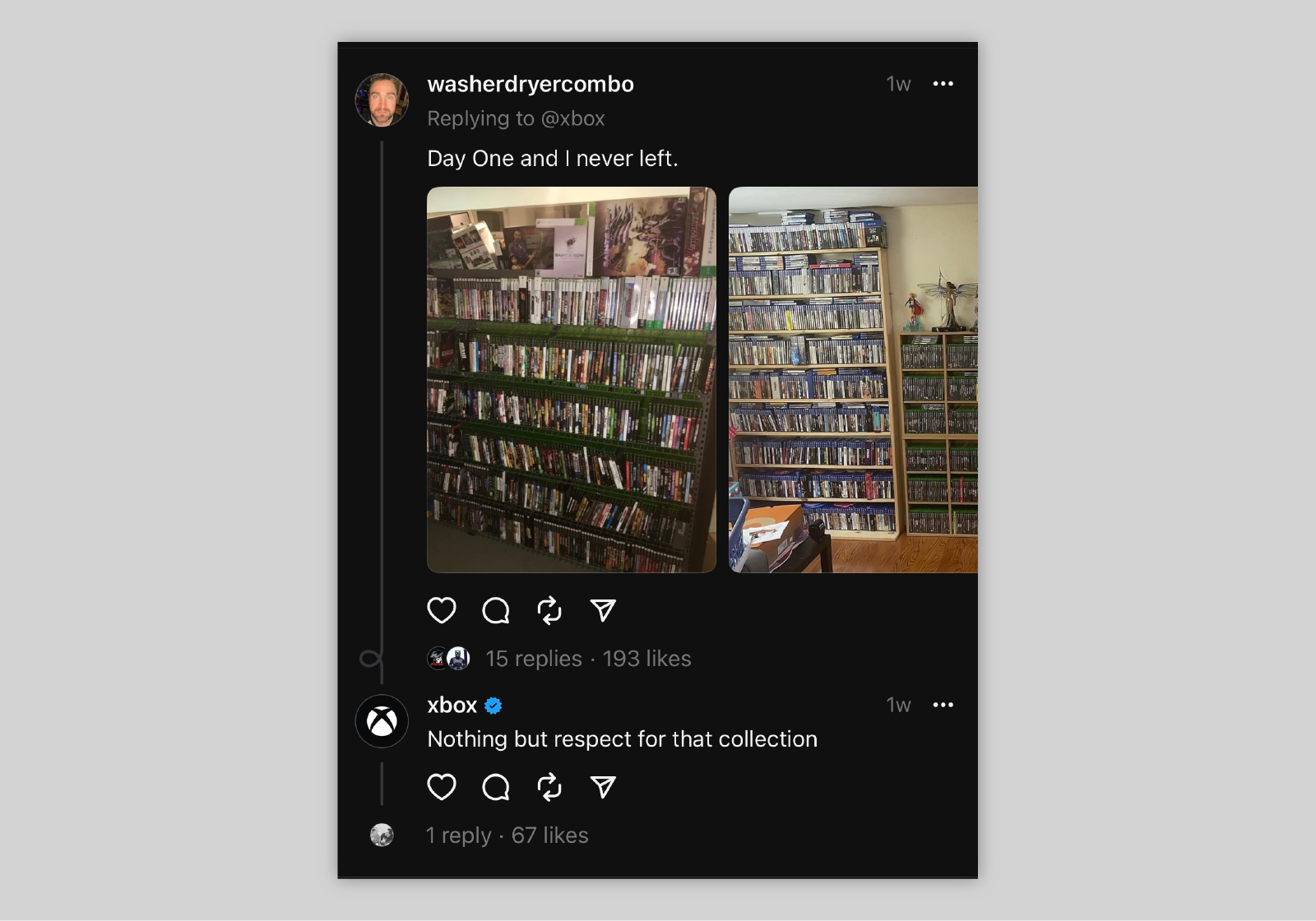 Take part in meme culture
Sharing memes is a massive part of digital culture and how users like Millennials and Gen Z communicate. It's no surprise that we're seeing meme culture prevail on Threads which means that posting memes can be a fruitful way to amplify brand content. Memes help humanize a brand by making it seem more approachable and in tune with popular culture. Both posts from Sephora and Semrush generated some of the top likes and reshares on their profiles, which doubles down on the importance of being playful and humourous on Threads.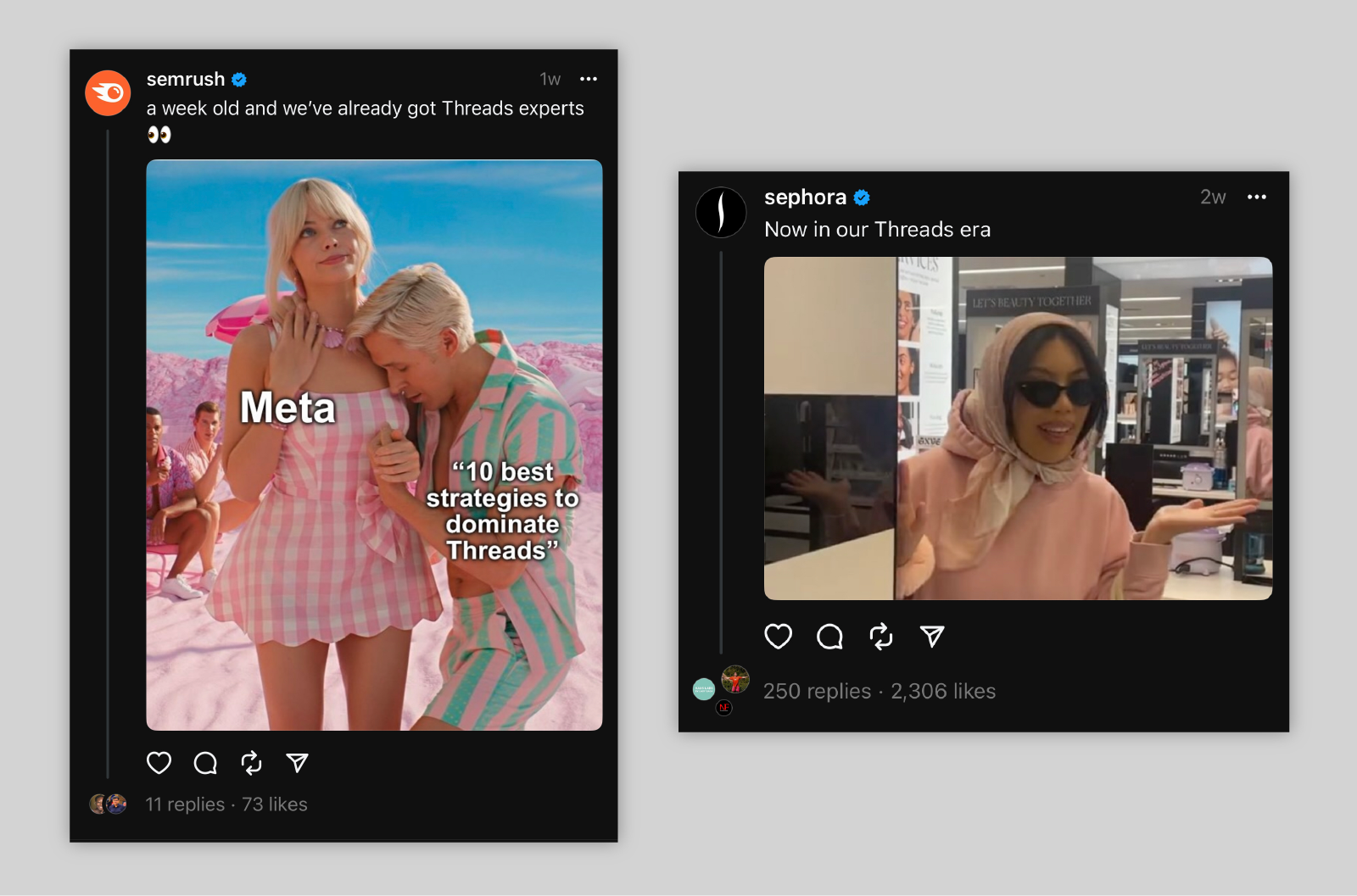 Engage in affinity marketing with other brands relevant to your audience
Just like on any of the other platforms, businesses are engaging with each other. Unlike other platforms, these businesses are more likely to reshare and reply to your attempt to connect on Threads. Engaging with other businesses can help build and strengthen relationships within the industry, increase your Threads account's visibility to their followers, and enhance your reputation/credibility. In the following example, Diablo is engaging in a form of affinity marketing. Although their businesses is not in the same industry as the account they've tagged, they surely understood that their customer bases share similar demographics or psychographics.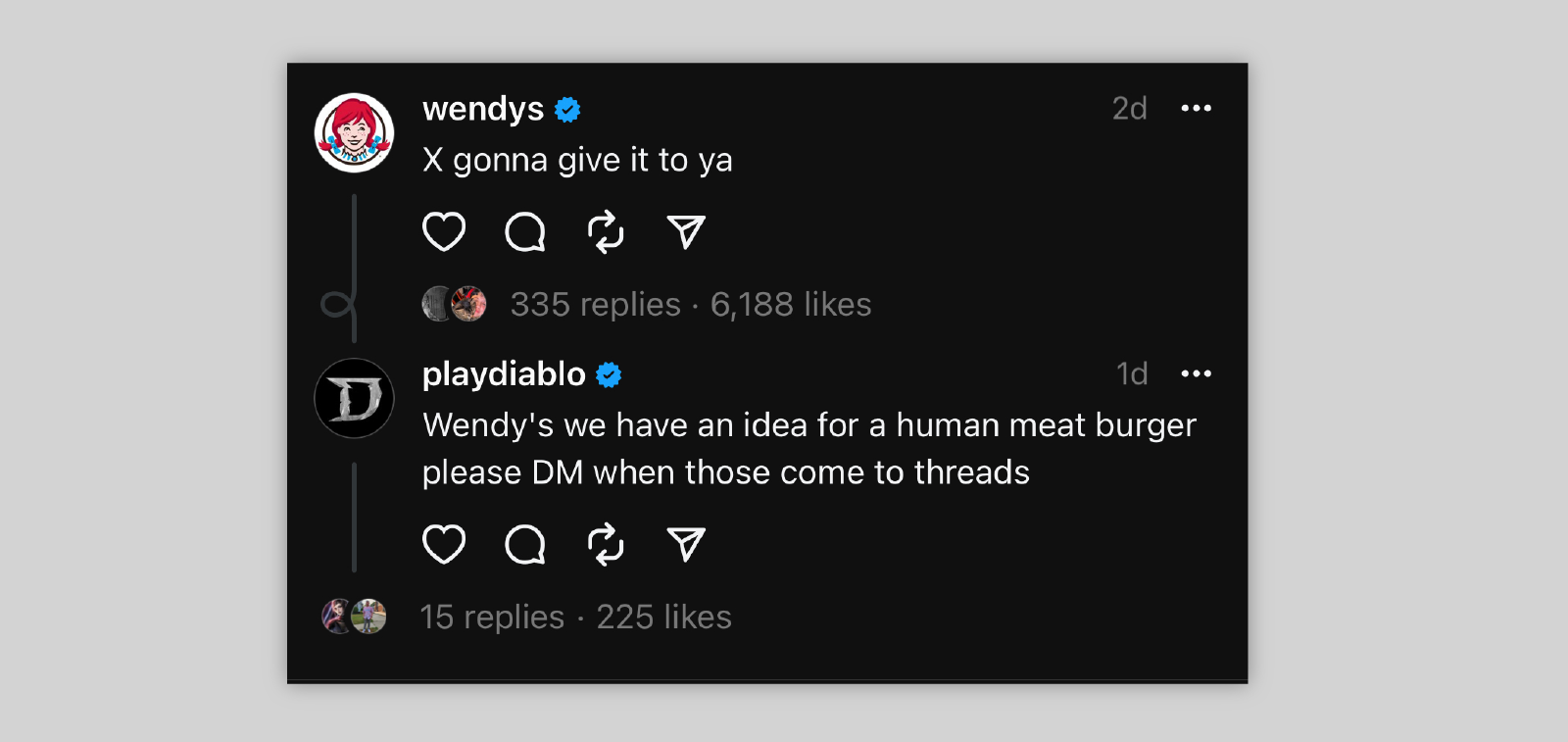 Lessons from Threads: What not to do
Although the new social media platform may seem like all butterflies and rainbows currently, there's no saying for sure if this will be the permanent nature of the users. Among all the companies finding success, there are still many trying to find their place and tone. Here are some examples of posts that have not been received well: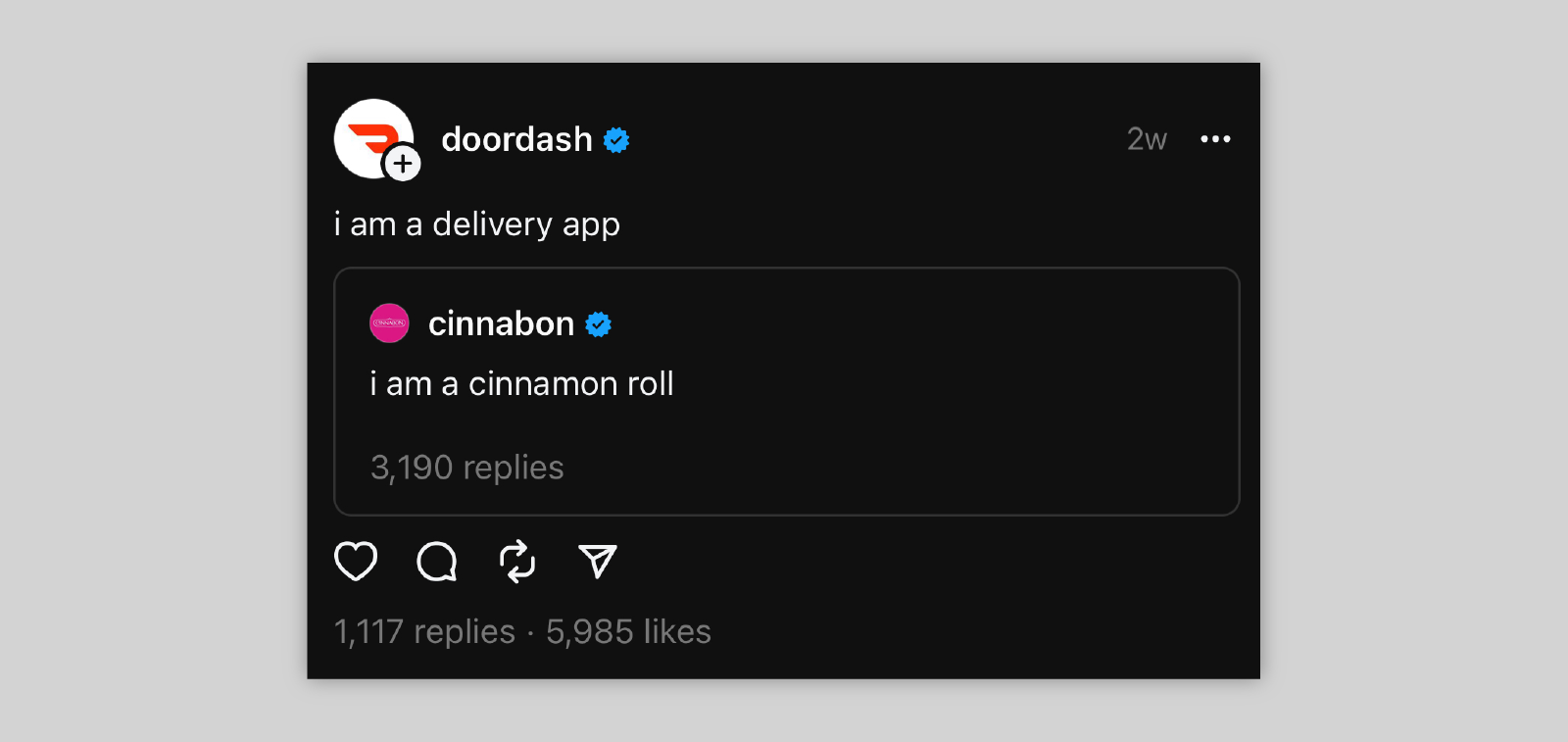 One of the first chain post trends on the app was one where brands comedically summarize what they do in a few words by finishing the sentence "I am…". While some companies got creative and funny with their replies, most stayed literal and dry. The week after that trend, it left a sour taste for some users, fuelling hateful memes aimed at these companies.
While replying to chain threads and posting memes can be engaging tools for companies, they can also backfire if not used authentically. The entire point of memes is to show you're culturally in the know, but if it comes across as fabricated or you misunderstand how to participate, it can instead make your company seem unoriginal or out of touch. When engaging or creating memes for your brand, it's crucial for B2B marketers to use memes thoughtfully, ensuring they would resonate with the intended audience.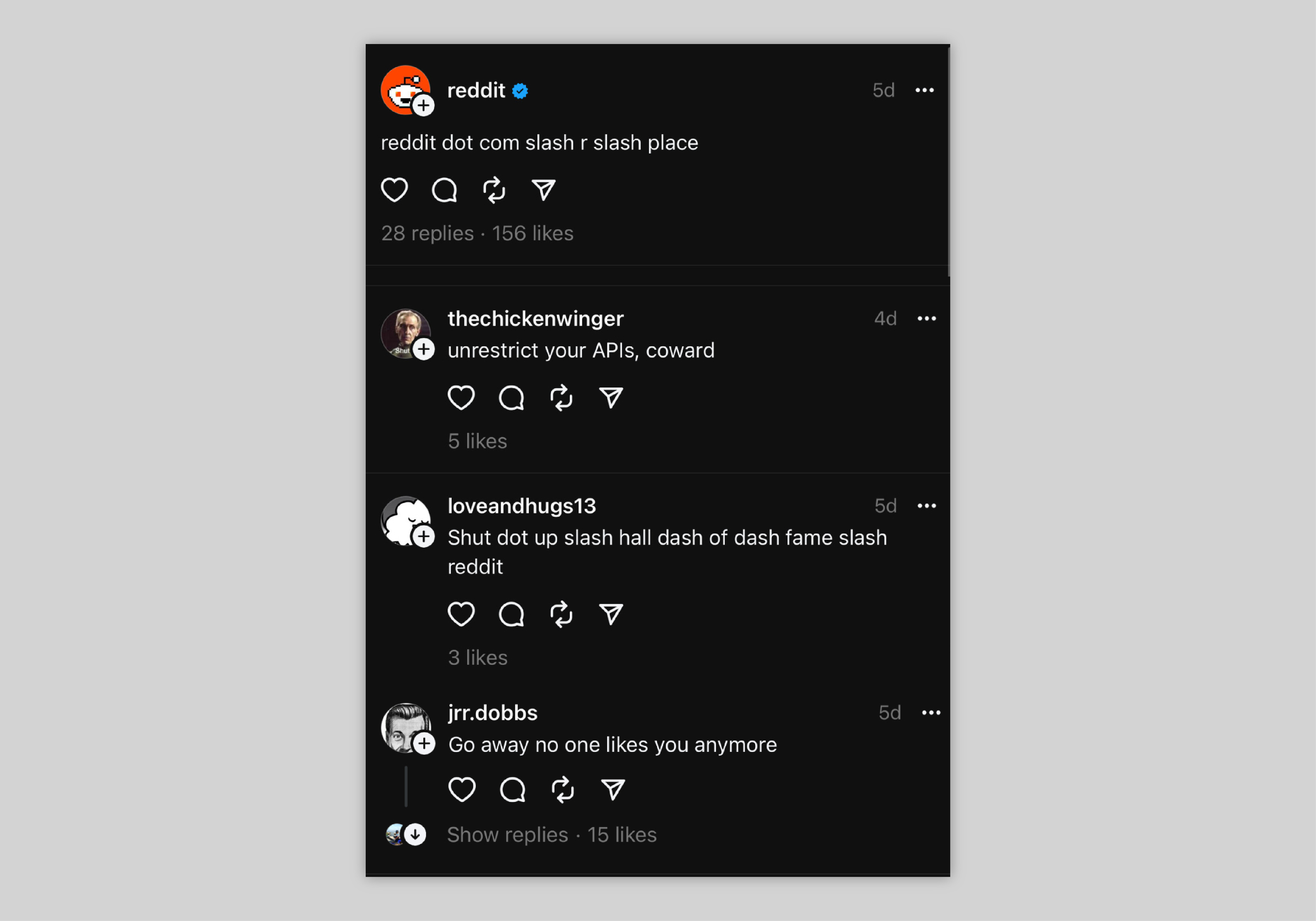 Like all social media platforms, the nature of the platform can make brands more susceptible to criticism, negative feedback and even harassment. The anonymity Threads offers, combined with the public visibility and real-time nature of posts, can amplify negative comments. Furthermore, the sometimes viral nature of Threads can rapidly escalate negative sentiment. In the example of Reddit, it may not have been the wisest move to actively participate in the Threads community, especially as they face continued user protests.
Future of Threads
Staying tuned for new platform updates and reporting
The future of Threads, while still uncertain, holds promising potential. However, the content currently being shared by brands, while engaging and fun, may not be enough to keep users returning to the app. In fact, we're already seeing Threads usage drop by half from its initial surge, with daily active users falling from 49 million to 23.6 million in just one week's time. The lack of features like a sophisticated search tool, hashtags, or chronological feed also poses challenges for Threads to become a place for "real-time updates and public discussions," and hinders the marketing potential for B2B businesses. To remain competitive and provide more value to users and brands, we anticipate new features and updates.
Threads ads
As all social media platforms eventually do, we anticipate Threads will offer advertising for businesses. Threads doesn't currently have ads, but it could become an appealing place for advertising dollars in the future, especially given Instagram's friendlier reputation for brands compared to Twitter.
Threads becomes the new Twitter?
With many users and businesses turning away from Twitter and the company pushing X to be an "everything app", we may very well see Threads become the ideal version of Twitter.
Should you integrate Threads into your social media strategy?
As the initial buzz surrounding Threads begins to wane, the platform is up against significant challenges. If it leans too heavily into promoting brands, influencers, and celebrities, it runs the risk of morphing into a one-way communication channel, rather than a space for genuine conversation. However, if brands continue to shape the narrative and direction of Threads, they could play a pivotal role in steering it towards success in this ever-evolving digital landscape.
Like any new social media platform, there's a brief moment where it feels like a blue ocean. With Threads in its infancy, brands have an opportunity to be the first movers in their space and begin carving their presence on the platform ahead of competitors. There will be a period of trial and error as we acquaint ourselves but the basic principles of providing value, engaging with your audience, and expressing your brand in an authentic way ring true. Threads are a new channel for marketers to play with and the best way to figure your way into that space is by exploring it yourself!