Why your firm needs a capabilities deck (and how to make one)
By: Sarah Rosenquist
April 12, 2023 | Reading Time: 7 mins
I've worked with marketing leaders at all kinds of professional service firms from consulting, architecture, and engineering to insurance, IT and cybersecurity.
They all share one common struggle: they don't have a framework for turning all of the extremely smart and nuanced services they offer into compelling marketing.
It's tough—especially when everyone else in the space makes the same claims about their expertise. Not to mention that standing out requires a focus and time investment that's hard to come by when you're busy focusing on billables. If that sounds familiar…
Your professional services firm needs a capabilities deck
A solid capabilities deck is the "north star" that guides great marketing for professional service firms. As the name implies, a capabilities deck talks about what you are able to deliver to your clients, how you deliver it, and why they should choose to partner up with you. It seems so simple, but don't sleep on it.
Putting these decks together can be tough. There are going to be a lot of different ideas about what makes your firm special. Disagreements and debates are to be expected. Your firm needs to draw a line in the sand and say very clearly what you do and who you do it for. Arguably more important? Saying what you don't do and who you aren't for. When you have a strong capabilities deck, it not only helps your team stay aligned but even makes it easier for prospects to determine if you are the right fit for them. 
Let's go through the process of creating a capabilities deck together!
A client-focused capabilities deck is the foundation for all of your marketing
Like other documents we know and love (looking at you, brand guidelines), a capabilities deck is a building block for all the initiatives your marketing and sales teams will work on. While it may sound like yet another marketing strategy document, a capabilities deck has serious, tangible benefits:
Before diving into "the what" like what the deck should look like or what information it'll contain, it's really important to start with "the who". Who is the audience you're building this deck for? These are the people you will be talking to with your pitches, website, content, and campaigns. They need to be at the center of the entire capabilities deck. Who you want to reach will inform the rest of the deck and determine what information is the most important for that audience and how it should be communicated.
If you don't have a clearly defined niche and target audience, that's OK, but start with that and then come back to the rest later. When you can clearly articulate your target market's goals and pain points, then it's time to build out and customize the deck. Otherwise, you'll have difficulty managing internal discussions, determining what information to prioritize, and forming the structure of the document.
The structure of a good capabilities deck
The anatomy of a capabilities deck is deceptively simple. That's because, while there's a general skeleton to follow, each piece will likely go through tons of back-and-forths requiring editing. That's normal—just make sure you don't lose sight of the big-picture goal as more hands get involved.
1. Start with a client-focused benefit
Your content should be about your customer, so kick off your deck by highlighting the one key goal your clients can achieve with you by their side. Nailing it down to one goal may seem impossible given the breadth of services you offer but it's crucial in painting a vision of how you can help clients. I'd put a $20 Starbucks gift card on the prediction that this may be the last part of the capabilities deck you figure out (disclaimer: the burden of proof to call me on this bet is on you and very high 😋).
As a professional services firm, clients come to you because of an issue they're facing. They need your expertise to solve a problem. Beginning with a client-focused benefit lets you show empathy for your audience's situation, forges relatability and helps reinforce exactly why they've come to you in the first place. For example, at Stryve, we partner with ambitious professional services firms to market their unique expertise and transform them into superfirms.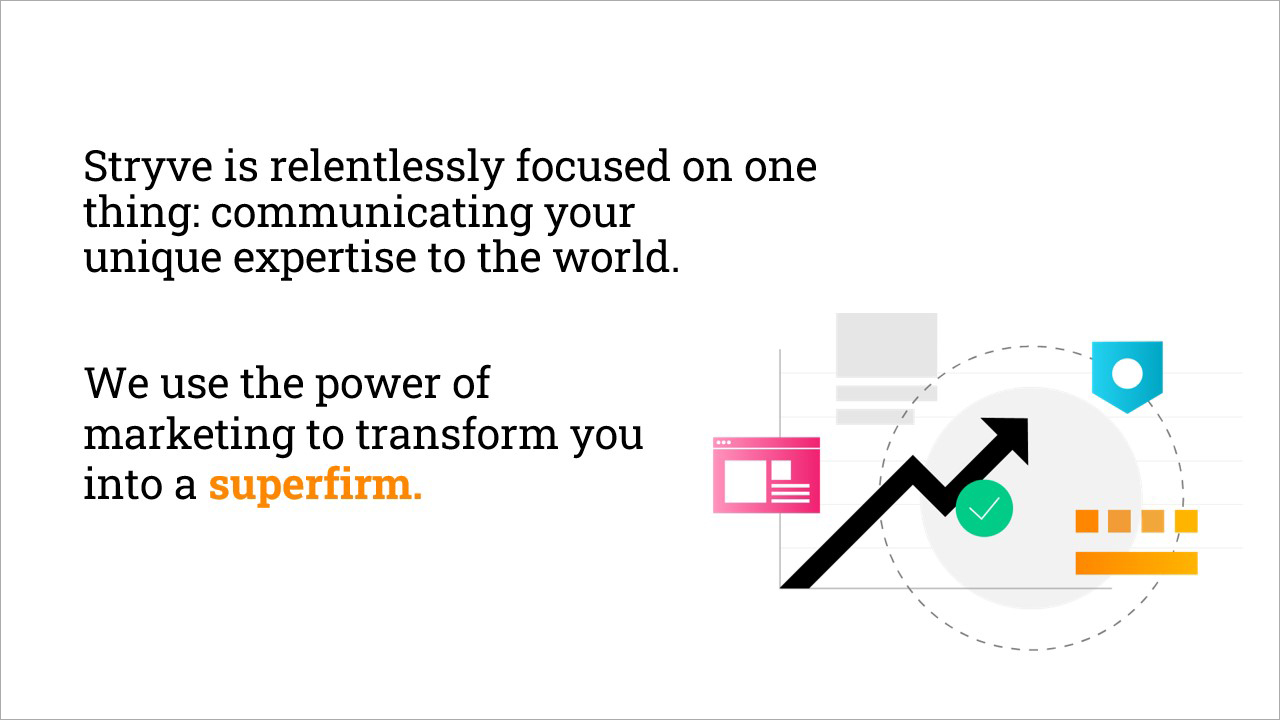 2. Introduce yourself (briefly)
It's always awkward when someone talks about themselves too much and you're stuck politely nodding in the listener's seat. If someone's at the stage where they're receiving your capabilities deck, they've already found you and probably have done some research. So, keep it short and sweet. Just give them a quick refresher on who you are and explain why you're worth talking to. Things like your years in business and the qualifications of your team are easy wins here. Remember, this should back up your expertise and bolster the client-focused benefit you start with.
Here's how we introduce ourselves: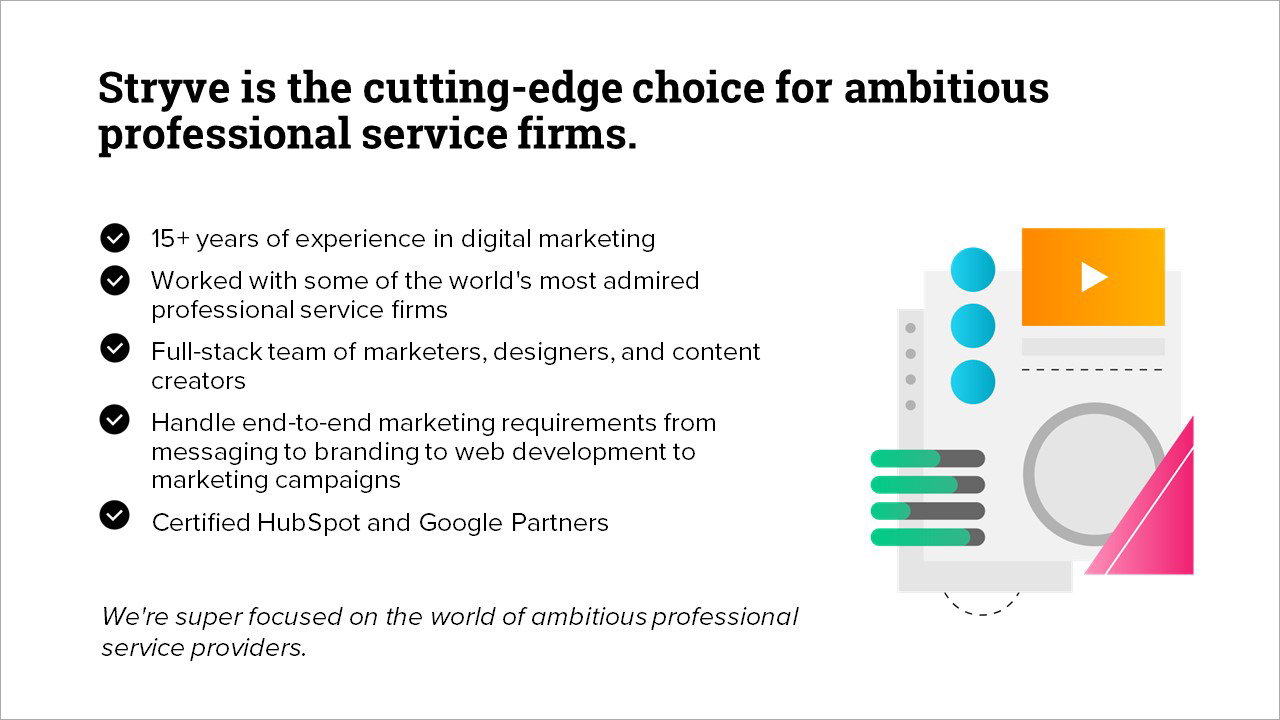 3. Give them 3 reasons to believe
Now we get into more tangible details. This is an opportunity to involve the various areas of your business. I like starting the brainstorming here and gathering way more than 3 reasons from different teams. When you do this, you'll start to see themes that'll help distill the 3 points that offer potential clients the most compelling reason to partner with you. Those 3 points will back up (and likely inform) that epic one-liner you start the pitch deck with.
Some common themes are:
We approach things with a different focus than everyone else.
We structure our team in a specific way that is different than everyone else.
We have a kind of technology or infrastructure behind us that others don't have.
4. Show them your process(es)
Your clients want to know what they're getting into, so give them a peek behind the curtain.
Outline your business processes so they can visualize what it would be like to work with you. Don't worry about them copying you—they're reaching out because they don't have the time or expertise to do it themselves. This can also be an opportunity to reinforce those 3 reasons why they should believe in you. Is there anything unique in your process that makes you stand out? We like to highlight our agile approach and how we use design thinking to continuously iterate and optimize with our clients.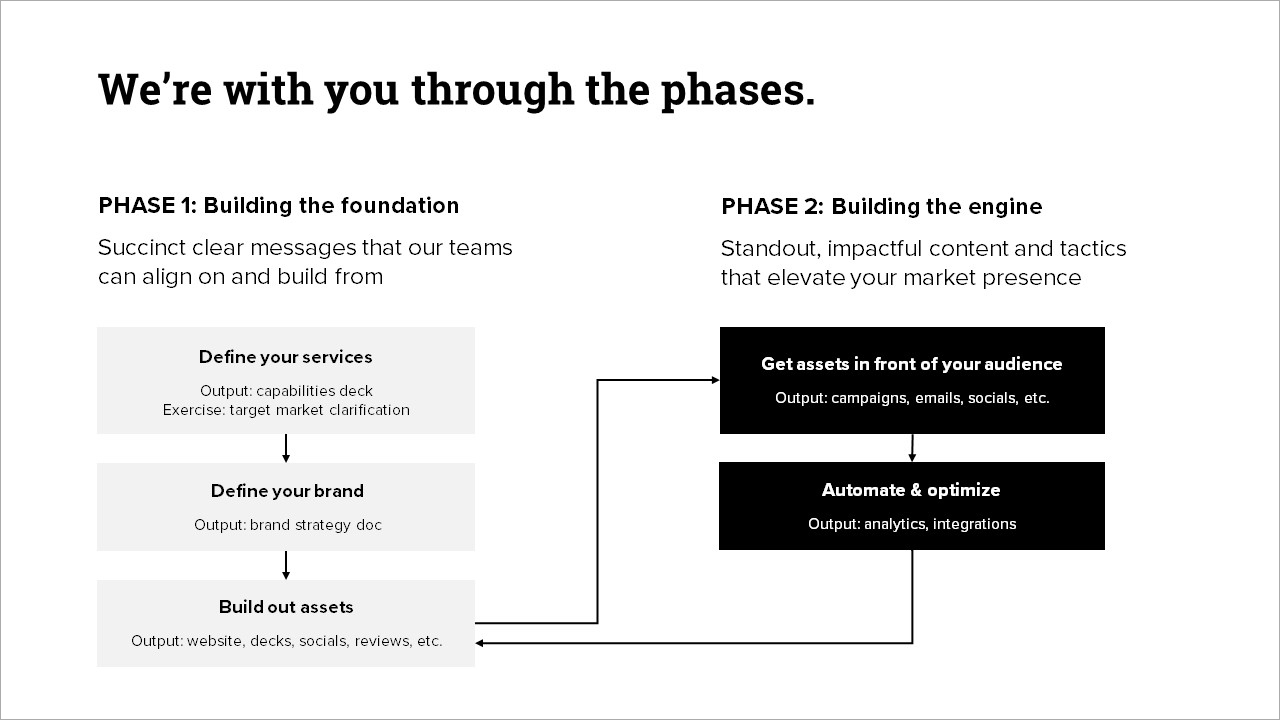 Showing your process can manage expectations of what working together will look like. It has the potential to identify alignment or, misalignment which can determine if you are a good match for one another. Process transparency will be appreciated and can make you stand out from competitors that keep things hush-hush. This is especially important to consider with more B2B buyers seeking transparency when exploring potential services. You don't have to show all your cards, but sharing content about your process builds trust and showcases authenticity which can help prospects with their decision-making.
5. Bring it all together with a detailed client story
Regardless of how marketing evolves, one thing that always stays true is proof. If cheesy TV infomercials have taught us anything- it's that nothing proves your point better than a real-life example. Share a success story that shows potential clients how you've helped someone like them achieve their goals using your unique approach.
The more evidence you can include like quotes and metrics, the better. We know it can be hard to get permission to use certain pieces of evidence, so focusing on building just one excellent case study with your happiest client is usually the path of least resistance.
Have a large portfolio that you can pull from? Choose the client story that best suits the context of your prospect and highlight links to learn more about related projects on your website.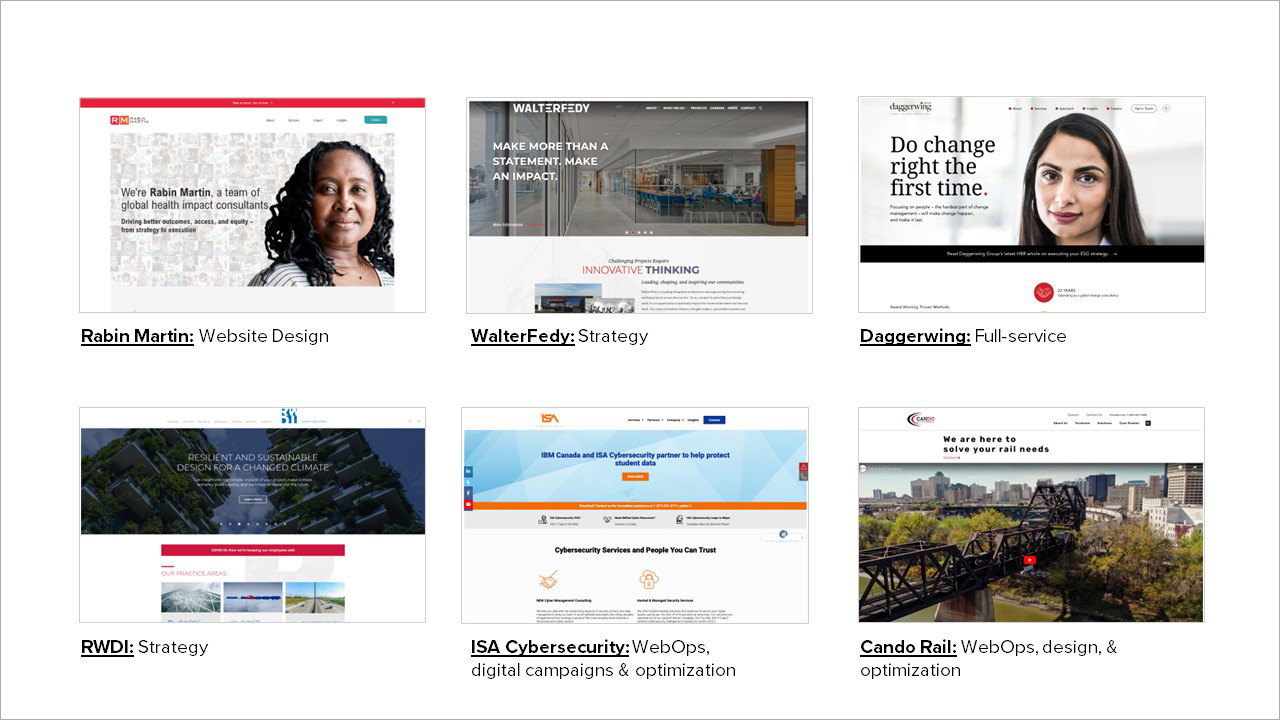 6. Leave them with clear next steps
Now that they're impressed, it's time to guide them toward taking an action. Whether they need to send you a brief, an RFP, or answer specific questions, let them know what's required to kick off the partnership. Again, transparency in the process is a must and when you set expectations about what should happen next, you can exercise some control in the process as well.
The ball's in their court, but make sure they know how you expect them to hit it back. With this structure and focus in mind, you'll have a capabilities deck that sets you up for marketing and sales success.
Curious how this looks when it all comes together?
Take a peek at Stryve's capabilities deck! As a professional service agency ourselves, we completely understand the challenges of positioning service offerings. We've gone through this framework and hope it gives you the inspiration to tackle your own capabilities deck.
Consider getting an external expert to ask you the hard questions and do the work
As an internal marketing leader, it can be tricky to create your own capabilities deck. You have to work and communicate with all of these people and their different ideas every single day! Beyond that, you likely already have some preconceived notions about what makes your firm better than the competition, and that could bias the process. It isn't impossible, but it also wouldn't hurt to have some external pros come in and do the dirty work.
Agencies can come in fresh and challenge your assumptions. They can have uncomfortable conversations and make tough decisions. Bonus: they don't have to bump into the people whose ideas didn't make the cut in the halls. They can act as the representative for your ideal clients to make sure that the points are compelling and easy to understand.
I've seen this process done successfully both ways. How you get your capabilities deck is ultimately less important than just getting it done. When your marketing and sales tactics are focused because of the quality of the strategy work you've done, you'll be glad you did it.