The state of online reviews in 2023: A crash course for service-based businesses
By: Kyle Gellatly
September 27, 2023 | Reading Time: 9 mins
Online reviews have shifted the way consumers make choices about products and services. In the digital age, online reviews are more influential than ever before. They have become the trusted source for information, guiding consumers' decisions and impacting businesses in profound ways.
A lot has changed in the world of online reviews, so here's what we'll bring you up to speed on:
The ever-growing importance of online reviews
The emergence of fake reviews and whether it's changing consumer perceptions
What local service-based businesses can do to thrive in the evolving digital landscape
Online reviews are (still) important
Online reviews have been a staple of the internet for as long as I can remember. But it was in the 2010s that they truly took center stage as influential factors in consumer decision-making. Today, online reviews wield significant power, often making or breaking the success of businesses.
Their importance in 2023 cannot be overstated, and here are some examples of why:
Trust Building: 72% of people say online reviews help them establish trust in a business.
Star Power: 92% of people are more likely to patronize a business with a four-star rating or higher.
The Written Word: 73% of customers place more value on written reviews than star ratings alone.
Website Traffic: 54% of consumers visit a local business's website after reading a positive review.
Medical Decisions: 77% of people use online reviews as the first step in finding a new physician.
Healthcare Ratings: 84% of patients regularly consult review sites for healthcare staff ratings.
Pay for Quality: 86% of people are willing to pay more for services from a highly-rated company.
Revenue Booster: A rating increase of one star on Yelp can result in a 5% to 9% rise in restaurant revenue.
Millennial Trust: Research shows that 91% of 18 to 34-year-olds trust online reviews as much as personal recommendations.
Impact on younger audiences
Millennials and Gen Z, often characterized as the driving forces behind digital trends, place significant trust in online reviews. As seen in the list above, 91% of this audience values online reviews the same as recommendations from someone they know. That's a very significant impact.
These reviews empower younger generations, helping them make informed decisions about the value of products and services, the quality of customer service, and the overall experience.
Striking the right balance
While high ratings are essential, an online review's credibility can also be compromised if it appears too perfect. A near-perfect rating may raise skepticism, whereas a star rating that includes positive and negative experiences tends to come across as more authentic.
The sheer quantity of reviews also plays a pivotal role. Approximately 6 out of 10 consumers consider the number of reviews a business has as critical when deciding whether to engage with it.
To use a real-life example, let's say you were looking for a marketing agency. How do you quickly narrow down a vast list of potentials? Consumers will generally look for companies with a star rating of at least 3.3, as lower ratings aren't viewed as favourable and are less likely to meet their needs. By filtering your options to not show star ratings below 3.3, you'll present only the best-reviewed companies, and increase your chances of finding one that aligns with your business goals.
Business responsiveness matters
Online reviews don't merely reflect the experiences of others, they also shed light on how businesses manage feedback. As many as 97% of shoppers who read online reviews also pay attention to responses from businesses.
Responding to reviews, especially negative ones, is a testament to good customer service and can significantly benefit a business. In fact, 56% of consumers have changed their perspective on a business based on its responses to reviews
And for the businesses that respond really poorly? It's straight to r/BusinessTantrums for them.
Influence on job seekers
Online reviews have expanded their reach beyond influencing sales and leads. Job seekers increasingly rely on reviews when researching potential employers.
A substantial 86% of employees and job seekers now research reviews and ratings to determine whether they should apply to a particular company. When it comes to managing a local business's online reputation, it can get a bit complicated. But in 2023, one thing is crystal clear: reviews are super important for a business to do well online
The rise of fake reviews
As online reviews became more influential, a darker side emerged—the rise of fake reviews. Fake reviews have become a significant problem, potentially undermining the credibility of online review platforms. Here's what you should know about fake reviews:
To understand the scope of fake reviews, it's crucial to explore their diverse forms.
Paid-Review Farms: Businesses pay for fake reviews, with prices ranging from $5 for Google to $50 for Yelp.
Business Owners: Some businesses generate fake reviews directly or indirectly, creating a false impression.
Coerced Employees: Current employees may be pressured to write positive reviews for their employer.
Former Employees: Ex-employees may write negative reviews in retaliation.
Exaggerated Customers: Customers may exaggerate negative experiences to obtain refunds or discounts.
Review Bombing: Groups of people (or fewer people using many accounts) write coordinated reviews, usually negative.
Review platforms' response
The battle against fake reviews remains ongoing, with no platform completely immune to the challenge.
Major review platforms, including Amazon, Google, Meta, TripAdvisor, Trustpilot, and Yelp, claim to be taking steps to curb the influx of fake reviews
The penalties for getting caught buying fake reviews vary depending on the review platform and can range from getting reviews removed to "Consumer Alert" notifications put on your business profile to millions of dollars in fines from the Federal Trade Commission (FTC). And yet, despite their best efforts, fake reviews continue to permeate these platforms.
Spotting fake reviews
Due to several advanced review fraud detection systems, identifying fake reviews is becoming easier. Here are some common indicators to watch for when trying to identify whether an online review is authentic or fake.
Overboard Praise: Fake reviews often overflow with exaggerated praise, lacking the touch of genuine testimonials.
Redundant Content: If a review echoes similar (or identical) content found in other entries, it may raise suspicions of inauthenticity.
Anonymous or Common Pseudonyms: Reviewers with anonymous profiles or common pseudonyms might be less credible.
Excessive Negativity: On the flip side, fake reviews can be overly negative among a sea of otherwise positive feedback.
Lone Positivity Among Negativity: If a single positive review stands out amid a sea of negative ones, it may be a red flag.
Minimal Text, Maximum Stars: Reviews with minimal text and maximum star ratings may lack depth and authenticity.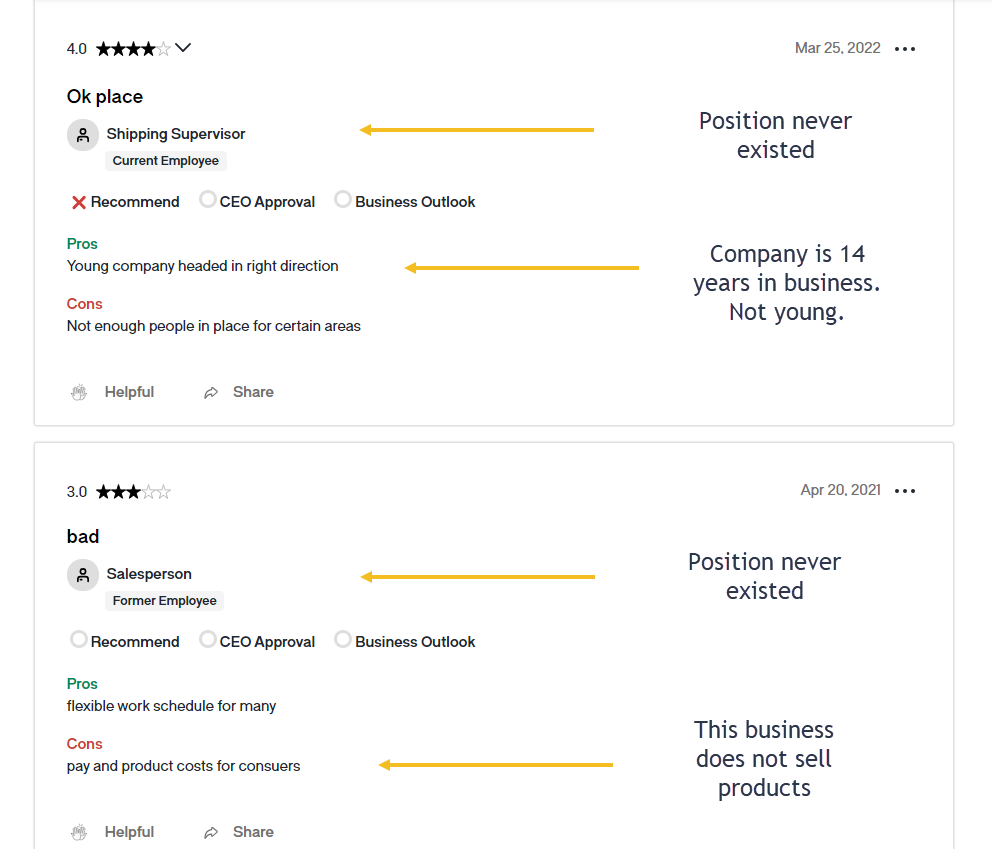 The role of AI
On the flip side, AI tools like ChatGPT have made it easier for fakers to generate vast amounts of perfectly worded and authentic-sounding reviews with very little effort.
ChatGPT is really exposing how much online text is completely bogus

search "As an AI language model" on Amazon and see how many 'top reviews' come up 🙄 pic.twitter.com/yGnZ2kQuud

— drew coffman 𝕚𝕤 𝕠𝕟𝕝𝕚𝕟𝕖 🟢 (@drewcoffman) April 26, 2023
This raises critical questions regarding the future of online reviews. Could the emergence of AI-generated reviews jeopardize the trust and integrity associated with online reviews? If major review platforms fail to curb review fraud, could we see consumers reverting to more traditional methods of seeking recommendations, such as word of mouth and expert reviews?
As technology continues to reshape the landscape, businesses and consumers must navigate these complex questions, redefining the future of online reviews.
What can local businesses do about this?
While the emergence of fake reviews presents challenges, local service-based businesses cannot afford to neglect the world of online reviews. Instead, they must adapt and employ strategies that encourage genuine feedback while safeguarding their online reputation.
Don't buy reviews
Despite the desire to boost online reviews quickly, businesses that purchase fake reviews can experience dire consequences for their online reputations. Programs and services are actively isolating fake reviews and using a range of AI and machine-learning techniques to identify them and crack down on fraudulent users.
If identified as a business engaging in buying fake reviews, that business could face a variety of consequences including heavy fines from government agencies like the Federal Trade Commission. Even if you're not 'caught', you risk eroding the trust of potential customers should they become suspicious about the legitimacy of your reviews.
Seek authentic reviews (legitimately)
Getting online reviews for businesses has never been easy, but when companies put effort into acquiring new reviews, the results are rewarding.
One of the biggest hurdles to overcome when acquiring new reviews is just the simple task of asking in the first place. Whether this be in-person or through an automated email that is sent out once a project is complete, creating a plan on how to ask is the first and most important step.
Here are some of the ways businesses can encourage customers to leave genuine reviews:
Personal Requests: Engage with customers in person and ask for their feedback.
Email Outreach: Send email requests for reviews, especially at the end of a project, manually or automated (recommended).
Text Messages: If you communicate with your customers already via text message then this can be an extension of your relationship with them.
Email Signatures: Incorporating a review link into staff members' email signatures.
Online Directories: Register your business on online directories, such as Clutch, that facilitate review collection.
Engage with reviews
Active engagement with reviews is crucial! Respond promptly and professionally to both positive and negative reviews. This shows customers that you value their feedback and are dedicated to providing a satisfactory experience, whether it's good or bad.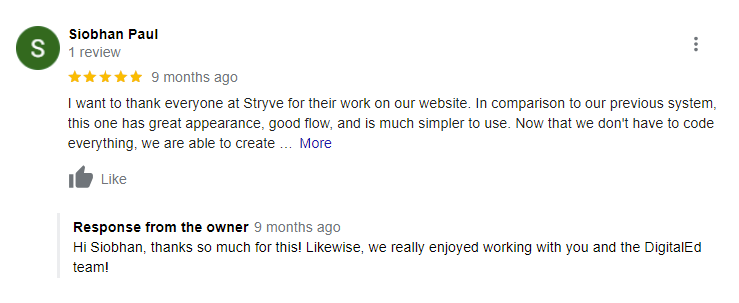 Feature reviews
Showcase your reviews on multiple platforms, including your website, case studies, marketing materials, and social media. Highlighting positive feedback can bolster your brand's credibility and build trust with potential customers.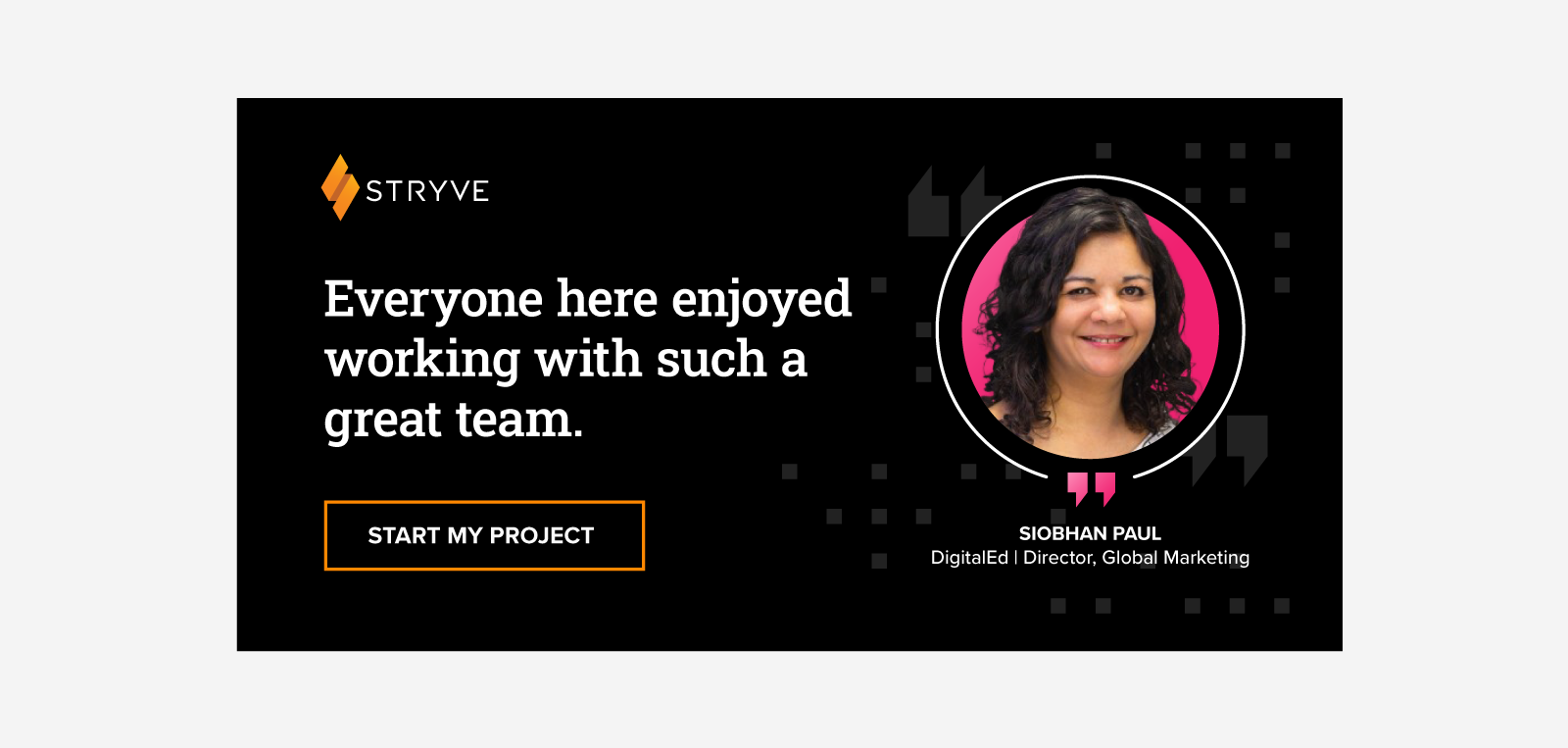 Invest in reputation management
Reputation management software can provide valuable insights into your online reputation and help you monitor and improve it. Consider options such as Yotpo, BrightLocal, Podium, or ReviewInc to gain a competitive edge.
Embrace video reviews
Video reviews offer a dynamic and engaging way to capture customer experiences. They are often viewed as the most trustworthy type of recommendation online because they aren't easy to fake (…yet).
Video reviews serve several essential purposes:
Building trust
They are perceived as the most authentic and trustworthy form of online recommendations.
Providing a multichannel presence
Videos can be shared across various strategic locations, including your website, emails, YouTube, Google, and social media platforms. And don't forget to add captions to all the videos you create.
Boosting conversions
Video reviews can significantly increase conversions, as they offer visual proof of your product or service's quality and reliability.
Creating emotional connections
Videos have the potential to foster an emotional connection between viewers and your brand.
Improving SEO
Studies have demonstrated that achieving a page one ranking on Google is 50x easier with video content as high-quality video reviews often occupy prominent positions in search results. Videos also diversify your content portfolio, which can improve social proof and SEO.
By incorporating user-generated product review videos into your branded YouTube channel, you can elevate your search engine visibility and drive more conversions. The more customers and users create reviews of their experiences and share them online, the higher the likelihood of these videos appearing in top search results.
Now go forth and boost your business (the right way)
Online reviews have evolved into a fundamental aspect of modern business. Their importance cannot be overstated, but they are not without their challenges. However, with the right strategies and a commitment to authenticity, businesses can harness the power of online reviews to build trust, enhance their reputation, and ultimately thrive in the digital age.