Our experience with whisper courses
By: Grace Cole
August 19, 2020 | Reading Time: 2 mins
We've measured psychological safety on our team for the last four years since Google's Project Aristotle named it a key attribute of successful high performing teams. Referring to the level of which team members feel safe to take risks and show vulnerability, it's become an essential part of our culture. Beyond holding semi-annual evaluations, we've recently started exploring re:Work's whisper courses to further foster and train our team's psychological safety.
So, what the heck are whisper courses anyways? They're inspired by the microlearning method where employees receive a series of short emails containing a suggestion or reminder on some type of behaviour or interaction. Studies show you can forget up to 50% of the information you're given within an hour, so these bite-sized emails — or 'whispers' — ensure Stryvers are actively retaining and practicing the lessons each week.
Here's our experience with whisper courses so far:[/intro]
Getting started with whisper courses
We started by looking at our last psychological safety quiz results to determine what areas our team needed to work on. For us, that was creating a safer space for people to bring up issues. From there, we used First Principle Thinking to make a chart outlining the potential reasons why we struggled. Here's an example: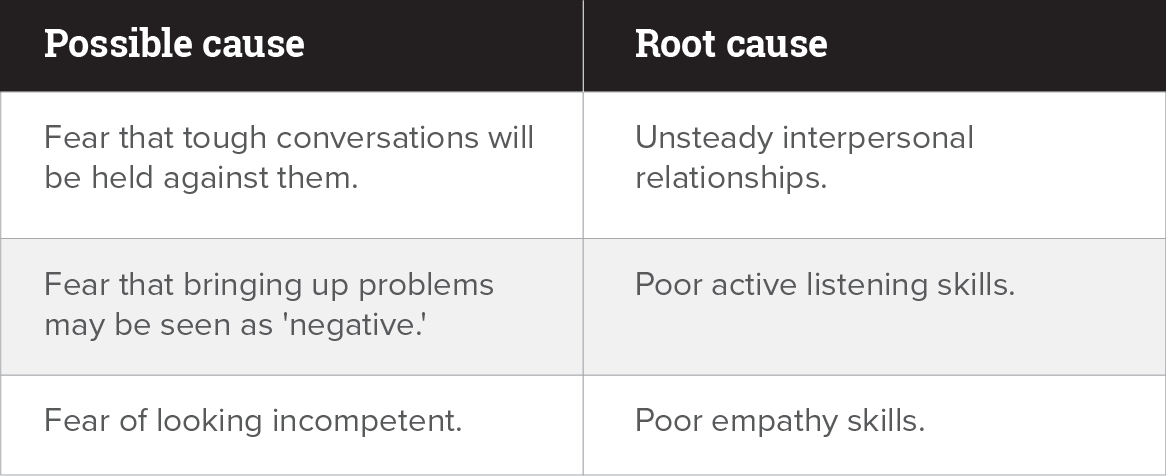 By digging deeper, we were able to look beyond the surface level reasons and assumptions to target the skills and behaviours affecting our team's psychological safety. These skills and behaviours would become the focus of our whisper courses.
Creating a structure
After determining the skills and behaviours we needed to acknowledge, we built out an email template and schedule. What's worked best for us is focusing on one skill series over the course of four weeks, where each Stryver receives a whisper on the first Monday of the month explaining the skill and its importance. Each Monday thereafter, weekly homework is assigned regarding items that feed into said skill. Team members are held accountable by sharing their results during Friday's Team Talk.
Want to give it a shot too? Download our template (.docx) for our 'Active Listening' whisper course.
Measuring the results
The proof is in the pudding, or at least that's how we're looking at our own experience. We'll know whether or not these whisper courses were successful when it's time to measure our psychological safety this coming January. Until then, we'll continue experimenting with the process, gathering feedback, and adjusting where needed.