How organizations can be allies to the Trans community—today and every day
By: Ash Larizza
March 31, 2023 | Reading Time: 5 mins
March 31st is International Transgender Day of Visibility, a day for celebrating trans and gender-nonconforming communities who often had and still have to hide who they are to remain safe in our world.
WHAT IS INTERNATIONAL TRANSGENDER DAY OF VISIBILITY? 🏳️‍⚧️
You may be familiar with  Pride month, a celebration of the LGBTQ+ community that was initially a riot initiated by Marsha. P. Johnson and other trans women of colour. Despite historic trans involvement in the fight for queer justice, trans folks have been left out of narratives, targeted through government policies, and faced discrimination and anti-trans violence.
In November 1999, Transgender Day of Remembrance was created to mourn those who have suffered and lost their lives to anti-trans violence. A decade later, Transgender Day of Visibility was created to raise awareness about issues still affecting the trans community today, but also to celebrate trans folks who live openly and authentically.
The fight for trans lives has never been more important. In 2022 alone, the US introduced 155 bills to remove the rights of trans people. From taking away access to gender-affirming healthcare to banning trans people from sports and public restrooms to considering it child abuse if a parent supports their transgender child.
International Transgender Day of Visibility celebrates transgender people, educates people about gender identities, and raises awareness about trans issues to help inform allyship.
HOW TO SUPPORT TRANS EMPLOYEES
While protesting, donating, and sharing trans stories are some ways to support the community and educate those who may not understand the trans experience, these may not be possible for every organization that wants to help. Instead, there are things your business can do to support its trans team members, customers, shareholders, and the community in general.
First up, get educated
Transgender, or trans for short, is an umbrella term for the many ways to identify with a gender that you weren't assigned at birth. There's a lot to learn about the trans community like history, issues that trans people face, and how to adapt to new or changing pronouns or language to use (or not use) when addressing trans people. Advocacy organizations offer great resources to get you started. But it doesn't stop there—listening to trans stories and people's lived experiences helps you build the understanding and empathy needed to stay informed. Here are some resources to get you started:
LGBTQ+ Advocacy Organizations Offering Resources
Books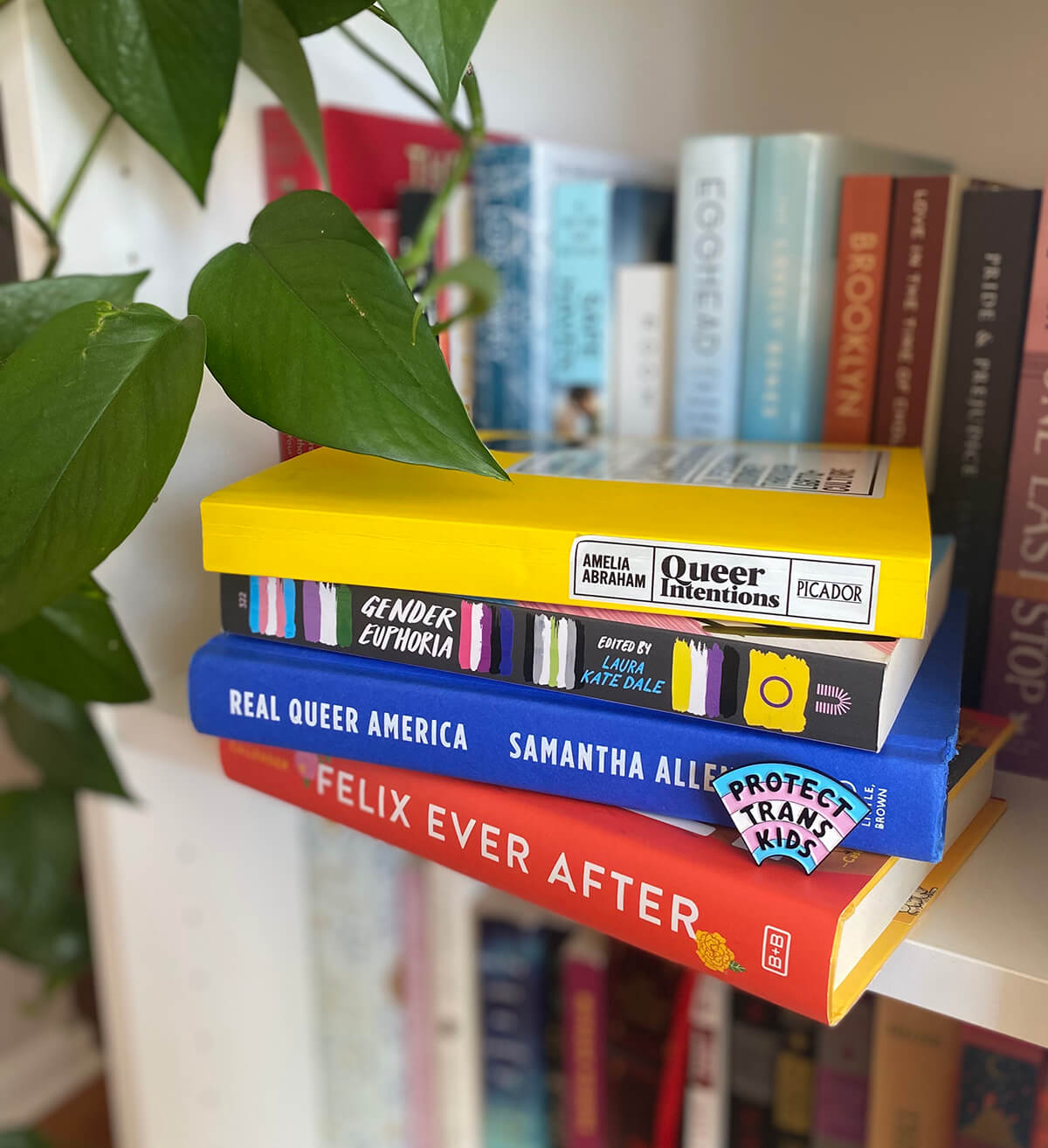 Influencers
Shift language to be more inclusive
As marketers and copywriters, we know the importance of crafting the right message so it is received in the best way possible. For many trans individuals, gendered words can be triggering. Eliminating gendered language or stereotypes can create a more inclusive environment for everyone.
For example, adapt how you address groups of people – replacing the words "guys" or "ladies" with gender-neutral alternatives like "team", "folks", "friends" and "yall" is a start. Or, consider using gender-neutral titles like Chairperson as opposed to Chairman/Chairwoman, Firefighter as opposed to Fireman/Firewoman, Flight Attendant as opposed to Steward/Stewardess, etc.
Increase pronoun visibility
Being misgendered is a common source of stress and anxiety in the trans community. By encouraging everyone—not just your trans employees—to include their pronouns in their screen names and name tags, you'll create a space where people stop unconsciously assigning wrong pronouns to others.  It reduces the likelihood of people using the wrong pronouns, can ease anxiety, make your team feel safer, and reduce instances of constantly having to correct people or ask about pronouns. Sharing your pronouns publically is a form of allyship because it can encourage others to do the same.

Include gender-affirming healthcare in benefit plans
Generally, gender-affirming healthcare like hormone therapy or surgeries aren't covered publicly nor are they easily accessible which means healthcare can get very expensive without coverage. If you live somewhere where gender-affirming health care isn't publicly funded, see if there are things you can add to your benefit plan so it is more accessible and affordable for anyone who may need it.
Along with that, consider offering paid time off for employees who may need to recover from major gender-affirming surgeries. Not being able to afford time off from work to recover from surgery could be a barrier to your employees from accessing this kind of life-changing healthcare.
Ensure your systems and policies are inclusive.
Systems and policies make a business run smoothly, but are the ones you've implemented inclusive of everyone? If your policies haven't been updated in a while then it may be time for a refresh. Here are some questions to ask yourself about your workplace policies:
Is there an option on application forms to include pronouns?
Does your employee tracking system offer the ability for someone to go by a name that isn't their legal name?
Does it make it optional for someone to include a title like Mr. or Ms. and if not, is the gender-neutral version Mx. on the list?
Is your dress code split between what women and men should be wearing, or more generalized?
Are trans issues and stories a part of your diversity training sessions?
According to Harvard Business Review, a lack of trans-specific policies can lead to higher turnover due to diminished job satisfaction, not feeling safe and discrimination. As part of Diversity, Equity, and Inclusion efforts, it's important to take stock of your systems and adapt them so they're gender-inclusive and free of any gender-based biases. Set a standard of zero tolerance for discrimination but take it one step further by encouraging your team to enforce that safe space. Remember that DEI is an ongoing promise.
Fostering inclusion starts with you
It's important to create a culture that accepts and appreciates differences within your team. Prioritizing empathy in leadership and psychological safety are two pillars we follow for creating a healthy team dynamic. At Stryve, our team is our strength. Each person has a superpower. On top of that, we know that creating a culture of safety where everyone feels comfortable and supported is an absolute must for success. We understand the importance of diversity and want everyone on our team to feel seen, accepted, and valued. That's why we take time to celebrate days like #ITDOV. Today and every day we value doing what we can to help trans people feel safe being visible and authentically themselves.