From smashing global records to reshaping the norms of music streaming, Taylor Swift's impact on global culture is undeniable. It's more than just stardom, though. It's  "Swiftmania", a phenomenon that Billy Joel thinks is comparable to the Beatles' success.
Enter the Eras Tour—the superstar's latest headlining tour. In the United States, 14 million people showed up to its presale, crashing Ticketmaster's servers and sparking a political backlash against the company. Devoted fans (dubbed "Swifties") are shelling out up to $14,000 for resold tickets. Swifties simply can't get enough of Taylor Swift, with ticketless fans tailgating outside concert venues and thousands tuning into live streams from concertgoers each night.
But what is driving this unprecedented demand? And what insights can brands glean from the success of the Eras Tour?

Beyond marketing: Unpacking the Eras Tour success
There's a lot of context for non-Swifties to consider so we need to set the stage. Taylor Swift commands an extremely high level of loyalty and awareness. In some ways, this makes the jobs of marketers easier. But before we break down the marketing behind the Eras Tour, let's look at the current zeitgeist to understand what made it a perfect time for such a tour.
Here are factors beyond marketing to understand the tour's success.
Brand storytelling: It's a brand story (baby just say yes)
Brands can't afford to overlook storytelling. It's an absolute necessity. According to an  Edelman survey, 81% of consumers need to trust a brand before making a purchase. Brands must establish an authentic narrative to form an emotional connection with their audience.
Taylor Swift is no stranger to storytelling. She has often used her music to regain control over her public image, leading to multiple rebranding efforts over her career. A prime example is her shift from a country star to a global pop icon with the release of her fifth album, "1989", which was marketed as her first official pop album.
In 2019, Taylor's music catalogue was sold to Scooter Braun, sparking a conflict that drew widespread media attention. Taylor responded by revealing her plans to re-record her older music in an attempt to reclaim her master recordings. This ambitious move not only granted Taylor greater artistic and financial autonomy, it positioned her as a trailblazer in the music industry, putting her at the forefront of the ongoing discourse surrounding artists' rights to own their music.
The Eras Tour amplifies this narrative by offering a "journey through all of her musical 'eras.'" Instead of a typical one-album tour, Taylor chose to tie it to her re-recordings, branding it as a once-in-a-lifetime chance to experience her version of her music. The tour signifies a historic moment as Taylor invites fans to support her fight to reclaim her music and advocate for the rights of fellow artists.
Novelty: Polish up real nice
In an oversaturated market, people are drawn to new and shiny offerings. Novelty can be a powerful marketing tool, setting brands apart and captivating fans with unique experiences.
Taylor Swift taps into this psychology through her evolving artistry. Since her career's onset, she's reinvented herself with each album cycle to stay current, while keeping her signature songwriting style. Every musical "era" introduces a new version of Taylor, with fresh colours, haircuts, and fashion statements.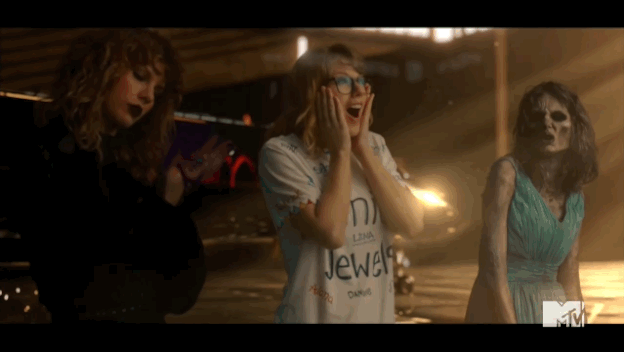 The Eras Tour takes this concept to a new level. No megastar had embarked on such an ambitious tour before. Spanning ten albums, the tour boasts a three-hour setlist with cutting-edge production and flashy outfit changes. The tour gained attention upon announcement because it departs from Taylor's previous tours and delivers immense value to her consumers.
But it doesn't stop there. The Eras Tour symbolizes Taylor's continual reinvention by transforming with each show, featuring rain-soaked performances in some cities, and surprise music video premieres in others. The setlist features two new "surprise songs" each night, adding a consistent element of unpredictability. Swifties lovingly dub it the "Errors Tour", even cheering for lyric slip-ups because it makes their show feel special. Unlike her previous meticulously rehearsed tours, the Eras Tour is spontaneous and keeps attendees guessing what's next. It's this sense of novelty that has Swifties globe-trotting to experience multiple shows across different cities.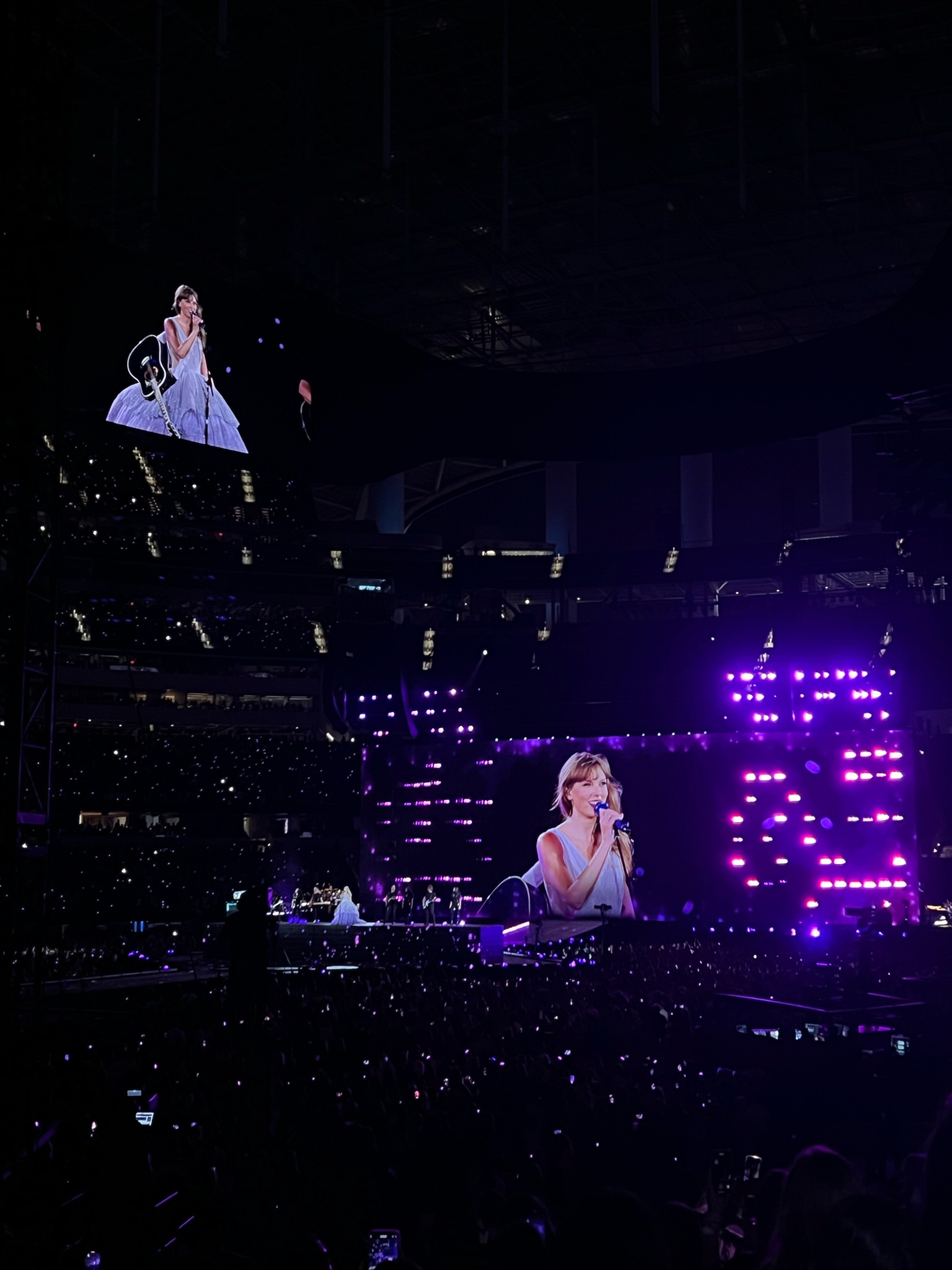 Re-invigorating community post-covid
People are naturally wired to seek connection and meaningful relationships. An overwhelming majority 84% of consumers express a desire for businesses to treat them as a person. Successful brands tap into this fundamental human need by fostering a sense of belonging among their consumers.
Taylor Swift, as a brand, has cultivated a loyal fan base through consistent engagement. Anyone who's interacted with a Swiftie can confirm the deep (some might even say, parasocial) bonds Taylor has with her fans. From embedding coded messages in albums to welcoming Swifties into her home to preview new music, Taylor could teach a masterclass on community marketing.
What makes the Eras Tour stand out from Taylor's past tours is that we're fresh out of a global pandemic. The past few years have been void of social events (including concerts), leaving Swifties hungry to regain a sense of community. Adding to that, Taylor's popularity skyrocketed during COVID with multiple album releases.
The tour became the first chance post-pandemic to not only catch the star at the top of her game but to connect with the larger Swiftie community by:
Exchanging friendship bracelets
Sharing photos of each other's outfits on social media
Speculating on surprise songs and announcements
Participating in SwiftBall, where Swifties predict and discuss shows
The cultural shift in spending power
Marketers must learn as much as they can about their target audience. Market research empowers businesses to understand their consumers, letting them make informed decisions and stay competitive.
Right now, there's a cultural shift revolving around female-driven entertainment. Women are gaining economic power and are spending more than ever before. This "women's multiplier effect" describes how women are flexing their financial power to support businesses. The Barbie movie, which recently surpassed  1 billion USD in revenue, stands as a good example of entertainment targeting women.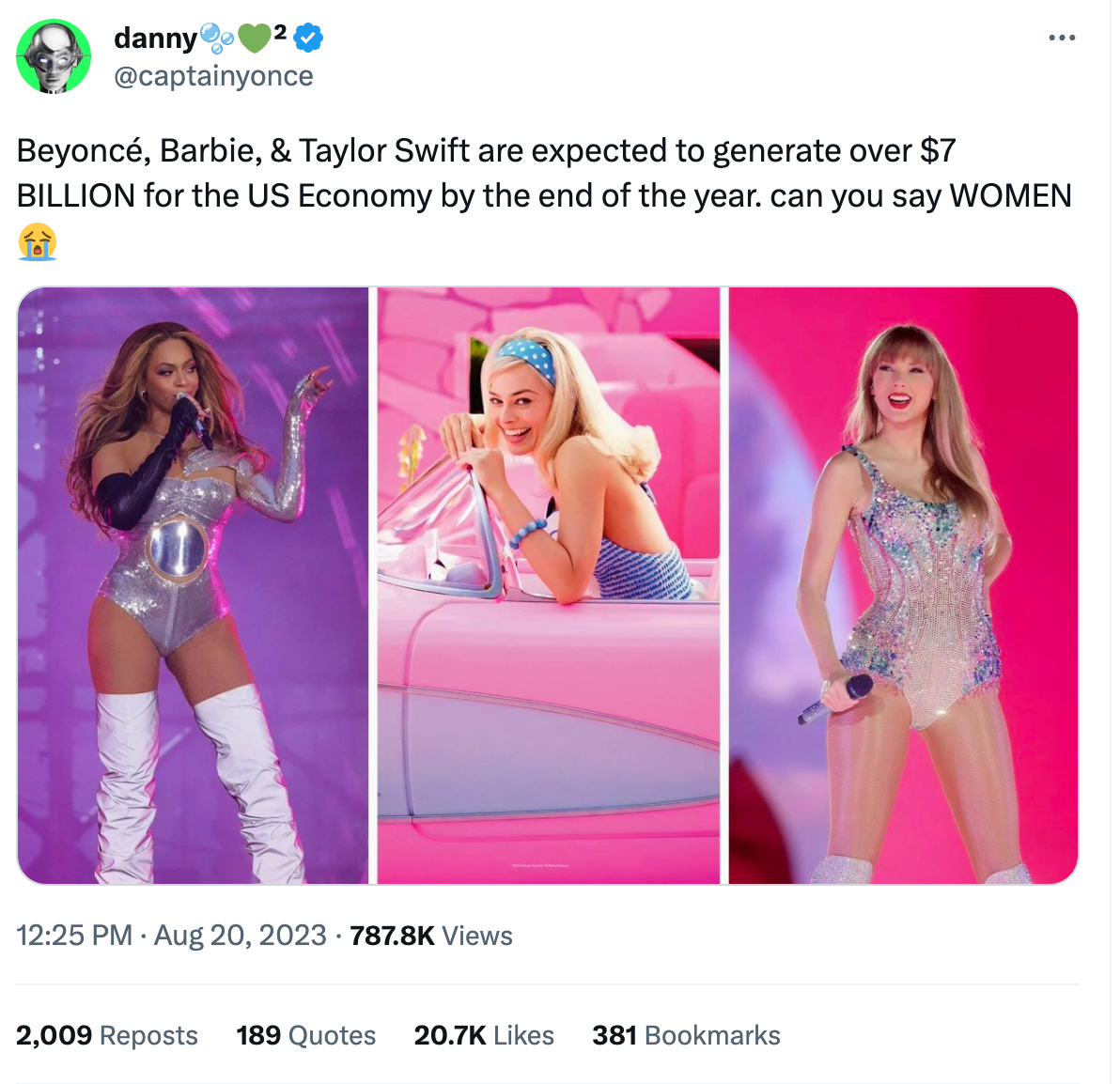 The Eras Tour is strategically timed to tap into this trend. Taylor Swift's predominantly female fanbase has grown up alongside her, now possessing greater purchasing power and an appetite to see their idol. Just as they find themselves in a financial position to splurge on a fun, immersive experience, the Eras Tour comes along as a once-in-a-lifetime spectacle, where donning sparkly attire and gem-studded faces is celebrated. How could fans resist?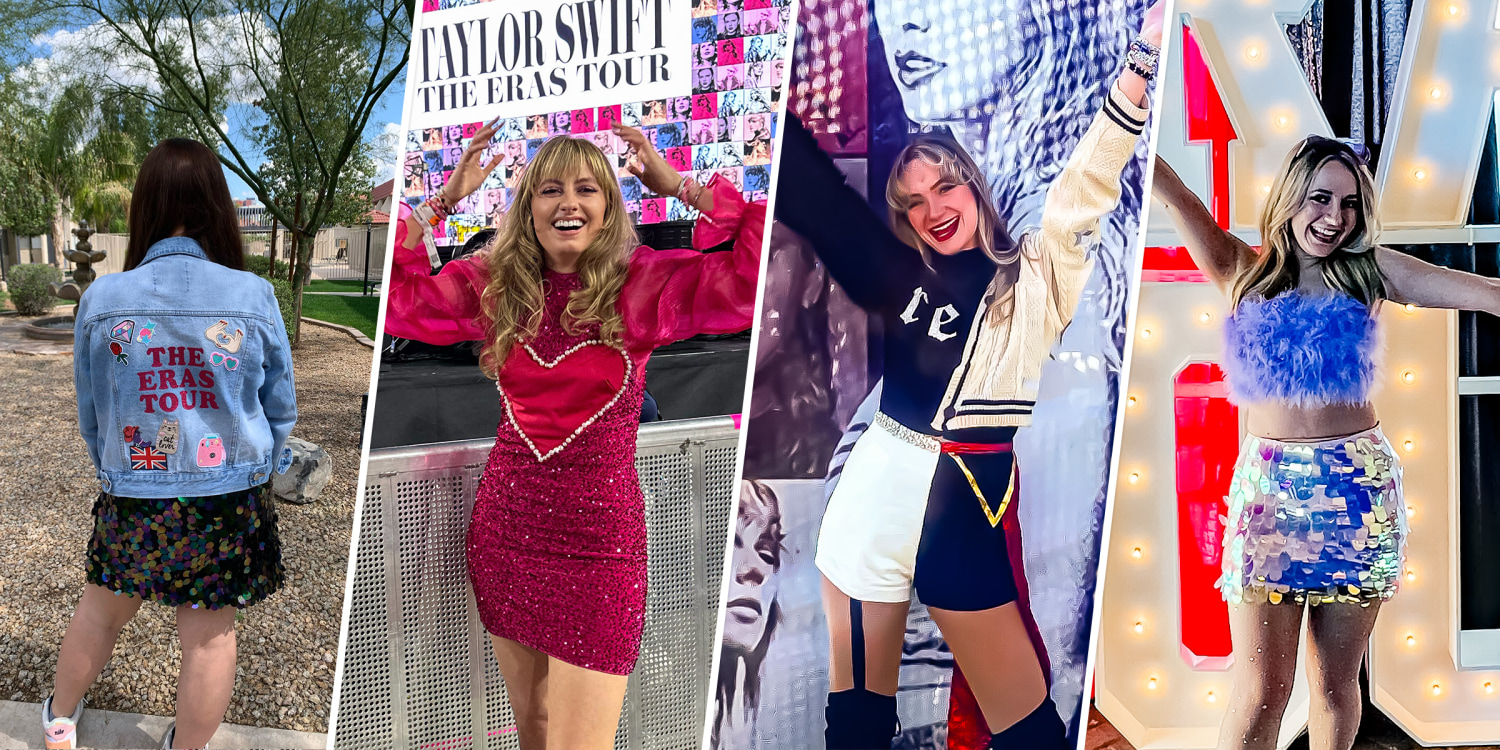 The marketing of Taylor Swift's Eras Tour
With that context in mind, let's look at some of the marketing strategies that spread the word about the Eras Tour.
Creating a feeling of scarcity with tour date announcements
People pay more attention and are more likely to take action when they see a service or product as rare. Why? Well, people want what they can't have. When something seems limited, it automatically becomes more desirable.
A major part of the Eras Tour that captured attention was its tour dates. Usually, Taylor Swift unveils all dates upfront to allow Swifties to plan accordingly.
This time, things were different. Taylor kicked off the tour with the  American tour dates, withholding international ones. The uncertainty left international fans,  namely Canadians, pondering whether to take a chance on their own country's dates or grab tickets for the American stops. High demand and people's fear of missing out (FOMO) pushed fans to seek tickets abroad at any cost. Taylor's the cheer captain and no one wants to be left on the bleachers.
It's me, hi. I know places in Canada would love to have you. So, don't make it another cruel summer. We hope to see you soon.

— Justin Trudeau (@JustinTrudeau) July 6, 2023
The tour also adopts a  mini-residency approach, featuring fewer shows concentrated in major cities while skipping smaller ones. This decision reduces setup and travel costs, while also enticing fans to make an excursion to catch her shows.
The tour date rollout worked in the star's favour. Buzz and speculation about the demand soared, creating anticipation and guaranteeing packed stadiums in different cities.
Takeaway: Scarcity can be an effective way to generate excitement. Presenting a product or service as limited stokes consumer interest and urgency. Consider what feelings you'd like to generate with announcements and consider how timing and depth of information being shared helps generate those feelings.
Leveraging social channels: the new medium of folklore
Social media needs no introduction. Brands should invest in their social presence to connect with their audience and amplify their impact.
Taylor Swift leveraged social media through:
Offering behind-the-scenes glimpses of the tour on Instagram Stories
Sharing professional concert pics on Instagram and Twitter every weekend
Teasing surprises for upcoming shows
Buying hashtags for fans to use to fuel virality (such as #TSTheEras Tour on TikTok)
But the tour really took on a life of its own on TikTok, one of the fastest-growing social media platforms. Her fans transformed into brand ambassadors, creating content on the platform that fueled FOMO and hype. Even non-fans got a taste of the Eras Tour experience, from glittering ensembles to friendship bracelets. The Tiktokification of the tour elevated it from a concert to a coveted experience worth paying for.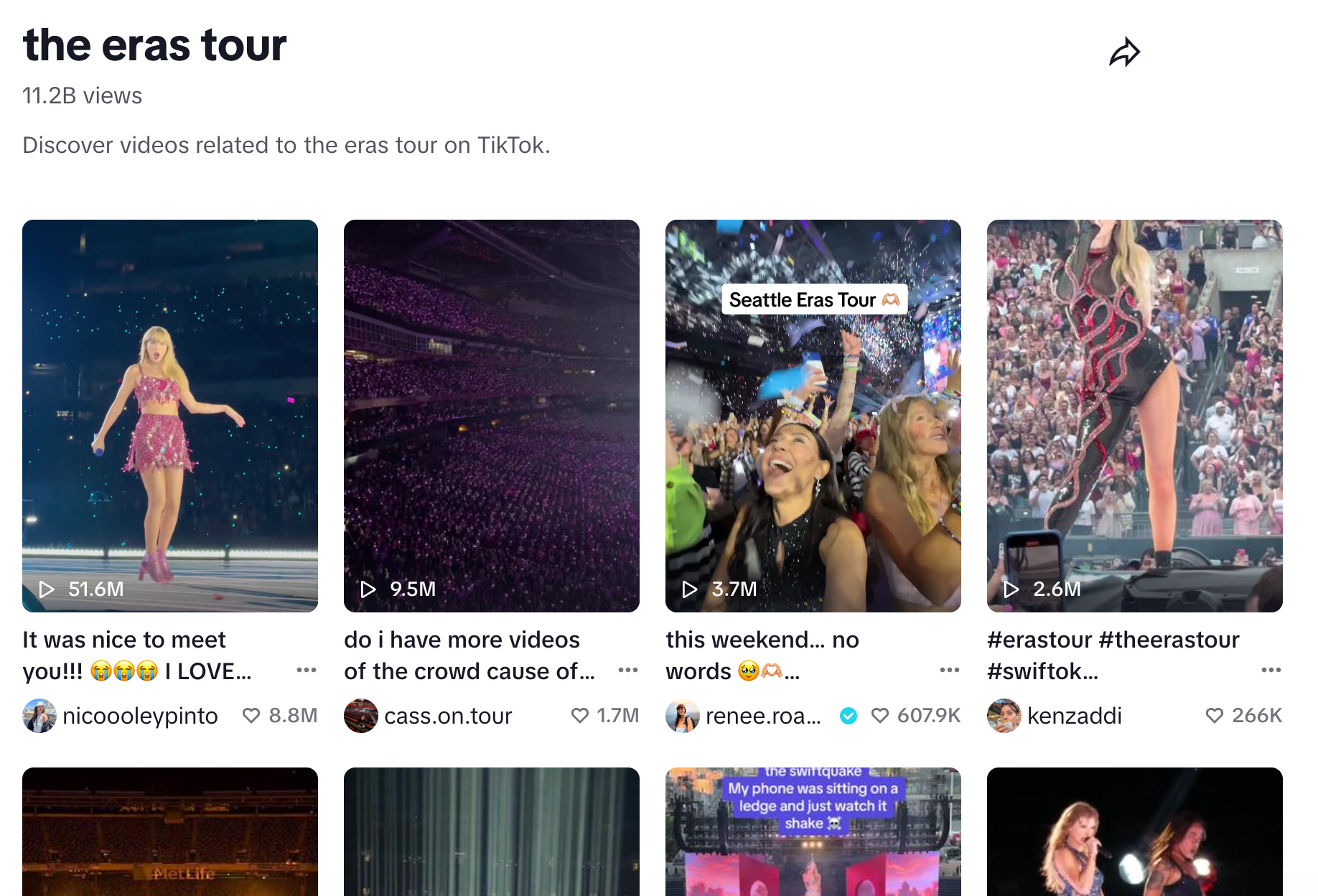 Takeaway: Utilize social media for building anticipation, unique glimpses behind the scenes and teasers that generate intrigue. Help create opportunities for engagement with branded hashtags, filters, polls etc. The more you can mobilize your community across social platforms, the better. Take advantage of a multichannel distribution strategy.
Incorporating nostalgia: Party like it's 1989
It's like we're travelling back in time. There's a new Hunger Games movie coming out, the Jonas Brothers are back together, and Y2K fashion plus 90s haircuts are making a comeback.
Nostalgia can serve as a trigger for positive emotions. By linking your brand to cherished memories, you can create deeper connections with your audience. It's especially effective with  Generation Z and millennials. Gen Z is driving the nostalgic wave, with 50% expressing nostalgia for various media forms. Taylor Swift's fanbase, which skews young, is a perfect target for this trend.
The Eras Tour offers fans more than just a chance to hear older tunes. It's a unique opportunity for them to relive their own memories tied to her music from the past decade. The experience includes outfits,  memorabilia from previous tours, and familiar choreography, letting fans completely immerse themselves in her past musical eras.
This appeals to long-time supporters, allowing them to reconnect with Taylor's earlier music that she no longer performs. At the same time, the tour revitalizes her older releases and serves as an introduction to her earlier work for newer fans. This means that in 2023, beloved tracks such as "You Belong With Me" and "22" are attracting a new generation of fans, securing their enduring relevance and longevity for years to come.
Takeaway: Tap into emotions. Explore the use of nostalgia to establish a powerful connection with your consumers.
Surprise and delight with collaborations of your wildest dreams
Collaborations can help boost brand exposure and increase engagement by tapping into different audiences.
Given her global superstar status, it's no surprise that Taylor's got connections with big names. From surprising fans on stage with  Ice Spice to inviting stars like Selena Gomez and Gigi Hadid to attend, the show became a celebrity hotspot. Spotting and interacting with A-listers became a unique aspect of the experience, adding allure for its attendees.
Taylor also leveraged other celebrities' fanbases to generate excitement for upcoming shows. For instance, she brought out Taylor Lautner (yes, her ex) and Joey King to premiere a new music video during her Kansas City show. These stars later shared content on their social media post-show, making headlines and sparking more interest in the tour.
Takeaway: Pursue collaborations that surprise and delight. You can do so by identifying some form of audience or interest overlap.
Sponsorships and partnerships: Reaching forevermore
Taylor Swift joined forces with Spotify and Capital One to sponsor and promote the tour. These partnerships enhanced the tour's visibility and expanded its reach. Capital One gave its cardholders exclusive access to the tour presale, backed by a Venture X credit card commercial starring Taylor herself. Similarly, Canadian Bank RBC announced a sponsorship with Taylor Swift as an official ticket access partner.
Spotify crafted playlists that spotlighted different eras of Taylor's tour. They also launched an interactive mobile experience backed by real listening data, letting listeners pick their Top 5 Eras and share it digitally with friends.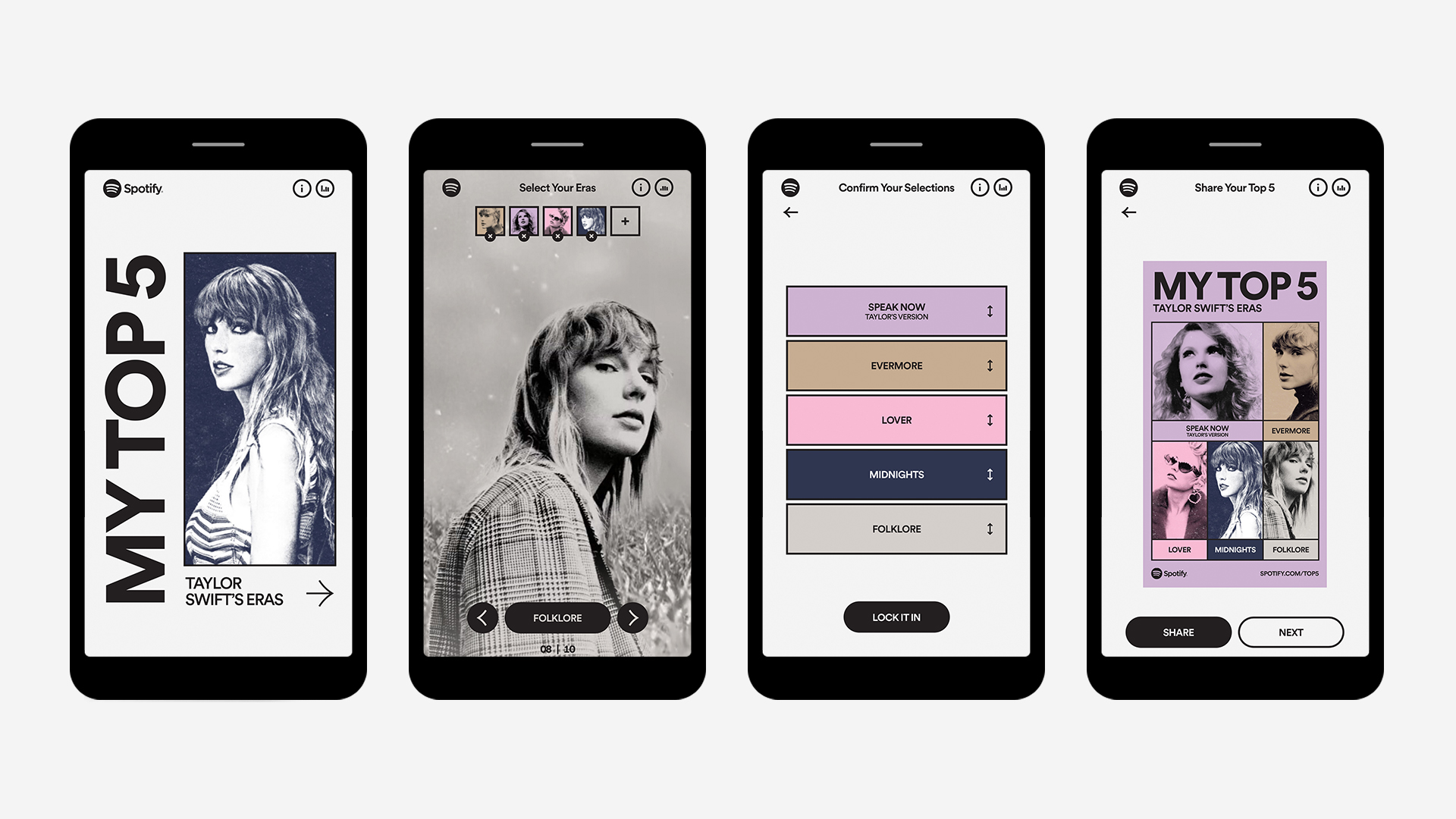 And there's more. After completing the American leg of her tour, Taylor surprised fans by announcing that the show is coming to theatres. The singer teamed up with AMC Theatres to present "Taylor Swift: The Eras Tour" concert film, set to debut on screens across North America in October. Tickets start at $19.89 for adults, allowing fans who missed the live show to see it as a "theatrical concert experience". Those who did catch the show but wish to relive the magic can do so at a much more affordable price tag. It's a win-win for AMC Theatres and Taylor, as the concert film capitalizes on the surplus demand. AMC Theatres, already anticipating record-breaking sales, has increased its ticket server capacity to "traffic at more than 5 times the current record for the most ever tickets sold in an hour". 
Takeaway: Consider partnerships for resource sharing, expanding reach, and further experiential and promotional opportunities.
Impact of the Eras Tour
For Taylor as a brand
The Eras Tour is poised to shatter records and potentially generate a  staggering $1.4 billion, a sum that would propel Taylor Swift into the coveted billionaire club. The tour also doubles as a promotional vehicle for her entire discography, driving the success of her re-recordings and boosting album sales and streams to new heights. It's due in part to the tour that Taylor has become the first living artist to chart 7 albums within the top 40 of the Billboard 200 chart.
For the economy
The impact of the Eras Tour doesn't stop at Taylor herself. It's also boosting travel and tourism in the cities it graces. With each city the tour visits, there's a surge in demand for accommodations, dining, and local attractions. According to a survey conducted by  QuestionPro, Swifties are spending an average of $1,300 per show, which is a significant boost to local economies. A clear example of this economic revival can be seen in Chicago, where the tour led to the highest hotel occupancy rates ever recorded in the city. The tour was also credited with restoring  Las Vegas's tourism to pre-pandemic levels.
Taylor's economic influence is so large that it's been given its own name: "Swiftonomics." QuestionPro estimated her economic contribution in 2023 at $5 billion, exceeding the GDPs of 50 countries.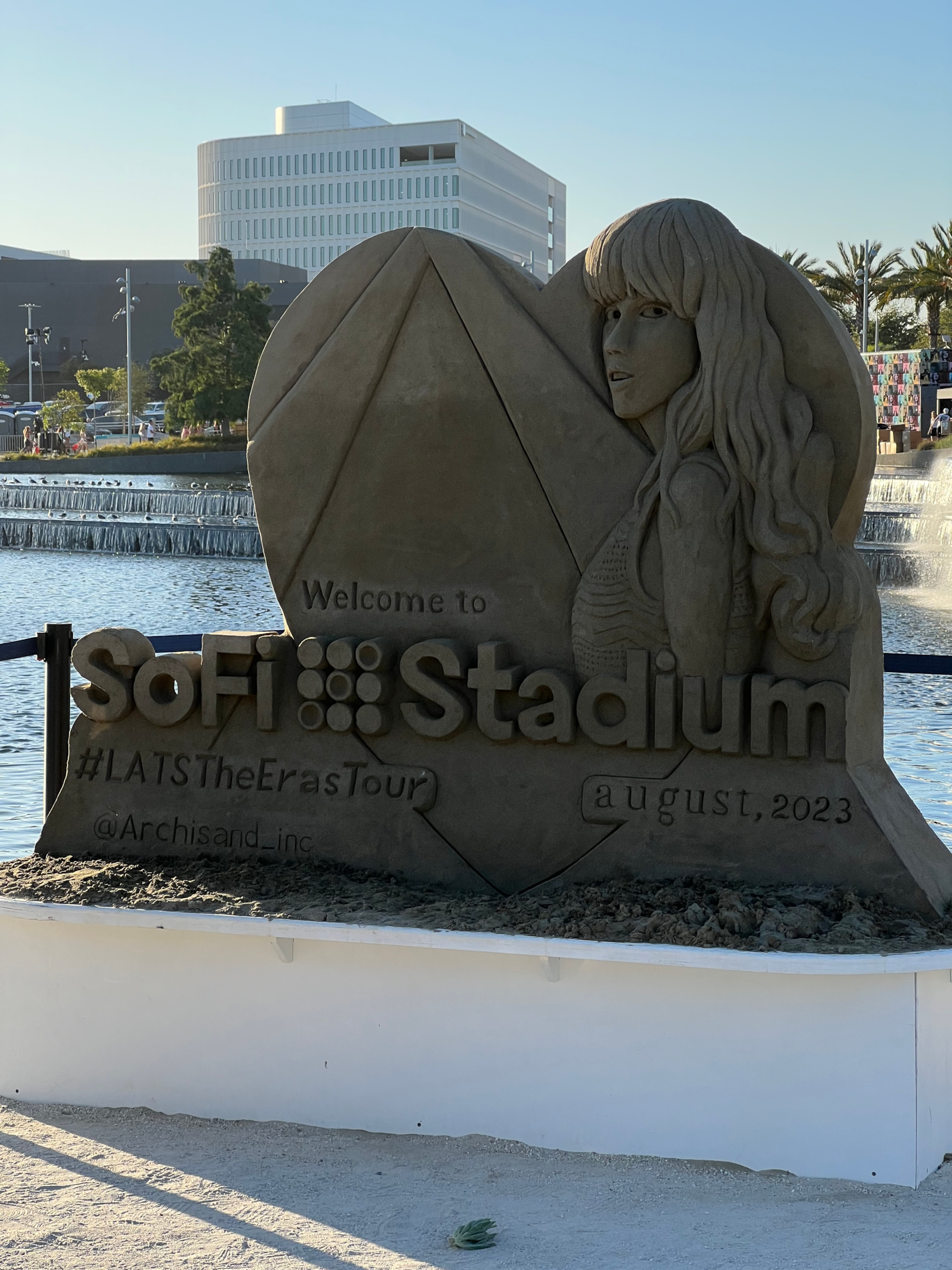 For businesses
Besides the expected beneficiaries like hotels and AirBnBs, the Eras Tour has given brands globally an opportunity to access Taylor Swift's fan base. Local businesses are creating their own unique market for fans by offering products and services at the right time. This highlights the potential for marketing even amid economic downturns.
From Reformation to SoulCycle, brands are finding creative ways to incorporate the tour into their marketing efforts. For example, Barnes & Noble set up an Eras-themed display in advance of Taylor's shows in LA.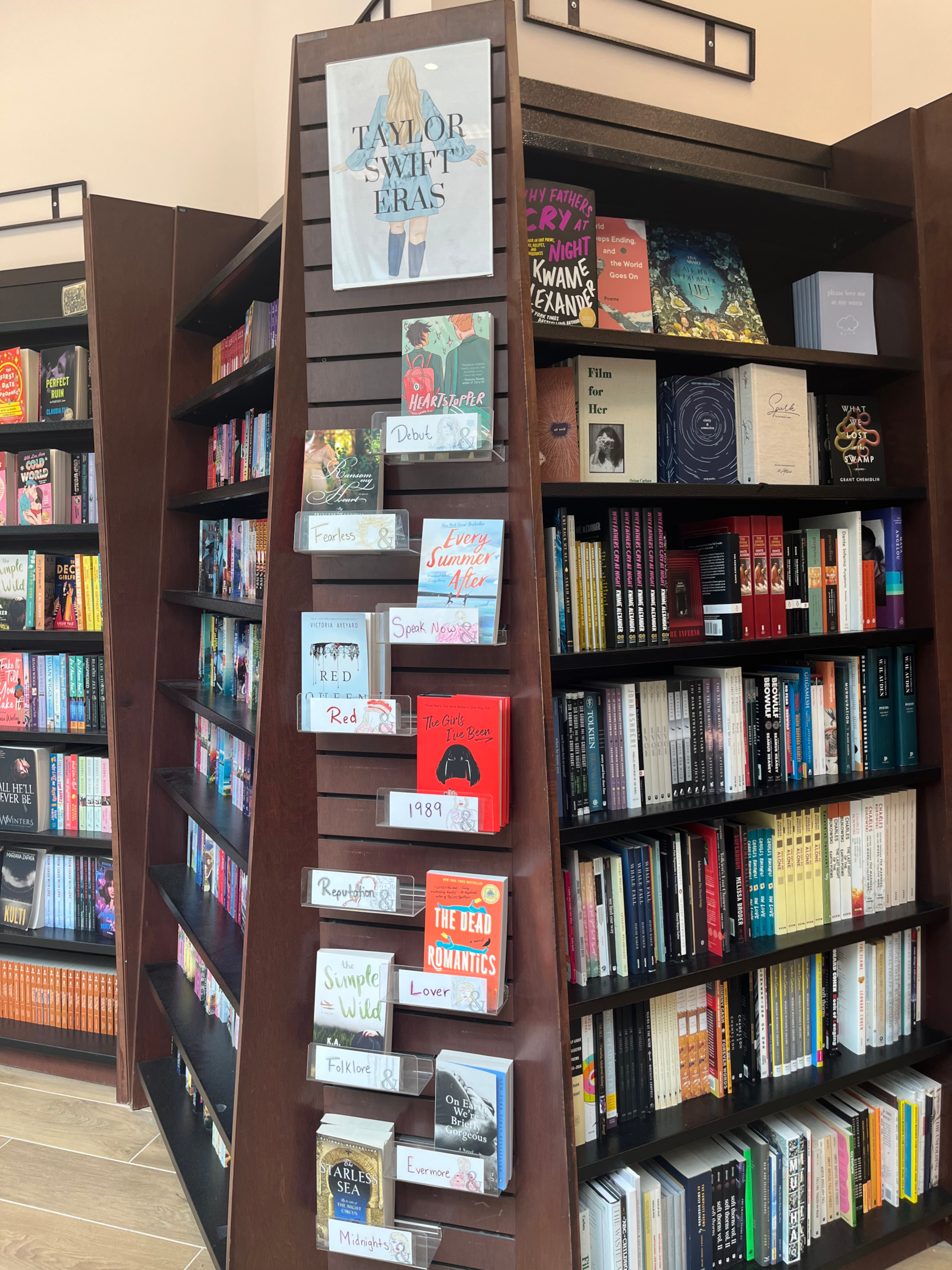 Moral of the story
The Eras Tour is more than just a wildly successful tour—it's a fascinating case study that emphasizes the crucial roles of strategic marketing and planning—even for a superstar like Taylor Swift. It's an incredible case of repackaging and positioning products that have been out for decades.
In a nutshell, no matter how incredible your product or service is, it won't get the attention it deserves unless you have a thoughtful marketing strategy.
It's Taylor Swift's world, and we're all just living in it.