Pokémon Go in Canada: what a marketer needs to know
By: Sarah Rosenquist
July 13, 2016 | Reading Time: 4 mins
If you haven't heard about the craze that is Pokémon Go, you need to get out from under that rock. The location-based augmented reality game rolled out on iOS and Android in the US, Australia, and New Zealand last week. But when will we get Pokémon Go in Canada?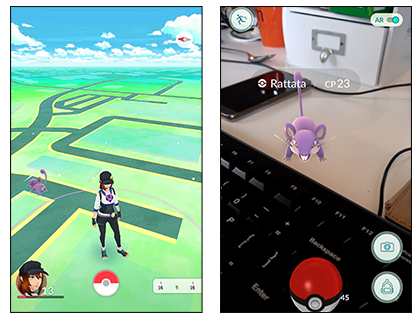 It isn't officially released in Canada yet, but that isn't stopping people from playing it. Eager players have been able to get the game on their phones through means other than the App Store or Google Play Store. There are crazy stories all over the web about how people are so wrapped up in the game that they have tripped over things and injured themselves. Why is it such a big deal?
Understanding the Craze of Pokémon Go in Canada
With the game not even out in Canada yet, why are some so motivated to find a way to get it? Why is it causing such an uproar? There are a lot of cool psychological tricks at play:
Nostalgia
Anyone born between the mid-80's and mid-90's likely has fond memories of the Pokémon franchise. These now 20- and 30-somethings feel nostalgic when they think back to these good 'ol times1, and it has a powerful motivating effect. "On a basic level, recalling these positive memories simply puts us in a more positive mood," says Dr. Filliplo Cordaro of the University of Cologne2. Can you really blame them for wanting to prolong their great mood by playing Pokémon Go a little early?
The Scarcity Effect
Any marketer worth her salt knows that a 'limited time offer', 'exclusive to your region' or 'only 2 left' promo is instantly more enticing to a consumer. This is the scarcity effect and it's hitting Canadians hard. We are told we can't have Pokémon Go, and thus Pokémon Go is more desirable. Despite being a digital product that will eventually be free to download, we react because we were never given the opportunity to get it. "People HATE losing opportunities to do things once they think they're within reach," notes Jamie Madigan on the subject of the scarcity effect in games3. No wonder people are so motivated to find other ways to get it!
Conformity
If you've ever taken a psych 101 course or watched the movie Experimenter, you know the famous studies that exposed how easily we can be influenced to do something if that's what everyone else is doing. If not, here's a quick intro to Asch's famous study: people purposely gave the wrong answer to a question, and then the test subject also gave the same wrong answer in order to fit in with the group4. In the case of Pokémon Go, some people starting downloading the app the unofficial way, which motivates us to think that it's acceptable behaviour.
How a Marketer Can Take Advantage
Use it to get someone's attention
Anyone who has gotten swept up in the craze has a radar for anything Pokémon-related. It could be a picture of a Pokémon in your office, or maybe an email subject line like the one that just hit my inbox:

Start planning a Pokémon Go event
Once we get Pokémon Go in Canada there will be opportunities to involve players who are already gathering. Start learning as much as you can about how the game works and check out the points-of-interest that will be in your area.
Insert yourself into a trending topic
If there's a way you can comment on Pokémon Go with an angle that makes sense for your brand, do it. Being timely and relevant is one of the keys to good content marketing. I mean, you're reading our blog on the topic… so it works, right?
---
1. Burton, N., M.D. (2014, November 26). The Meaning of Nostalgia. Retrieved July 13, 2016, from https://www.psychologytoday.com/blog/hide-and-seek/201411/the-meaning-nostalgia
2. Madigan, J. (2013, November 06). The Psychology of Video Game Nostalgia. Retrieved July 13, 2016, from https://www.psychologyofgames.com/2013/11/the-psychology-of-video-game-nostalgia/
3. Madigan, J. (2010, May 29). Three Reasons Why We Buy Those Crazy Steam Bundles. Retrieved July 13, 2016, from https://www.psychologyofgames.com/2010/05/three-reasons-why-we-buy-those-crazy-steam-bundles/
4. McLeod, S. (2008). Asch Experiment. Retrieved July 13, 2016, from https://www.simplypsychology.org/asch-conformity.html