Does anyone use Facebook anymore? – A marketer's guide to 2021 social media demographics
By: Kyle Weber
January 27, 2021 | Reading Time: 7 mins
Sure, we all have Facebook, but is anyone actually using it?
After the TikTok explosion of 2020 and Instagram's continued rise, the question is again worth exploring. Has Facebook's privacy antics pushed users away? What about its impossibly crowded dumpster-fire of a user experience? That's the one that got me — but am I alone?
Facebook isn't the only platform that's added new features since we explored social media demographics last year. Instagram added Reels in response to TikTok, LinkedIn jumped on the "Stories" bandwagon, and Snapchat continued innovating with augmented reality.
You read that right — despite being ripped-off at every turn, Snapchat is still alive. As is Pinterest, despite video content dominating the social media landscape.
With that, let's explore who is doing what on the top social media platforms in 2021.
This is a long one, so here are the takeaways for marketers:
Facebook is still growing but engagement isn't what it used to be.
Instagram has had the most recent success bridging social media and B2C marketing.
LinkedIn knows what it is and does what it does really well. It's still growing and doesn't show signs of stopping.
Twitter demographics aren't totally clear, with many accounts being fake and many users not having accounts. It's still a popular platform with B2B businesses, though.
Pinterest has been called "The Mom App" because of its large population of female users in their 40's.
Snapchat is still thriving off new innovations and its dedicated teenage user base.
TikTok trails only Instagram and Facebook in active users and has the highest engagement amongst teens
Facebook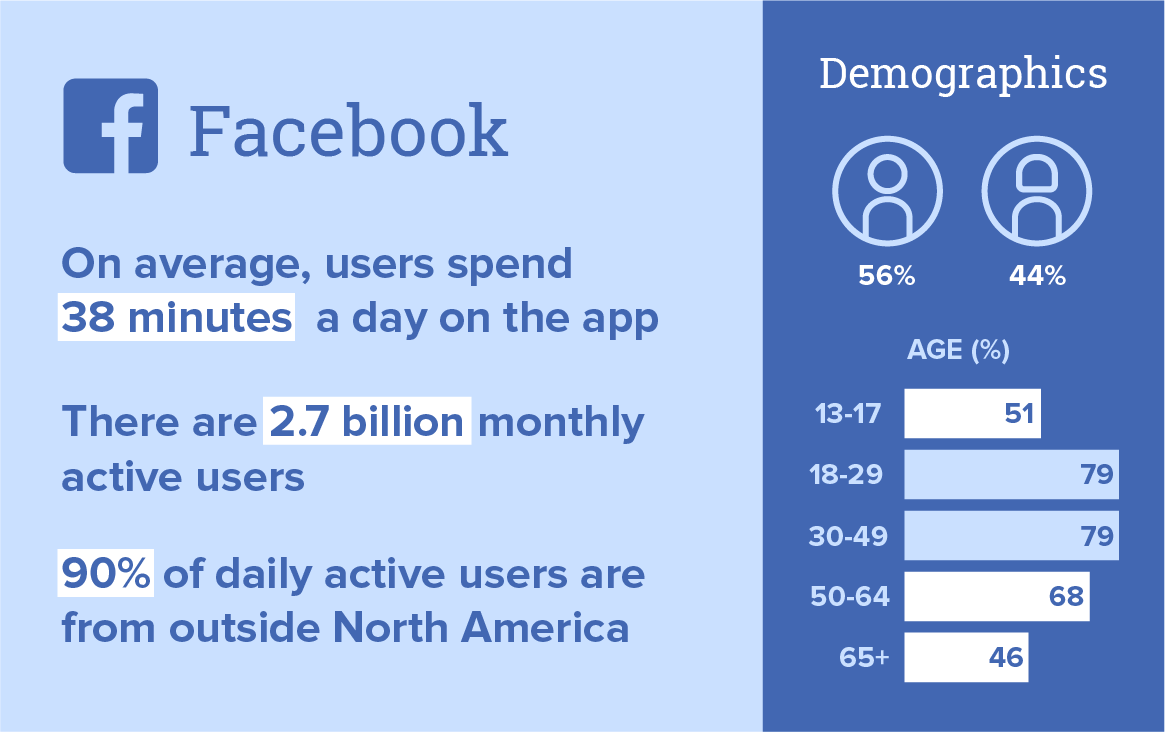 While just under half of seniors are on Facebook, the demographic has more than doubled since 2012. Despite quickly becoming the "old people app", Facebook's largest audience segment is aged 25-34. While India holds the largest segment of Facebook users and the fastest-growing segment, 2020 saw hundreds of millions of Americans and Canadians leave the platform.
Despite Facebook continuing to grow its user base, more and more media coverage is focusing on people leaving Facebook why others should do the same. In a bit of a plot twist, it's not because of the privacy or political issues they faced through 2020. Instead, users have cited Facebook's echo chamber effects and the negative psychological impact it has on them.
While Facebook still has the largest number of users (along with the largest number of fake users) it also raises the most red flags when it comes to ethics and transparency.
Here are a few more points about Facebook and its users:
Facebook accounts for 45% of monthly social media visits
The USA has among the lowest Facebook engagement rates
85% of Facebook users watch videos with the sound off…
…which is why you can increase video engagement by 12% by adding subtitles
75-90% of Facebook ad success can be attributed to the image being used
Instagram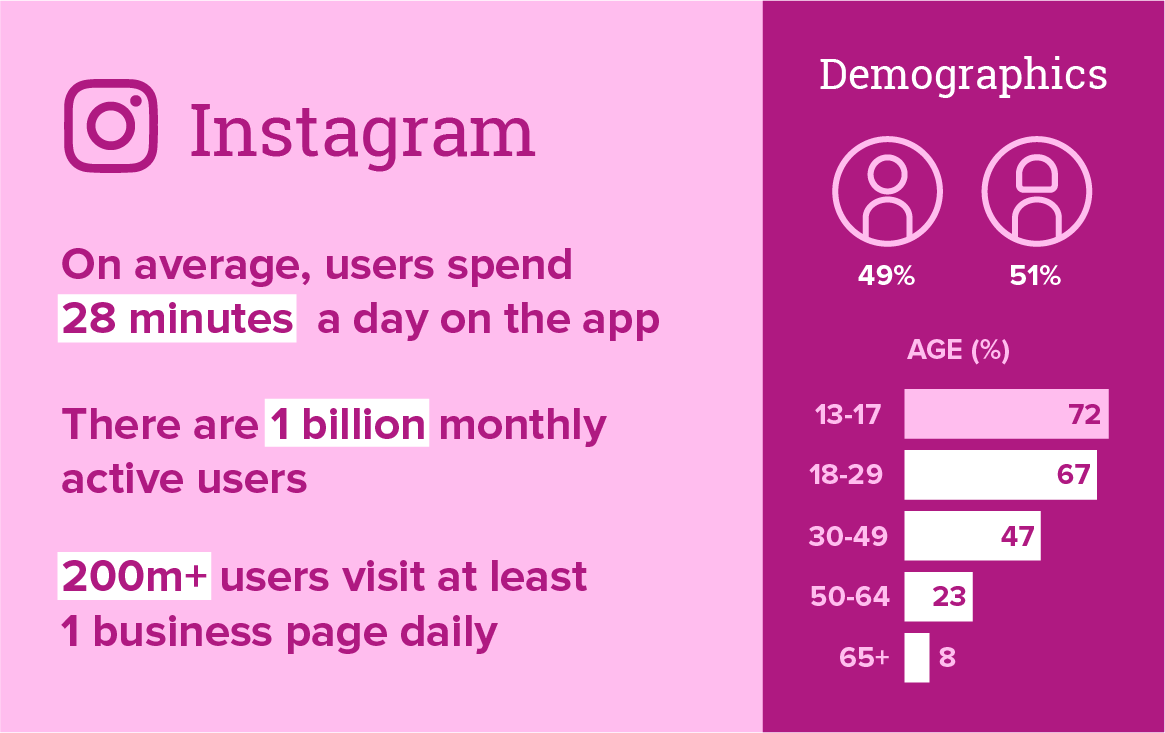 With 338 million active users between the ages of 25 and 34, and 130m users clicking at least 1 shopping post per day, Instagram has shown the most promise when it comes to blending social media and commerce. While it isn't the preferred app for teenagers, it is the preferred app for selling things to them. With 81% of users saying they discover new products on Instagram, it's clear why over 15 million businesses have a presence on the app.
Here are a few more points about Instagram and its users:
90% of users follow a business account
88% of IG users are outside the US…
…and like Facebook, most users are in India (120m)
Daily Instagram usage has increased by 4 minutes since 2019
More than 500 million users interact with Instagram Stories each day
Instagram ads with a CTA perform better than non-CTA ads 89% of the time
LinkedIn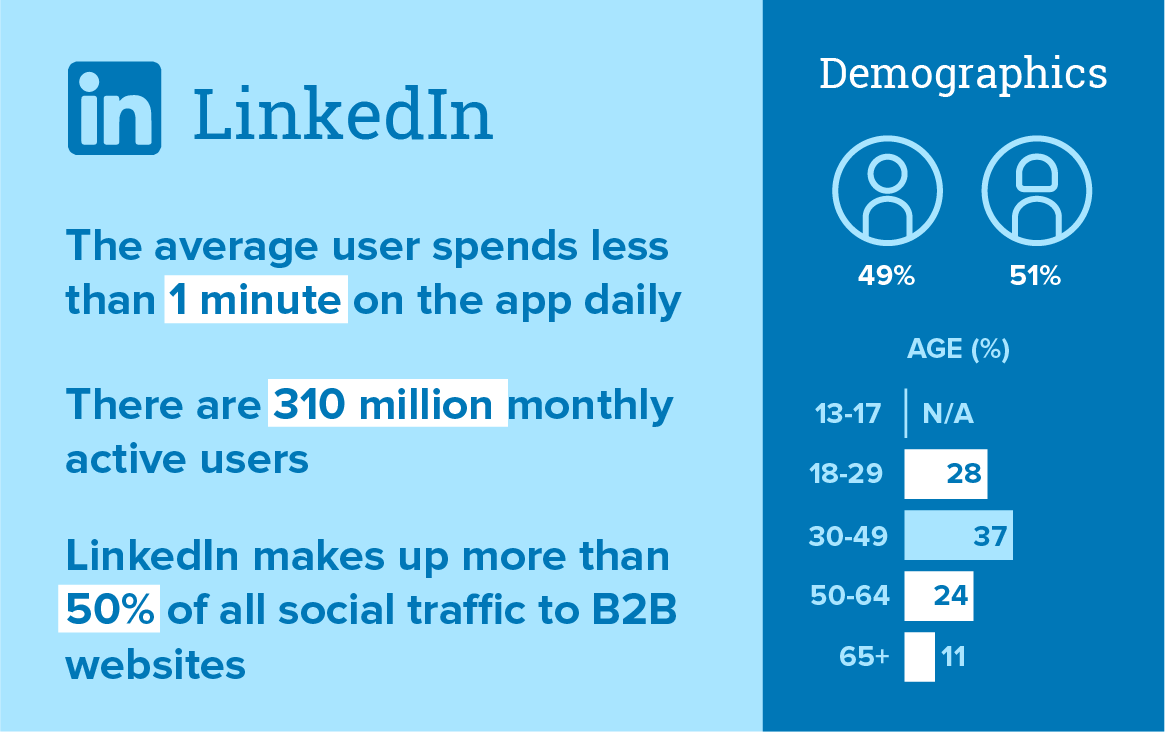 While LinkedIn doesn't have the audience of Instagram or Facebook, it is one of the fastest-growing social media platforms out there. How fast is it growing? So fast, that about 2-4 people have signed up in the time it took you to read this sentence. What's more important, though, is who these users are. With 61 million users in senior roles and 40 million decision-makers at over 30 million companies, LinkedIn is the place for B2B marketing. 94% of B2B marketers use it for content distribution while LinkedIn accounts for 50% of all social traffic to B2B websites and blogs.
Here are a few more points about LinkedIn and its users:
The US has the largest number of LinkedIn users at 174 million
60% of LinkedIn users are between 25 and 34 years old.
LinkedIn's messenger saw a 55% usage increase through 2020
LinkedIn content creation increased by 60% in 2020
LinkedIn posts with images get 2x more engagement
Twitter
Despite Twitter being seen as one of the main social media platforms, it has a much smaller number of registered users than Facebook and Instagram. Twitter isn't really growing like other social platforms, either. In fact, Q1 in 2019 was the first quarter in years that the platforms account numbers increased. Notice I say "account numbers" instead of "users". That's because Twitter has 500 million non-registered users per month — that's people who access Twitter without logging in. Throw in its recent removal of 70 million fake accounts and you're left wondering what you can possibly trust about Twitter's numbers.
HERE ARE SOME POINTS WE DO KNOW:
The average session duration is about 3:20
75% of B2B businesses use Twitter for marketing
40% of Twitter users bought a product after seeing it on Twitter
71% of Twitter users use the platform to stay up-to-date on news
93% of Twitter views are on mobile devices
Pinterest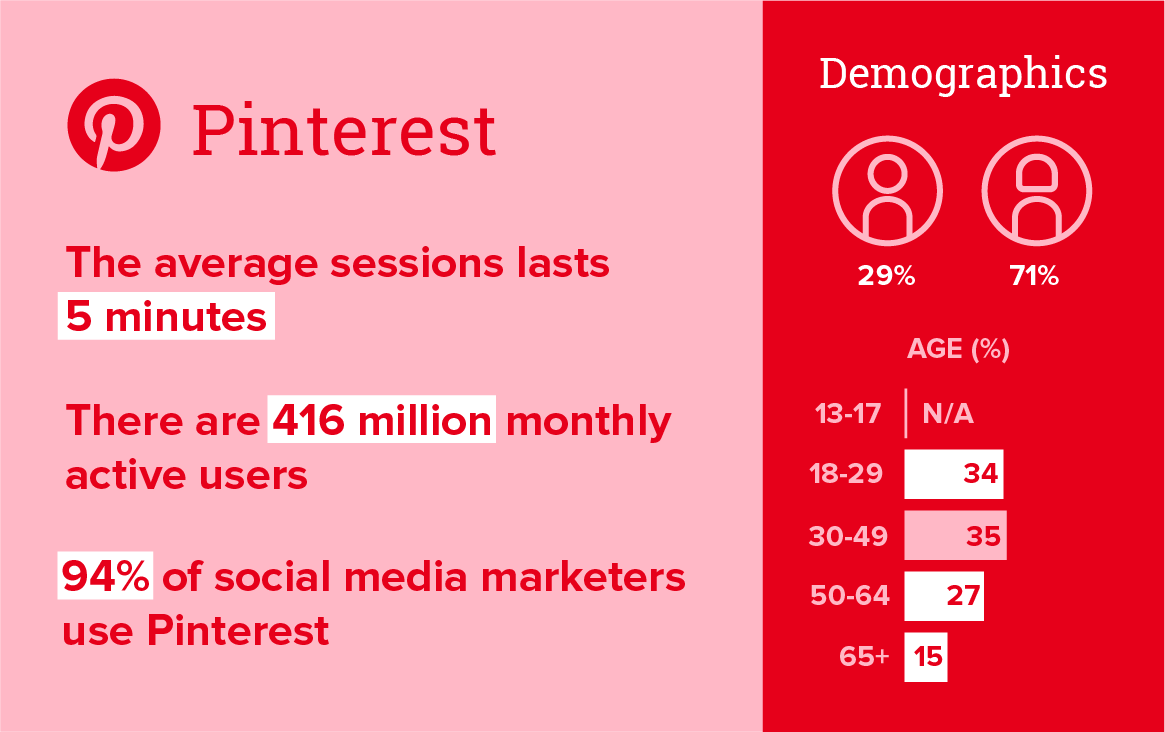 In last year's post, we said Pinterest was quietly growing. After doubling their monthly active users since 2019, we're going to need a louder adjective. Pinterest now boasts more monthly active users than LinkedIn as well as a longer session duration. Despite gaining users, Pinterest still has the highest female (71%) to male (29%) ratio of all social platforms, with the largest segment being Americans between 35 and 49. While Facebook may be unjustly becoming the "old person app", Pinterest definitely holds the title of the "Mom app". Despite the growth, engagement is on the low end with the average user conducting 8 searches per month.
Here are a few more points about Pinterest and its users:
77% of weekly users have discovered a new brand or product on Pinterest
85% of users use the app on their phone
50% of users have purchased a product after seeing a promoted pin
85% of users visit the app when starting a new project
64% of users visit the app to brainstorm ideas
Snapchat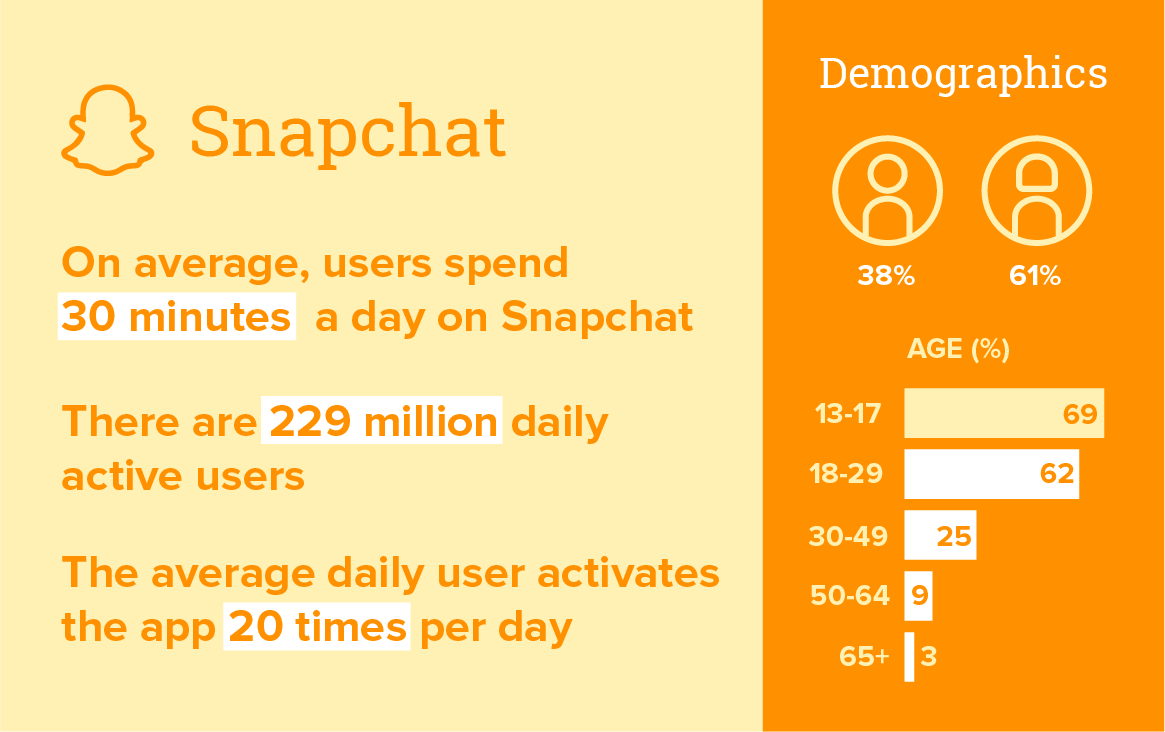 Yes, Snapchat is still considered a top social media platform. Not only that, but Snapchat still ranks as the preferred social media app amongst teens. Despite TikTok's meteoric rise, Snapchat and its AR lens (over 75% of users use it daily) maintain the top spot for another year. They're also using up the second most bandwidth of any mobile app in the world. Since recovering from its disastrous redesign in 2018, Snapchat is back on the upswing and has gained over 60 million users in the last two years.
Here are a few more points about Snapchat and its users:
The US has the largest number of Snapchat users with 101.4 million
The average user sends 34 snaps per day
Half of American internet users between 15 and 25 years old use Snapchat
The longest Snapstreak is 1,756
4/10 users discover brands via Snapchat influencers
Adult users spend 28 minutes on Snapchat each day
TikTok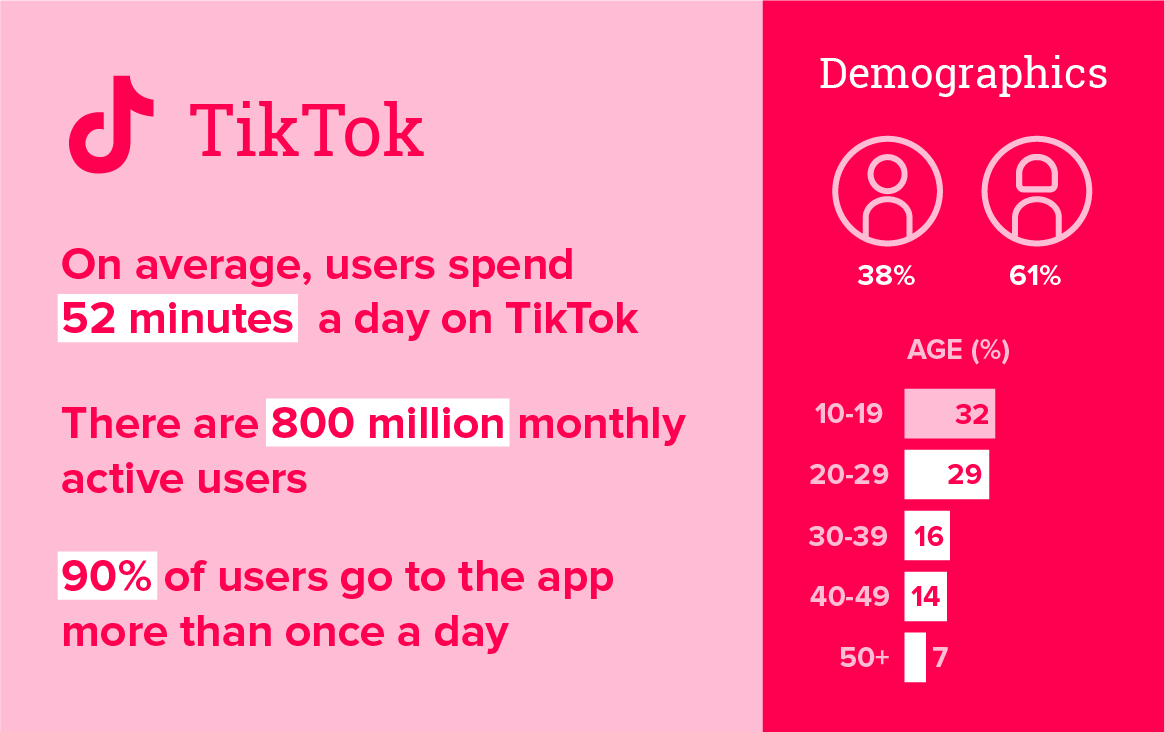 Despite being just a few years old, TikTok has already amassed more monthly active users than Pinterest, LinkedIn, and Twitter combined. It's also the Apple App Store's most downloaded application. Unsurprisingly, the majority of users downloading the app are between 16 and 24 years old. What it lacks in users it makes up for in engagement, with 90% of users accessing the app each day and the average user sticking around for almost a full hour. In an app head-to-head, Jennifer Lopez posted a video to Twitter (where she has 45m followers) and to TikTok (5m followers) and saw the video receive 69 million more views on TikTok. With engagement like this, it's no surprise that TikTok ads require a $50/day minimum budget.
Here are a few more points about TikTok and its users:
Like Facebook and Instagram, the largest demographic comes from India (43% of users)
50% of the global audience is under 34
The American user base has grown 5x in just 18 months
Despite the engagement, just 4% of marketers use the platform for marketing
Its influence can be seen in that the top trending song on TikTok is often the top trending song on Spotify
While addicting to some, the 1-week retention rate is just 26%