Why the biggest threat to Facebook is Facebook itself
By: Kyle Weber
November 25, 2020 | Reading Time: 3 mins
Recently, Facebook reported a decline of 2 million daily active users in the US and Canada. And while it's expected to be an apparition stemming from the covid-bump in Q2, I'm taking this as an opportunity to talk about why I stopped using Facebook and why I expect others will do the same.
Spoiler alert, it has nothing to do with privacy. If Facebook wants to use my information to serve up ads for things I might actually want, I'm here for it. Until there's a sketchy Facebook van parked outside my house for a few nights, privacy is a non-issue for me.
Here's my issue:
I don't use Facebook to watch Instagram stories or videos in general. I don't use Facebook Games, Facebook Jobs, Facebook Pay, or 90% of the other Facebook tools listed in the side menu. That menu, by the way, has twenty-nine(!) items to choose from and five of them are also included in the top menu. The dropdown in the top right corner opens five to six options for things like Help, Privacy, and Display Settings, each of which opens their own menu of five to six more options.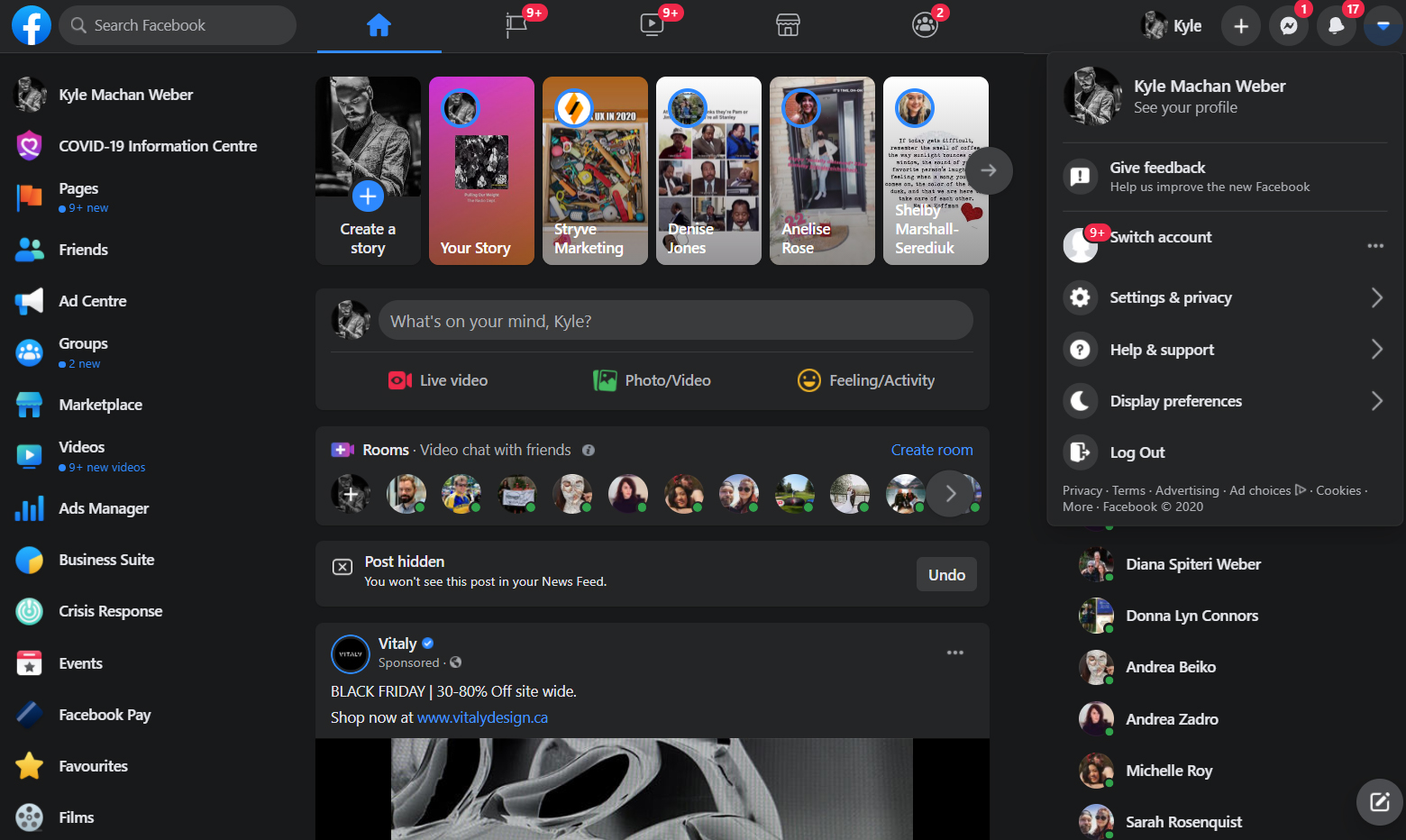 Facebook's user experience is a disaster
This is all to say that Facebook is trying to do too much and as a result, it's making it harder for users to do the things that made it enjoyable in the first place.
If you ask around or do research online, you'll find most people use Facebook to keep up with friends and family, run ads for their business, get the news, comment on the news, creep, get attention, and if you're my uncle… post conspiracy theories about JFK being alive.
For users, Facebook is still about communication and connection. For businesses, it's about sticking an ad in there with it. Photos, statuses, link sharing, ads, messages… this was what made Facebook into the juggernaut it is today—not Facebook Jobs or Facebook Games.
Seriously, who's playing games on Facebook? Download Candy Crush from the App Store like a normal person and get Games and Gaming Video out of the crazy-long side menu. While you're at it, I don't think I need Ad Centre, Ads Manager, and Business Suite. I know ads are important, but couldn't those all be wrapped up into one menu option?
I understand the need to innovate and I know tech moves fast. You have to evolve to stay on top. But Facebook is trying to do too much, trying to be LinkedIn, Instagram, Twitter, TikTok, and the friggin Weather Network all wrapped up into one. It's attempting to be the one-stop-shop for user convenience but now we're all pissed off, wandering the aisles unable to find anything.
With censorship, hate speech, and privacy issues highlighting Facebook's shortlist of threats, this disgruntled user can't help but think Facebook needs to get out of its own way, or else it could be on that list of threats as well.