Year in review: Stryve takeaways from 2021
By: Kyle Weber
December 14, 2021 | Reading Time: 5 mins
What was your greatest accomplishment in 2021? What did you learn? What did you overcome? What experiences are you going to pack up and carry with you into the new year?
With December winding down, a few of us Stryvers looked back to reflect on these questions.
"A little empathy goes a long way." – Carly
The last two years have been tough. We've all been through a lot. Through this time, empathy has been a priority for Stryve, and helping out in the community is part of that. With our new Equality Action Plan, each Stryver was given 16 hours of paid time off to volunteer at the non-profit of their choice.
I had the pleasure of working with Big Brother Big Sisters Waterloo. Though most people know of this organization from their one-on-one mentoring, they also do group sessions. This year I was a mentor for Go Girls!, a mentoring program for girls ages 12-14 that focuses on physical activity, balanced eating, and self-esteem. Girls are referred to the program from their school, and typically include kids who might have troubles at home, with self-esteem, or connecting with their peers.
The sessions started with a group of incredibly shy strangers who were scared to speak up. After 7 weeks together, their confidence grew and each one of them blossomed individually. Our sessions became a safe, open space where each mentee felt comfortable to share both their struggles and their dreams. They discovered that we're really not all that different from each other—we're all just people with feelings who are doing our best with what we've got! Going into the new year, I'll definitely continue being mindful of empathy in everything I do.
"I did my best work when I wasn't working" – Kyle
Typically, I don't take vacations. Instead, I'll use my vacation days to load up on long weekends so I never have to disconnect and subsequently play catch-up. This year, though, I got married. I had a wedding. I had a honeymoon, and typically, honeymoons don't take place across multiple long weekends.
So, I booked a traditional week-long vacation.
Days before leaving, I was tasked with writing a product tagline. I spent an hour drafting ideas, word-mapping, and scribbling it all out. Taglines are brutal—summarize a product, resonate with the customer, and create a culture in 8 words or less? In writing, it doesn't get much harder than that. "Just Do It" doesn't just happen—or does it?
When I blocked an hour on Thursday afternoon between meetings and other deliverables, I couldn't write a tagline to save my life. But on the fourth day of driving through the mountains, totally disconnected from all the noise back home, an idea came to me. Sure, the tagline was on my mind, but I wasn't forcing anything. Mentally, I'd simply left the door open and a really really good tagline happened to walk in. I can't tell you what it was, but it's on the Mt. Rushmore of my marketing career.
In 2021 I learned the value of disconnecting—that the act of working isn't always conducive to output. While it may not look or feel like work, daydreaming on a drive can be more productive than chaining yourself to a desk until the job is done.
"Change is hard." – Sarah
So insightful, right? This was my theme for 2021 for a few reasons:
My client work. We launched a new website for our amazing client, Daggerwing Group, a global leader in change management. We launched their hub, Do Change Right, full of resources and tips for managing organizational change. With that, we've had the pleasure of reading and promoting all the great content they create. It really opens your eyes when you realize 1 in every 3 transformation initiatives fail.
My Stryve work. This year my role shifted to more formally managing our insanely talented team. We also rolled out new people management processes and software. It was a lot for everyone to adjust to—including me. I feel like our best moments in navigating this change together were when we were open, honest, and willing to talk through the challenges we were facing.
The future of work. Things aren't going back to normal, and talented people aren't going to accept the status quo anymore. Businesses around the world are trying to figure out how to adjust. The ones that don't set a clear vision for the future and work with their teams to build it are going to fall behind.
So what's the common thread here? Putting people first. Change will still be hard, but it is more likely to succeed if we work together and openly address what makes it hard.
"It's okay to be wrong." – Ash
I'm Italian, so this admission is really hard for me.
I entered 2021 not really understanding what CTR meant, terrified of WordPress, and equal parts bored and confused by stats and analytics. I applied to Stryve never really expecting that I'd be considered—let alone picked—to become their newest team member.
Fast forward to today and I've been a full-time digital marketer for a year—okay, 10 months but let's round up—and everything has changed. I've handled campaigns across multiple platforms, worked on 3 website projects, and actually look forward to the start of each month because I love reporting on how campaigns are doing and ways to make them better.
There have been a lot of learning opportunities and by "learning opportunities" I mean times where—admittedly— I was wrong. Despite being wrong, not once was I made to feel like I was wrong because of how much Stryve values psychological safety and building relationships with each other. Developing actual friendships has made every challenge, roadblock, and bad day feel more like an accomplishment because I've come out the other end as a more skilled marketer.
Feeling okay about being wrong has granted me the confidence to step out of my comfort zone to get things right. It's been a year of patting myself on the back saying, "See? I knew you could do it." Whether it was teaching myself to use WordPress so I could teach the client how to edit their slick new site, or speaking up and crafting an incredibly successful Pride-themed blog-turned Instagram post that may have helped make our working world a better place. 2021 has been a kick-ass year and I'm just getting started.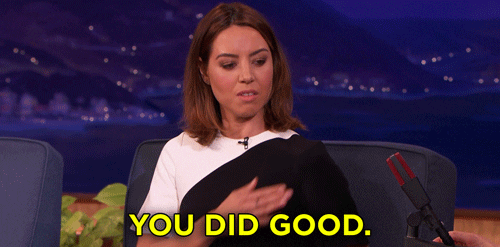 "Take learning into your own hands." – Brent
Working for an agency exposes me to all kinds of industries and opportunities to tackle unique creative challenges. Over the last year, I decided I would push my learning beyond client work and pursue more additional training in motion graphics. With its growing popularity, animation became something I'd wanted to learn for years. Taking on this new challenge has been a great way to push me out of my comfort zone and give my creativity another outlet. For any creatives feeling stagnant, I recommend you do the same. It's a great way to give yourself a boost and a sense of accomplishment when it feels like you're doing the same thing day in and day out.