Working through week 10 of the COVID-19 lockdown, you might be noticing the energy on your video calls is starting to wane. With fewer weekend plans to talk about and Tiger King quickly fading from our memories, we looked for a way to inject some life back into our team talks and combat the repetitiveness of over two months working in isolation.
When working in the office, Feel-Good-Fridays were a big part of Stryve's culture. Each Friday, we'd stop work at 3:30pm, grab a drink, and do something social as a group. Not only was it a great way to celebrate the end of the workweek, but it strengthened our bond as a team. So, when we began working from home, Feel-Good-Fridays went virtual.
Everything started out fine, but after a few weeks we noticed two things happening:
Most of the talking was being done by just two people. Sure, that can be entertaining at times, but we wanted to hear from all eleven members of our team. At the end of the day, it's called a group call for a reason.
We were running out of interesting things to talk about. With all our days basically looking the same, there's only so far the "What are you having for dinner?", "What are you watching?", and "Do you think Carole Baskin killed her husband?" prompts could take us.
With that said, here are some ways we've restored the energy and camaraderie to our team calls during the lockdown.
Stick to a schedule
Each manager on our team has booked a reoccurring meeting in everyone's schedule. It might seem forced, but, if social time isn't booked into everyone's calendar, it won't happen. Sarah sent out a company-wide invite to grab virtual coffee each morning while Ryan and Grace select a team member to call at the end of the workday just to see how they're doing. For Feel-Good Friday, we've kept it as a staple regardless of workload, short weeks, etc. You can say culture is important, but unless you prioritize the events that fuel it, it's all talk.
Make a theme
By end of day Wednesday, Grace sends out a dress-up theme for Feel-Good-Friday. At Stryve, we believe in a healthy dose of competition, so we vote on the best dressed and the winners walk away with bragging rights. So far, we've done fun hats, dress for the patio, dress like a public figure, and dress as an animal. As you can see below, some are more successful than others.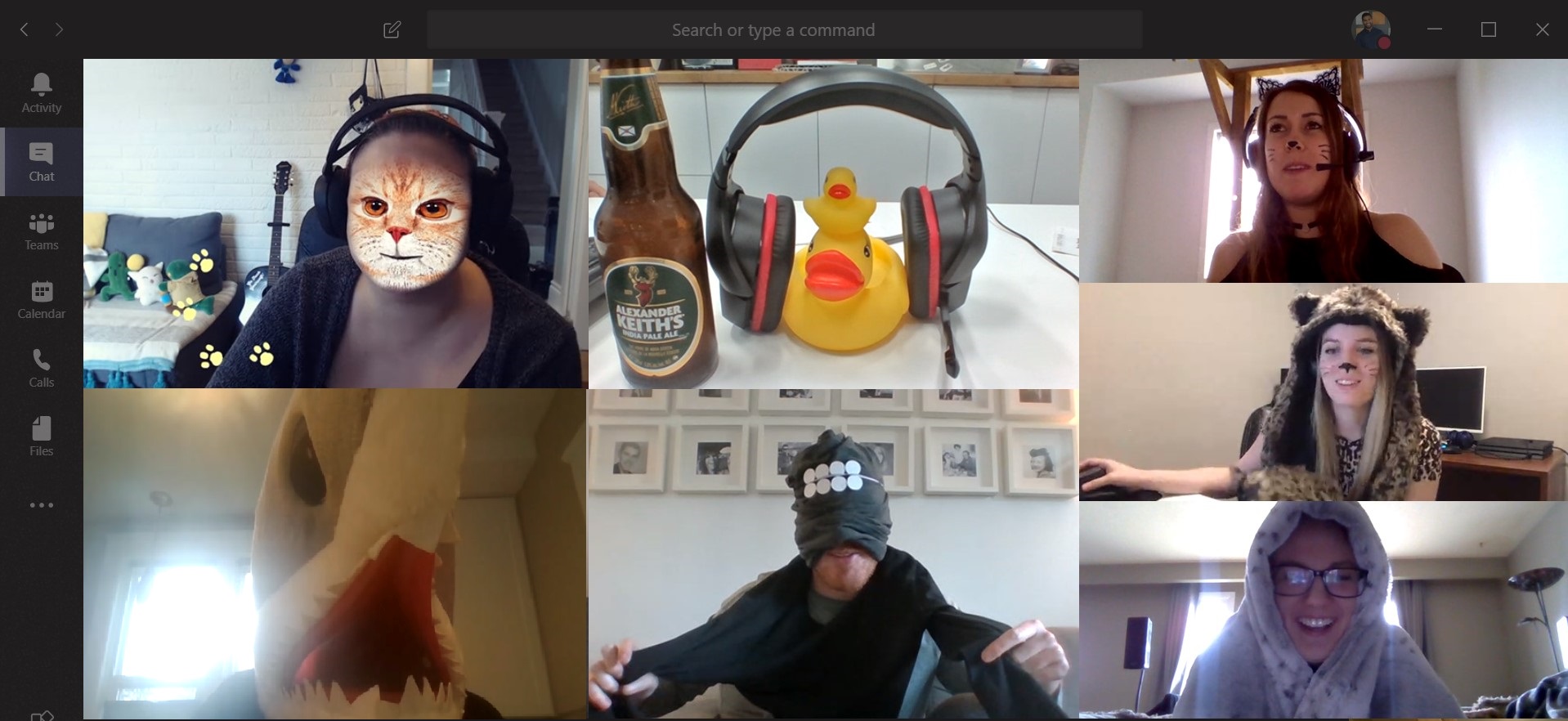 Play a game
Along with our weekly theme, Sarah prepares a "How well do you know your coworkers" quiz. So far, we've done lockdown snacks, Netflix watch lists, and most recently, our lineup of celebrity favourites and crushes. Each Wednesday, Sarah announces the theme and privately takes answers from the team. Then, on Thursday, she posts the quiz as a PowerPoint deck and it's up to everyone to guess who chose what. The quizzes are scored and the results are revealed during Feel-Good-Friday, where everyone has an opportunity to explain their guesses and defend their choices.  So far, it's been a great way to see how well we know each other while learning a little bit more. It also leads to some friendly teasing. No one believed me when I said Little Women was on my watch list.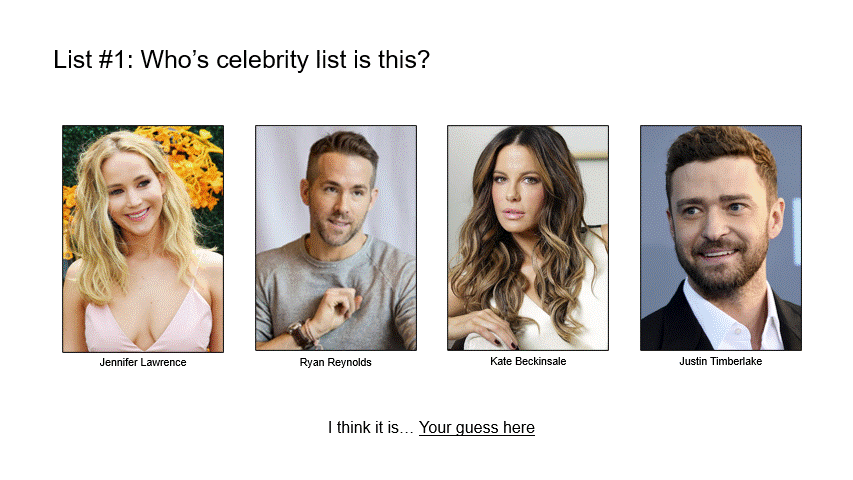 Have an 'around the horn' discussion topic
We found group video chats work best when someone takes the lead and acts as the host. With that in mind, I've been sending the team a discussion topic each week leading into Feel Good Friday. They're usually simple enough, like "what's your favourite patio drink?" or "where's the first place you're going to go when we can get out again?". As the host, I make sure everyone has a chance to talk about their answer. It's been fun, and more importantly, it gives everyone the opportunity to get involved.
Give it a try
While we're two and a half months into social distancing, it doesn't look like things will go back to the way they were anytime soon. Team building and socializing will continue to take place via video chat, so your best bet is to adapt and make it work. Give these ideas a try and let us know how your team is staying social during the lockdown.