Social Gaming: Why and how to use it
By: Sarah Rosenquist
September 19, 2012 | Reading Time: 3 mins
Social gaming is nothing new – sitting down and playing Monopoly with friends and family is one form of social gaming that has been around for decades. It did however start to grab the attention of marketing and advertising professionals when it ventured into the online space, especially after games publisher Zynga rocketed to the top of the list of most popular Facebook games in 2009[1]. In March of this year, the top social games (as reported by AppData) were[]: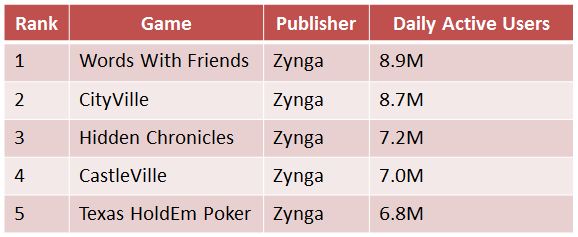 The true appeal of social gaming comes from the high levels of engagement and interaction they have with their audience – something that is hard to come by in more traditional forms of media thanks to smartphones, tablets, and other second-screen devices. When users are playing a game they often give it their undivided attention for a short period of time and thus the impressions you can make are more meaningful. Moreover, these games are flexible as developers are able to make changes to the story or gameplay at any time. These features entice brands to spend their digital marketing dollars on what is known as integrated placement. Integrated placements are essentially the same idea as product placement in television or movies, but applied to the game. One example would be that players in CityVille could build a Mcdonald's location and earn a special statue reward for "mastering" that business during the promotional period. In this sense, a brand can really tie itself to the positive feeling associated with the achievement.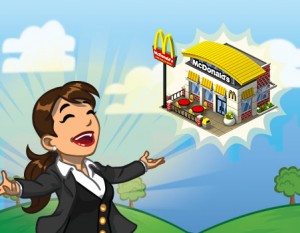 All of this sounds exciting, but how do you actually go about a social gaming advertising campaign? First and foremost, you need to keep in mind the overall business objectives. Interactions that consumers have with brands through social gaming tend to foster better awareness and liking, however, there is little evidence yet to say it can generate high conversions to purchase[]. If your goals align with what social gaming has to offer, the next hurdle to overcome is deciding which game should be used as a channel for promotion, and of course, this depends on who you're retargeting.  A game like FarmVille will attract a much different player than would, and so alignment here is key. In an overall sense though, 50% of social gamers are women with an average age of 48 which represents a very different demographic than you"d see in traditional gaming[4]. Mobile games are also a great way to reach a younger demographic since 40% of children are engaging with them and the low development costs mean high ROI[5]. The final step is where you need to get creative and think of ways to have players interact with your brand in a way that does not interrupt gameplay. Here you"ll want to work very closely with the game"s developers who will have a deeper understanding of how to not seem like you"re in the way of the fun.
With millions of users playing these games each day, it's easy to see how even a month-long campaign can generate huge impression numbers. Although Zynga doesn't disclose integrated placement pricing options explicitly, the flexibility of this social media tool allows objectives to be met with moderately sized budgets.