HitchBOT: The robot that's more popular than you on social media
By: Brent Morrison
August 13, 2014 | Reading Time: 3 mins
As if driving on our roads wasn't dangerous enough these days; apparently, there's a robot out there roaming our highways! Not to worry though, this one isn't a robot sent from the future with heavy artillery, intent on destroying mankind. No, instead this robot is armed with a large personality, a bucket for a torso, blue pool noodles for arms and legs, and a LED display for its cute smile. Its mission is to cross Canada from Halifax, Nova Scotia to Victoria, British Columbia with the help and kindness of human strangers willing to let it hitch a ride.
So where did this quirky little robot come from and why is it hitchhiking across Canada? This hitchhiking robot, appropriately named hitchBOT, was created by David Harris Smith of McMaster University and Frauke Zeller of Ryerson University. They came up with this social experiment to learn more about how humans and robots could interact with one another. If movies have made us question anything about robots from the future, it's whether or not we can trust them. This project flips that question by asking, "Can robots trust humans?" Of course, this is being tested with Canadians: the nicest people on the planet. You won't be too surprised that hitchBOT has had a great journey.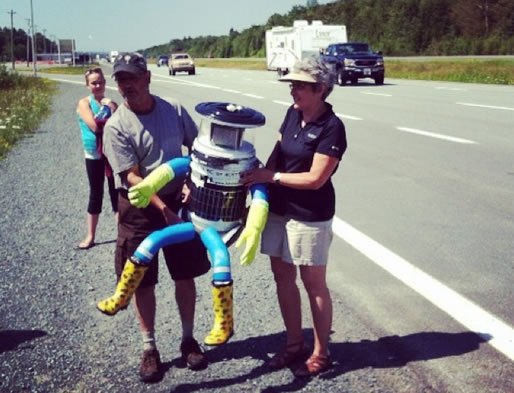 With the help of a simple tablet PC and some other components, it uses speech recognition software and a 3G internet connection to carry on conversations with drivers and track its journey on social media. If a driver happens to have the privilege of picking up hitchBOT, he or she will be entertained with talks of trivia and how it was created. HitchBOT can even answer questions on a variety of different topics with access to Wikipedia. What's really cool about this robot in particular (besides its stylish yellow rubber boots) is its social media capabilities. Using Facebook, Twitter, and Instagram you can follow hitchBOT's journey across Canada. Just a few days ago, near the end of its trip, it tweeted about its view in British Columbia and then posted the photo to Instagram.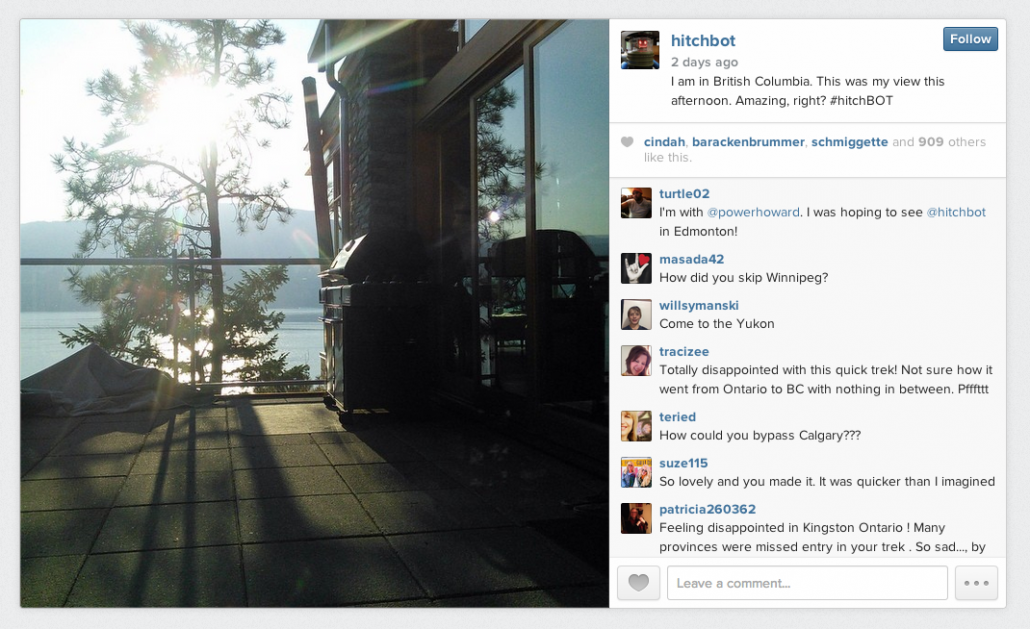 HitchBOT has taken the nation by storm with its social media profiles. People who have picked it up are flooding the Internet with tweets and photos. HitchBOT has even crashed a wedding! Currently, hitchBOT has over 31,000 followers on Twitter, over 40,o0o likes on Facebook and over 10,000 followers on Instagram! Not bad for a robot that can't move by itself right?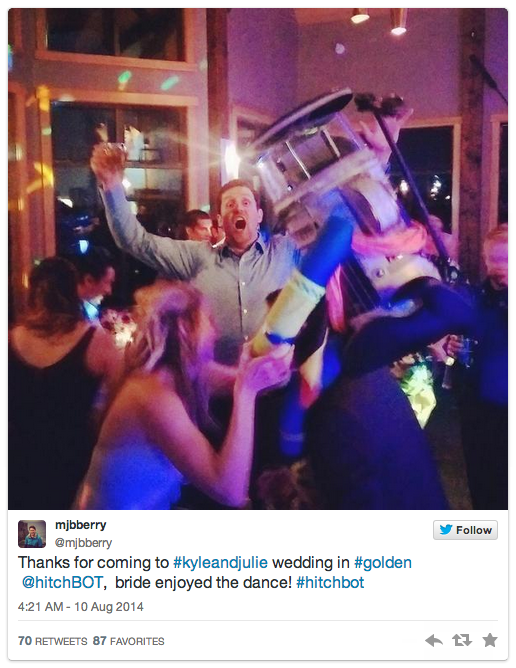 It's amazing how a simple idea by two people can gather so much attention with the help of social media. An experiment like this a decade ago wouldn't have had the impact that it has today. Being able to track hitchBOT's journey across Canada with its GPS, view photos that either it snaps or people take, or read its tweets about its travels is a pretty cool and unique experience. Typically bots on social media are an annoyance, but following along with hitchBOT shows us they're not all so bad.