AdRoll prospecting is what your inbound campaign is missing
By: Sarah Rosenquist
July 19, 2018 | Reading Time: 2 mins
Earlier in the year we were stoked to see AdRoll make its prospecting campaigns open to self-serve businesses. Now you don't need a big budget to give it a try. And unlike retargeting, you don't need a huge amount of traffic to your own website to have it work well.
For a few months we've been running AdRoll prospecting alongside other digital marketing tactics like AdRoll retargeting, Twitter ads, AdWords, and email. We're really happy with what it has brought to our campaigns and we think you will be too.[/intro]
Better bang for your buck than retargeting
Our retargeting campaigns generally tend to have a cost-per-click (CPC) around the $1.50 mark. Our test prospecting campaigns use the same creative and build look-alike audiences off the same web page visitors, and yet we're seeing cost-per-click come in under $1. The only other platform where we see a CPC that can compete is on Twitter, and even that can range up to $3/click. It makes sense that these visits would be cheaper since it's targeting users that are similar to your web visitors. But if you ask me, it's a bargain because AdRoll is doing a lot more work by making a model of your audience (instead of just finding them).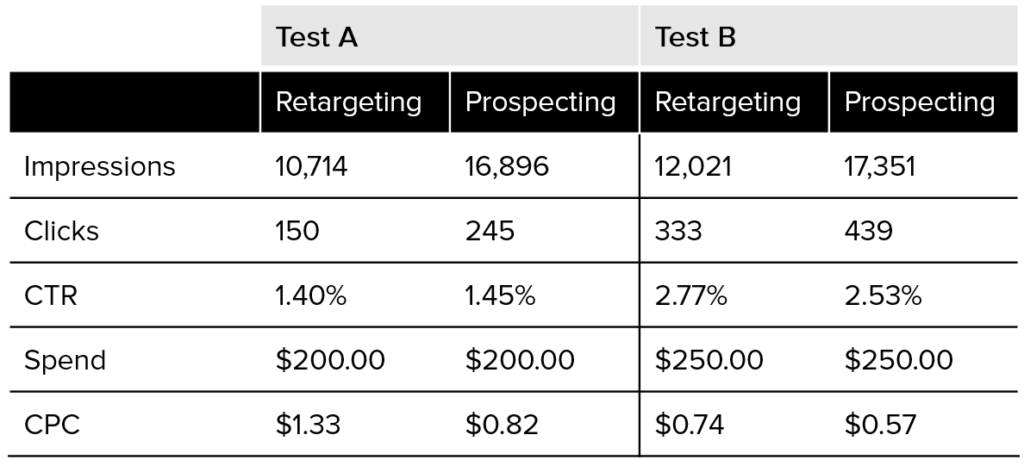 So if you have a small budget and not a lot of web traffic, consider jumping on prospecting to get a boost in visitors. If you're running ads on many platforms, you can shift budget into AdRoll if you want a more cost-effective way to get eyeballs on your page.
Engagement is still strong
Our main worry when we began our tests with prospecting was that the quality of visitors might not be great. How well would AdRoll's audience modelling really work? Well, it turns out it works pretty well compared to other online advertising platforms. Throughout our tests, we saw that visitors who came from prospecting had around the same or better engagement with our site. (Again, ads were the same so it was really just a test of the targeting methods.)

So next time you're shuffling around budget for an ongoing campaign or planning a new one, consider building in some room for an AdRoll prospecting test. Based on what we've seen so far, you should be able to expect more visitors and the same level of engagement compared to your other pay-per-click efforts.