6 cool digital marketing trends
By: Ryan Burgio
April 26, 2013 | Reading Time: 4 mins
I had a fantastic opportunity to present at a Communitech Marketing Peer 2 Peer session this week. The basis of the presentation was an overview of 7 digital marketing trends that are gaining steam in 2013 and beyond. I'm only presenting six here. The seventh trend revolves around simplifying a consumer's shopping experience and warrants a separate post. We thought it would be great to share the other six on our blog. Are we missing any big ones?
Trend #1: Facial Recognition / Digital Display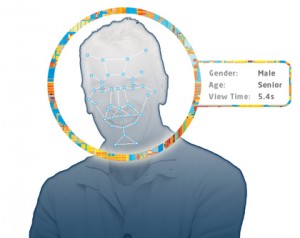 The days of static digital ads are coming to an end. Companies like Intel are exploring facial recognition, where software allows a digital display to recognize the gender and age range of an individual (all anonymously of course) and serve up relevant ads based on that information. On top of that, digital displays are tracking analytics such as counts and time spent viewing the display. Anonymous Viewer Analytics (AVA) is changing the way we serve and track out-of-home interaction.
Trend #2: Podcast Advertising Gaining Momentum
We"ve heard that podcasting was going to be the next big thing in digital media for years now. It's taken a lot longer than anticipated and we're not there yet. But, the ad dollars are beginning to pour in which means the audience is growing. Some big advertisers like Amazon are pushing ads on this medium. And some smaller ones like LegalZoom, Ting, Square Space and Audible are making a big move and seeing positive results. If we see some consolidation of podcasts into larger media companies, we could see some serious ad buys down the line. For now, a few powerful podcasts like Adam Carolla and Freakonomics are doing a fine job of selling ads.
Trend #3: Social Ads / Promoted Content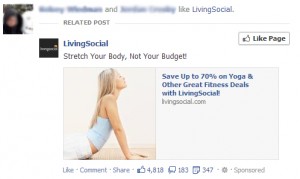 We've noticed a dramatic shift in the availability and effectiveness of social ads in the past year. Facebook's Sponsored Stories is a game-changer. Twitter is rolling out promoted tweets, trends, and accounts in an effective way after a period of selective beta-testing, and LinkedIn is figuring out that Sponsored InMail campaigns are more effective than ads. But most importantly, offline shopping experiences beginning to merge with online targeting with Facebook's partnership with Datalogix. For the first time, Facebook can now show ads to people on Facebook based on the products and brands they buy in-store.
Trend #4: Social Ad Retargeting
Retargeting is no longer a trend. It's a mainstay of effective ad placement. However, social retargeting is beginning to gather momentum. The premise is that ads can be placed on social sites based on a visitor's interaction with other websites. For more information, check out
AdRoll
. They seem to be the premier solution for ad retargeting on Facebook.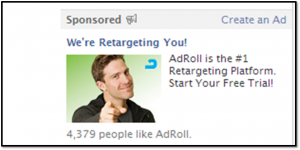 Trend #5: Mobile Loyalty
Shopkick has taken off in the United States. It was ranked one of the most widely used and most engaging shopping apps in the world by Nielsen in 2012. Shopkick is changing the loyalty landscape and the shopping experience. Marketers will need to adapt and adjust to offer in-store interaction and incentives through digital means.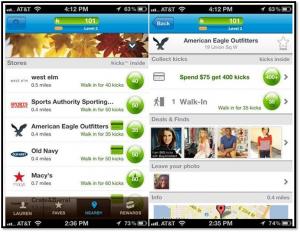 Trend #6: Branded Entertainment / Native Ads
Some call it misleading, others call it interesting. The ad is a holistic brand experience specific to the content or medium, is non-invasive, and frankly doesn't seem like an ad. The Onion has created The Onion Labs, which is specifically focused on creating branded, customized entertainment for clients served on their platforms and throughout the web. for Internet Explorer 9 is a beauty. Other brands like Forbes and Pop Secret have done some great branded entertainment. Forbes launched BrandVoice: a way for brands to provide value-added content to consumers online through the publishing arm of Forbes. Here's an example of an article created by FedEx under BrandVoice. It's still early in the game, but consumers are getting savvy and native ads are one way to stay one step ahead.