How AdRoll is building a community of digital marketers
By: Liza Rubinstein
October 2, 2019 | Reading Time: 3 mins
Recently, a few of us Stryvers had the opportunity to travel to New York City to attend AdRoll's annual Customer Advisory Board (CAB). In their words, "the event gathers some of our most influential customers to network with one another, meet with our executive team, and hear about the exciting changes AdRoll has in store for the future." While it could be seen as just a free trip to New York, we took it as an opportunity to swap stories with other marketers, gain tactical insights, and see what the future has in store for one of our go-to tools.
[/intro]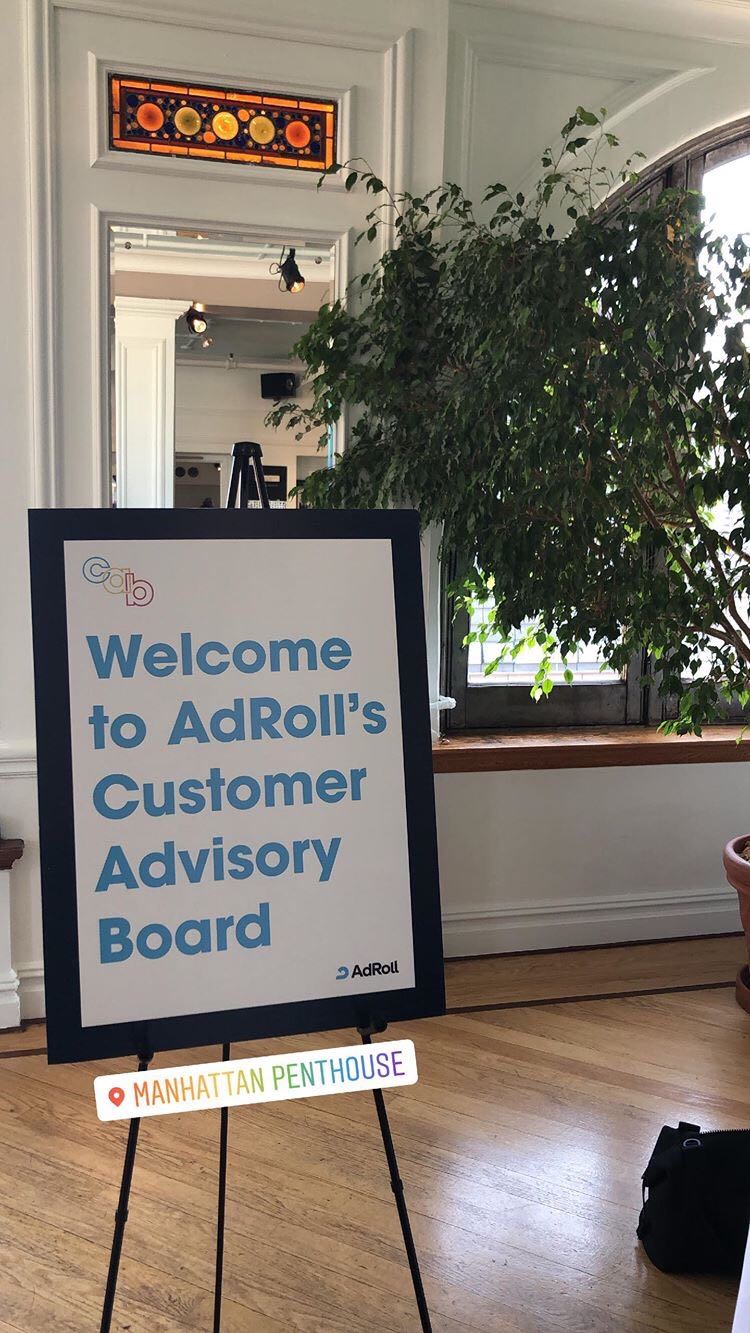 What is AdRoll?
In the digital marketing world, AdRoll is one of the big boys. We blog about them a lot, so you've probably heard of them already. If not, I'll give you the CliffsNotes version. AdRoll is a digital advertising platform that unifies marketing efforts across different channels like display, social, native, video, email, and mobile. At Stryve, we primarily use the platform to run retargeting campaigns using their display network and Facebook integration. We're big believers in putting money behind your content, so we also use the platform for several of the content campaigns we run.
I know I'm not alone when I say I log into AdRoll on the daily. Sometimes, I log in multiple times a day. Other times, I keep my AdRoll tab open because I KNOW I'll be back. As I write this, we have almost 40 campaigns running across several clients with more planned on the horizon. Moral of the story? We use AdRoll a lot. 
We use the platform so often that AdRoll took notice. When they reached out with the invite and offer to pay for our flights and hotel, it was an offer we couldn't refuse.
CAB highlights and takeaways
At the event, AdRoll's exec team walked us through their vision and product roadmap. It was both interesting and exciting, but for us, the highlight of the day was the group breakout sessions AdRoll facilitated. We were put in groups of 15-20 marketers from other agencies and asked prompting questions that lead to some really great discussion.
We quickly realized we were all fish in the same pond. Despite having different clients working in different industries, marketers use the same tools and face the same challenges day in and day out. Throughout the discussion, we were all scribbling in our notebooks, jotting down tips, tricks, and what could be learned from each other's experiences. People were LOVING it, especially the AdRoll team, who was getting a boatload of authentic customer feedback.
As someone who is still fairly new to marketing, it was pretty eye-opening to learn about all the different things my fellow marketers are up to. For those more experienced, the discussion helped to reinforce the fact that there's no secret formula for great marketing. From Marketing Coordinators to Marketing Directors, we all face the same challenges. It's just the name of the marketing game.
From the beginning, the AdRoll team was adamant that the day would be about us and not them. Their goal was to bring like-minded digital marketers together for a day of sharing and networking and they achieved that goal. We had an awesome experience and it's great to see a company investing in their customers in more ways than one (that flight + hotel wasn't cheap!). Building a community isn't easy, but AdRoll is doing it, one CAB at a time.