Which World Cup Team Has the Largest Social Media Following?
By: Sourov De
June 26, 2014 | Reading Time: < 1 minute
Every four years World Cup fever spreads all over the world.   This year's World Cup is slightly different than past World Cups because of the worldwide popularity of social media.  Social media has allowed millions of fans to cheer on their teams, voice their opinion about the matches, the refs, the plays and even "biting incidents".  Each game is an opportunity for fans to connect in a whole new way.
So, which World Cup team has the biggest social media following?
It's Brazil with nearly 7.6 million collective social media followers distributed over the five major social media networks.
Honourable mentions go to:
England and Italy for having the most consistently branded and well-designed social media profiles on the five major social media networks.
Team USA and Colombia for being the only teams other than Brazil with over one million Twitter followers.
Here are the rest of the standings of the top 11 World Cup Teams with the largest social media followings: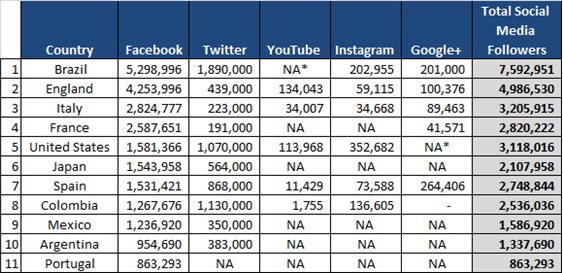 NA – indicates that the given World Cup team does not have a presence on the given social media network
NA* – indicates that the given World Cup team has a following on the given social media network, however, their follower statistic was not made public