Two big AdWords features ya gotta try
By: Ryan Burgio
August 2, 2016 | Reading Time: 2 mins
With all the hoopla around Facebook and their ad revenue lately, AdWords has become a bit of a forgotten PPC strategy. At Stryve, we believe AdWords has never been better. Yes, PPC costs have increased. But nothing beats the power of matching results with search intent. It's the quickest and cheapest way to convert, aside from SEO of course. Nothing beats the Zero Moment of Truth.
So what has been Google been up to lately with AdWords? Here are two recent AdWords features that every PPC advertiser should try out.
Expanded Text Ads
In early June, Google announced expanded text ads, doubling its ad text limits. At Stryve, we'll be testing this new ad format over the next month. At first glance, the expanded text ads will allow us to be more creative and descriptive with our advertising – something we've been longing for. There's more room in the headline and description to talk about your product and service. Digital ads need to give more room for creativity to advertisers. We're not programmers, we're creatives first. This is a good start.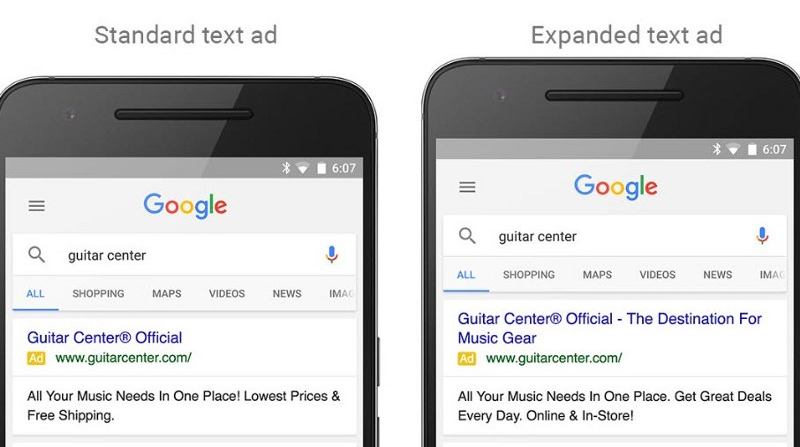 Next Generation of Local Search Ads
Google has had ads in their Maps since 2013, but it looks like they are taking things to the next level. Google will begin experimenting with promoted pins. Now when a customer is searching for a location or business type in your map, a promoted pin with your logo will show up. We believe this could be a game-changer in local advertising. Small businesses that typically have had to compete with big radio budgets or national campaigns can now allocate dollars to showing up at the moment of search intent.
You will also be able to display coupons and even local inventory. If you're a local business, this is a must-have.
Shameless Plug Time
If you're interested in implementing any of these new features, get in touch with the team at Stryve. We love AdWords, and we've got the results to prove it.