10 ways marketers can use Pinterest
By: Chloe Rolph
February 2, 2012 | Reading Time: 3 mins
Meet Pinterest—the latest social media platform to hit the ground running.  It's no surprise this platform has seen such quick success in a world where digital is becoming increasingly visual, with many big players introducing major visual-oriented changes such as Facebook's Timeline.  Already hitting 11 million unique monthly visitors at such a young age, Shareaholic has just reported that Pinterest drove more of the tracked referral traffic last month than Google+, YouTube, LinkedIn, and Reddit combined.
Unlike Facebook, and worlds different from Twitter, the Pinterest platform is completely visual and focuses on collective interests amongst the general population rather than personal relationships and conversations between friends.  It's a place to make and share discoveries, and then organize them in a way that your browser's bookmark menu just can't compete with.  For those who haven't delved into Pinterest (and consequently given up 2+ hours of spare time per day ever since), it is a relatively simple concept—just think of it as a virtual corkboard.  A pin is an image paired with a short caption that is linked back to the original source website in order to drive traffic externally.  Users organize the site by adding these pins to different boards based on different topics of interest, such as "Easy Lunch Recipes" or "Gym Inspiration".  The ability for a user to repin an existing pin to another board is how content goes viral.  Finding pins is just as easy—simply enter a keyword in the search bar and find a seemingly never-ending page of related pins.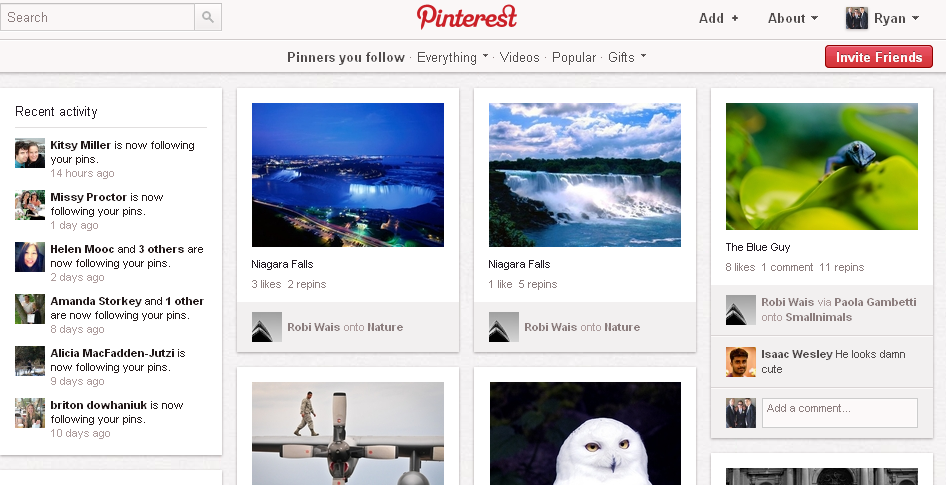 This unique platform offers game-changing potential for brands given its wildfire-like adoption and demonstrated ability to drive the virality of content of all kinds.  Aside from the referral traffic and SEO-related benefits, the almost solely visual nature of Pinterest allows the look, feel, and core of a brand to be defined much more vividly—after all, a picture is worth a thousand words.
So, how can your brand get the most out of Pinterest?  Well to start with the obvious: Pin photos of products so people can view, like, share, comment on, and re-pin them!  While this is a start, there's a lot more that can be done to reap the benefits of Pinterest. Here are some tips to get you started:
Because it's a visual site, invest in good quality photographs and images (aesthetically pleasing images are more likely to attract attention).
Back-link each pin to your source website.  People will click once on the picture to see the full pin, and will then be able to click a second time to be directed outside of Pinterest to your website.
Include a price in the description to automatically add an overlaying banner on the picture featuring the price.
Pin alternate uses for your product.  For example, if you are a cream cheese brand, pin a great dip recipe.
Add the "Pin It" social media button to your website to allow for and encourage pinning
Connect your physical and online presence.  Try running an in-store promotion that drives customers to your Pinterest board.
Don't be overly self-promotional. It's easy to spot a self-serving board and it's also an official Pin Etiquette rule.  Be relevant to your target market and post other content they would find interesting to keep people coming back for more.  Whole Foods Market does a good job of this by posting a complimentary mix of pins of their own products, uses for their products, as well as inspiration for the lifestyle they advocate: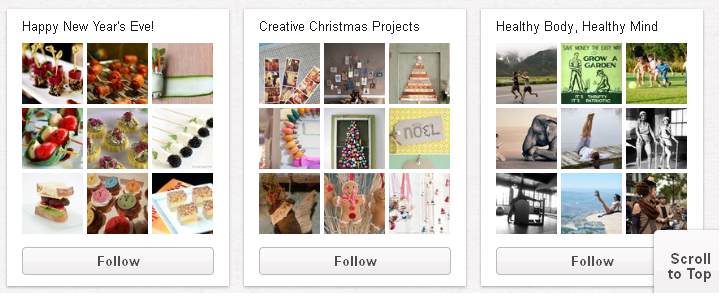 Follow big names – this is proven on Twitter. If they follow you back, this boosts your own visibility to others.
Tag your pin using key phrases that define the brand and inspire, since Pinterest is all about inspiration.  Get in the mind of your ideal consumer and think about what search terms they'd use.
Use other social media platforms (that have the advantage of a more established user base) to direct people towards Pinterest.  A status update like this one will inform your customers you're active on Pinterest: "Follow our pins for new products and great recipes!"
Happy Pinning!