A marketers guide to social media demographics in 2020
By: Kyle Weber
January 27, 2020 | Reading Time: 8 mins
Hey!
You know you're about to read old news, right?
Remember a few years ago when deleting your Facebook account was courageous? People would post a status notifying family and friends of their apparent martyrdom before going offline for good. Then, three weeks later they're back from the dead with a new profile and new friend request and you're left wondering how you made the cut.
Today, I could delete Facebook and not feel a thing. I don't think that makes me unique, either. To say it's taken a back seat to Instagram, Twitter, and LinkedIn would be an understatement — I kicked Facebook out of the car and drove away the second my mom's friends started adding me.
Is that it? Has the Boomer flock to Facebook offset the exodus of late twenty-somethings like me? Has there even been an exodus? Or am I just assuming everyone my age feels the same way? Is Snapchat dead or is Instagram still playing with its food? And what the hell is TikTok?
I wanted answers so I did some digging. Here's our marketer's guide to 2020 social media demographics.
This is a long one, so here are the takeaways for marketers:
Facebook isn't dead as much as it's slowly dying. While user counts are still high, engagement is at an all-time low.
Instagram is your king now, with the most daily active users and a large 20 to 40-year-old demographic.
LinkedIn just knows what it is and does what it does really well. It's growing like crazy and doesn't show signs of stopping.
Twitter demographics aren't totally clear, with many accounts being fake and many users not having accounts. It's still a popular platform with B2B businesses, though.
If you want to target women with emotion-based messaging, look no further than Pinterest.
Snapchat is still quietly dominating the American teen market. Personally, I don't get it, but I'm not a teen and I'm not American so that checks out.
Touted as "the front page of the internet", Reddit has gaudy numbers and a clear demographic. The problem? That demographic hates ads. Proceed with caution.
TikTok is driven by Gen Z'ers in India and China. If social influencers are your thing, you'll save some money here versus Instagram.[/intro]
Facebook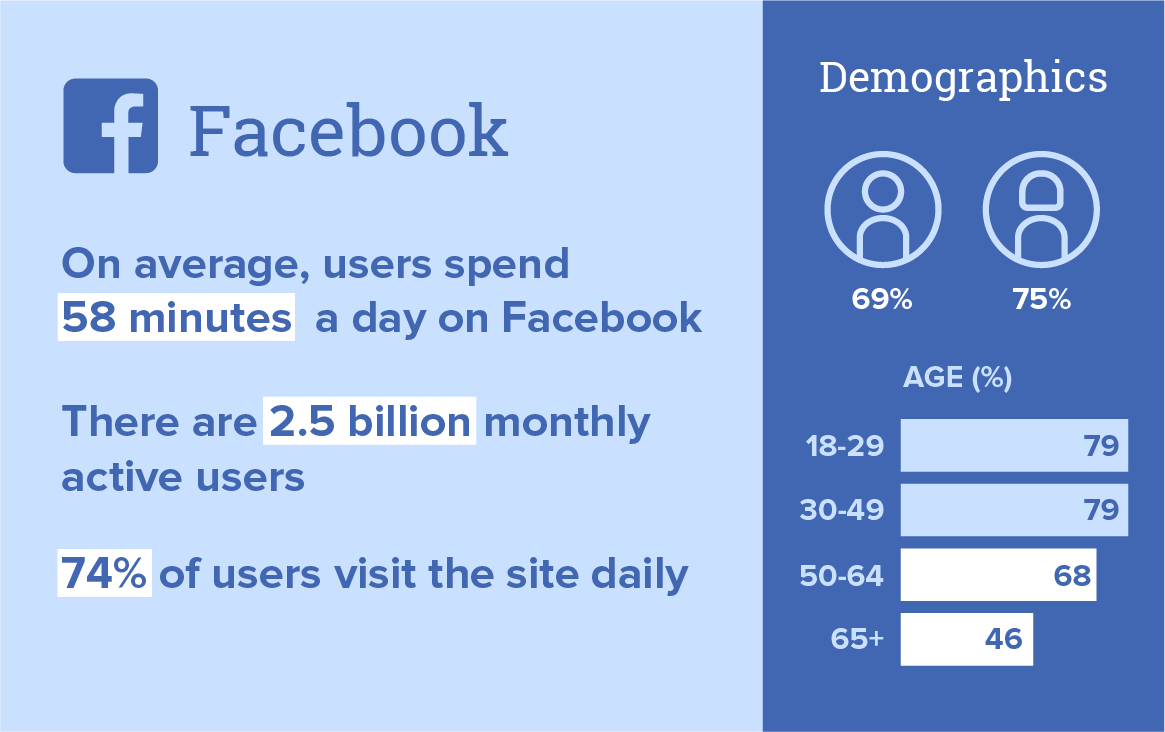 While just under half of seniors are on Facebook, the demographic has more than doubled since 2012. Despite quickly becoming the "old people app", Facebook maintains an audience of 113 million teenagers. That said, the number has dropped significantly over the years along with engagement rates.
Is Facebook just not that cool anymore? Well, unless you think major data breaches and political scandals are cool, it looks like that's the case.
Here are a few more points about Facebook and its users:
96% of Facebook use is via smartphones and tablets
The USA has among the lowest Facebook engagement rates
Outside of Snapchat and YouTube, Facebook has the lowest demographic of college-educated users. My uncle is very active on Facebook.
42% of users have taken a break from Facebook in the last year
41% of Facebook's monthly active users are in Asia, 16% are in Europe and just 10% are in the US and Canada combined.
Instagram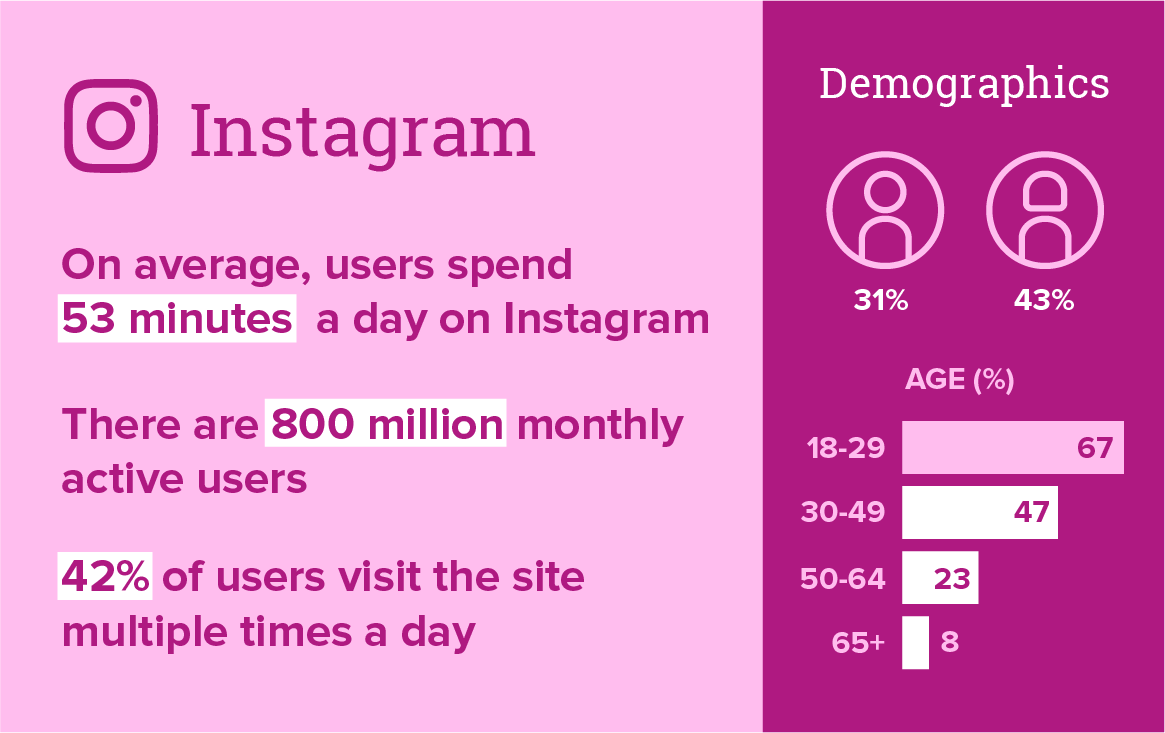 If you're looking to market to young people, Instagram is the platform for you. With 67% of its users being under 30 and the average daily usage at almost an hour, Instagram is perfect for building brand awareness with teens and young adults of any gender. In fact, Instagram claims that 928.5 million users can be reached through Instagram ads and 90% of Instagram users actively follow a business account.
Here are a few more points about Instagram and its users:
The United States accounts for the most Instagram users and it's not even close.
60% of people say they discover new products on Instagram
There are 25 million business profiles on Instagram
LinkedIn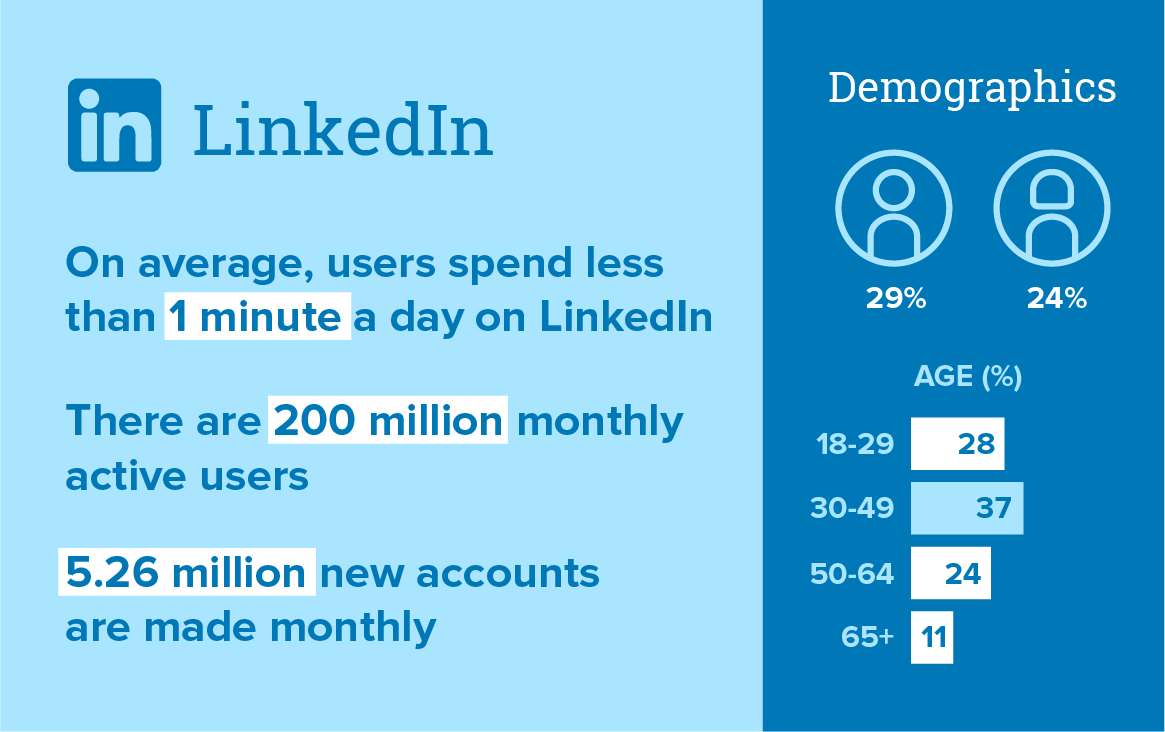 While LinkedIn doesn't have the audience of Instagram or Facebook, it is one of the fastest-growing social media platforms out there. How fast is it growing? So fast, that about 2-4 people have signed up in the time it took you to read this sentence. More specifically, LinkedIn sees almost 173,000 new users each day. With 1 in 3 adults being on LinkedIn, it has the largest demographic of users between 30 and 49, with half of them having a college-level education. Of those who sign up for LinkedIn, half of them use the platform each month and a quarter use the platform each day.
Here are a few more points about LinkedIn and its users:
40 million LinkedIn users are said to be in "decision-making" positions
LinkedIn's Slideshare has 18 million pieces of content uploaded to it
30 million companies are on LinkedIn
94% of B2B marketers use LinkedIn as a content distribution channel
LinkedIn makes up more than 50% of all social traffic to B2B websites and blogs
Twitter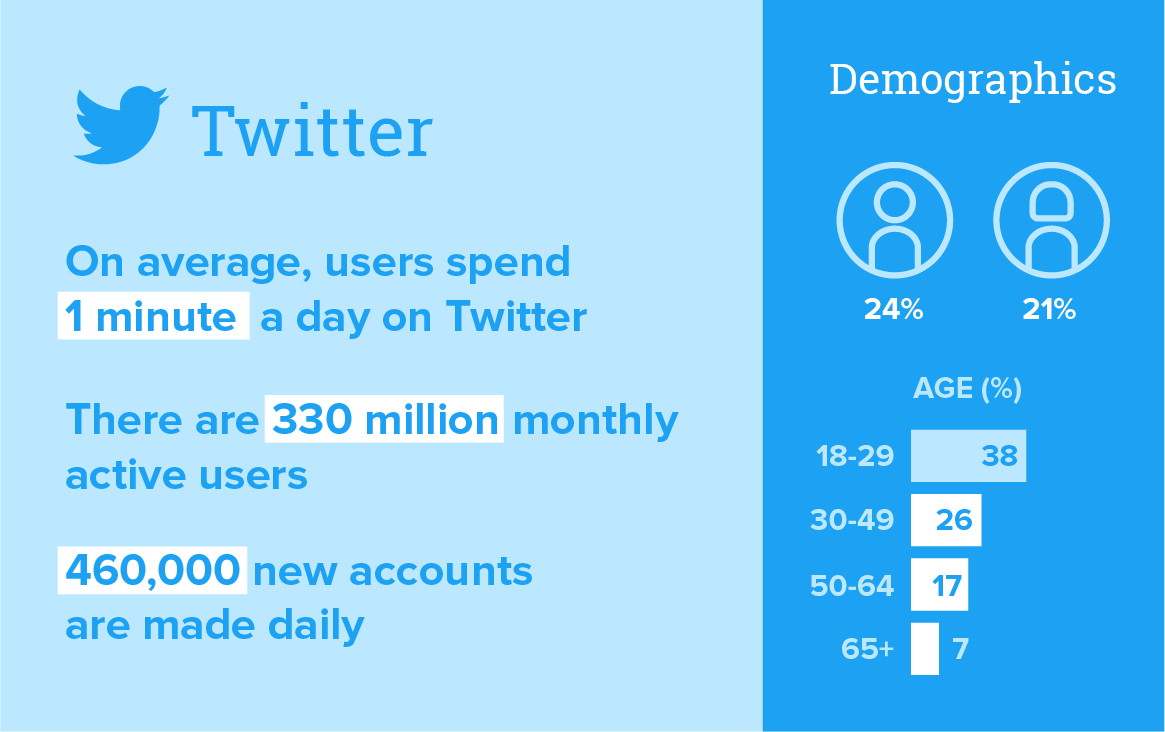 Despite Twitter being seen as one of the main social media platforms, it has a much smaller number of registered users than Facebook and Instagram. It also doesn't have the surging growth of LinkedIn. That said, Twitter has the largest number of non-registered users at 500 million per month — that's people who access Twitter without logging in. Twitter also has among the largest discrepancies of male to female users at 66% vs 34%.
As far as age demographics go, there seems to be a lot of conflicting information out there, with some sources showing a large under-30 demographic and others claiming that 63% of Twitter users are between the ages 35 and 65. This is likely due to the platform being overrun by fake accounts.
Here are a few more points about Twitter and its users:
67% of B2B businesses use Twitter as a marketing tool
77% of Twitter users feel better about a brand that replies to tweets and messages
The US has the largest demographic of Twitter users followed by Japan and the UK
40% of users have purchased something after seeing it on Twitter
31% of Twitter users make more than $75k each year
Pinterest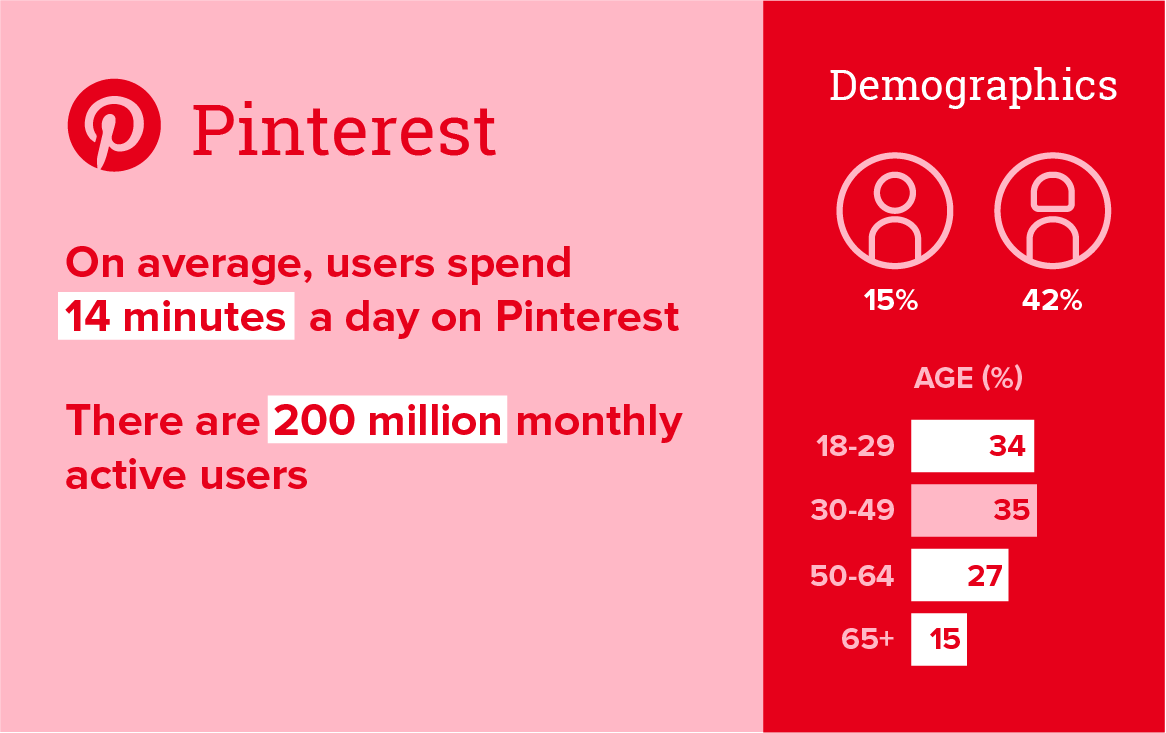 Pinterest has quietly been growing for several years. With a 30% increase in users each year, people may be surprised to see that there are almost as many users on Pinterest as there are on Twitter. While Twitter skewed towards male demographics, Pinterest has the highest share of female users at 70%. This translates to "pins", too, with 93% of pins being made by female users. Supposedly, this high usage among females is due to women having an emotional connection to the platform and its content. Specifically, Pinterest sees women using the platform mainly for aspirational and motivational purposes. Men, on the other hand, use Pinterest as a bookmarking tool.
Here are a few more points about Pinterest and its users:
85% of female users use Pinterest to plan major life moments
58% of users say Pinterest helps them make buying decisions
The male demographic is growing at an equal pace as the female demographic
In 2018, there was a 450% increase in dads searching for DIY projects
Only 28% of marketers use Pinterest as a marketing platform
Pinterest users rate Pinterest ads as 1.4x more useful and relevant than other social media ads.
Snapchat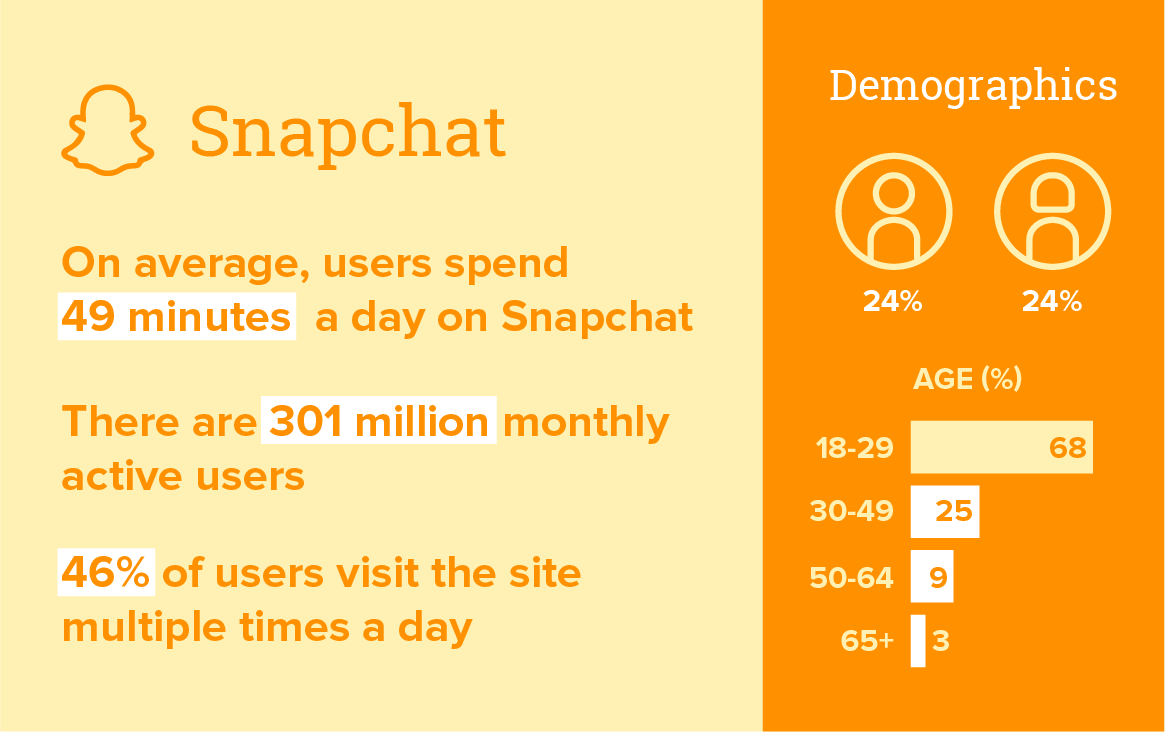 Like Instagram, Snapchat is a young person's social media platform with almost 70% of users being under 30 years old. In fact, half of all American teenagers actively use Snapchat, making it the most popular social media platform among teens. Personally, this is all mind-blowing, considering the failed redesigns and the fact that Instagram has tried to copy everything that made Snapchat unique. Even with the publicized setbacks, as of 2019, Snapchat is the second-most used mobile app, being accessed by daily users over 20 times per day while being used by 63% of all users daily.
Here are a few more points about Snapchat and its users:
40% of users claim they learn about brands thanks to influencers
Half of Snapchat's daily users watch Discover videos each day
41% of teenagers named Snapchat as their favourite social media platform
75% of users engage with augmented reality features each day
Reddit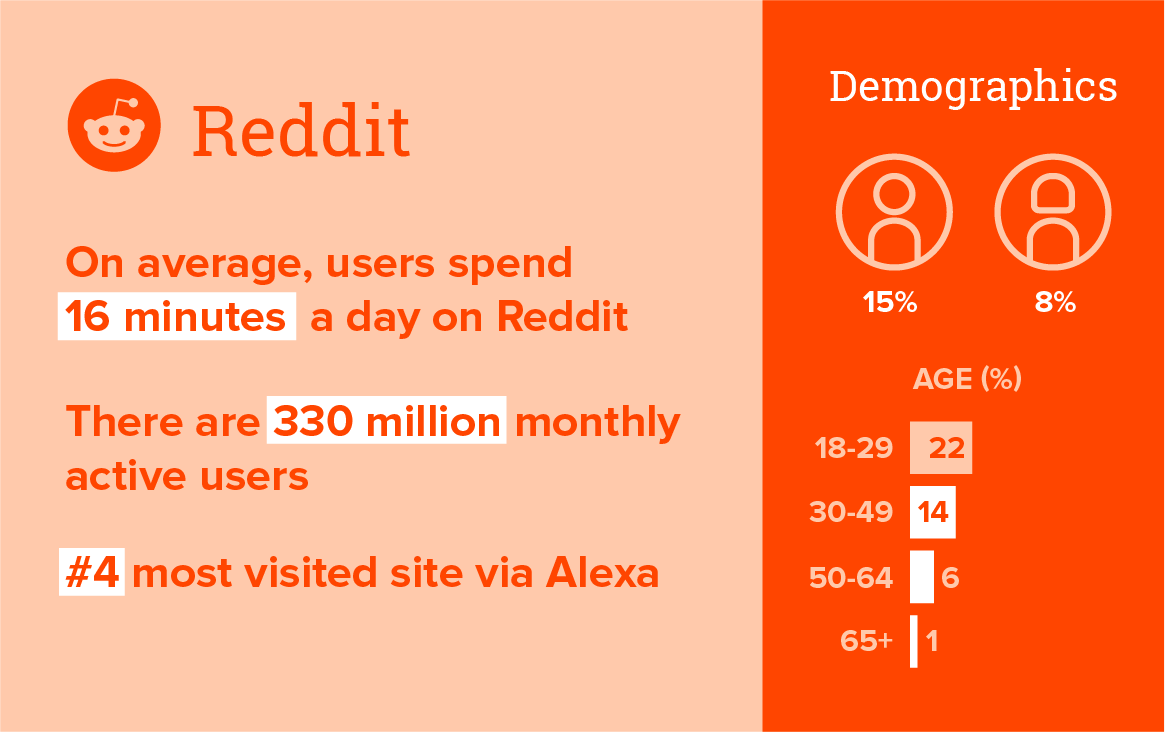 Now we're getting into uncharted territory. While it may not be known as a social media platform, Reddit offers just as much opportunity for marketers to get the word out. While having more monthly users than Twitter and a higher daily usage than Pinterest, there's a lot to like with Reddit — especially if you're targeting young men.
Like Twitter, there is a discrepancy between the number of registered users and the amount of traffic on site. In 2018, Reddit received 168 billion page views and today is the sixth most popular website in the US — the fourth most visited via Alexa. Above all, it's still quietly growing, registering a 30% user increase through 2019.
Here are a few more points about Reddit and its users:
The site receives 21 billion monthly screen views
44% of traffic is via a mobile device
There are 130,000 active communities – which are great for ad targeting
The majority of Reddit users are in North America (64%)
Running Reddit ads? Be very careful about targeting. Reddit users hate unrelated ads.
TikTok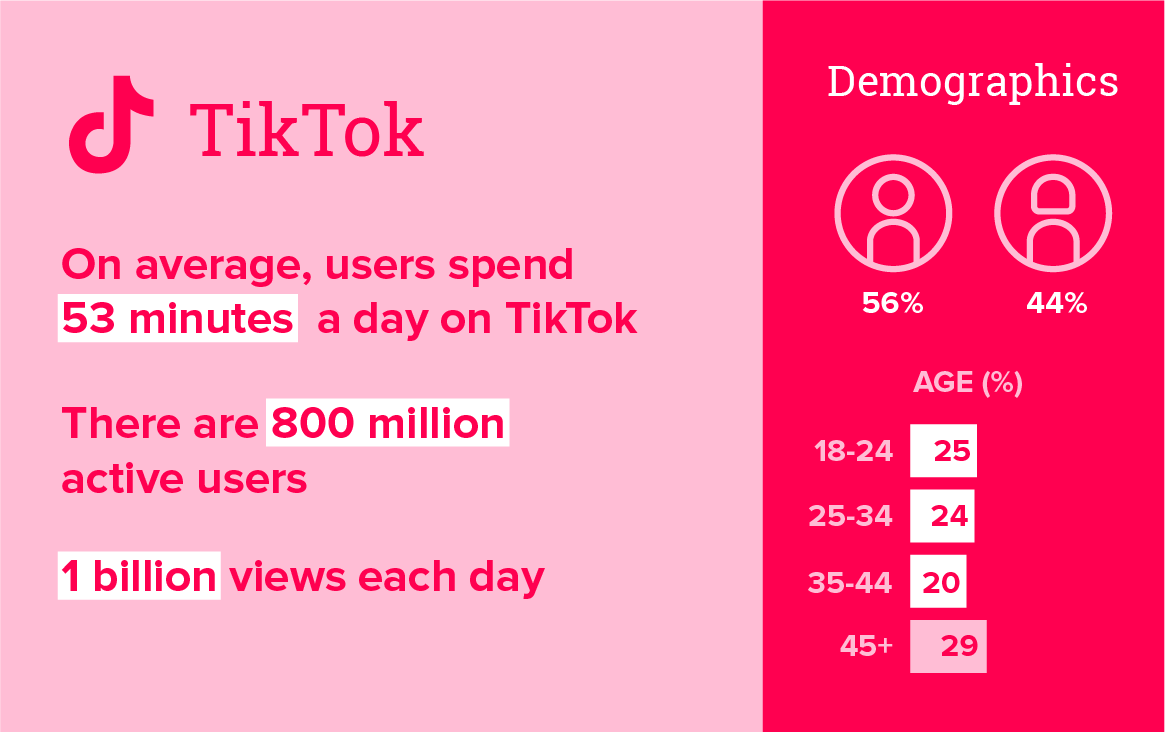 Part of the reason I did this blog was to learn more about TikTok. Do adults use it? is it just another version of Vine? Is everyone on the platform doing that stupid floss dance?
Turns out, TikTok already has more users than LinkedIn, Twitter, Pinterest, and Snapchat, with 1.5 billion downloads and 150 million daily users. Of those daily users, 41% are between the ages of 16 and 24, with the overwhelming majority coming from India and China. Despite this, the number of American TikTok users has grown 5x in the last 18 months and currently sits at 14.3 million. When I say kids love TikTok, I mean they're totally addicted to it. The average user will spend almost an hour on TikTok each day and overall, the app boasts the highest engagement rates across all social networks.
Here are a few more points about TikTok and its users:
TikTok tallies 1 million views on videos each day
There are an estimated 1 million page views each day
The average user opens the app 8 times per day
TikTok has a Creator Marketplace for brands to shop for TikTok influencers
TikTok ad campaigns start at $50/day
Some unlikely brands have been successful here, like The Association of Chartered Certified Accountants.
The average age of TikTok users is going up as Gen Z gets older.