Unless you've been living under a rock for the past month, you're well aware that the Toronto Raptors are in the NBA finals. Their playoff run has produced some monumental moments for the franchise, but the biggest one took place in the 2018 offseason. The play that set the stage for the shot, the mural, and everything else, was the decision to trade Raptors legend, DeMar DeRozan, for Kawhi Leonard.
At the time, the trade was controversial. DeRozan is a hard-working perennial all-star who loved playing for the Raptors and the city of Toronto. On the other side of things, Kawhi Leonard, an NBA Champion, finals MVP, and statistical god, had question marks surrounding his character and health after sitting out 9 of 82 games during the 2018 season. On top of that, he's on the last year of his contract and can play wherever he wants next season. Toronto is great, but to a California native, the whole winter thing could be a deal breaker.
For these reasons, you could consider the trade a gamble. Would Leonard's injuries continue to be a problem? What if he hated Toronto? How would the trade affect team chemistry?
Basketball is a business, so what can we in business learn from Massai Ujiri and his big swing?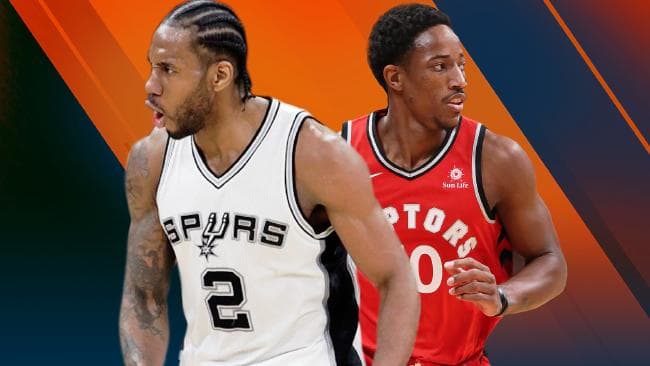 Leonard (left), DeRozan (right) Source: Fox Sports
Good is the enemy of great
Sometimes, it takes a big swing to get to the next level. While moving off DeRozan displeased both Raptors fans and some Raptors players, you have to consider the big picture.
The DeRozan Raptors would have continued with their regular season success, but would also have continued with their post-season struggles. They lacked 3-point shooting and a high-calibre defensive wing. Not only are these two key statistical ingredients for playoff wins, but they're also Kawhi's strengths and Demar's weaknesses.
While DeRozan was beloved by the city and the home-grown team was good, that warm and fuzzy feeling doesn't win championships. If the goal is to be great, you can't settle for less. You need to assess the data without bias and make the necessary moves to improve.
Take smart-calculated risks
There's a difference between a gamble and a calculated risk. While the Kawhi trade, to many, seemed like the former, it wasn't.
Aside from DeRozan continuously flaming out in the playoffs, his contract was set to expire after next season — just one year after Kawhi's. Not only that, but a number of core Raptors players come off the books in the same year. If you're short-sighted, trading a Toronto-lifer like DeRozan for a year of Kawhi is crazy, but when you consider the long view, you're really trading a year of Kawhi for two years of DeRozan. When you factor in those other player contracts, it's clear that a rebuild was coming all along.
With that, it's clear the move was far from being a gamble. The worst-case scenario – losing both Kawhi and DeRozan – was a possible outcome all along, regardless of the trade. All things considered, you could even make the argument that it's been part of the plan.
In marketing, we're always talking about taking calculated risks. That doesn't necessarily mean swinging for the fences, it means weighing the best-case and worst-case scenarios. What are the possible outcomes? What's plan B? What does success look like and is it worth the risk? When asking these questions, consider both the short and long term effects.
Fear of the unknown
Part of the reason why DeMar DeRozan was so beloved by Raptors fans was the longevity of the relationship. While his limitations left skills to be desired, fans knew what they were getting whenever he stepped on the court. He'd perform at an All-Star level,  take some mid-range jump shots, and say nice things about the fans. Swapping him out for a new face with surrounding questions is a big change. It's easy to see why fans were uneasy.
Fast forward to the playoffs and fans are like, "DeMar who?" It took some time to fight through the growing pains, but fans have broken through to the other side and the city of Toronto is in the midst of a basketball fever-dream. Ujiri and the rest of the Raptors higher-ups deserve all the credit for doing what was best for the franchise even when the fanbase pushed back.
With this in mind, consider your customers or your employees. When you make a change to your workflows, products, or systems, you're going to piss people off. Think about how annoying it is when Facebook changes its user interface. You knew where everything was and now you don't. Now, it takes 20 seconds to post something instead of 10 seconds. Eventually, though, you'll get used to it and because of the update, posts will take just 5 seconds.
Apprehension is a common byproduct of change and shouldn't be mistaken as a false step. If you're calculated and sure of your plan, you need to see things through — even in the face of adversity.
Learning from the Raptors
There are marketing and business lessons in all of this. Are you settling for 'good enough' for your marketing campaigns? What does the data say? Do you have an "end of season" evaluation of your marketing programs? Are you making the tough decisions and changing from something that's good enough to take a smart risk on something that could be great?
Calculated risk-taking works in sports as well in marketing.
If you'd like to do more reading on companies that took smart calculated risks, here are three marketing case studies of companies who broke away from being 'good enough', did something that could cause controversy at first but reaped a big payoff in the long run.
Renaming of HVLS Fan Company to Big Ass Fans