LinkedIn Sponsored Updates are awesome
By: Ryan Burgio
November 18, 2014 | Reading Time: 3 mins
LinkedIn Sponsored Updates have quickly become the go-to B2B marketing tool for our clients. In the last 4 months, we've run 10 Sponsored Updates campaigns.  Every single campaign has been a success at generating top-of-the funnel leads. Going 10/10 in marketing is really really hard. No other tool has come close to generating the results that LinkedIn Sponsored Updates has.
We've also noticed a lot of companies jumping on the Sponsored Updates bandwagon. From banks to software companies to insurance firms, we're seeing a lot more content with budget behind it.
But when we mention LinkedIn Sponsored Updates to friends, prospective clients or other marketers, we tend to get a confused response like: "Are those LinkedIn ads? We've tried those before, they don't work."
Nope, they're not LinkedIn ads. They're much better. Here's an overview of LinkedIn Sponsored Updates, and why we think they are working so well.
What are LinkedIn Sponsored Updates?
Targeted Value in the LinkedIn Feed
Sponsored Updates allow you to reach LinkedIn members directly in their feed. You create a compelling piece of content, post it on your Company page and utilize an ad budget to target the content to your key audience. Here's how a sponsored update looks when it shows up on my feed: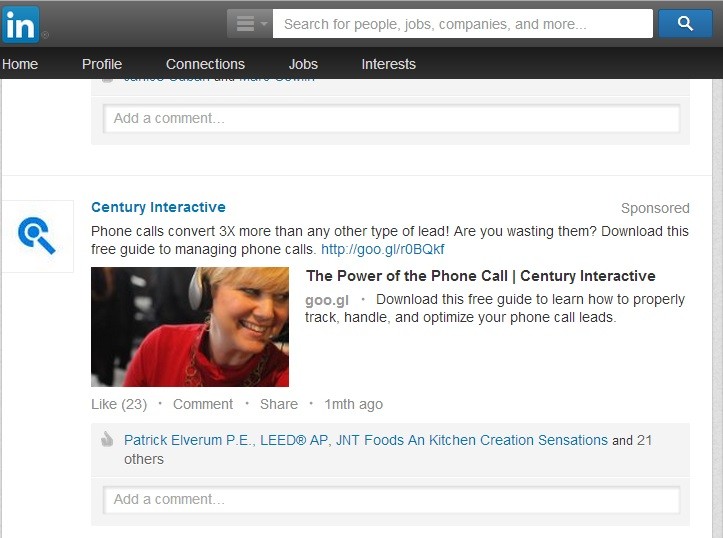 The LinkedIn feed is becoming a go-to source for business information (more on that later). Getting your content into the feed is a great way to get your target market's attention.
Focused B2B Targeting
LinkedIn provides a great interface combined with hyper-targeted criteria to reach your audience.  We've found the combination of 2 or more of the following targeting criteria allows us to really hone in on our audience:
LinkedIn Groups
Skills
Titles
Geography
School
Gender
Age
Degree
Industry
In addition, LinkedIn has just released a great targeting tool called Audience Expansion. Audience Expansion allows advertisers to increase the reach of their campaign by showing ads and Sponsored Updates to audiences with similar attributes to the target audience. For example, if your campaign targets members with the skill "Online Advertising," your campaign might also be shown to members who list the skill "Interactive Marketing" on their profile.
Why LinkedIn Sponsored Updates are Effective
LinkedIn Pulse & Influencers
LinkedIn acquired Pulse in 2013 and has turned into a Linkedin news feed powerhouse. Pulse allows you to personalize your newsfeed to focus on the interests and people that are most important to you. They've also done a great job of utilizing Influencers like Bill Gates and Richard Branson to drive people to the newsfeed on a daily basis. I've gone from checking my LinkedIn newsfeed weekly to now reading it daily. The information is fantastic and the Influencers write about things that have a direct impact on our business.
So why is that important to Sponsored Updates? From our early analysis, it looks like people are visiting their newsfeed often and are dialed into the content. That means our Sponsored Updates have a much better chance of getting in front of our target audience.
Discreet But Not Too Discreet
Sponsored Updates are identified in the feed as being paid content, but the label is very subtle. It doesn't scream advertising.  This allows the content to flow through the newsfeed without causing too much disruption to the experience.
Shameless Self Promotion Time
We're really good at LinkedIn Sponsored Updates. Although the ad platform seems straight-forward, our approach is quite complex. We utilize a combination of LinkedIn's ad interface and AdStage to run complex A/B split tests across multiple targeting criteria. For a single campaign, we will run between 12-20 ad variations focused on maximizing conversion from our key target market.
We also prioritize key markets based on their likelihood to convert later in the funnel. Budget is allocated based on optimal consumer characteristics and adjusted as results come in. Otherwise, budget is absolutely wasted.
Furthermore, we've studied how individuals interact with their newsfeed. Our approach focuses on image/text positioning that gets the most attention and drives to action. We've seen too many Sponsored Updates run by major companies that absolutely miss the mark on messaging and imagery. And, based on the fact that I'm seeing the ad, they're probably missing the mark on targeting too.
Give it a Try
You can start a campaign with as little as $250 tomorrow. You'll only pay for clicks. Don't worry about making the campaign perfect. Working with the interface and testing your content is well worth the small budget. It's really powerful stuff. Don't wait until the newsfeed gets super-competitive. This is a perfect time to market on LinkedIn with minimal competition.