Get Inspired with Panda for Google Chrome
By: Brent Morrison
November 5, 2015 | Reading Time: 2 mins
Looking for inspiration for your next design project, or just want to be informed on the latest and greatest? Then get inspired with Panda for Google Chrome. Panda is a Chrome Extension that gives you a newsfeed dashboard environment full of creative and informative content at your fingertips. Once you install Panda from the Chrome Web Store,  it will appear by default when you open a new tab. From there you can customize the dashboard to your liking using different layouts and source material.

Inspiration or News?
Depending on the type of user you are, Panda offers a bunch of different dashboard layouts to cater towards your needs. The Design Geek layout is for creative junkies looking for inspiration from sources like Dribble or Behance. Where as the News Freak layout is geared towards those hungry for information on the latest with sources like TechCrunch and Fast Company.

Personally I like the Cross Eyed layout with Dribble and Behance as my sources. The Dribble feed provides me with great branding and design inspiration on the left, while on the right, Behance shows me the latest in web and app design. I'll also switch it up with El Classico for articles or blogs on design and technology to see what's new.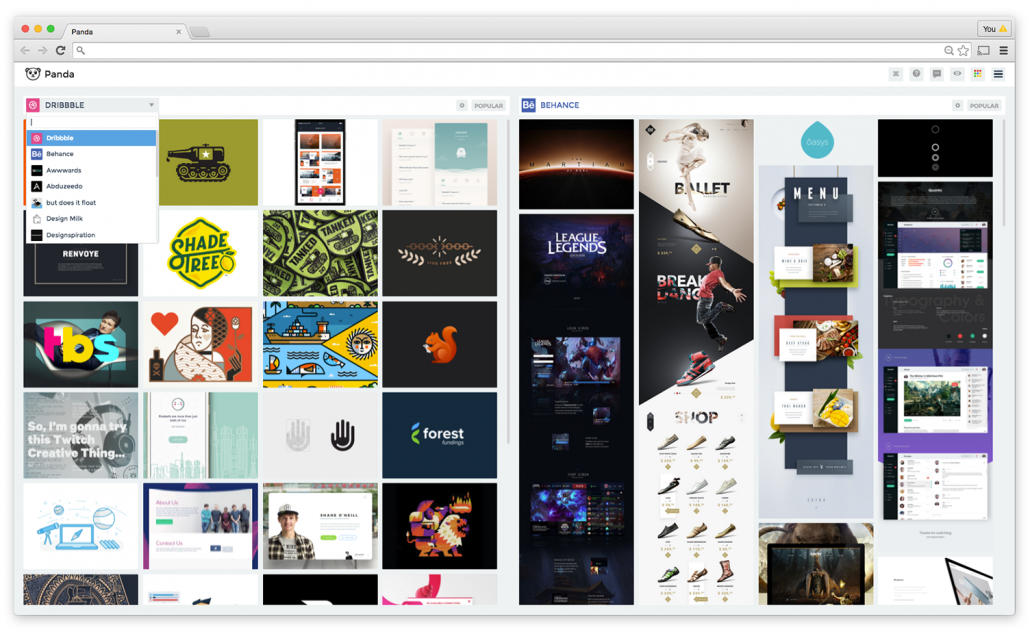 Panda is a must-have app for any designer looking for creative inspiration or wanting to stay informed on the latest trends. If you're finding yourself in a creative block or just appreciate design, definitely check out Panda for Google Chrome. You can download it here.