The incredible growth of the Blue Jays' social media following
By: Sourov De
October 8, 2015 | Reading Time: 3 mins
If you're a Canadian with social media, chances are that you are seeing updates about the Toronto Blue Jays on the regular. Why? After the Jays' management team went "all in" at this summer's July 31st trade deadline, they started winning left, right, and centre. They made the playoffs for the first time in 22 years and now people just can't stop talking about them.
What do "winning" and popularity look like online? Here are some interesting Blue Jays social media stats:
Socialnumbers.com indicates that the Blue Jays' Facebook page experienced its fastest growth rate of Page Likes this year between the July 31st deadline and October 6th, 2015.

The Blue Jays are averaging approximately 15,000 new Facebook Likes a week over the past month. This is a dramatic difference compared to other non-playoff teams such as the San Diego Padres for example. The Padres are averaging only 1,250 new Likes a week.

Socialnumbers.com also indicates that more people are talking about the Blue Jays online; 4020% more people to be exact. At this time last year, on Facebook, the Blue Jays were being mentioned by approximately 13,000 people on Facebook on a daily basis. This Tuesday, October 6th, 2015 the Blue Jays were mentioned by over 500,000 people on Facebook.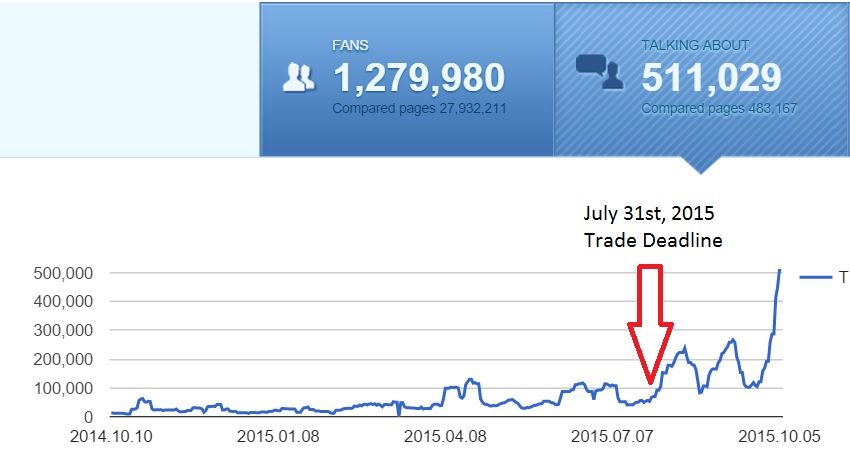 Will this translate into more money for the Blue Jays?
Once someone likes a Page and talks about a brand online, it creates two things that are a marketer's dream.
First, when a person "Likes" a Facebook page, that person has not only opted-in to receiving status updates from the Jays, but they're also clearly self-identifying as a Jays fan which gives the Blue Jays' marketing department a perfectly primed audience to target. With more Facebook page "Likes", the Blue Jays can more efficiently deliver online messages about ticket sales, merchandise, and special events to a highly engaged audience. This all translates into more revenue for the Jays' and more targeted advertising spending.
The second thing that is a marketer's dream is word-of-mouth advertising. Socialnumbers.com's "Talking About" stat quantifies the number of people mentioning the Blue Jays on Facebook. The more people that are "talking about" the Jays positively on social media, the greater lure the team has. This lure creates hype and demand for tickets and merchandise. Also, the extra word of mouth on social media increases the viewership for the games, allowing the owners of the Blue Jays (Rogers Communications) to profit from more lucrative TV commercial sales during the Blue Jays' television broadcasts.
The bottom line: building a winner in a country that has one professional baseball team to cheer for can pay off. Big time.