Is it better to hire a social media manager or hire a social media marketing firm to handle your company's social media marketing?   Here are four things you should consider before you make your decision to "insource" or "outsource" your social media marketing.
1. Consider Results and Experience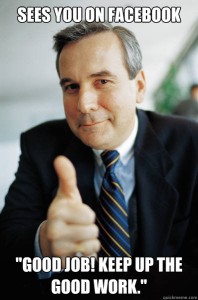 Typically companies will default to hiring recent grads to "do their social media for them". Granted there are many sharp young marketing grads that will understand the mechanics of social media, in that they'll know how to create a Facebook page or how to post things to Twitter. However recent grads may not fully understand how to drive Likes on Facebook or Followers on Twitter and turn these Likes/Followers into sales. On the other hand, a well versed social media marketing firm should be able to show you client case studies where they've increased the Likes, Followers, engagement and ultimately the sales for their clients via a social media campaign.  Also you'll be surprised to know, a social media marketing firm's monthly retainer could be approximately the same monthly cost as hiring a recent graduate.
2. Consider Your Business Objectives
Before social media profiles are launched and updates are posted, your company's key marketing personnel should have a clear understanding of the business objective(s) that should be achieved with your social media updates.  For example, at Stryve Group, we first understand our client's sales funnel and marketing objectives, and then we tie a social media strategy to business objectives.  If you decide to insource your social media marketing, your social media marketing manager should understand how to do this.
3. Consider the Ability to Analyze Stats and Make Changes
Regardless of who is managing your company's social media marketing, there should be a system and process in place to collect key statistics such as number of Followers, Likes, connections and engagement metrics such as comments, shares and impressions.  Ultimately a good social media manager or social media marketing firm should be analyzing performance statistics and making modifications to your company's social media strategy on a weekly or monthly basis to ensure it's on track to achieve your company's social media goals.
4. Consider your Company's "Brand Voice"
Whether you decide to insource or outsource your social media marketing make sure the person handling your social media understands your company's "brand voice".  Think about it this way: if your company's brand was a person, what would it sound like in an online conversation? For example, one of our clients is a restaurant named  Moose Winooski's and if their brand was a person they would love sports, all things Canadian, and have a good sense of humour.  Here's an example of post that drew high engagement on the Moose Winooski's Facebook page:
If your brand's voice or personality is communicated well through your company's social media updates online, people are more likely to take notice of your company's social media presence.
What do you think? Is it better to keep your social media marketing in-house or outsource it?