What the heck are they talking about? A guide to understanding the basics of Google Ads terminology
By: Kyle Gellatly
October 19, 2022 | Reading Time: 9 mins
Another Google Ads call this week? Blah.
Blah?? No!! We marketers definitely don't want you to feel this way. What can we do to fix this?
Odds are it isn't a personal thing, but rather that the calls are chock full of acronyms, terminology, and numbers that you don't fully understand (yet), which makes for a very long 30-60 minutes. Amiright?
I can't tell you how many times I've been on client calls reviewing a monthly report and I can see the client's eyes glazing over. Later to find out that they didn't know half of the terminology being used and were too embarrassed to ask.
Like a lot of industry professionals, sometimes when you live in a world for a long time you start forgetting that industry jargon or lingo isn't common knowledge to everyone. Digital Marketers can be especially guilty of this.
Well, let's put a stop to this, right now! I'm going to equip you with all the common terminology you'll hear in a digital campaign meeting or see in your report. Let's begin!
What is a campaign?
This is as high level as it gets. A campaign organizes your products, services or objectives under one umbrella. You can run multiple campaigns and have a unique budget for each.
Separate campaigns are usually used for different:
Products/services
Brand
Countries / languages
Type of campaign
Objectives
Types of campaigns
There are many types of campaigns. Some of the more common ones are:
Search: The text ads at the top of Google search result pages.
Display: Image banner ads that you see on various websites across the internet. They come in all shapes and sizes. Commonly found above, within and to the right side of content.
Remarketing: Ads that show to you based on content from websites you've been to in the past.
Video: Video ads that show before/during YouTube videos
Shopping: Product ads that show an image and price at the top and side of Google Search pages.
Smart: Shopping and Display campaigns where Google uses its algorithms and historical data to get the best performance.
Performance Max (PMax): A new type of campaign that allows advertisers to run one single campaign that uses all of their "assets" (text ads, image ads, video ads) rather than running different campaigns for each type.
Ad Groups
These are like the sub-categories of Campaigns. They keep the keywords, ads, and extensions grouped together and are often organized around a certain theme or message. Ad groups make it easy to show highly targeted messages to your audiences.
Keywords (KWs)
Keywords are a critical component of Search campaigns. These are the words or phrases that you include in an ad group that you want to show ads for.
Chosen based on user search patterns. The goal is to find relevant keywords for your product/service that are commonly searched, then include those in your ad groups.
Each Keyword has a different cost per click, based on various factors. See "CPC" below.
Not to be confused with 'Search Terms' or 'Search Queries' which are what the users type into Google. Users' search terms can be exactly the same as your campaign keywords.
Ads
Ads are the assets used to reach your audience. Because each user is unique in their preferences, and spends time in different places online, across a variety of platforms, there is no "one way" to find a user. There are various types of ads that can be created to find your audiences based on the media that resonates with them most.
Text Ads
One of the more common types of ads is found on Google Search Result Pages. These are called Text Ads. Text ads come in 3 different forms, and each has a unique function that helps them appeal to users. As the name implies, these ads aren't overly flashy, they are written messages and contain a headline and two description lines and can be found above and below search results.
Responsive Text Ads (RSAs)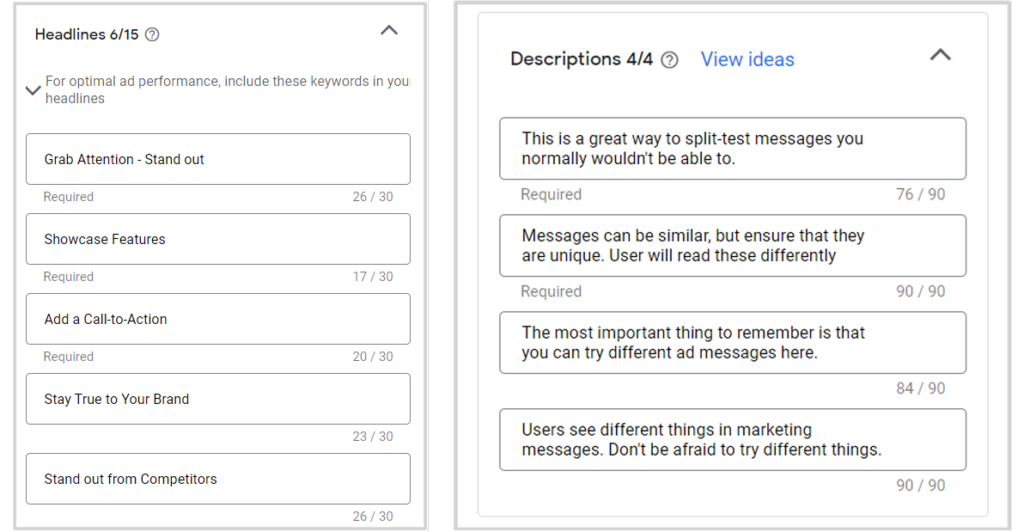 The advertiser writes up to 15 headlines and 4 descriptions, and Google mixes and matches combinations to find the best version for each user.
Expanded Text Ads (ETAs)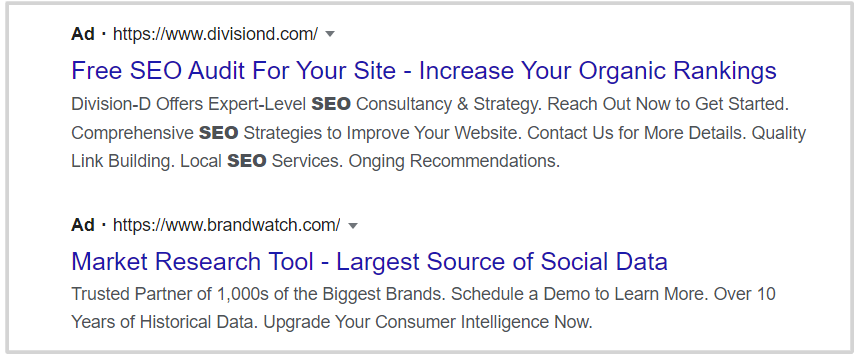 The advertiser writes 3 Headlines and 2 Descriptions in a set order and the ad shows that way, all the time.
At least 3 ad variations are recommended for each ad group.
After June 2022 these ads cannot be created anymore.
Dynamic Text Ads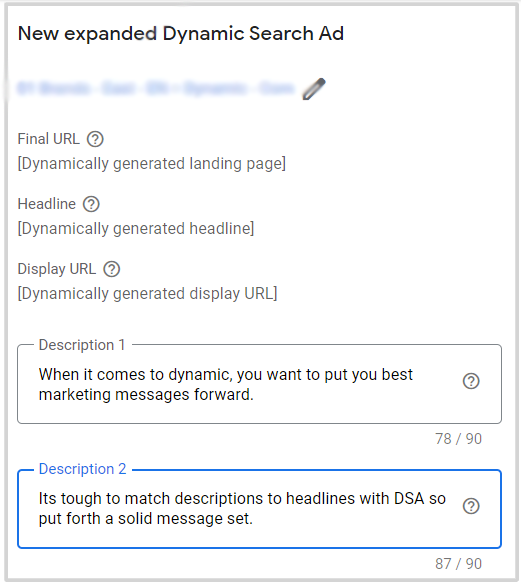 The advertiser provides the descriptions only, and Google dynamically creates the Headlines based on the user's search term.
Google will also assign a landing page on your website that will best match the user's search term.
Image Ads



Sometimes the user requires a little more than text messages to gain interest in your marketing message. This is when visual ads come into play. Visual advertising has become a lot of prevalent in the last decade and can be very impactful when done well.
These come in a variety of sizes and can be found on various websites (ie. CNN, Weather Network, mobile apps) throughout the internet.
They can be static or animated.
Shopping Ads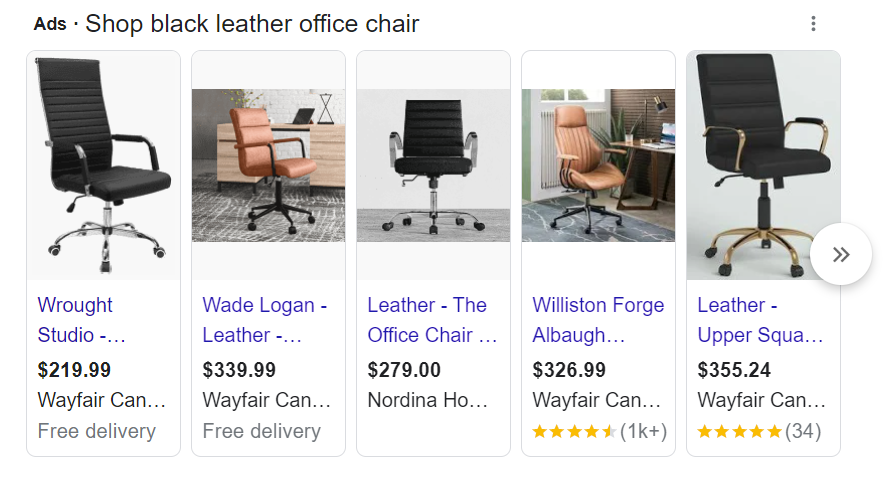 Shopping ads are visual ads for products that show above search results, usually in a carousel format that allows you to scroll through them.
Shopping ads will only show for searches relating to relevant product search queries, not service offering queries.
These ads do not contain any marketing messages, only a product image, a product title and a short description.
All product information is put into a "feed" and uploaded to Google's third-party shopping platform, Google Merchant Center.
Video Ads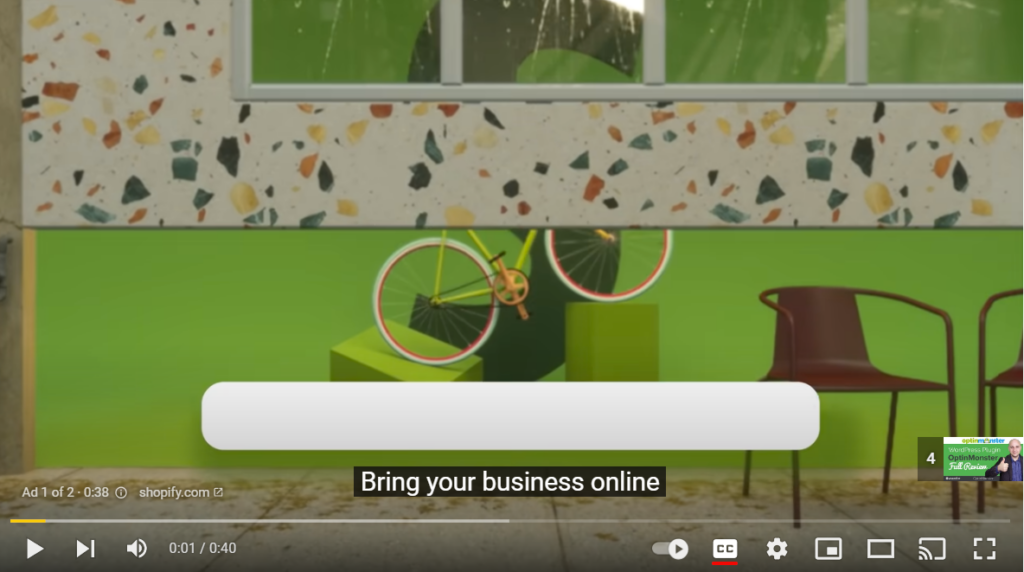 These ads are shown on YouTube
Ads can appear before/during YouTube videos or within YouTube search results and can be skippable or non-skippable.
A YouTube account is required to run YouTube ads, and those ads must be uploaded to your channel prior to running your campaign.
Extensions
These are additional components that may be included with your ads. Google loves when they are used, and factors into where ads are ranked. Some of the most common extensions you'll encounter are:
Sitelinks
These are additional links to different pages. They go underneath the main ad and look like mini ads. They are like a second (and third and fourth) chance to appeal to the searcher and increase the visual real estate of your ad.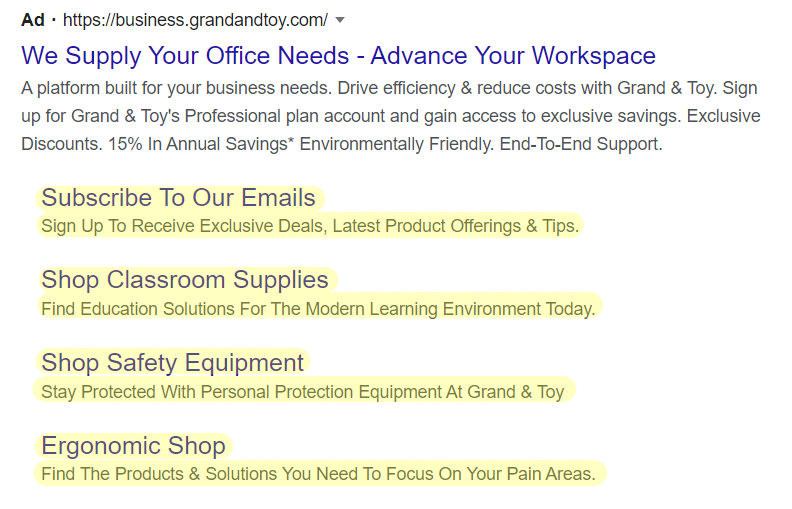 Callouts
These are short phrases or words that are inserted after the description lines of the main ad.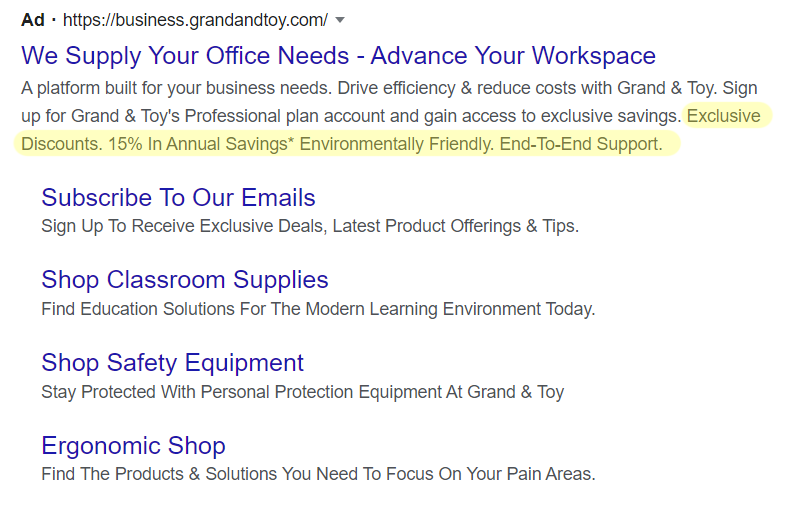 Call
The call extension gives the user the option to call your number from their mobile right from the ad.

Structured Snippets
Structured Snippets highlight specific aspects of your product or service. Aspects could include Brands, Services, Types of products you offer, Models, Shows, Destinations, and Courses.

Image
These add a product/service image to show beside text ads and help the ads stand out. These can be curated or dynamically added by Google.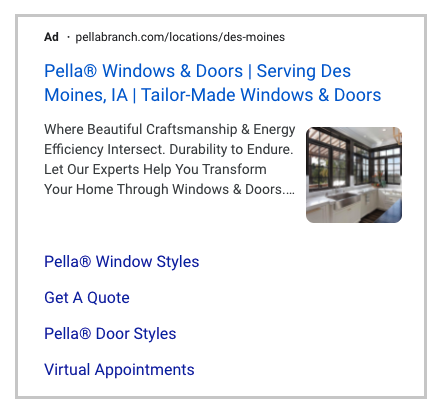 Auction
Every time a search is made by a user, a virtual auction takes place in fractions of a second. The auction determines which advertiser's ads will show up and in what order.
The auction is unique for each user and Google shows that person what it believes to be the most relevant ad related to their search.
Google ranks ads based on a number of factors including keyword relevancy, Cost-per-click (CPC) bid, and landing page experience.
Audiences
An audience is a group of users with something in common–they might have visited a certain page or set of pages, searched for a particular product, or have shown interest in a certain topic. One of the most effective ways of targeting users is by adding them to an audience based on which pages they visited on your website. This is known as Remarketing or Retargeting. Audiences can be used in all types of campaigns, both for targeting and for observation (to see how a particular audience performs without affecting targeting).
There are custom audiences that you create as well as audiences that are pre-built by Google.
They are based on user Interests, Demographics and Lifestyle.
These cast a wider net, but can still be effective if targeted appropriately.
Now that we have our foundation laid for our high-level terminology, this next section will be much more digestible. These are the metrics you are going to see on almost every monthly Paid Ads Report.
Performance Metrics
Cost (Spend)
This is the amount of total money your campaign(s) spend. Cost goes hand-in-hand with Budget (which is the total goal). Cost is the actual spend that occurred.
Impressions
This is how many times a user viewed your ad and saw your ad in an ad auction.
Impressions don't mean a user clicked your ad.
Impressions don't cost anything in a search campaign.
In some campaign types (like display), you can select a bid strategy that charges you based on 1,000 impressions called CPM (Cost-per-Thousand).
Clicks
Clicks are what happens when a user clicks an ad to go to your website.
Every time a click occurs*, the advertiser (you) gets charged.
The amount you are charged per click varies for every user/search
* Unless the campaign is using a CPM (cost-per-mille aka. cost-per-thousand)  or CPA (cost-per-acquisition) bidding strategy.
CTR (Click-Through-Rate)
This is the percentage that tells you how successful your ad is in relation to the number of impressions it got and how many clicks it received.
A higher CTR means higher audience engagement, which usually indicates your targeting is finding the right people at the right times.
CPC (Cost-per-Click)*
When a user clicks one of your ads, you get charged an amount by Google. This amount varies from keyword to keyword. A maximum CPC bid can be set to define the most you're willing to pay for a click. On average, Google will ensure your bids do not exceed this amount per click.
You don't always pay your max bid.
The bid is determined by numerous factors including Competition. You will only pay $0.01 more than the Competitor below you in the auction.
Average Cost-per-Click: The average of all your CPCs you received clicks for.
*Stands for Cost-per-Click traditionally, but on a report, it will mean the Average Cost-per-Click.
Conversions
Conversions is a catch-all term for any time a user takes meaningful action.
This can be Sales, Form submissions, Downloads, Calls, Signups and more.
In many strategies, Conversions is the main measure of a campaign's success and the primary factor for determining Return-on-Investment (ROI).
Impression Share (IS)
Impression share tells you how much your ads were seen compared to how much they could have been seen.
If a campaign, ad group, keyword, or ad has a low impression share, it can offer insights into areas of improvement (ie. maybe budget or CPC bids are too low)
In a perfect world, everyone wants 100% impression share (showing all the time), but budgets can rarely accommodate this, so finding a sweet spot between budget, impression share and results is the key to success.
Quality Score
Quality Score has evolved over the years, but currently, Quality Score is used more as a measuring tool against other advertisers/competitors than anything. When a keyword accrues enough searches it qualifies to be shown a score of 1-10 based on how relevant the keyword is compared to other advertisers in the same ad auctions.
10 is the highest rank for Quality Score, 1 is the lowest.
Quality score is calculated based on 3 components:

Expected Clickthrough Rate – The likelihood your ad will be clicked
Ad Relevance – How closely your ad matches the user's search intent
Landing Page Experience – How relevant your landing page is to the users who click.
Bonus Terms
SERP (Search Engine Results Page)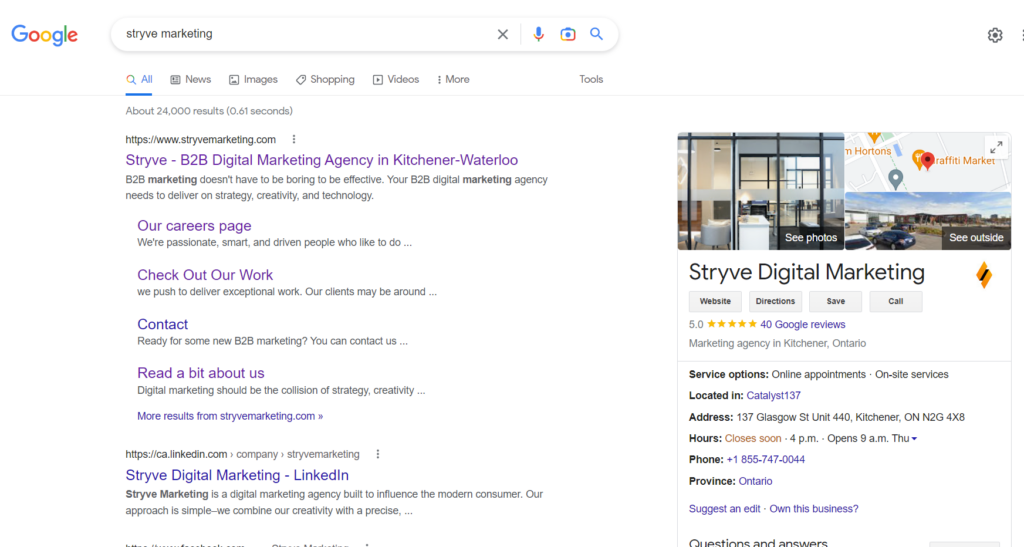 These are the results that show when a user types in something to the Google search bar and will show different components based on what the user searches. Some different components you may see are:
Paid ads results (includes Shopping)
Organic results
Video results
Image results
Business info results (called Knowledge Graph and Knowledge Panel)
"People Also Ask" section (numerous questions in a dropdown format)
Top Stories
Twitter Results
Feeling empowered yet?
Hopefully, this has helped equip you for your next digital marketing meeting and removed the "Blah" feeling you once had. Now you can really dig into those insights and reports and have more meaningful discussions with your digital marketing team or agency. I also encourage you to ask questions, and never feel bad for doing so, if you don't understand something, odds are, you aren't the only one thinking it on your team.