Your CASL consent emails are terrible–here's 3 ways to fix them
By: Ryan Burgio
June 16, 2014 | Reading Time: 2 mins
Dear Corporate Canada,
We've been receiving your CASL consent emails. We've received emails from accounting firms, law firms, technology companies, car companies and more. I'm trying really hard to be nice about these emails, but I don't want to mince words. They are terrible. They are doing more harm than good and on top of that, they won't work. Most of them are written like they've come straight from the legal department. Stop writing like a lawyer (no offense) and more like a marketer.  Let's put this into context. Here's a typical CASL email we've received:
Subject Line: ABC Company requests your consent — CASL 
Hi Ryan,
Canada's Anti-Spam Legislation (CASL) comes into force on July 1, 2014. In order for ABC Company to continue sending you our e-newsletters, we are writing to seek your express consent.
If you would like to continue to receive these communications, please click the link below. You can withdraw your consent at any time.
Pretty straight forward right? Well, this is how it sounds when we read it:
Here's What It Sounds Like
Hi Ryan,
Our lawyers just told us that we need to follow new legislation. So, could you sign up for our newsletter so we don't get in trouble? This should be good enough to get you to sign up right? I mean you have nothing better to do. Why give us permission? What's in it for you? Well you get the privilege of reading our awesome emails. Isn't that enough?
Thanks.
So let's be frank here, these emails are not going to work. If I were a betting man, I'd say you'd be lucky to get a 1% response rate.
If you are interested in running a CASL campaign that actually works, here are some tips on how to make these more effective:
#1: Provide an incentive
Run a contest. Give away a free report. Something to incentivize your list to actually opt-in. If you want to get expressed consent, you'll need to work for it.
#2: Tell us why we should consent
What's in it for me? Why should I opt-in for future communication? What exciting email communications do you have planned for the future?
#3: Use Humour
A chuckle can put your email recipients in a good mood. Make a joke and make it fun to get their consent. Be creative. Get their attention.
Check out this example from WestJet that doesn't suck: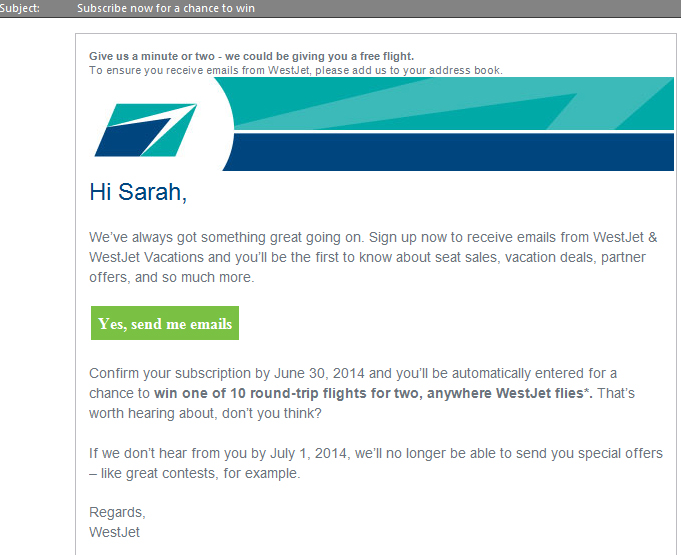 We love CASL. It curbs the spam, from Canadian companies at least, and makes our legitimate email marketing that much more effective. But, the reality is, if you want to keep your valuable email list intact, you're going to need to do better than a simple email asking for consent. That's just not going to cut it.