Quora ads are a B2B marketer's dream
By: Ryan Burgio
June 6, 2018 | Reading Time: 4 mins
Quora recently launched their global ad platform, and we couldn't be more excited at Stryve to test it out. It might not be a household name like Facebook or LinkedIn, but Quora provides an opportunity to influence B2B buyers during the research stage of their buying process.
If you aren't familiar with Quora, it is one of the world's largest question and answer platforms in the world. The site has over 200 million users and can support English, Spanish, French and Hindi. Have a question too unique for the standard Google search? Quora covers an incredibly wide range of topics, from the possibilities of time travel to how to sell a pen. It is a great platform to learn and demonstrate your knowledge, no matter how niche it may be.
I'm not going to spend much time going into "how" Quora ads work. You can find that information here and here. Instead, we'll focus on the unique capabilities of Quora ads vs. other alternatives.
Here's where Quora wins. [/intro]
Contextual and Educational Advertising
At Stryve we believe B2B marketing is about educating our audience. B2B marketing is not about selling a solution, it's about solving problems through education. With Quora, we can educate our prospects directly at the research phase of their product search. This is a powerful phase to influence a buyer, especially when they're in solution-seeking mode.
How does this work? With Quora, you can place your ad next to a problem or solution your buyer is seeking.  This is an incredibly powerful contextual ad. It can tie directly to the problem your solution is seeking to solve.
Topic Targeting
No other ad platform allows for robust targeting based on topics like Quora does. While other platform targeting is based on keywords or audience attributes, Quora allows for targeting based on topics and questions. Sure, through LinkedIn you can target the CEO of a small company, but with Quora you have the opportunity to target the CEOs of cloud storage startups searching for the best automated project management tool. Now that's targeting.
I ran a small test to see if I could find topics around the concept of microlearning. We have a client that's involved in this space, and Quora might be a great area to experiment with.
I was surprised to find quite a few targeting options. Not only was microlearning a topic option, but adaptive microlearning was on the list as well. This shows the power of how niche this platform can get.
Question Targeting
If topic targeting is powerful, question targeting is supercharged. Putting your ad next to a question related to your product or solution can lead to impressive results. But, it's tough to find those questions, especially for niche solutions. When we tried to find a microlearning-based question, we had no luck.  Our recommendation is to use question targeting for more general products and solutions. For example, a webinar software provider could easily use question targeting. As can be seen in the questions below, webinars are a hot topic on Quora and are directly related to solution-seeking questions.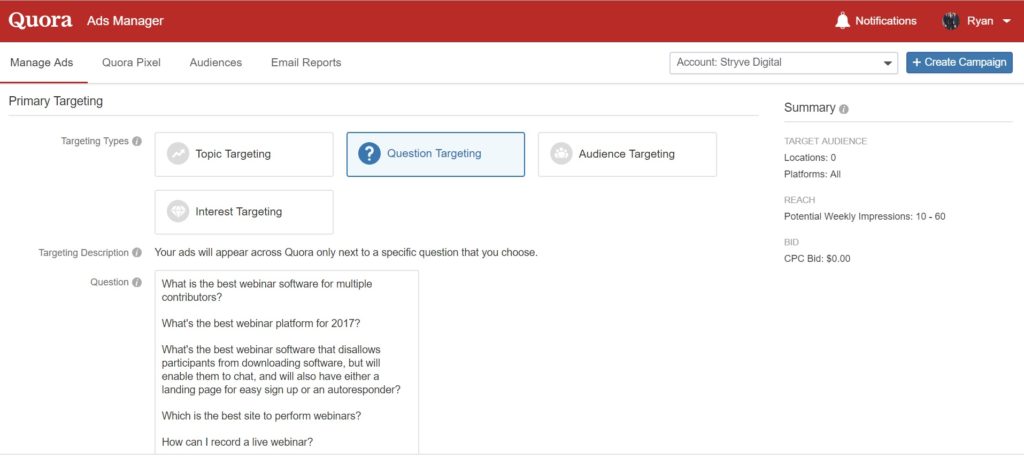 Unlimited Reach Potential
Targeting features, Quora's reach isn't dependent on registered users. Unlike other social ad platforms, Quora ads can be seen by anyone googling your targeted topic, regardless of whether they have an account or not. Notice I said "googling"? With Quora's surge in popularity, you'll come to find more and more Quora threads appearing in Google Search Results. So not only can you reach users without accounts, but you can reach users who aren't even beginning their research on the platform.
Stay Tuned
Even if this is the first you've heard of Quora, you can't sleep on it. With a growing user base and a proven track record for driving traffic, we're getting in on it now. We'll be testing Quora as an advertising platform in the upcoming months and reporting on the results. Stay tuned for detailed results from our tests. We hope Quora lives up to the hype.