Why your next landing page should be a chatbot
By: Ryan Burgio
October 17, 2018 | Reading Time: 4 mins
Chatbots are all the rage these days. But unlike other tech trends, the hype is real. From replacing job interviewers to customer service reps, the chatbot revolution is well underway. Market penetration has been swift, with over 15 percent of American adults reporting they have used a chatbot to interact with a company in the last 12 months. This is the same as the rate of Americans that smoke cigarettes.
While the utilization of bots is expanding rapidly, so too are the applications. One application that stands out to us at Stryve is replacing landing pages with chatbots. This is called the conversational landing page. [/intro]
The Economy of Now
Consumers have questions, and they want answers. In a study completed by Drift, two of the most common frustrations reported by consumers are the inability to get answers to simple questions (31%) and basic details about a business (28%). All this while 55% of people surveyed listed getting instant responses as the key benefit of utilizing a chatbot.
This shows people are craving real-time experiences from businesses. They want answers, and they want them now.
Death to the Static Landing Page
One of the key components to a strong UX is usability. What's easier than having a bot answer user questions or point them in the right direction immediately upon landing on your page? Consumers are demanding real-time experiences and landing pages are far from providing that. They are one-dimensional and contain burdensome forms. And guess what? People are tired of filling out forms.
Drift, one of our favorite bot providers, recently launched their conversational advertising tool. What's conversational advertising? It allows marketers to take potential customers right from an ad to a conversation immediately. That means we're going directly from the ad to a bot. No more landing pages. No more forms. Straight to a conversation.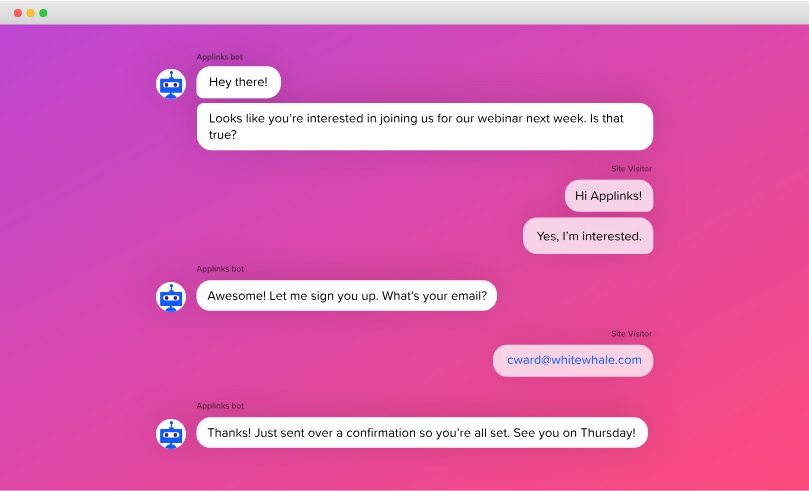 When to use a Chatbot Landing Page
This isn't to say you should do away with landing pages completely. They're still valuable in instances where the audience needs to absorb a lot of detail before committing to an action. Think of educational situations including software demos, opt-in agreements, or even comprehensive webinars. Even in those instances, we'd still recommend utilizing a bot to augment your landing page.
Aside from those setups, here are some optimal situations for bot landing pages:
Event Registrations
Signing up for an event should be easy. Attendees usually have all the details. Plus, chatting with a bot adds more flavor to your event message and makes it feel more like a personal invite.
Promos & Giveaways
Promos and giveaways should be fun and quick to enter. Using a bot can increase participation by reducing the hassle involved with signing up. Program your bot to get the basics along with the opt-in, then get back to building excitement.
Newsletter Opt-Ins
It doesn't get any less exciting than signing up for a newsletter. Why not jazz up the opt-in with a conversation?
Surveys
No one wants to fill out your survey. But, they might want to have a talk about how they feel about your product or service. Liven up your surveys with some conversation.
Test the Complex
If you think bots are just for the simple stuff, we'd encourage you to test it out with some complex asks and see the results. This includes webinars, demos, and downloads. We often overestimate how much information our users need to make a decision. Maybe they just need a quick convo.
Be Not Afraid. Embrace the Bot.
With chatbots ramping up in popularity, it's incredible how many companies are still afraid of trying them. The idea of using them as a landing page tool gets marketers worked up. "Bots are annoying! What if people don't like it? Who will handle the random questions?"
Here's the worst thing that could happen. You'll launch your chatbot landing page and leads start to decrease. Maybe a few people even complain. If that's the case, you can always shut down your bot and say, "We gave it a shot." The worst case scenario is one that can be resolved in hours.
Your customers want a conversation and they want it now. So take a chance, live a little, and try something new. Kill the landing page, end the forms, and embrace the chatbot. Your future robot overlords will thank you for it.