Uberflip lets marketers do what they do best
By: Sarah Rosenquist
October 31, 2017 | Reading Time: 3 mins
A big library of content is something a marketer can be proud of. Providing high-value content to your customers gives them a good reason to engage with you. Your SEO will improve. Content is easily one of the best tools in a marketer's toolkit.
But it's also a ton of work. With each new piece you publish, you need to decide what category to put it in, whether or not it will be gated, how you'll drive traffic to it… the list goes on and on. Luckily for us marketers, our friends at Uberflip know exactly how tough it can be. They've built a platform that puts you in the driver's seat and lets you focus on being creative and strategic.
It's like upgrading from a screwdriver to a drill.
[/intro]
Gather all of your content in one place
You've uploaded great videos. You've published compelling blogs. You promote high-value PDFs that drive to a gated landing page. You're having engaging conversations on social. The only problem is that this content is all over the place. Uberflip lets you bring all of this content together to one place. And no, it won't wreck your SEO by creating duplicate content.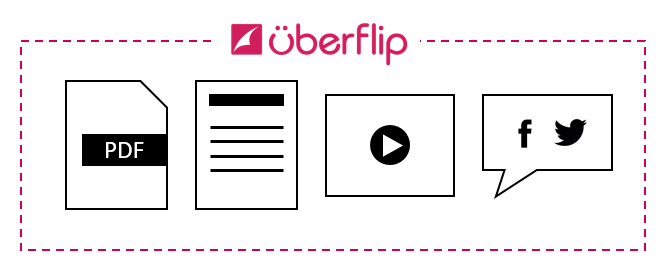 Once you pull everything together, it's time to organize – on steroids. Uberflip lets you build out streams of content based on anything you can imagine. You know that persona you developed? And what stage of the buyer journey they're at? You can build a collection of various content types that speak directly to that person at that time. One of our favourite examples is Workfront's stream on Agile Marketing.
Uberflip can also enable sales with customized streams. Maybe you want to build a collection of content for your salesperson working only in Alberta on a certain product line. Build out a private stream just for that! You can even automate the process by setting up a few rules to do the work for you. Think of it as personalized content that you can build at scale because it only takes a couple of clicks.
Forget the tech and focus on content
Think about the time it takes to write an eBook, build a landing page, and integrate a form. Now forget it when you're using Uberflip. The platform integrates with a bunch of great marketing automation software like Pardot and HubSpot. All you need to do is authenticate your account, upload your PDF, and choose which fields you want to ask for in the form. Just like that, you've got a gated content piece that is passing all the data to your CRM.
Did you want to direct people reading specific blog posts to that eBook? Type up your CTA and link it to any post that contains 'content marketing'. It really is that simple. With all the time you'll save by not worrying about the technical stuff, you can focus on what content is working and why.
Iterate and optimize your content
You'll have no shortage of data between Uberflip's own insights, Google Analytics, and your marketing automation software. Do people tend to read the same three blogs in a certain order? Perhaps that is the start of a new stream of content. Did a lot of users zoom in on page 3 of that PDF? That content is either really compelling or hard to read. Dig deeper to find out if you need a font-size increase or can turn that page's idea into a more detailed content piece. What if you're seeing people stop reading at page 6? There's a good chance you need to clarify your ideas on that page or make it more valuable.
Get going in no time
If you're hesitant to learn a new platform, we can say from our own experience that it has been a breeze. Uberflip gamifies the onboarding experience by giving you points for reading how-to articles and watching webinar recordings. They also give you a dedicated account manager for when you're too lazy to read stuck on something. And if you still aren't down? There are lots of agencies that partner with Uberflip who can take all the work off your plate. Then you'd really be focused on just making great content!