We've all struggled with the question, "Should I be on Google Plus? Should it be a part of our business' social media strategy?" The short answer is: Yes.
First let's analyze: Why has Google Plus been dismissed and deemed non-relevant?
Most people dismissed Google Plus about a year ago because it wasn't as "social" as Facebook. That is, people did not use Google Plus for online conversations as much as they used Facebook. Google Plus was also dismissed because it did not have the hundreds of millions of users that Facebook has.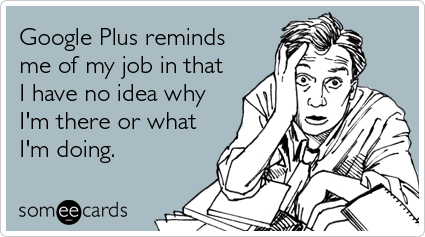 But things have changed: Google Plus is now the second-largest social media network
Google Plus has over 500 million users and has now surpassed Twitter's user base making it the second-largest social media network.  Furthermore, an article from fastcompany.com indicated "Google Plus never was, and will never be, only about competing directly with Facebook."  Rather, Google Plus is about getting to know internet users better so that Google searches can become more relevant and targeted.
"What makes Google Plus different is that it is the new backbone of a company that does search better than anyone already–something Facebook could never compete with. You use Google to search, right? Well, imagine if Google knew every piece of data about you that Facebook knew. Imagine how better equipped they would be to serve you what you are looking for. Google Plus is a way of entrenching Google's dominance in that area, not a way of stealing Facebook users. If you are in the first place, that's the time to accelerate your lead", writes fastcompany.com contributor Dave Llorens.
The Personal Case for Google Plus
Having a Google Plus profile will help you find the information you need more quickly and easily
Although at first it may seem like "Big Brother", Google is getting to know us better through our Google Plus accounts so that they can provide us with a better experience. As easy as it is to Like something, you can +1 an article, webpage, company, or YouTube video to signal to the search Gods that you want more content like that. You can also see directly in the search engine results page (SERP) if anyone you are connected to has +1'd the article, acting as a handy recommendation. The best part? If you ever want to find an article or video that you enjoyed back in the day, it'll be nicely filled in the +1 tab of your Google Plus profile so that you can quickly get to it again (so remember to +1 great articles like this one *wink*).
The Business Case for Google Plus
Having a Google Plus profile helps you get found by your ideal client
All businesses should have a Google Plus profile because having a Google Plus profile has more to do with your ideal client finding your business in a Google search; as opposed to connecting having a conversation with your business in Google Plus. It's the flip side of the personal benefits. Our best advice is to, at the very least, fill out your personal profile and company page completely and then populate the accounts with the content you're already distributing on other social networks. (TIP: Hootsuite makes this really really easy!)
Having a Google Plus profile builds your credibility
If content marketing is part of your business' approach to getting in front of customers, then why not further increase your credibility as an author? Adding Google Authorship to your blog posts is very easy and plays a huge psychological role on SERPs. Which one of these would you be most likely to click on?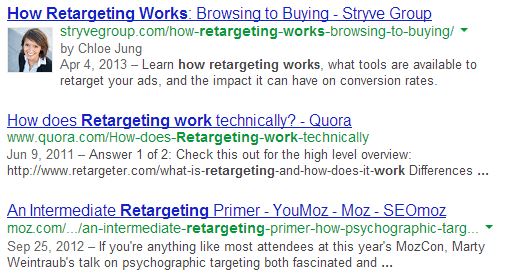 Hopefully, it's the one with Chloe's mug beside it, and not just because it's the first on the list either. Recently, eye-tracking studies have shown that it's not just the top 3 results that get the attention, but rather the results with rich media even if they're further down the page. It also is a nice touch to be able to put a face to a name, so make sure that your Google Plus profile picture is warm and inviting.
So, are you convinced yet? You and your business should be on Google Plus… yesterday!