Updated LinkedIn Company Pages
By: Sarah Rosenquist
October 11, 2012 | Reading Time: 2 mins
On October 4th, when many of us were having happy thoughts of a turkey-filled weekend, LinkedIn began rolling out new company pages to over 2 million businesses that are registered with the social networking site. LinkedIn has been undergoing a redesign process over the last few months in order to make the site more visual and less text-heavy. This trend is continuing and has finally reached the company pages that used to be rather bland.
New LinkedIn Company Pages
Even more pictures. A 646×220 pixel banner can be uploaded to appear at the top of the company home page. An image on your company page is a great opportunity to portray your brand or a piece of current/important information. Feel free to change it based on your business needs; it could reflect promotions you are running or the fact that you are hiring.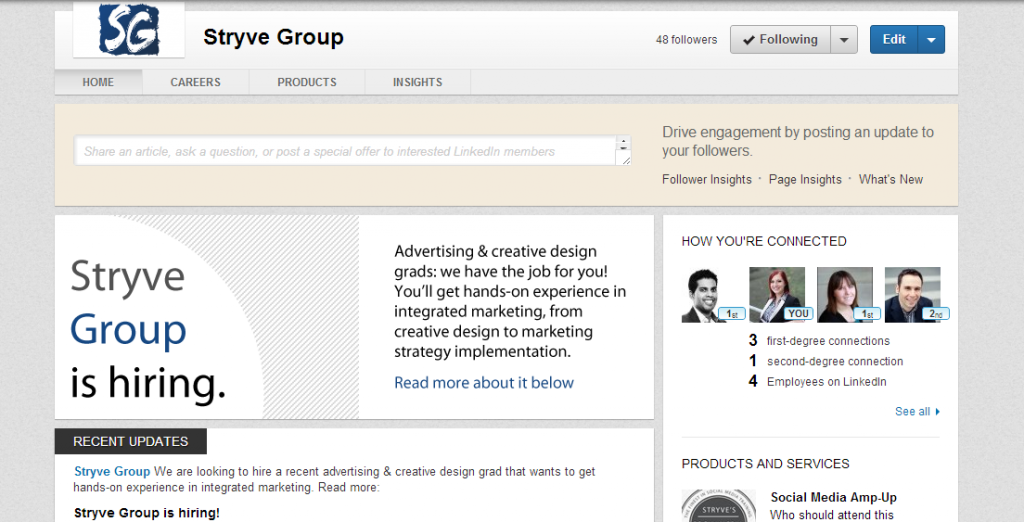 Improved updates. LinkedIn is a great place to distribute content that your company creates. The new posting form allows you to post to all of your followers or post to segments of your followers based on criteria such as company size, industry, function, seniority, or geography. Keep in mind that right now, LinkedIn requires that your post goes to a list of at least 100 followers. There are also larger feature pictures for any company updates you post. These changes make company pages a lot easier on the eyes and up the chances that someone will stop and read or engage with you. Last but not least, you can also feature certain updates to make sure that they are at the top of your page for all to see.
These updates may seem like small tweaks, but they can allow your company to leverage the business networking site to a whole new level. Messaging can be more personal and targeted, and thus more effective. You can show off your brand's style and impress those who land on your page. That being said, adding pictures and posting targeted updates isn't a simple fix to a broken social media strategy. Keep in mind why you're on the site and what your goal is, and use the photos and targeting as a tool that will help you more easily succeed.