Unhappy 1 year IPO-versary for Groupon
By: Sarah Rosenquist
November 8, 2012 | Reading Time: 3 mins
Groupon (NASDAQ: GRPN) celebrated their IPO on November 4th, 2011, but a year later they are everything but celebrating. After turning down a buyout offer of $6B from Google, the company went public with a valuation of over $12B and is now sitting here: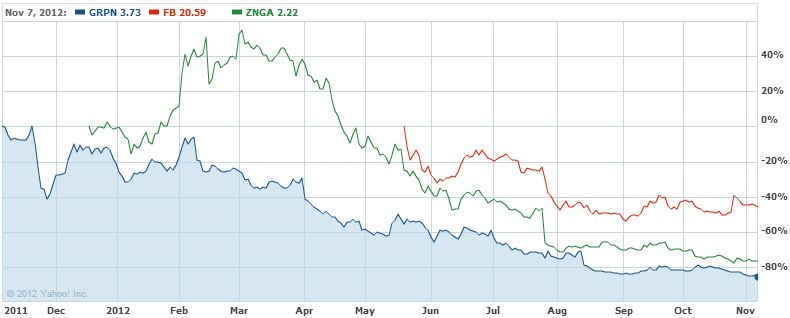 This news is yet another echo of declining performance for tech companies that IPO'ed this past year; we've seen troubling news from social game company Zynga as well as social media"s king, Facebook. The latter isn't causing nearly the same amount of stir as Groupon and Zynga though, which is what made us wonder: What makes one publicly traded social tech company more successful than the rest?
Some suggest that Facebook is faring better than the other two because it waited longer and had higher revenues before going public, however an article in Forbes disagrees. It cites that both Google and Amazon IPOed as "younger" companies with significantly less revenue, and yet they are still faring well. Since hindsight is so crystal clear, we are able to pinpoint the real reason why Groupon is nosediving.
A Good Business Needs a Good Business Model (how insightful!)
When you take a look into the daily deal business model and the fact that nearly 800 companies closed their doors in the second half of 2011, it isn't very hard to realize that something is amiss. Here are some of the red flags that should have reigned in the bulls:
Groupon"s growth relies heavily on low margin "Groupon Goods". It"s business 101 that margins are vital to staying afloat, and if they"re low then you need to drive very high volumes. When Groupon was all the rage, things weren"t so bleak because lots of consumers were buying deals. But now that the fad has cooled off a bit they"re not meeting their quarterly revenue expectations, which is why investors are jumping ship.
Groupon adds limited value to its true customers. Small service businesses have taken the biggest hit by agreeing to post a deal. Not only do they make very little money on deal-redeeming customers, but operationally they are filled to the brim with people to accommodate. Worse yet, these customers don't always return to pay the normal price and will instead just go to the next competitor who puts up a deal. This trend has put a damper on the value proposition that a Groupon promotion would help drive repeat sales over the long-run.
Shady accounting practices won"t keep problems hidden forever. When "Groupon Goods" launched, the company decided to report the gross amount customers are paying instead of their profit above the costs they paid to acquire the goods. The reasoning was that cost information would "give too much information to competitors", however, the SEC ruled that this wasn't justified and put an end to the practice. They have also been investigating the way Groupon treats refunds on the balance sheet. Even though this is a post-IPO matter, we have seen that it certainly hasn't helped build trust in Groupon.
Dim as the future may be for Groupon, lessons can be learned from others in hopes of turning business around. Facebook was criticized for not having a strategy to capitalize on its users" shift to mobile, but has been able to take action on this criticism. It"s not to say that Facebook is perfect (you saw its stock price decline above) but they have been making concerted efforts to bring in more ad revenue. Even if this means constant changes to the way the site looks (and users" subsequent groaning), at least they're working toward improving.