The ROI of Social Media
By: Sourov De
April 4, 2011 | Reading Time: 2 mins
Twitter!… LinkedIn! … Blogs!  … Facebook! …You should be on it!! Now now now!
Yes, we all know participating on social media networks is important but where is the statistical proof social media participation actually leads to making more money?
I've been searching high and low lately for reports, books and sources that show me the ROI statistics of social media participation.
Here's what I've found so far:
In The State of Inbound Marketing 2011, HubSpot reported:
The use of social media and company blogs as marketing tools not only gets your company better brand exposure, but it also generates leads that result in real customer acquisition.
57% of those using company blogs have acquired a customer from a blog-generated lead; this is an increase of 11 percentage points since 2010.
Similarly, 57% of companies using LinkedIn have acquired a customer from that channel.
Facebook and Twitter users reported customer acquisition rates of 48% and 42%, respectively.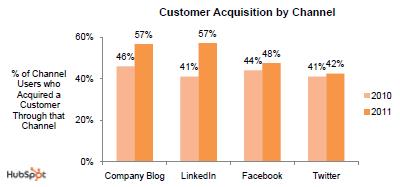 What can we learn from these stats? If done properly, it appears that social media marketing is leading to sales. To social media market properly:
First you need to know what your business objective is for participating in social media
Then, understand who is the ideal client that you'd like to engage with in social media
After that, participate in the social networks that apply to your target ideal client
And engage that ideal client in the right way
Finally, participating and producing content on social media must be done on a regular basis.
Sounds simple?
Simple yes, but not "easy" per say.
We'll be writing more about this in the near future.
Next up, I'll be reading the following books and sharing more of my findings on the ROI of social media on this blog.
Social Media Metrics by Jim Sterne
Social Media ROI by Olivier Blanchard
ROI of Social Media by Guy R. Powell, Seven W.Groves and Jerry Dimos
Measure what matters by Katie Delahaye Paine