The latest social media overhaul: LinkedIn
By: Chloe Rolph
October 24, 2012 | Reading Time: 3 mins
At the rate LinkedIn is going, the platform might beat out Facebook for the most layout changes in 2012.  Back in August, we saw changes to the site including a sleeker colour scheme, a relocated and redesigned daily "digest", and more prominently placed images.  Barely a month later in September, LinkedIn introduced the new feature, LinkedIn Endorsements—a feature that allows you to vouch for a connection's listed "Skills". Then at the beginning of October Company Pages received an overhaul with more pictures, improved updates, and a more user-friendly design.
Keeping up with their now-monthly updates, LinkedIn has announced a "new design to share your personal story".  The redesigned Profile layout focuses on providing richer insights about you and your network and making it easier to build and maintain connections:
Pinterest-esque boxes indicate that LinkedIn has really taken a hint from the route other social platforms are taking and cleaned up their look and feel.  Each section of LinkedIn is now featured in its own clearly-labelled little box—you, your recent activity, your background, new insights, and your connections.
Make a great first impression with your most important fast facts displayed prominently and cleanly at the very top.  People will see a great (professional!) photo, your current and previous titles, geographical area, # of connections, your education, and a Connect button in case they like what they see.

Start a conversation in the Activity section next by sharing a great article that your network might find as interesting as you did or by providing a work-related update.  This section is located right under your fast facts because people visiting your profile want to see your latest and greatest.
Discover new insights by checking out the vertical Insights bar running down the right-hand side of your profile.  Here you'll learn about your network as well as your own LinkedIn presence.  Are there people on LinkedIn that you know and haven't connected with? Is your profile optimized? Are people that have viewed your profile looking at Marketing Managers at other companies too? Maybe they're looking at other employees at the same company you work for.  You can figure it all out in this insights section.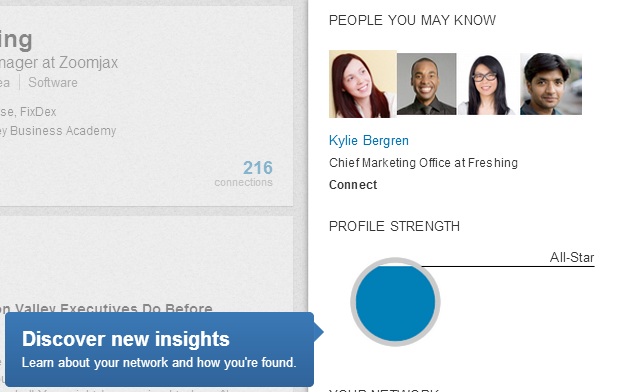 Tell your professional story in the Background section by highlighting your work, education, and skills.  The new easy-to-digest set-up allows a viewer to view this information in a much less daunting way than the original design.  TIP: The design can only do so much—keeping descriptions short and sweet or in tidy bulleted lists helps!

Say hello to your network in the Connections section.  LinkedIn has gotten a lot more people-focused, swapping a boring 3-person long preview of your connections for 4 rows of fresh faces, displayed neatly at the bottom of your profile.

Of all this year's LinkedIn changes, this lot seems to be the most significant.  Because they've taken the invitation-only approach that seems to be more common than ever in social media these days, we won't know for sure if the functionality lives up to the improved visuals.  But overall, it seems that this overhaul has been designed based on intuitiveness—not just aesthetics. We can't wait to try it out! Have you requested your invitation yet?