The benefits Twitter can have for a business
By: Chloe Rolph
March 21, 2012 | Reading Time: 2 mins
Can Twitter help my business grow, or will it end up being a waste of time?
If you find yourself asking the same question you are not alone. Just like many others out there, Mark Schaefer, Marketing Consultant, College Educator, Speaker and Author, started off skeptical about the idea of using Twitter. At first he hated it, but being a teacher and a consultant he felt that he should stick with it to see what all the buzz was about. What he ended up finding was that it was misleadingly simple, and very effective. After about 4-6 months, Mark finally started getting into his Twitter groove and began to enjoy the intelligent and fascinating people Twitter had to offer. He started to connect with these people and realized he couldn't have made connections like that if it weren't for Twitter. [/intro]
Mark's Twitter Page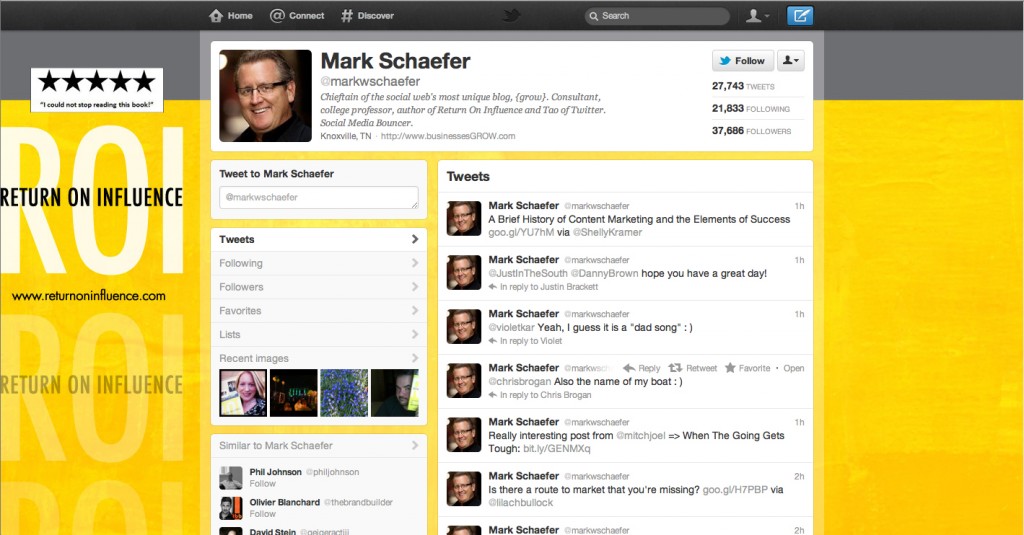 Taking a look at Mark's Twitter account, you can instantly see why he is doing so well. He very successfully advertises himself and his business using the background as a branding tool and images to promote himself. He has a very professional profile picture and displays his websites and professional titles so there is no mistaking what it is he does.
Mark has a very active account. If you view it, you will notice he is constantly posting blogs and articles. He is always staying up to date, helping his followers to stay in touch and letting them know what he finds interesting, professionally and personally. You can tell Mark has worked very hard to use Twitter to its full potential. He has thousands of followers, and with that many connections who knows what opportunities will arise. In fact some of Mark's biggest clients and business partners were developed through Twitter. Another great aspect of Mark's account is how he will sometimes post a funny remark or post about something that interests him. This helps his viewers to see his great personality and relate to him.
"A lot of people get overwhelmed by the amount of time you can devote to social networking. Well, have you ever compared this to the time involved in REAL LIFE networking? In just the amount of time I was spending in my car I could write blog posts for a week or network on Twitter for a month!"-Mark Schaefer
Mark makes a great point here. Although it may seem like a lot of time is going into social networking, when you compare it to how much time you put into the other methods used to network, really it isn't that bad, and the beauty of it is you can do it from home or from your mobile device. This gives people a chance to constantly stay in touch with what is going on, and just like in Mark's case, keep up to date with his social media accounts to further grow is community.