Our neighbor RIM all geared up to launch Blackberry 10 on January 30th — What can you expect?
By: Chloe Rolph
November 14, 2012 | Reading Time: 3 mins
This week our neighbor up the street, Research in Motion (RIM), announced the launch event of the long-awaited new platform, Blackberry 10. At the launch on January 30th, we can expect to learn about all of the new BB10 features in addition to the bigger ones we already know about like Blackberry Flow, Blackberry Hub, and Blackberry Balance.
In case you're not up to speed on these features, here's a quick run-down of the three:
Blackberry Flow – Much like minimized windows on your computer, BB10 keeps minimized windows on your device for each app that you're running.  You can quickly and easily jump between them, avoiding the extra step of returning to the home screen to open a different app.
Blackberry Hub – Named intuitively, the Blackberry Hub is just that and it's meant to help keep all your ducks in a row.  All of your messages, notifications, feeds, and events are aggregated into one place that is available instantly via one swift gesture.
Blackberry Balance – Recognizing that you're not just an employee, you're a human being too, is the idea behind Blackberry Balance.  This feature keeps your work stuff and your real life stuff separate (the way it should be!) They run independently of each other yet it's quick and easy to switch between them.  The work side of Blackberry Balance is completely encrypted and secure and IT departments will be happy to know they can wipe work-related data when needed, without touching any of the user's personal information.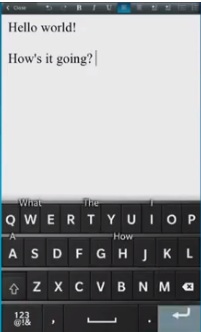 What else? BB10 is also bringing some smaller new features to the table.  Among them, you'll find:
Quick Menus – Like the ones you find on the Playbook, you swipe down from the top to reveal it
One-hand Design – Contrary to popular Blackberry holding technique, BB10 was designed with one-handed use in mind
Lock Screen – A one-finger-drag reveal that displays all your notifications
Keyboard – A new spin on predictive text now predicts words and places them neatly above the next letter you would be typing (Check out the screen shot to the right)
Time-warp Camera – If you're one of those people that can't help blinking in photos, you'll appreciate the Time Shift mode.  Just snap a photo and tap to select an area (in this case, a face) and move the slider to cycle through that sliver of time and select the best instance to save as the final photo
Overall, it sounds like there is a lot of promise here with BB10.  A lot of the new features seem to have been designed with two key themes – the corporate user and ultimate usability.   Usability is certainly something we can all appreciate, and we think it's a great move for RIM to be focusing on making improvements with most loyal segment of their market in mind–the business user.
What do you think of what BB10 has in store?  Could it be a game changer?  Would you consider buying a BB10 device?