Circle App: Creepy or the future of local social networking?
By: Chloe Rolph
December 10, 2013 | Reading Time: 2 mins
Move over Bitstrips and Candy Crush Saga, a new social media app has taken over my Facebook notification feed. Circle is the location-based app with a beautiful interface that lets you know what's going on near you right now.  It claims to connect the mobile web to the real world, delivering real-time information about local events, people, places, and news that you care about – everything from lost dogs and promotions at local restaurants to free kids events, closed roads, and concerts in the park. Judging by the number of invites I've been receiving each day, I would say it's sparking a lot of curiosity.
The art of leveraging "creepy" technology
Launched by the trio that brought us the now-extinct LikeALittle.com, Circle aims to leverage location-based technology in a way that many of the bigger players have struggled to do.  A lot of our recent behaviour suggests that we are getting increasingly comfortable with GPS integration, whether we're announcing our brunch location via Instagram's Foursquare photo map or setting a reminder to buy milk next time we're near Sobey's through Google's Keep. However, the difference between this behaviour and the idea behind Circle is that we tend to be more comfortable divulging location-based information on a case-by-case basis, rather than allowing an app to run in the background of our lives, constantly letting people know what we're up to.
Is Circle here to stay?
Is person-to-person tracking technology still thought of as too invasive? Definitely for some people, but the over 10 million people using the app today seem to have an open mind about it. The key to seeing it really take off and begin to play a useful role in our lives will be adoption, so only time will tell.  Intuitively, an app that delivers information based on crowd-sourced updates from people in your vicinity can only be valuable if enough people adopt it and contribute to it. So far, reactions seem to be polarized with Twitter users offering support and praise for Circle as well as threats to left knees everywhere: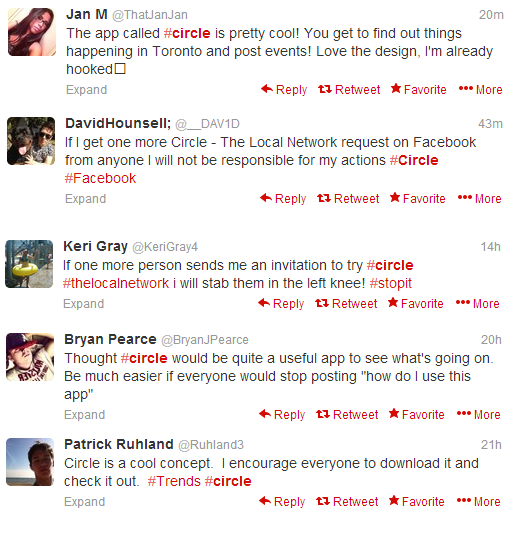 Have you tried Circle? We want to know what you think of it! Not your thing? We want to know why not. Let us know in the comments!