Music streaming services to get you through the day
By: Chloe Rolph
November 23, 2012 | Reading Time: 3 mins
What gets you through the day?
A coffee an hour? (We won't judge, especially Ryan.)
Maybe a solid P90X morning work-out? (Yeah! Us too…………)
How about a constant stream of awesome music? That's more like it!
Here at Stryve Group, we make sure to get a healthy dose of music into our systems throughout the workday.  Music is one of those super powerful things that can instantly change your mood, serving as motivation, inspiration, or just plain old background noise while you're firing off emails.
Thankfully, we've got options when it comes to music streaming services.  Grooveshark has a super extensive library and limitless playback, but you need to already have a song, artist, or album in mind.  As far as new music discovery, other services have Grooveshark beat.  Hype Machine is one of those services.  It's a blog-crawler, which means that it "crawls" the internet to find new music embedded deep within blogging communities.  This is great for discovering new music, and Hype Machine has a big focus on writing in addition to listening, so you'll always have the 4-1-1 on what you're listening to & where it came from.
While it's great to have access to a huge library of music or be able to read up on artists and album reviews, that's not always conducive to getting stuff done.  Sometimes you just need some tunes that match your mood and help you get in (and stay in) work-mode.  If that's what you're needing, try these two mood-based platforms on for size:
Songza – Use this audio ad-free, no-cost platform on your computer, iPhone, Android device, or Kindle Fire to stream the kind of music that compliments what you're up to. The homepage highlights 5 of the most popular categories, but you can always use the "Browse All" tab or search bar to zero in on something different.  The cool part about the homepage Music Concierge is the ability to pick the day of the week and the time of day, because we all know that Monday mornings are a little bit different than Friday nights.

Stereomood – Similar to Songza, Stereomood is another awesome and free music streaming service.  Just click on one of the many suggestions on the "What's Hot" homepage or finish the "I feel …" sentence prompt in the search bar.  You'll be hooked up with a playlist that fits your state of mind as well as a list of similar artists & similar moods to browse through.  One of the coolest things about Stereomood is that they got their blog-crawling inspiration from Hype Machine, so not only will you get mood-matching tunes, but you'll also probably discover a lot of underground music you wouldn't normally have encountered.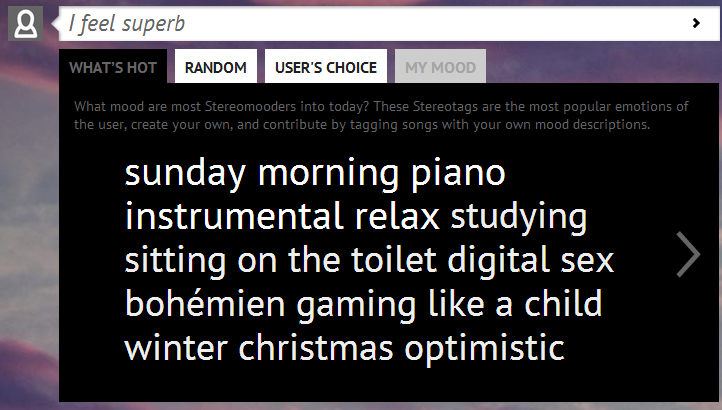 Do you have a music streaming service that you like to use? Let us know, we'd love to check it out.