Hashtags on Facebook
By: Chloe Rolph
June 19, 2013 | Reading Time: 3 mins
A lot of people used hashtags on Facebook, and because they had zero functionality, it would leave you wondering, "Is this person trying to be funny? Ironic? Obnoxious? … or do they just not have a clue how and where hashtags are meant to be used?" Well, good news for those people, carry on! Hashtags have made their way to Facebook.
Like on Twitter, LinkedIn, Google+, Instagram, and other social media platforms, hashtags are used to aggregate and give context to conversations surrounding a particular topic.  Clicking on a hashtag on Facebook brings up a feed of stories by people and Pages (that are public or otherwise viewable by you) that include that hashtag. From this feed, you can also jump into the conversation by creating a post with the hashtag populated for you.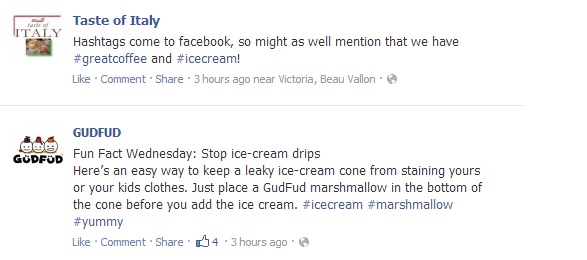 So what does this mean for marketers on Facebook?
Hashtags have made it easier for marketers to monitor and join in on conversations about their brand or industry. Hashtags on Facebook do it in a completely new way due to the size and unique demographics of the platform as well as the nature of relationships between users that are connected.
With Facebook being the largest social network on the planet (over 1 billion strong!), hashtag functionality means that marketers will have a lot more information to process and learn from.  Aside from the sheer size of the platform, Facebook also deals with a much different user base demographic.  Socialnomics cites that 45% of Facebook users are over the age of 45, targeting a much older demographic than Twitter, where over 50% of users are under 34.  And unlike Twitter where the norm is to have a public conversation with anyone and everyone, Facebook conversations tend to have more depth and occur between trusted friends.
Depending on your brand and your brand's audience, Facebook hashtag data may be even more valuable to you than hashtag data from any other platform.
A few hashtag tips
Even if you are posting from the mobile app, you can still include hashtags. Although the functionality has not yet made it to mobile, friends viewing your post from a computer will be able to click on them
Facebook is slowly rolling out the feature to users. So, even if you don't have them yet, you can still include them in posts and people with hashtags rolled out will be able to click on them
To find a conversation, you can type a hashtag into the search bar (ex. #IceCream). Alternatively, every hashtag has its own unique URL and you can pull up the feed or drive traffic from other sites to it by completing this URL: facebook.com/hashtag/inserthashtaghere (ex. facebook.com/hashtag/IceCream)
What's in the pipeline?
As hashtags on Facebook continue to catch on, we can expect to see additional features rolled out including trending hashtags and more complex insights. And of course, we'll let you know when that happens!
P.S.
Sorry for making you crave #IceCream!